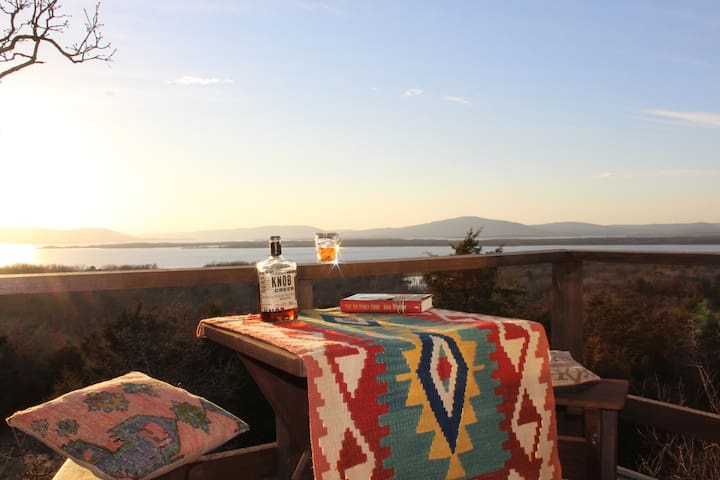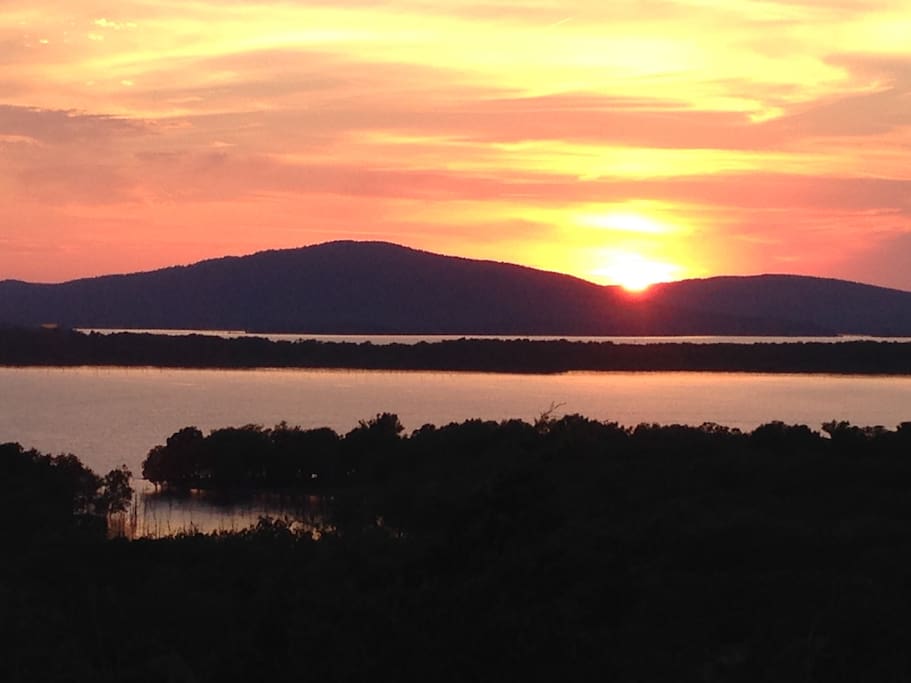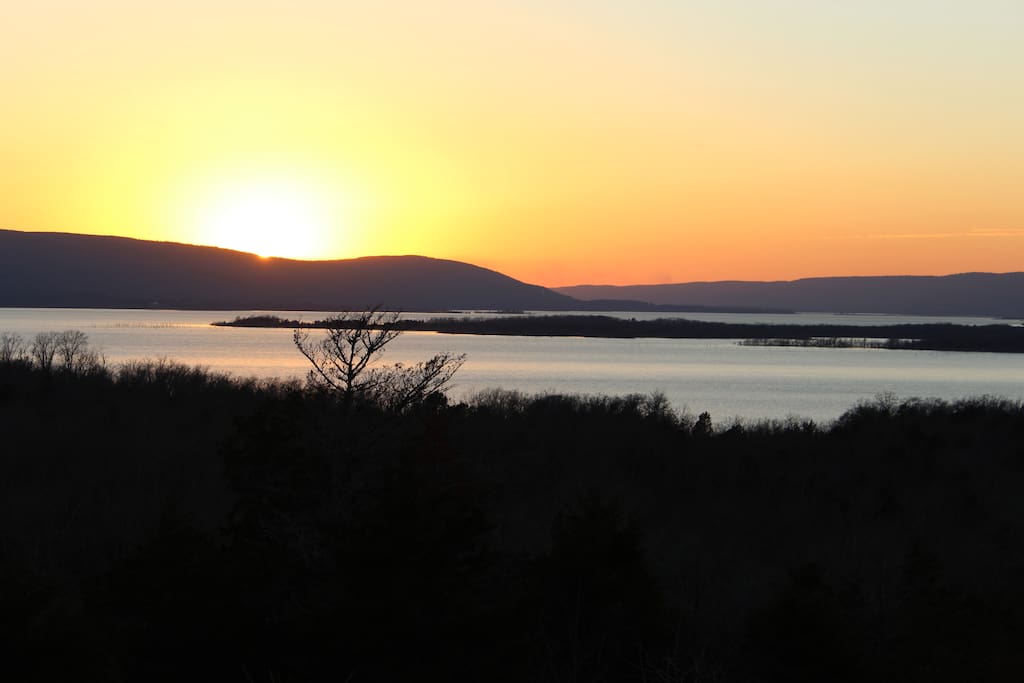 Enjoy a stay on-top of a secluded 7-acre hill that hugs Sardis Lake in the Ouachita, Jack Fork and Kiamichi mountains of SE Oklahoma. This comfortable cabin will make you feel relaxed and restored, not to mention, you will sleep like a baby.
房源细节
The (SENSITIVE CONTENTS HIDDEN) coordinates, door code and check in information will be provided one day prior to arrival.
If you are looking for a break from the city, calm and peace with amazing lake-mountain views; look no further! Our cabin has 360-degree mountain views from atop your own hill with a 180 degree view of Sardis Lake. The cabin is well maintained, tidy, clean, with all the right luxuries! A master bedroom is on the second floor, with a private bath and personal balcony. This allows you to lay in bed and take in the views. The cabin is technically 1400 square ft and there are two bedrooms on the ground floor. When you arrive; just kick your shoes off, make a cocktail and enjoy the sunset over Sardis. This part of the country has unique heritage and natural beauty, as well as being a hunting and fishing paradise. (Please, no shooting when you are at the cabin at Sardis Acres!) You can go for a walk-up the mountain (down the hill and take a left and go up the road) or cross over the street to the Army Corps campgrounds and rest by the lakeshore. There are two State Parks nearby. The famous Robbers Cave State Park is only 35 minutes away and something to see, especially for young kiddos too. You can take a Cowboy guided horse-trail ride for a few hours as they take you through the forest. And, there is Clayton Lake State Park just 15 minutes away; a magical place! We highly recommend packing up a picnic of wine and cheese and throwing down your blanket and letting the serenity of Clayton Lake State Park surround you!
房客使用权限
You will need an SUV, truck or larger/heavier car to get up the steep driveway. The 7-acre property is dense and rocky; we're making some trails, but be sure to bring hiking boots or tennis shoes and be careful when you tootle around the property. Walks are best up the mountain (we can explain more but you go down our hill then left and up the mountain and it will curve around and around so you get a great hike and then more amazing views) or across the street at the large camp grounds surrounding the lake. You can bring your own boat and rods and go for a fish; there is also a smaller quaint lake nearby that we fish and Kayak on. Let us know, we'll let you know!
与房客的互动
If you have any questions, want advice, or need any information about what to do, where to eat or what lures catch the fish; please contact us at anytime! We will contact you after you make your reservation, and will be reachable 24/7 while you there if you have any questions. But we won't bother you at all! To give you a sense, the cabin has played host to a Kung Fu retreat (7 men/1 lady) where excursions to the lakes and parks made excellent natural spaces to work-out (see one photo we posted of the beach right across the street!) and the cabin was perfect for small group lectures and watching instructional videos. Couples have visited for a quick retreat to celebrate their anniversary, despite the modest kitchen, they brought an assortment of food, wine, champagne and cooked up an authentic Seafood Paella (in a Paella pan!) over the outside grill under the moon and stars. We have had many guests come alone too; to meditate, to work on a manuscript/book, or do whatever they like. We relate whole-heartedly to all these reasons to want some time away in a safe, beautiful and serene space. It's an escape from Dallas or Fort Worth and a precious part of America that makes you love our country. We won't bother you when you are there, and we will do our best to advise you to design the perfect stay! Because we love the cabin and the area very much.
其他注意事项
There is a steep driveway that takes you up to the house. It is highly recommended that you bring a larger-heavier car, SUV or truck. Plan ahead for your meals, snacks and refreshments and bring them. Bring it all, we load up our juicer and small chopper because we love to make fresh juices for breakfast and cocktails, and then use the a small chopper to whip up our crazy salsa and sauces. The house has a septic sewage system so no oil, coffee grinds, grease or personal products down the drain. Have to stay on top of that! We have a Keurig personal coffee maker for guests so you can bring your favorite tea or coffee and the pods are manageable for disposal. There is a french press, you just have to go pour the grinds out outside; ahhh the country life! We love it.
PLEASE First of ALL! Make yourselves at home!!! You are going to sleep well, be off the grid and relax! There is no better cure for the city life than sitting on the porch, sipping a cool drink as the sun sets behind the lake.
- The septic system can not support oil, grease, coffee grinds, or personal products (a.k.a EEK. !NO TAMPONS! EEK). Thank you so much in advance for respecting this.
- Please keep the doors and windows closed at night to keep insects, wasps, critters and small animals out.
- Please put all your trash in small bags and big bags, tie them up firmly and then ALL the trash bags have to be removed by you in your car. We don't have a trash pick-up service in these remote parts.
- Please be gentle and respectful with the furniture and antiques.
- Respect personal clothing and items that are around you.
- Please absolutely NO SMOKING OF ANY SORT in the house. My GF is asthmatic and it's very harsh on her if you do. Also, please use an ashtray and make sure to pick up your cigarette butts outside.
- Watch where your pets-poop and please pick-up if its close to the house, on pathways and trails.
- Watch what you track-in on your shoes; we're pet friendly so you may step on dog-poop, deer-poop, or mud-poop, so be kind, check the bottom of your shoes so you don't go trekking over the rugs.
- Please disclose if anything breaks or needs attention. We're grateful that you tell us as we strive to keep the place as maintained as possible.
- Please, no shooting guns on the property!
Hi there, I am Anthony. I live in Dallas and work within real-estate and deal in Antiques and manage my website I love to travel and speak four languages. I enjoy cooking, entertaining, and practicing Kung Fu. I built this cabin eight years ago to enjoy the outdoors and have a get-away from the city. I try to be there as much as I can with my girlfriend Wanita to enjoy the sunsets and relax.
语言:
English、Español、Français、Português