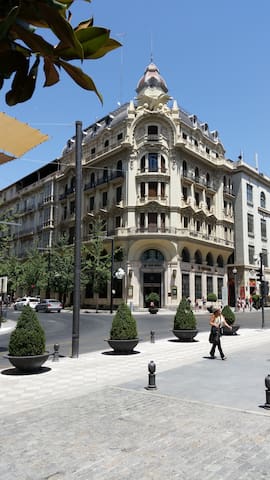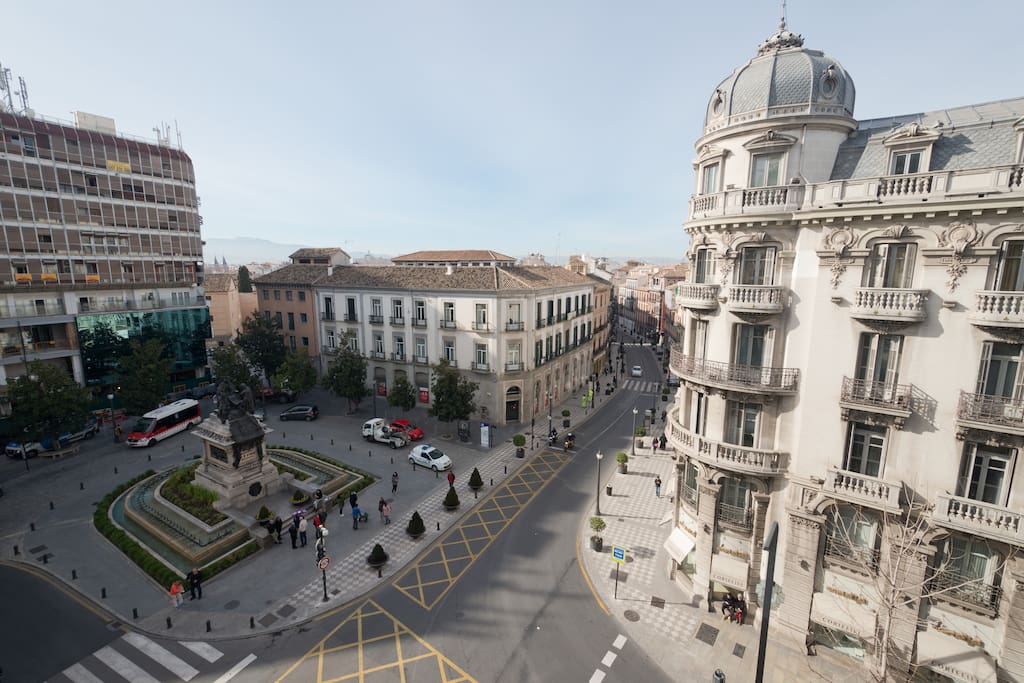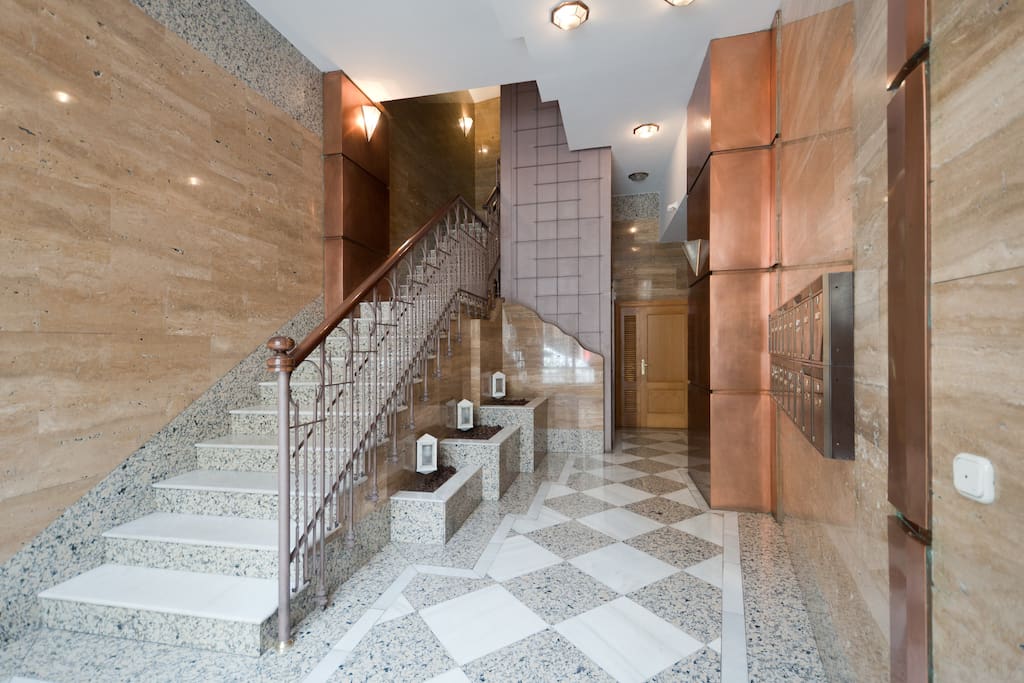 Im historischen Kern Granadas gelegen, gleich in unmittelbarer Fußgängerweite zu Sehenswürdigkeiten und lebendigen, andalusischen Cafés, Restaurants und Bodegas, ist diese qualitativ hochwertige Wohnung einzigartig für Ihre vollausschöpfende Begegnung mit der andalusischen Kultur.
Die Wohnung wurde 2015 komplett neu möbliert. Sie ist ausgestattet mit einer hochwertigen Küche, einem Luxusbad, Marmorboden und Holzvertäfelung. Sie befindet sich im 4ten Stock (Aufzug) nach Süd-Westen orientiert.
---
The apartment is very spacious and nice. It is in the heart of downtown Granada within walking distance of the main sites. Lidia was super helpful and quick to respond if you needed help. We will definitely stay again when we return to Granada. Only thing to take note of: it can get slightly noisy at night because you are at the intersection of two main streets. It didn't bother us since we wanted the central location.
---
The location was Great! Right in the heart of town. Within walking distance to many sites including the Alhambra, El Albacin, and the Granada Cathedral just to name a few. Hundreds of great dining restaurants in all price ranges all within walking distance. Two supermarkets both within a few blocks, as well as several bodegas. The flat is very spacious and comfortable. The kitchen, modern and well equipped. The only problem was with the WiFi. Lidia just got her wireless device and is working out the correct data plan. There were a few free WiFi sites close by.
---
The listing description and pictures are very accurate. The home is so beautiful and in a prime location which made it very easy to get around and explore. The neighborhood felt safe, and so did the building. The home was very comfortable, and AC was perfect. The problem came when working wifi was promised and sadly it did not work. Coming from abroad and not having a Spanish phone plan, wifi is a necessity to communicate and it was very inconvenient for us to not have it. The wifi only worked for the first 10 minutes and then failed horribly. We picked this apartment because of the location and the wifi and sadly one was not fulfilled.
---
The listing is perfectly descriptive--perhaps even better than listed. The location is flawless, at the intersection of the two main streets but not at all a busy intersection because of the car regulations. It is a perfect area to live in, or stay in for your time there. The neighborhood as a whole is wonderful as well. Everything you need is on the same block. There are beautiful views of both the cathedral and the al Alhambra from the bedrooms and living room. The flat was perfectly clean and spacious for three people. The biggest downsides are: there is not an oven or microwave, nor is there wifi, which is stated clearly. While we were there to be tourists, and we were, we are also college students studying abroad during the week. We absolutely adored our stay in Granada and the flat was a major contributor to that. We really enjoyed the kitchen and made do with the appliances that we had--we fried a pizza and had a great time. Thank you Lidia!
---
This apartment was a wonderful center and home for our family's first trip to Granada. The apartment is very central to the old district of Granada. There are tourist points all around - Plaza Nueva is a few blocks away where you can stumble on street flamenco performances, and you have a gorgeous view of the Alhambra from the master bedroom's balcony. You cannot drive to this part of town (you can take a taxi) but we communicated with the host ahead of time about what underground parking lot nearby to use. She was responsive, pleasant and helpful! The apartment is minimally furnished (though it has everything you need) but its finishes are grand! Its a beautiful apartment, its in a quiet and secure building, and its balconies (they are wide enough to step out on) afford great views of the surrounding area. We were traveling with a four year old and an eleven year old. The kids were happy on the sofa bed in the living room - though the balcony railing in that room was a little lower than the other balconies and made me a bit nervous. We could not get the sofa bed to lay flat, despite the provided directions. But we made it work with two small bodies anyhow. The closest Supermercado I found was about a fifteen minute walk. The host's advice for nearby wifi was good. Enjoy this lovely apartment!
Dear Rachel, thank you very much for your extensive and usefull assesment. Thank you also for your hints and tips. I'm very sorry about the misunderstanding concerning cleaning. I know now, that you have been a very good guest. I will be happy to have you and your family again in my house und will recomended you unconditionally.
---