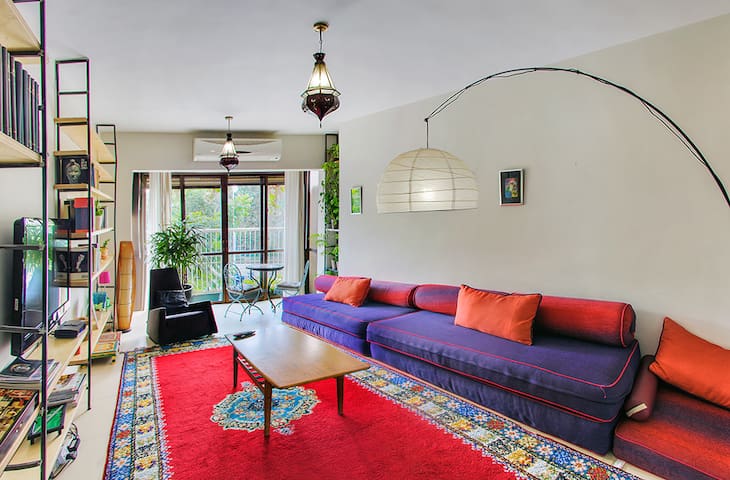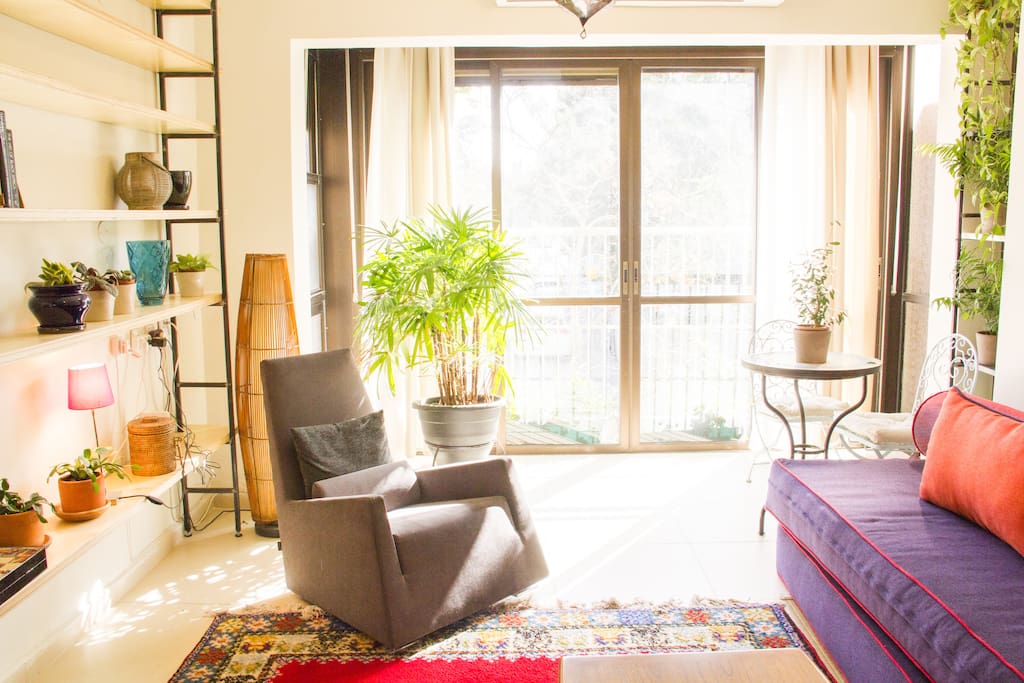 Very chic, newly renovated, first floor, two- bedroom apt in the heart of the German
Colony. The luxurious living room with urban garden has a sliding door enabling a
third private bedroom space. The apt sleeps 9 comfortably.
IMPORTANT - If you want to arrive on a Saturday or a Jewish holiday please DO NOT use the instant book option, but write to me first. We may be able to accommodate you, but i will need to check with our cleaning staff. Thank you.
房源细节
Very chic, newly renovated, first floor, 2 bedroom apt in the heart of the German Colony. The luxurious living room with urban garden has a sliding door enabling a third private bedroom space. The apt sleeps 9 comfortably. The spacious kitchen is well equipped.
Hamelitz Street is a buzzing location in the center of the German colony next to coffee shops, restaurants, boutiques and grocery stores.
We offer complimentary wifi, cable TV on a plasma screen and a washing machine and dryer in the newly renovated bathroom.
private parking at 50 shekel a day
房客使用权限
Complimentary wifi and cable tv
washer and dryer
the appartment is able to host up to 9 persons. the basic price for two is 160$, you have to add 15$ for each extra person
My Teens and I stayed here this past week. Ilan is a very nice host and we felt very welcomed in his apartment. The pictures of the apartment are exactly as shown. The apartment was comfortable and spacious. Ilan spent a good 1/2 hour giving us the tour and making sure the TV worked The apartment is very nicely located next to a very popular street for restaurants and shops. Sadly though, being next to a popular place came with a lot of noise when sleeping. I could hear people outside talking, laughing, having a great time. I could hear bottles break and the neighbors talking through the walls. Although this is not necessarily a show stopper, it was a bit noisy when I was hoping for more quiet. Once error in the listing, is the amenities says free parking on site. This is not true. There is pay parking on site via local parking meters. Ilan said that I would need to feed the meter every few hours and which days I did not need to do that. I felt that was unacceptable so he "sold" me for 200 NIS his parking spot which has a remote to open. When I said the listing said free parking, he said that it did not, but even today when I write this review it still says free parking. Honestly we were there 5 days so roughly $50 USD for parking is not that bad, but I did choose this spot due to free parking. Not fair and I should not have been charged that. I gave him cash on the spot. I thought the apartment was nice and same with Ilan. I would consider staying there again, but not sure it would be number one choice due to noise in the streets. Honestly, I got used to it and it did not bother me. BTW, on Shabbat of course, there was no noise as everyone was in their homes. If you keep Kosher there is both Meat and Dairy dishes. Hope this helps.
---
The apartment worked very well for us. I needed to find a place for Sukkot and Ilan was the only person that would work with me to rent his place during a major holiday for 3 days. We brought a group of 8, including my wife and I, and slept comfortably even on the sofas. The host was very kind and gracious to us. The apartment is in a great location of the German Colony right near lots of restaurants. The only misleading thing was the description states it is located on the first floor, I thought that this meant ground floor. There are some steps to traverse up with no elevator. We had a couple of elderly people in our group and it was a bit hard for them but not too bad. Outside of that, it is a great place and would recommend it to just about anyone.
---
Ilan is a very responsive and caring host. Whenever I requested anything like extra linens etcetera he promptly provided them. Thank you Ilan for being such a wonderful host! The apartment is decorated nicely, quite charming, spacious and homey! If you like being in the heart of the action you'll love this apartment right on Emek Refaim.
---
Ilan was a wonderful and warm host, the apartment is beautiful. My parents enjoyed their stay but had a few things to comment on. "The Apartment was comfortable but not as advertised. The unit Was on the 2nd floor, not the First. This was significant for tenants given their age and physical condition. Had this been known, the unit would not have been chosen. There was no washer and dryer as advertised."
---
Ilan was a gracious and accommodating host. When we realized the apartment did not have a washer/dryer as indicated in the amenities, he agreed to arrange to have our laundry done for us and even picked-up and delivered it! The apartment is beautiful, with many upgrades from what was photographed here. It is in a perfect location in the German Colony ... right in the center of the action but just off the street so the apartment is quiet and you are not disturbed by Emek Refaim. The parking space was an added bonus and made it very easy to have a car in Jerusalem. We highly recommend the apartment and working with Ilan!
---
Ilan is a man of taste. His talents in cuisine, architecture and design are
brought together in the Darna Moroccan restaurant he owns where both the décor and
the food exude the exotic flavour of his native land.

Recently Ilan has opened little studios that host tourists from all over the globe, and
like in Darna, he has paid special attention to detail, to art, to those little touches
that make holidaying at his apartments a warm and welcoming experience. You are
invited to eat at Darna and will receive a complimentary glass of wine.
语言:
English、Español、Français、עברית、العربية