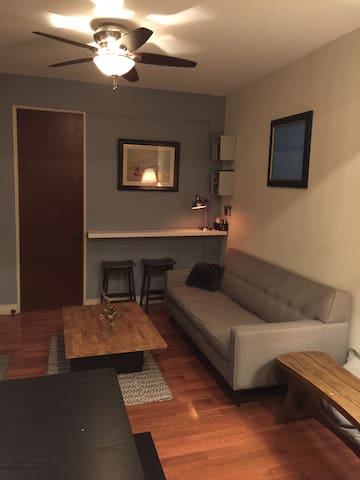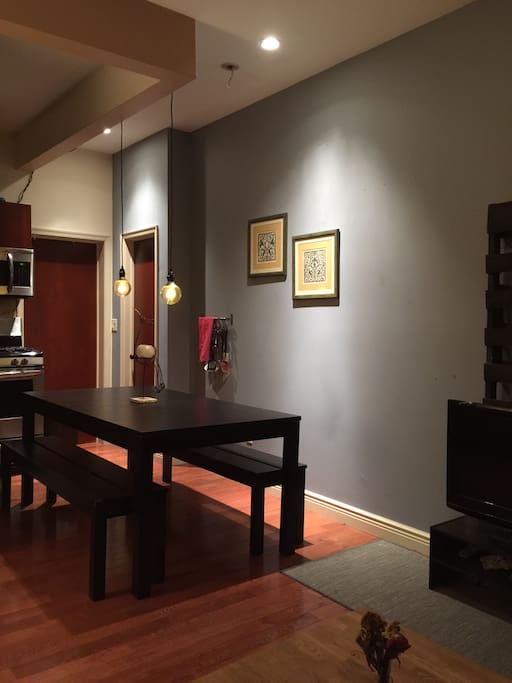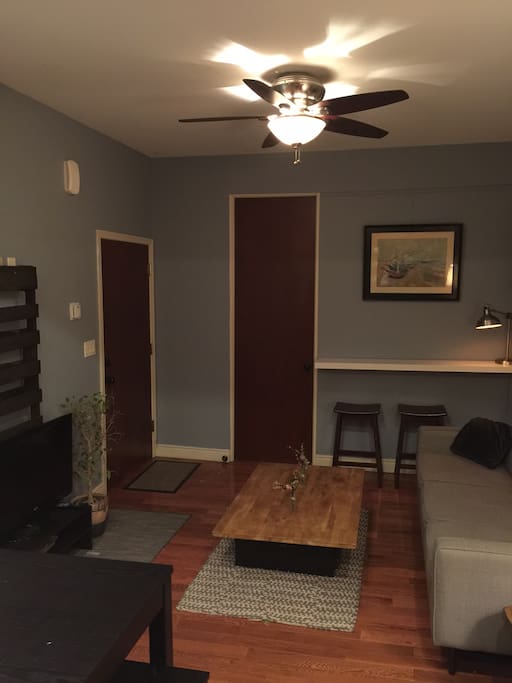 First floor brownstone located off 5th Ave. in Park Slope, bustling with restaurants and shops. Building has 3 apartments, so each is very private and quiet. Big open common area/kitchen, separated bedrooms, new appliances, wood floors, & good stuff.
房源细节
Great, comfortable apartment in a really great location. Most things you need are within about 3 blocks of here and a ton of great stuff just slightly further. Barclays Center and Prospect Park are both really close and the neighborhood is just great in general - good for all ages too :)!
与房客的互动
We're two young professionals who are decently active, so happy to provide recommendations for the neighborhood, Brooklyn or New York in general. We can help as much as you'd like (or not like) with fun stuff to do during your stay.
Clean and respectful is all we ask!
Mark and Tina were very helpful and easily accessible through text prior to and during our stay. The apartment was quite large (by NYC standards), especially for the price. Check-in and check-out was a breeze. The place was clean and cozy, in close proximity to the R, F, and G trains at 4th & 9th, and just off 5th Ave., which features tons of great restaurants, shops, and relaxing pubs. Highly recommended!
---
I'm glad we got to meet Mark when we arrived. He is a really, really nice person. Really! We had flown in on a red-eye with our two teenage daughters and he let us move right in and catch a nap. But first he walked us to the Bagel Pub, which is on the way to the subway. The apartment was very clean. It has a great location; short walk to Prospect Park, short walk to the subway, a great neighborhood for walking, restaurants. The two bedrooms are comfy with big beds and great natural light. And both rooms were quiet, especially the back room which faces the back yards of the block. That room is fairly large by NYC standards. The combined living room/dining room/kitchen is a bit dark because the only natural light comes from the bedroom doors being open, but we spent very little time there so we didn't care. If you want to hook up your phone to his booming sound system, PAY ATTENTION when he explains how to use it! But it didn't matter, because we never needed to use it. The Postcard Cafe one block away was a great morning coffee stop. We had never stayed in Brooklyn before, but this was so much calmer than the City, and this apartment was so much better than the stupid hotel we stayed at in Chelsea last time we were here. No comparison. I highly recommend this place. Thanks, Mark, we'll be back.
---
We spent 5 nights in Mark's flat. We didn't see him but Tina was here to explain us all the things. She was very helpful and available to answer to all our questions. The apartment was not perfectly clean (the flat needs a regular cleaning and aeration) but the price was a good deal. We spent a nice time in Mark's flat and we will be very happy to come back here.
---
We spent a whole week in Mark's and Tina's apartment in a lovely living area with heaps of small shops and restaurants literally just around the corner. Despite a glitch in the arrival information Mark met us and kindly introduced us to apartment and neighbourhood. We didn't meet him again but he was quick to resolve a drainage problem in the shower though he was on his way to an interview - thanks once again, Mark! We found the apartment as advertised - typical Brooklyn style: a bedroom at both ends and living room and bathroom inbetween. Furnishing and fittings as you would expect in a student apartment, everything available but not always of the highest quality. We only missed one thing: a proper desk. Though the huge kitchen table surely made up for this. The breeding bird on the balcony and the squirrel on the fire ladder added a homely touch. We felt at home and welcome - not the least because Mark had left a bottle of wine and some goodies on the table and in the fridge - thanks Mark! With only 2 blocks from the next Metro station (4 trains) and literally a short hop from Manhattan it is recommended for tourists as we were as well. People sensitive to street noise should be aware, though, that the bedroom to the front might not be their best option although 7th street no way is a busy street.
---