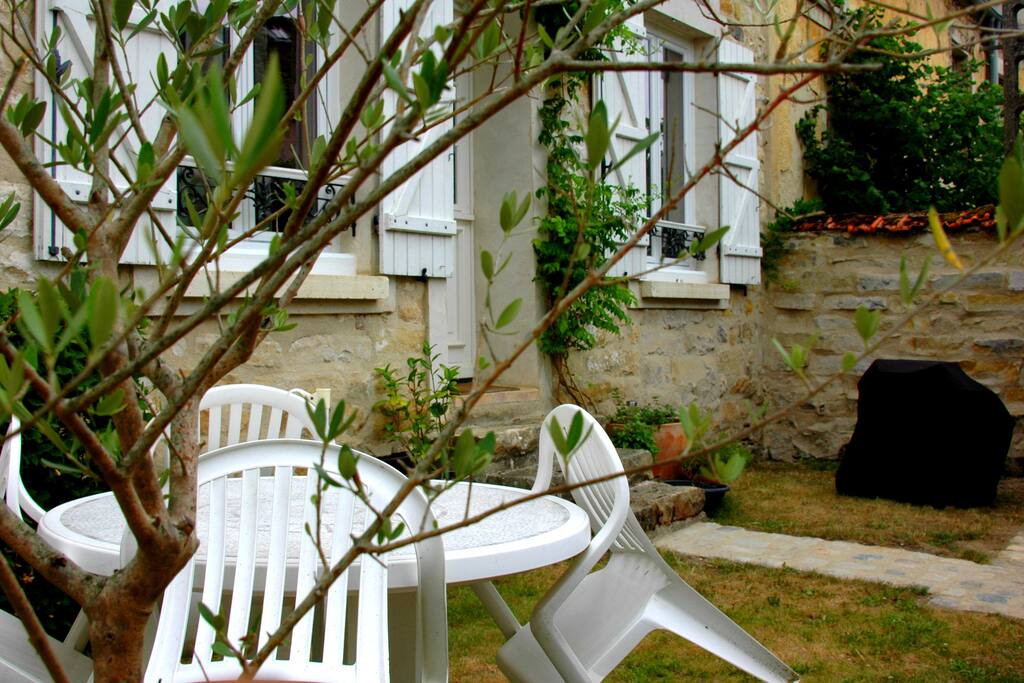 La Guette Noisy s Ecole "3 pignons"
La Guette Noisy s Ecole "3 pignons"
Nous vous accueillons dans un cadre de pleine nature exceptionnel, au cœur de la forêt de Fontainebleau à 10 mn à pied du célèbre site des Sables du Cul du chien (appelé aussi "la mer de sable") réputé aussi pour ses circuits de randonnées.
---
---
---
---
Un forfait ménage de 40 euros est proposé si vous ne souhaitez pas le faire en partant (à régler à l'arrivée)
Les animaux sont acceptés sur demande
les fumeurs sont acceptés dans le jardin
---
---
---
This place is simply amazing! First of all the location - It is a short walk from the main bouldering regions in Fontainebleau. In the time you would normally waste to park your car you are already at your first bouldering problem. The gite is very well equipped and so comfortable. There is everything you need and more. Noisy is how you imagine a small French village to be - quiet, beautiful and so relaxing. Not to forget the goats just 30 meters from the gite that were always happy to get some bread. The best of all was Helene who communicated quickly and found for all our questions an answer. The bikes and the crash pads were a great help for us and made everything so much more relaxing. You can bike about 20 minutes to a supermarket for shopping or simply walk to the small shop in the next village for the essentials like bread.
---
A great little gite with everything for a young family. We spent most of our time bouldering and swimming in the river Loing (20min drive away) it was great to come back to the gite, light the BBC and relax. The children loved feeding the goats. We also hired bikes, a child's bike and a trailer for our youngest 2 from Yannick at Fontainebleau Bike Rentals. Thank you Hélène.
---
We definitively enjoyed our trip to this beautiful gîte. The gîte itself is very comfortable and clean. We could even have a barbecue in the front garden. The location is very quiet and nice, bouldering areas are not far away and can reached by feet. Our lovely host even gave us bicycles which was perfect for exploring the area around. The closest train station can be reached in only 10 minutes by car. From there we did a relaxed and cheap one-day-trip to Paris. Our host was so lovely and always helped us when we had some questions. It was a great time and we would definitively recommend this fantastic accommodation!
---
Helene's gite is wonderful and we had a lovely week in the end of May- when the weather was great. Helene communicated immediately to any questions and was there to meet us and show us the gite which is authentically French and well equipped for the three of us and Helene was kind enough to accommodate our dog. We have stopped near Fontainebleau several times before and come for the climbing. This gite and location are more convenient than anywhere we've stopped before. All in all a super week, gite and host. We hope to be back!
---
La situation du maison est ideale pour randonner et faire de l`escalade. La petite village est très tranquille.
---
The gite is very close to main boulder spots, we were there by car, but you could also reach the next boulder spot in 10-15 minutes. The gite is in a quiet and beautiful surrounding in a very nice village. For shopping you have to go to the next village by car, which takes you about 8 minutes. The size of the gite is a little small for five people, but okay and the kitchen was even bigger than we expected and very well equipped. Our kids loved feeding the goats, which are just around the corner. All in all we had a really nice holiday in the lovely furnitured gite and Helene is a very nice host!
---