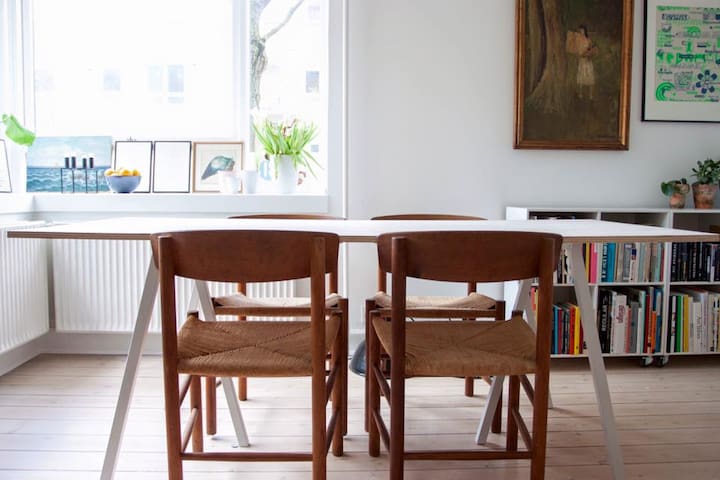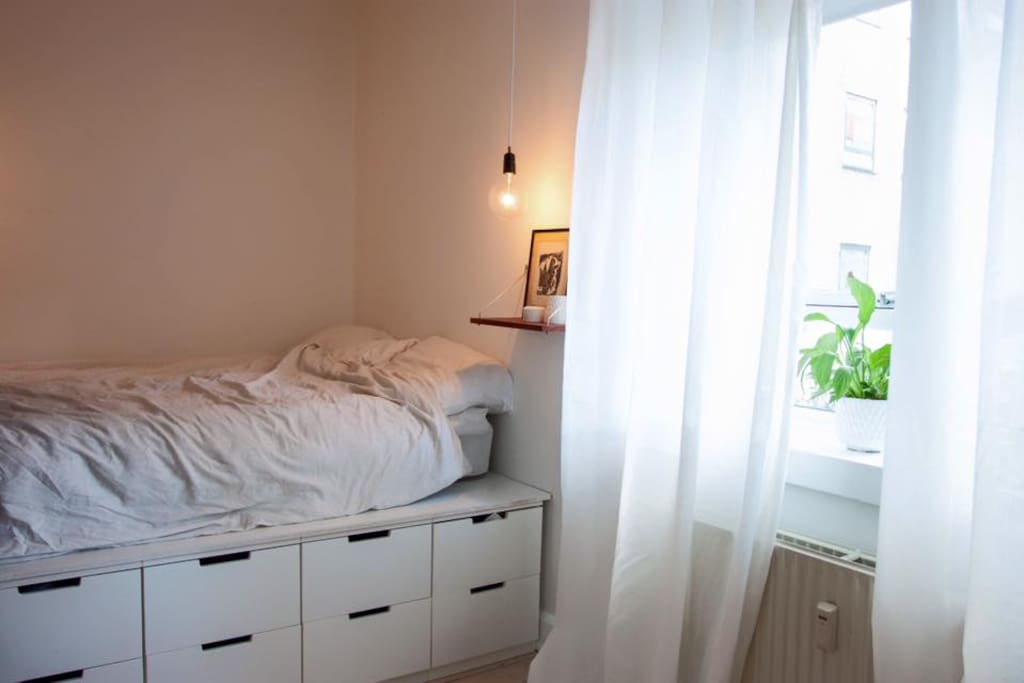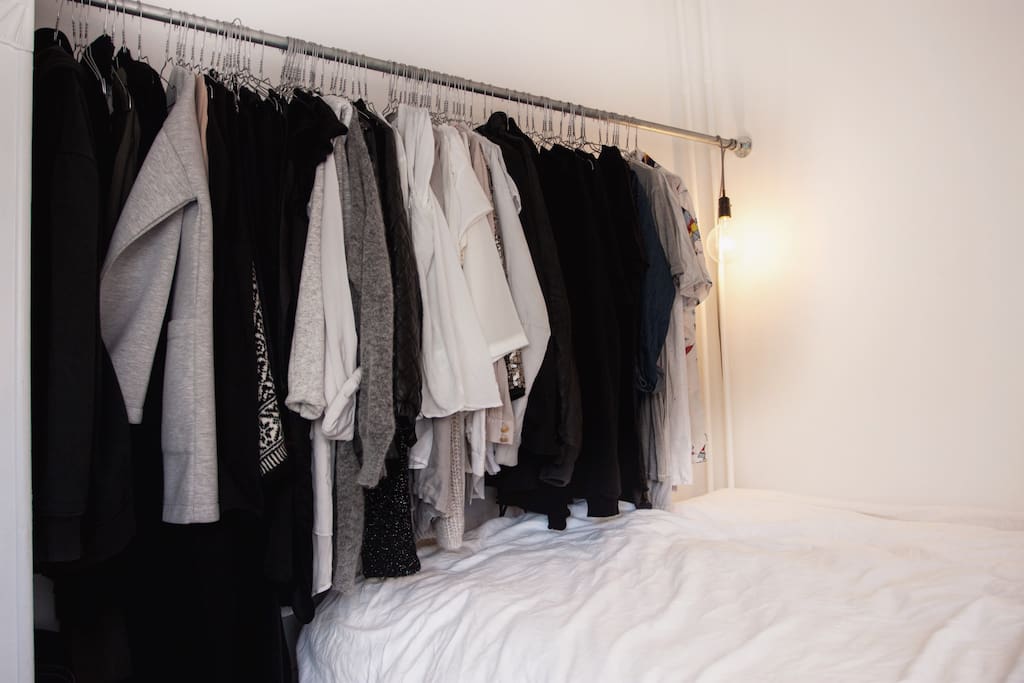 Newly renovated 2 room apartment just 1 minute away from Jægersborggade centrally located in Nørrebro. Here's everything you need for a lovely stay in Copenhagen.
---
Rikke's place was very well-appointed and an excellent use of space. The bed was so cosy and everything in the apartment was beautiful and meticulously curated. However, there was unfortunately some construction on at the time of our visit which was quite disruptive to our sleep, although this was obviously not within Rikke's control. The bathroom was very small, which I understand is a Copenhagen thing. The size was not much of an issue but the bathroom could use a coat of paint and perhaps a fan to let out steam. Be careful to turn the knob from shower to sink mode as I turned the shower on myself more times than I would like to admit when trying to wash my hands.
I'm sorry for the noise, I haven't thought about at all, as I'm always at work when they are working. It's says in the description that the bathroom is small and NOT renovated (happens in january 2018 together with the other apartments). The price of my apartment reflects this. We are not allowed to install fans in the building. Please, remember to close windows another time in a ground floor apartment.
---
Rikke's place is stunning and the neighborhood is wonderful. Rikke's eye for design is impeccable. We stayed here for 6 days. It was the perfect home base from which to explore CPH. The apartment is very clean, very quiet and everything works as expected. Great water pressure in the shower, good mattress and soft linens. Right around the corner is an amazing park and a gorgeous street with wonderful shops and a few of the best Danish New Cuisine restaurants in the city. We went to Grød three times, and the Coffee Collective daily. Rikke is a superb host, responsive and full of great recommendations. Can't say enough wonderful things about her!
---
We had a beautiful stay at Rikke's apartment. It's fully equipped and perfect for a young couple. The apartment is comfortable, well designed and decorated with many great pieces of art and design. We haven't had the pleasure to meet Rikke but we have communicated very well before and during our stay and also the check in and check out have been super easy. She has been also helpful to provide us useful information regarding the area and great tips about local shops. My girlfriend and I really enjoyed the neighborhood, totally safe, well positioned to explore the city and full of cosy bars and arty shops. We really hope to be able to stay at Rikke's apartment again in the future!
---
Wir hatten ein paar supertolle Tage in Kopenhagen. Rikke's Apartment ist an perfekter Lage in Nørrebro gelegen. Von dort aus sind es nur zwei Minuten zu Fuss zum besten Café und vis-à-vis zur besten Bäckerei. Da haben wir uns jeden Morgen unser Frühstück geholt. (Natürlich bietet Rikke's gut ausgestattete Küche auch die Möglichkeit, selber zu kochen.) Im Vorfeld hatten wir via SMS und E-Mail kommuniziert – mit Rikke war das super einfach und unkompliziert. Das Ankommen in der Wohnung hätte nicht besser sein können: Wir wurden mit frischen Erdbeeren, Kirschen und Bier im Kühlschrank begrüsst. Ihre Wohnung ist wunderschön eingerichtet, ich habe bisher noch keine vergleichbare Wohnung von Airbnb gesehen. Alles hat Stil: Von der Gabel zum Kochtopf, von den vielen kleinen Vasen zu der Kunst an den Wänden. Die Wohnung ist viel schöner als auf den Fotos, sie ist hell und und man fühlt sich sofort zu Hause. Einzig das Badezimmer ist sehr klein, die Dusche befindet sich quasi an gleicher Stelle wie das Waschbecken. Uns hat das aber nicht weiter gestört. Im Vorfeld hatte ich etwas Bedenken, ob wir im 1.40 Meter breiten Bett gut schlafen können. Rikke hat uns deswegen extra eine zusätzliche Matratze parat gemacht, welche wir dann natürlich nicht benötigt hatten – das Bett geht problemlos für zwei Freunde. Wir hatten einen sehr schönen Aufenthalt in Rikke's Wohnung und ich kann es dir auch SEHR empfehlen :-)
---
Rikke's apartment is just stunning! The pictures simply do not do it justice. It is so beautifully decorated and truly encompasses the Danish concept of Hygge. It is full of so many interesting little bits and pieces that she has collected, it inspired us to do some antique shopping of our own while we were there. The apartment was very clean and fresh with fluffy towels and a comfortable, good sized bed. It is a small apartment but perfect for a couple. Initially we were worried about the size of the bathroom but my boyfriend and I are 5ft 11" and 6ft 3" and it really wasn't a problem. Also there is no TV but this was not an issue for us as there is so much to see and do. The area is very cool and has quite a local feel. A five minute walk from several big parks, great brunch spots, cool bars and trendy restaurants. We did not want for anything. It is about a 40 minute walk into the centre but after seeing the main sites we chose to spend most of our time in Nørrebro. Rikke was also very accommodating and flexible about check-in and check-out times; we arrived really late on a Friday with our plane being delayed an hour. She was very relaxed and understanding and met us out the front when we got there. She'd also left us cold beers and nuts which were a very welcome treat. The whole stay really could not have been more hassle free. Communication was great too and she really helped out on some good recommendations for my boyfriend's birthday. We fell in love with Copenhagen and with Rikke's apartment. If you are looking to experience Copenhagen in a local, young and vibrant area of the city, I could not recommend Nørrebro and Rikke's place enough. Also check out Manfred's for dinner and Mikeller and Friends for a huge selection of beer. We look forward to coming and staying again when we next come to Copenahgen.
---