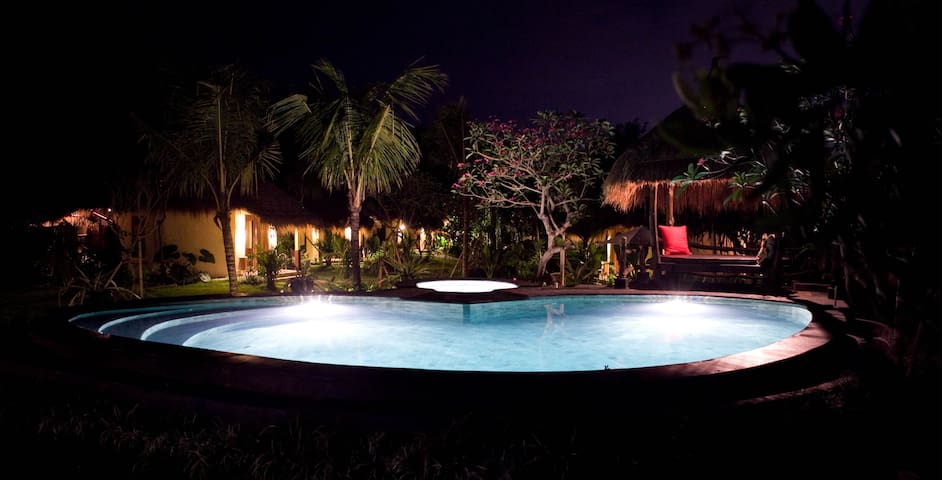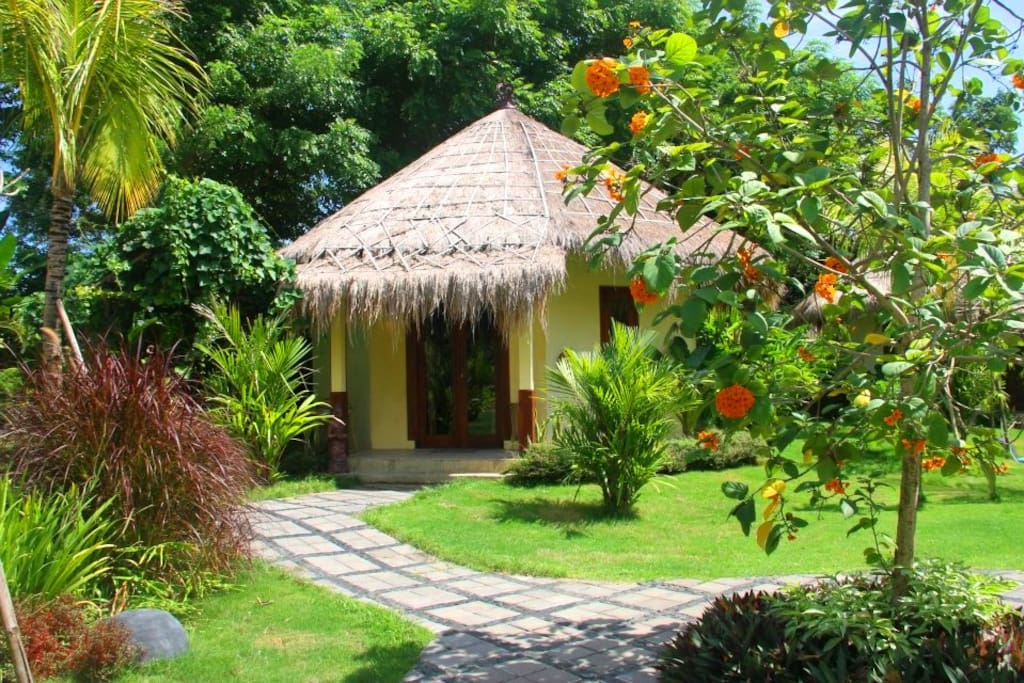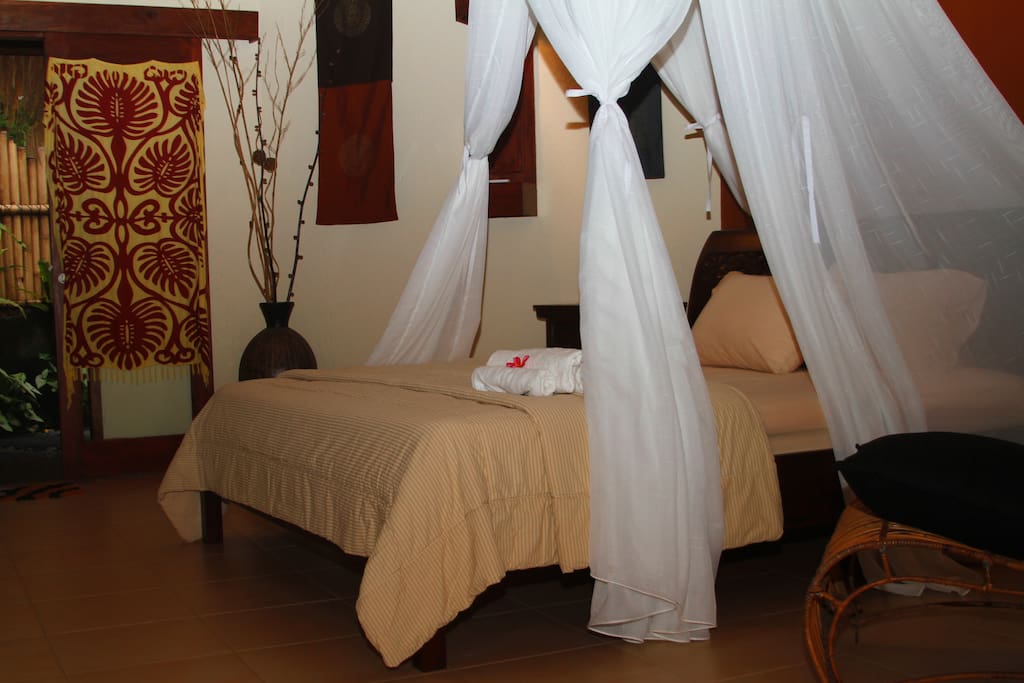 房源
Lullaby 小屋是巴厘岛南部 Padang Padang 一个只有 6 个房间小巧迷人的精品度假村,的小的迷人和只有 6 间平房在南巴厘岛,距离 Padang Padang Beach 海滩步行仅 7 分钟。

每个小屋都有它自己的热带花园淋浴/浴室。每个小屋都有特大号双人床,配有空调和热水。

4 栋五边形的小屋具有传统的 Alang Alang(茅草屋顶),单独用于短期出租。

我们有游泳池、餐厅和 全天候的工作人员。价格中包含早餐,午餐和晚餐亦可预定。

小屋的面积相同,只是颜色上略有不同。坐落在一个热带花园之中,Lullaby 小屋的客人可以享受周围大自然的宁静,体验在小屋酒店客人可以让他们思维与周围的宁静一同放松,体验在私人的热带花园中淋浴,在泳池中畅游放松,享受 Bukit 地区柔和的气氛。

Lullaby 小屋位于南巴厘岛 Padang Padang 的 Bukit 地区 Pecatu 村。周围是海滩和世界级的冲浪带,如 Padang Padang,Uluwatu,Bingin,Impossible,Dreamland 和 Balangan Beach。Lullaby 小屋绝对称得上是诸神所在的天堂。

相对于游客众多的地方,它是完美的度假胜地,与繁忙的日常生活相比,它就是一个完美的休息之地,适合冲浪者、家庭、情侣和单身旅行者的冲浪度假据点。
---
This place was great. The bathroom/shower is outside which is something to keep in mind when traveling with a girl. If you don't get ready before sunset, you'll need to turn on the lights which might attract some bugs. The inside of the room was clean. Bug net was sturdy. A little dim after the sun went down but over all a very fun and affordable place. Also, the breakfast was amazing.
---
I have stayed at Lullaby both times I've come to Bali and truly love it! The staff are very kind and speak great English. Germaine, the owner was very accommodating for us and set us up with a motorbike and helped us when we ran into trouble getting to Bali due to passport issues. Communication is always fast and friendly and they provide a great breakfast. The bungalows are very nice and you get a really great value for the price. Most places that are this clean and well-run cost much more. They also bring you a cold watermelon juice upon your arrival which always makes me feel like a queen. The pool is very nice and the grounds are beautiful. The other guests seem mellow and so it's a nice quiet space to take in Padang Padang and Uluwatu. The AC runs very cold which is great. The rooms are very luxurious, well decorated and spacious. I love the outdoor shower and all of the beautiful stone work both in the bathrooms and the pathways around the property.
---
Lullaby villas exceeded our expectations. It was the perfect base to explore the bukit being just minutes away from Padang Padang and a short scooter ride to many good surf breaks. There were several restaurants nearby--we highly recommend Buddha Soul for a healthy lunch and Single Fin for drinks overlooking Uluwatu, though if it's raining or you are just burnt out from all the surf, the restaurant on site prepared great and affordable meals. The jaffle for breakfast was amazing. Germaine is a gem and made sure we were attended to from the minute we arrived. We were able to book transportation to and from the villa, as well as a scooter to use during our stay, with complete ease. While the staff may not speak perfect English, they were great at taking care of us while maintaining our sense of privacy. The room itself is very spacious and has air conditioning and decent wifi, not to mention a water cooler which was super convenient. The outdoor bathroom was really cool, just have to be prepared for the harmless little (or not so little) friends that might keep you company...we shared the room with a rather large (and loud) gecko during our stay but he stayed out of our way mostly and we thought it was good luck anyway :p. Thank you Germaine and the lullaby staff for the great time...we wish we could have stayed longer!
---
We absolutely LOVED our stay here. It was our first time to Bali and such an amazing starting point with such a helpful and attentive staff. We had breakfast served every morning and bikes delivered so we could get around and explore. Not to mention the grounds are so serene and gorgeous. I highly recommend staying here!
---
Five years ago Lullaby Bungalows was built out of a dream and out of excitement for this beautiful Island. As a young couple we are more than happy to show and share with you the mellow ambiance of the South of Bali, with it's nature, culture and beauty of surrounding beaches fro…
语言:
Bahasa Indonesia、English、Nederlands