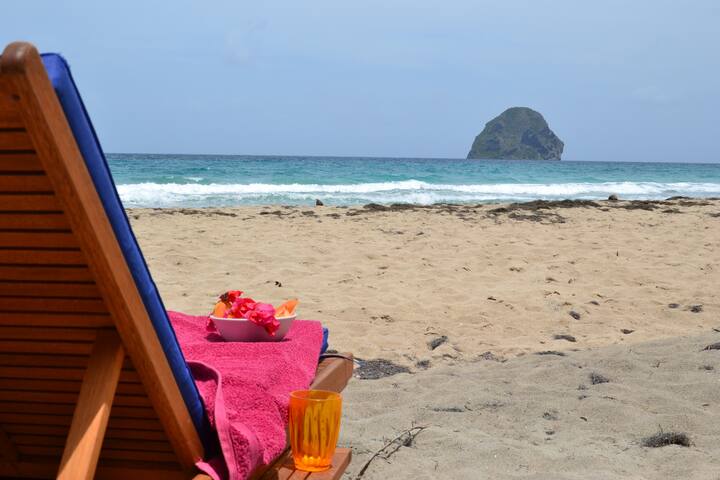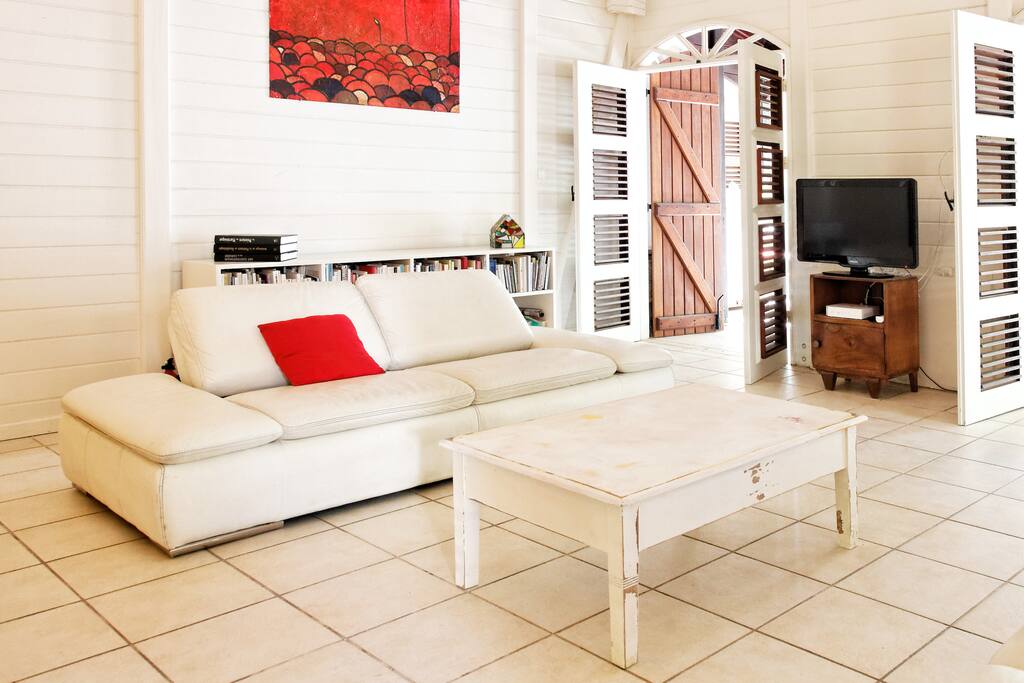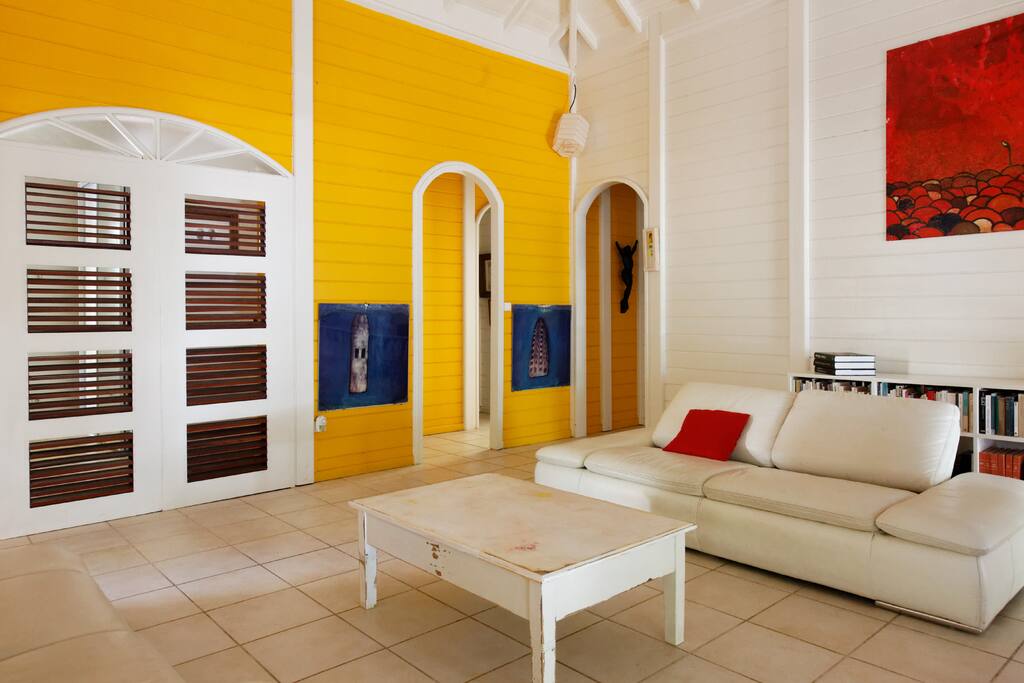 房源
Sur la plus belle plage de la Martinique, cette maison d'artiste en bois créole, vous offre le confort et la discrétion que vous recherchez. Trois chambres climatisées , un salon, une galerie, un deck noyé dans les arbres. Cette propriété conviendra aux plus exigeants. Passez de la plage au barbecue, déjeunez en plein air, prenez une petite douche en pleine nature. Ou, si vous préférez , profitez de la wifi ou du piano sous la véranda. Calme, plage, repos.Absolument unique.

Les commerces sont à 1 km environ. Le marché local est situé à moins d'un km. On peut également y aller par la plage.

Pour les sorties nocturnes, deux bonnes adresses " Chez Ernest ",et New Cap 110 à une minute en voiture

La Villa se trouve à 1 km environ du Bourg où l'on peut se balader entre commerces et restaurants. A côté de la Mairie se trouve le Musée du Père David (archéologie et Histoire de la ville du Diamant). En face, l'office du tourisme où l'on se fera un plaisir de vous guider sur vos balades.

Pour ceux qui voudraient faire en bus la boucle Diamant; Anses d'Arlets, un arrêt de bus se trouve en face de la villa, sous un kiosque
房客使用权限
Vous pourrez accéder au Marché local a 10minutes a pied le long de la plage. De très bons restaurants a 1minute en voiture. Le golf des Trois Ilets est à 25 minutes du Diamant
与房客的互动
Je suis a leur disposition pour les guider dans le choix de leurs sorties
---
Forty years ago I sailed my boat to Martinique and fell in love with this beautiful island. The landscape, old volcano, waterfalls and beautiful beaches left me no option. When I discover Norwegian Airlines was offering inexpensive non stop service from New York and Boston I decided to visit again and see if it was still the gem I remembered forty years ago. Indeed it was. I search the internet rental by owner sites and found a 3 bedroom creole style cottage right on the sands of my favorite two kilometer long beach. The posted pictures looked interesting but didn't convey just how beautiful and perfect this cottage turned out to be. Arriving shortly after dark I was concerned if we would find the place easily but the owner Daniele had given us great directions and stood in front of her driveway waving and beckoning us home. The house looked cute and comfortable. Daniele led us inside where she gave a great bottle of French wine and a still warm fresh baked tuna pie. Tired from the traveling we shared this warm courtesy and retired early. The next morning we awoke to the sound of the surf and the cooling breezes of the Caribbean less than thirty meters from our door. The true beauty of this cottage engulfed us. With a covered deck, outside dining area, shade bearing trees, security fence and gate, great lounging beach furniture, retractable awning, stainless steel barbeque, complimentary boogie boards, and a beautiful view of the beach and Diamond Rock we had found the perfect rental to base our exploration of all the great attractions Martinique offers. The best part though was the beautiful and charming Daniele who accommodated our every whim. A native of the island she told us the best beaches to visit, the best rum distilleries to visit and the best times to seek our destinations to avoid traffic or any other inconveniences a visitor is likely to encounter. She even researched and found a way we could watch the Super Bowl. Not an easy task on a French island in love with soccer. The house had a every conceivable convenience you could desire. A washing machine, a dishwasher, a coffee and an espresso machine, a microwave, a gas range and oven, an iron and ironing board, a large flat screen tv with cable, strong internet, and three air conditioned bedrooms which we found unnecessary due to the cool breezes from the sea. Daniele is an accomplished artist and her works adorn the cottage with beautiful contemporary pieces. This cottage is perfect for up to six people. A romantic or family oriented stay here is perfect. The neighborhood is exclusive and quiet and is the perfect base from which to explore all the beautiful attractions this tropical French island has to offer. We definitely will be back to indulge ourselves in this very special place and to visit our very special new friend Daniele.
---
Daniele could not possibly have been a better hostess. There was food that she had prepared and a house that was in perfect taste that is 100 times nicer than in the photos. She was kind, charming, gracious and attentive to our needs be they for a dentist or information about the best restaurants. The house was is in perfect taste and very consistent with Caribbean artistic ambiance. Her husband, Laurent, is an artist and his very good work contributes to the ambience. And everything works!! And for any problem however small, she is there in 10 minutes! The place is perfect - right on the beach that has great body surfing waves and three good bistrots within a two minute drive. The beach is enormous and also good for running and walking and is rarely very busy. We hope to go back many times. I cannot recommend the house more highly.
---
Ce Séjour vacances Toussaint 2016 en famille restera un souvenir fantastique pour chacun de nous. L'accueil de Danielle est parfait: cuisine de poulet coco toute chaude à l'arrivée, 1ère courses pour le petit déjeuner (URL HIDDEN) maison est idéalement placé, Et très agréable. Nous avons profité de la plage du Diamant avec ses vagues et avons bien visite toute la moitié sud de l'île! La maison est très agréable, Danielle très prévenante et n'hésite pas à partager ses conseils pour lutter contre les moustiques en cette saison très humide!! Les quelques piqûres n'ont en rien troublé ces incroyables vacances!!
---
Nous avons passé un excellent séjour dans la Villa de Danièle. La maison est très propre, très agréable, spacieuse et surtout idéalement placée en bordure de plage. Nous ne pouvions être mieux reçus par l'accueil chaleureux de Danièle et garderons un excellent souvenir de ce moment passé au Diamant.
---