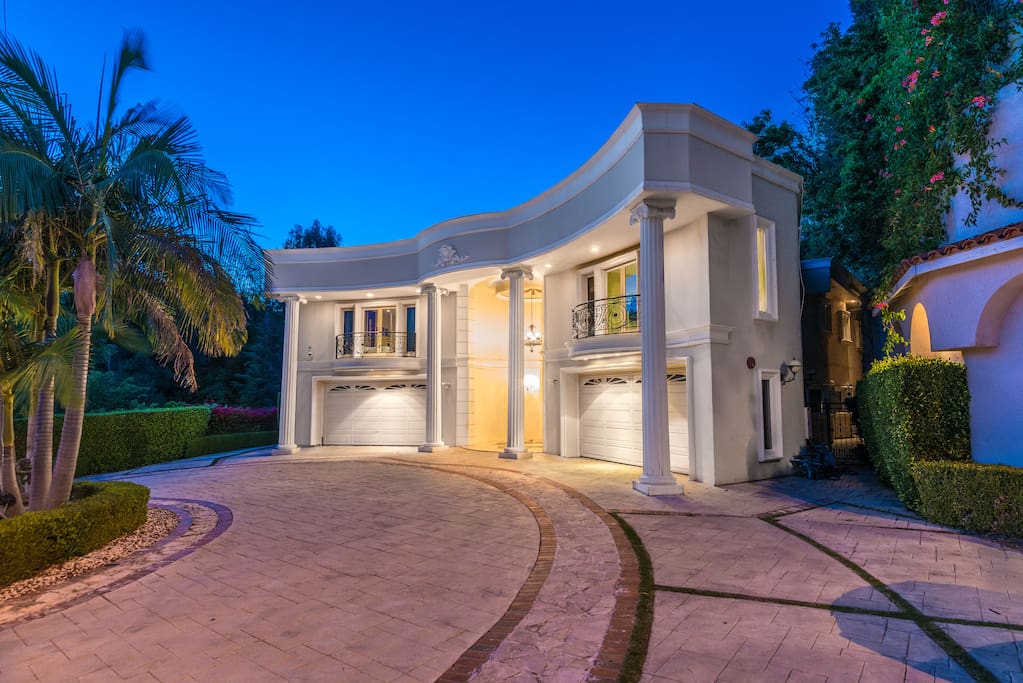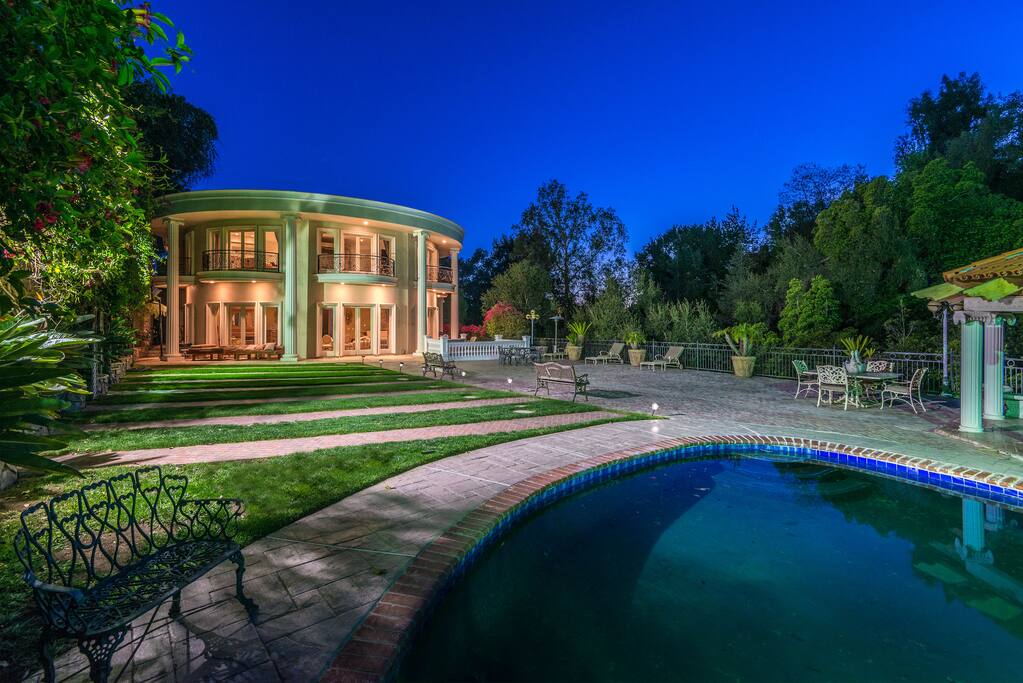 这个两层楼的豪华家居设计和质量最好的建筑是不妥协的。美丽的大入口与扫荡的双层楼梯超越客厅和郁郁葱葱的地面超越。弯曲的墙壁,手绘天花板,豪华的使用细花岗岩和大理石地板。异国情调的粉色房间和华丽的吊灯。定制木刻壁炉。美食厨师厨房拥有雕刻的橱柜,中心岛和高品质的家电。
This two story palatial home is uncompromising in design and of the finest quality construction. Beautiful Grand Entry with Sweeping Double Staircase looks beyond the Living Room and lush grounds beyond. Curved walls, hand painted ceilings, lavish use of fine granite and marble floors. Exotic Powder Room and gorgeous chandeliers throughout. Custom wood carved fireplaces. Gourmet chef's Kitchen boasts carved cabinetry, center island and high quality appliances.
与房客的互动
Yes I shall help guest with anything they need.
---
---
---
The Guest shall not use the Premises or permit it to be used for any disorderly or unlawful purpose or in any manner so as to interfere with any neighboring resident's quiet enjoyment of their residence. Any such misuse shall result in an immediate termination of this Agreement and no refund of any payments will be issued. The Guest will comply with all laws, rules, ordinances, statutes and orders regarding the use of the Premises.
Smoking of any type is not allowed inside the Premises unless previously discussed and approved by Owner. Failure to adhere to this provision will result in an automatic termination of this Agreement and forfeiture of all funds paid.
Guest acknowledges that the Property contains a pool. Guest acknowledges that the pool constitutes a very serious danger and risk, which can result in death or injury (by drowning, accident, or otherwise). Guest hereby agrees to always use, and insure that others on the Property use the pool in a safe and responsible manner. Guest expressly agrees to assume all risk of death or injury directly or indirectly associated or arising out of, or in connection with, the use of the pool or its existence on the Property.
The Guest agrees to properly use and operate all furnishings, including electrical and gas appliances, plumbing fixtures, electronic home entertainment property, fireplaces, heaters and all other items provided during the term. Owner will make every effort to assure that all the appliances at the Premises are in proper operating condition. As such, we ask the Guest report any problems as soon as they are discovered. Owner will make every effort to correct any problems; however, at times Owner must wait for parts and/or outside service. Refunds cannot be made for inconvenience due to mechanical failure of appliances.
The maximum number of allowed guests staying overnight is 12 and the maximum number of guests/visitors allowed on the Premises at any time is 15. All guests ages 4 (four) and over are counted as chargeable guests. Any party falsely representing the number of people staying at the Premises may be subject to immediate ejectment, without refund. Over occupancy is considered a material breach of this Agreement and will result in the immediate forfeiture of the right to use the Premises.
If at any time the number of guests/visitors exceeds 15, Guest will be charged a flat fee of $100 for every visitor over 15. Event's are only allowed at the property with authorization from the owner. It is very important the we help you arrange for the event so that it does not negatively impact our neighborhood. Please make us aware of any event plans upfront to avoid any unnecessary issues or charges for your stay.
Upon expiration of the Term, the Guest shall peaceably surrender the Premises to Owner or its agents in as good condition and good order as it was at the commencement of the Term, reasonable uncleanliness expected.
The house has a guest house which is separate from main house and is off limits to guests and not included as part of the rental. There may or may not be someone occupying the guest house during a stay but guests will maintain complete privacy and unobstructed use of the entire main house as well as the grounds and pool.
---
---
---
Hello,

My name is J., and I was born and raised in Los Angeles.

I currently live with my family in the heart of Brentwood and it has been my home since I could always remember. Being a resident of Los Angeles, California I have been both blessed with great entertainment and weather. Above all, what I love most about being an Angeleno is that I am always in close proximity to everything, but most importantly to my family and friends at all times.

My style of traveling as a guest is simple; I love being able to relax. I don't believe in taking vacations, to take another vacation. As a host, not only am I accommodating but understanding of our guest's needs. Respectful to all those who are in privity of the property during their vacation, just as I would like to be treated as a guest in their home.


语言:
English、Español、한국어