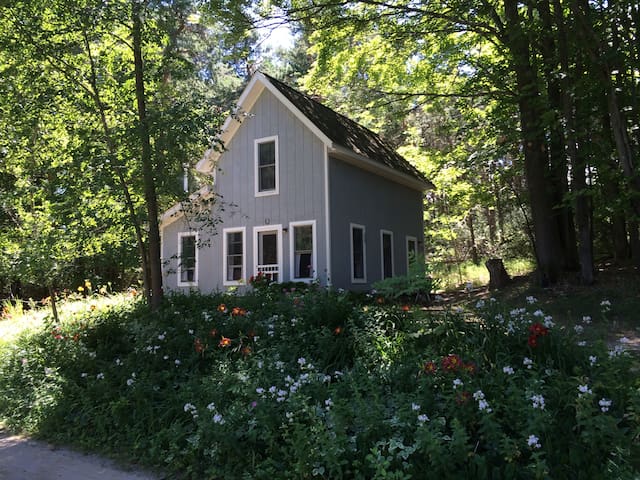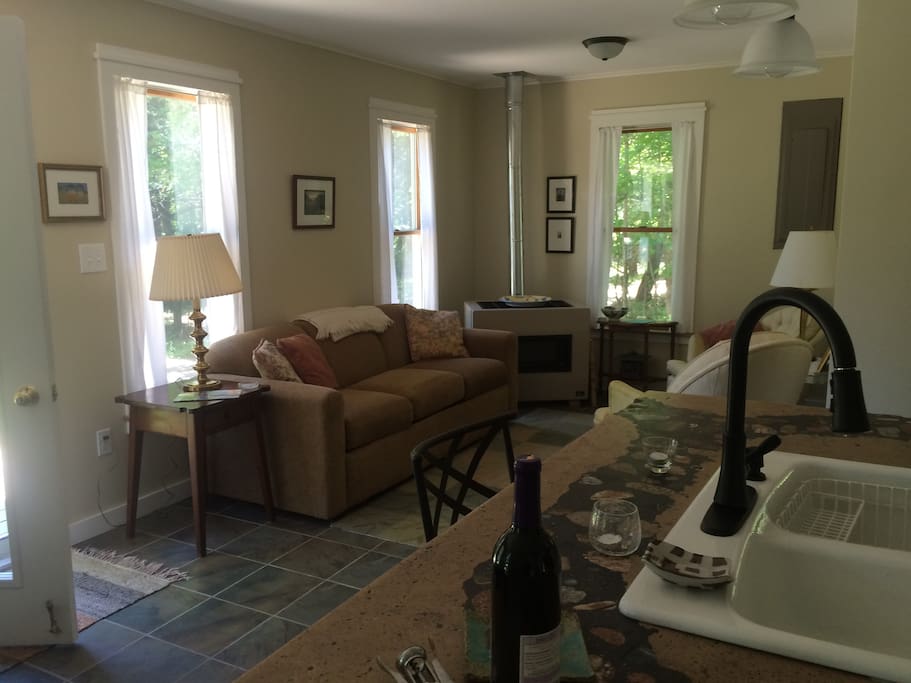 The Big Twig, near Lake Bellaire
The Big Twig is a larger version of the Twig, which has been listed on airbnb for over two years. It is a two-story former studio with an open living area on the first floor, including the living room, dining area and kitchen. There is also a small bedroom off the living room and a bathroom behind the kitchen.
The second floor is devoted to a spacious bedroom.
Please note: Dogs are welcome for an additional $15 cleaning fee.
房源
The cottage is simple but comfortable. All-cotton linens and towels are line-dried when possible, and sheets are freshly pressed. I use a variety of vintage pillowcases in addition to the standard sets, and many of the dish towels have hand embroidered designs.
There is a room furnace to heat the place in cold weather, which a team of experts will have to start should it be needed.
房客使用权限
Guests are able to walk or drive across private family property to the beach on Lake Bellaire, also private and family owned. There is a fire pit with a great beach area for kids to swim. There are places on Lake Bellaire, Clam River and Torch Lake to launch boats which may be moored in the water on our beach with the guest's own anchor. The private beach is always available to my family but the properties on both sides of the beach is not available to guests; family members live in the homes nearby and they like their privacy. Often, there will be a bonfire with both family and Twig guests taking part.
与房客的互动
I am an artist and do many away shows on weekends during the summer but I always try to greet my guests or have someone here to do it for me. Otherwise, I'm usually around the studio if there isn't a show.
House rules are listed in the Big Twig, and they are based on the idea that guests will be respectful of the cottage and its contents: using coasters on wood tables, not allowing dogs on the beds unless the special cover provided is used, leaving the cottage, property and beach as clean as they found it, etc. I'm always available by text or phone to answer any questions, and probably have almost anything a guest might want should they forget something. I want everyone to feel comfortable and safe!
其他注意事项
Absolutely no smoking indoors!
Well-behaved dogs only; please, no destructive dogs. Those that suffer separation anxiety and chew or destroy should stay somewhere else. There is an additional $15 cleaning fee added for pets.
There are plenty of books available and, should a guest want to, s(he)
can take one home. What's a cottage without books?
We are also located in the flight path of loons crossing between the north end of Lake Bellaire and Clam River, and they fly back and forth several times a day. What a delight!
---
---
---
---
This is a quiet, private area and nearly everyone who comes here, friends, family and guests alike, appreciates that while they are here. Loud or obnoxious parties or music won't be tolerated and guests will be asked to leave if that happens.
These are housekeeping cottages and guests are expected to leave the Twig as they found it, in good order with clean dishes and swept floors.
---
---
---
---
This is a lovely, quiet place to relax and enjoy beautiful northern Michigan. The property is a path walk away from Bellaire lake and also very close to Torch Lake. Lynn was a fantastic host. She allowed us to drop off our belongings early so we could get to the lake for the day. We had a wonderful stay and would highly recommend this home.
---
We enjoyed our time at the Big Twig! Lynn was an excellent host and communicator both before and during our stay. The location of the cottage is beautiful; it sits on a peaceful section of Lynn's property with a convenient pathway to Lake Bellaire. We enjoyed fishing, kayaking, canoeing, and bonfires on the beach. There is a beautiful, shallow beach area and the water is crystal clear...great for kids and dogs! Lynn's entire family was warm and welcoming!
---
Lynn went beyond her duty to make my family and I welcomed and ensured we have a great mini-vacation. From the moment we arrived she welcomed us to the Big Twig located on her large family property connected to the Bellaire lake front beach area. The cottage is cozy, comfortable, clean, tastefully decorated, well appointed kitchen, there is even a grill outside. Lynn was kind to provide a nice bottle of wine and charcoal. There are plenty of fresh towels and toiletries. The best surprise was the path through the property that took us to the lake. Lynn allowed us to use her lake kayaks and fishing paddle boats! Water is crystal clear and great for swimming. We enjoyed the area, took trips to the Torch lake, Bellaire downtown, Charlevoix and had a great time on the lakes, eating out, exploring and relaxing. We enjoyed getting to know Lynn and her artist lifestyle and would definitely return and recommend her place to anyone looking for a piece of paradise in the woods and fresh air by the beautiful lake.
I would like to qualify the 4-star ratings I gave Corina and her family; they should have been higher. It turned out to be a real family reunion for the Mavrodin family, with relatives coming from many places, and there were 8 very happy people staying in the cottage. They left the place about as nice as they could, considering all those staying there; I doubt I could have done much better. They were great people to have as guests and it was a pleasure getting to know them. I'd love to have visit again anytime.
---
My extended family lived in the Washington, DC, area; I grew up in Chevy Chase, Maryland, and spent my summers on my great-grandparents' 300-acre farm on Lake Bellaire in N. Michigan. During the '70s, those of retirement age moved back to the farm and now there are five family homes on the place. We all get along and when problems arise, which they sometimes do, we work them out and move on.

I always wanted to live off the land (one of my favorite books as a child was 'My Side of the Mountain") and be as independent as possible. It hasn't quite worked out that way but over the years I've learned to adapt to whatever problems come up and it's made my life in general much easier to deal with. I heat both my home and studio with wood and try to live as simply as possible in this overloaded world.

I've travelled to Japan, Europe and S. America, read extensively, and love to sail and garden. (My gardens, however, do not reflect that love at the moment.)

One of the great pleasures in my life has been to open up to new people and new places. Accepting and appreciating diversity, whether in people or ideas, has been a great door opener to this very interesting life I've been fortunate enough to have. (And being a cornball is okay too.)