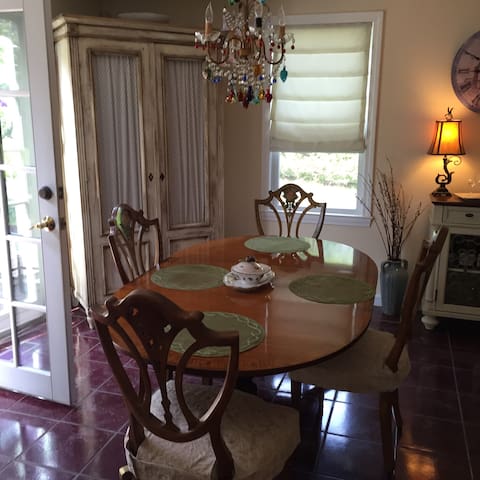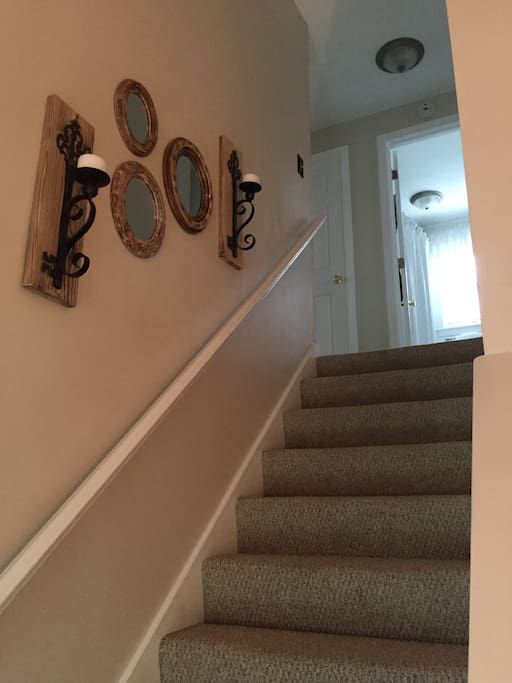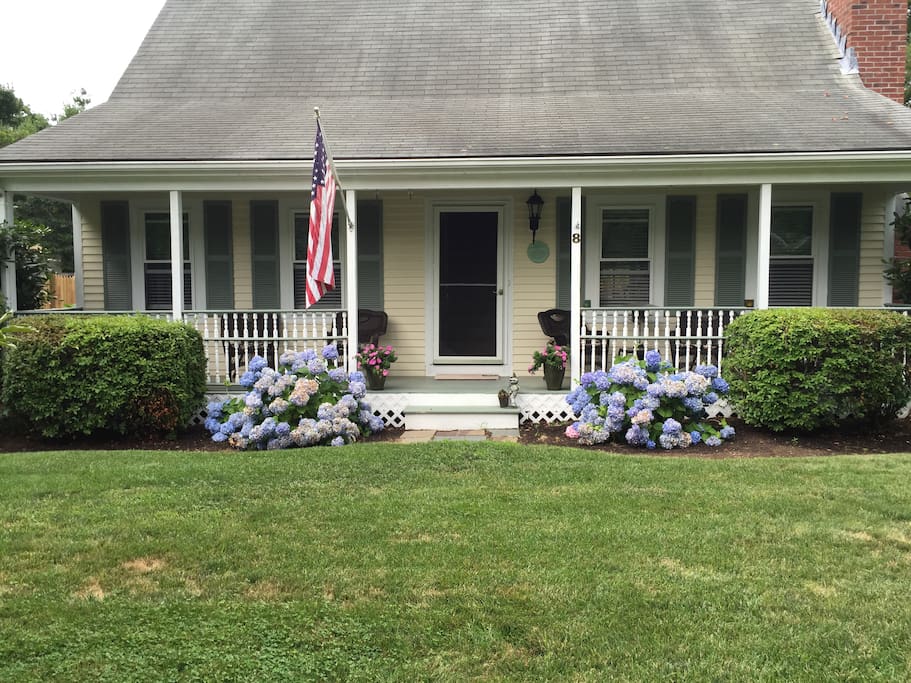 Private Oasis in Falmouth, Cape Cod
Central location to beaches and Falmouth Village. Two large bedrooms upstairs, full baths upstairs and downstairs, family room, outdoor shower, private property with secluded backyard, fire pit, above ground pool, front farmers porch. Adults only. 4 guests maximum per stay.
---
The pictures and descriptions do not do this home justice - our stay was even better than we could have imagined! From the start we knew this would be a great stay as Joan had prepared muffins, chocolates, and other treats for us. There is a wonderful information binder with a ton of information on the house, property, and surrounding area. The house is beautifully decorated and fully stocked with all the amenities you could think of. When you walk outside it is clear that a lot of effort was put into the property: there is lots of outdoor seating, a fire pit, beautiful landscaping, and a sun deck built around the large clean pool with lounge chairs and an umbrella when you need some shade. There is also a gas grill and outdoor shower! We were pleasantly surprised the entire trip as we noticed all of the little touches that went into making this home so special. Inside the house was clean and comfortable, and the central air-conditioning kept the temperature nice and cool. The beds were very comfortable and there was plenty of storage space in the closets and drawers if you intend on a longer stay. The rooms are very spacious and the living areas have lots of couches and chairs if you find yourself hanging out inside. The bathrooms and shower seem to have been recently redone as everything was modern and clean. The house is conveniently located and is a short drive to the main roadways - we were easily able to drive back and forth multiple times to Chatham, Hyannis, and Dennis. It's also nice staying in Falmouth since you avoid a lot of the Sunday traffic leaving the Cape. It was also great interacting with Joan as she was quick to respond via e-mail or text and made the whole process very simple and easy for us. Overall, we could not have been happier with our stay. The house seems very unassuming but they put a lot of work into making the home clean and comfortable and the amenities and property are absolutely amazing. This is truly a great deal and I highly recommend this house for your next stay. We look forward to reaching back out for availability next summer!
---
My experience staying at Joan's house was wonderful. The house is beautifully decorated and very comfortable to be in. It is conveniently situated near amazing amenities including restaurants, gas stations and super markets. Joan was generous in leaving us muffins and coffee. I stayed there to do a 1/2 marathon and the house was a great place to rest after the race. A private oasis is a very accurate way to describe the house. I would definitely recommend staying at Joan's.
---
My three friends and I had the loveliest stay at Joan's house in Falmouth! First of all Joan was very accommodating and responded quickly when messaging. The welcome muffins were delicious! She had an EXTREMELY helpful brochure typed out with all the info we needed including wifi set up, the various amenities she had, as well as menus for recommended restaurants near by! We loved eating Mexican at Anejo! Her house was so pristinely clean and her interior design was impeccable! My friends and I were gushing over the cute vintage style. We unforunately did not end up using the pool because it was too cold when we went down, but it was such a convenient short drive to the heights beach, old silver beach as well as the ferry to the vineyard. We all cooked breakfast each morning and used Joan's well stocked kitchen appliances and pots and pans, which was very convenient! The backyard is a great hangout spot, especially on the deck. She has a very nice firepit in the backyard also, unfortunately my friends and I failed terribly at starting a fire. All-in-all my experience with Joan and her home was amazing! Will definitely recommend to all!
Lorraine you were a joy to have stay in our home. Ron is adding a Safeway fire instruction so all can enjoy our favorite backyard gathering at night! You and your family and friends are most welcomed to come and stay again! Thanks you for having enjoyed your stay. You are a darling. Joni and Ron
---
The home is lovely, both the interior and the backyard. Very comfortable accommodation. The location is within a 15 minute drive of beaches and downtown. Accurate listing. The hosts made us feel very welcome with both an information booklet and very nice touches with chocolates and breakfast muffins. Overall a very pleasant stay and would definitely go back!
---
Joan and Ron left the house in a very welcoming way, with muffins in the kitchen, chocolates in the bedrooms and the room lights lit ready to receive us, with a note inviting us to regard the home as ours. The house is beautifully furnished with all necessary features and equipment including a great above ground pool with sun deck. The garden and outdoor spaces are great to relax in. The neighbourhood is calm and friendly.
---
Joan nous a très bien informé sur la maison et son environnement; Le logement est tout à fait conforme au descriptif, très bien aménagée, calme et confortable, dans un quartier agréable. La maison est très bien équipée, nous nous sommes sentis comme chez nous. Joan a été très disponible et très réactive. A notre arrivée, Joan nous avait préparé des muffins. Nous avons passé un très agréable séjour chez elle.
---