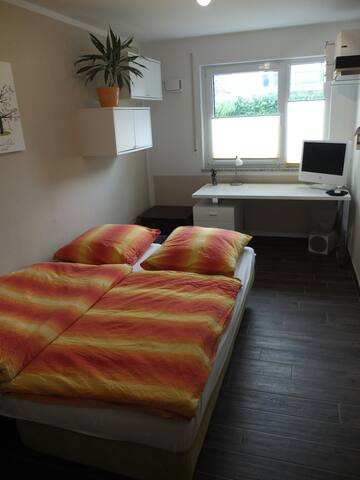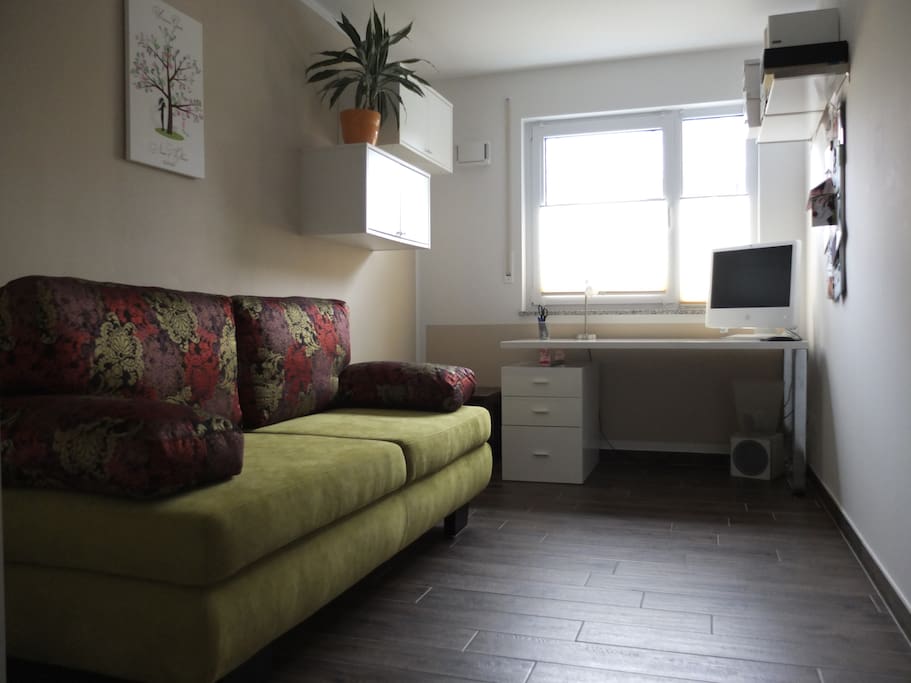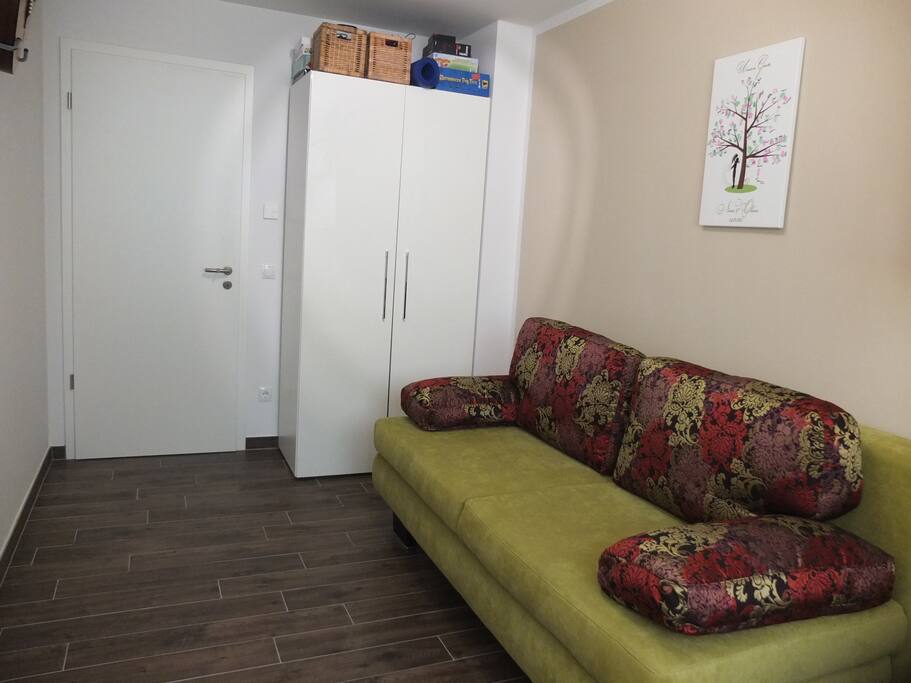 12 sqm room with separate bathroom
I've been to Munich quite frequently and usually I stay with family, but I happen to be allergic to cats and smoke so that doesn't necessarily work out well when most of your family owns cats and smokes. So, since I was staying for quite a while this time around, I decided that my mother and I should just check AirBnb for places to stay since we don't need to be near the city center and can get around well regardless of where we are. Lo and behold, this wonderful place showed up on our radar and it actually happened to be two buildings down from my aunt which meant we were close to family. A definite plus. From the moment we booked to the second we left, our hosts were nothing but wonderful. They were flexible with when we could arrive, kept in constant contact, offered to drive us to the airport when we went to Rome for a few days, had mineral water in the room, offered to do laundry, had incredible wifi (even a computer for us to use if we wanted), and asked if we wanted dinner on a few occasions when we returned while they had just finished supper. It was like visiting family. They even apologized when they thought Sophie (their daughter) had possibly woken us up in the night, but I assure you she didn't. I didn't hear her once and I'm usually the type to be hyper alert. The room was clean and bright, the bathroom made me envious because it was so beautiful, and it was an absolute pleasure to stay with them. A big plus for people possibly unfamiliar with the area is that the Sbahn is quite literally one minute walking away. You can pick up a week pass or a day ticket (the XXL is the best value if you're planning on going a bunch of places in a day) for pretty cheap. The sbahn (s7 is what you want) can take you right into the city center or you can hop off and jump on the ubahn or bus with minimal worry. It's about a 20 minute sbahn ride into the city center, but I was always happy to have a little time to write, drink coffee, and look at the scenery. I say all of that just to illustrate how absolutely wonderful it was to be a guest in their home and I would absolutely, without any hesitation, stay there again.
---
们(男性32岁,女性31岁,女儿1岁)提供12平方米的客房,设有带淋浴的独立浴室,供客人出租。新的弹簧床对于重现睡眠非常方便。这所房子是一座拥有高级设施的新建筑。 火车站距离我们的地方约100米。 10分钟左右,25分钟到市中心(直接方式,不需要更改)。
We (men 32, women 31 and daughter 1 year) offer a 12sqm room with a separate bathroom including shower for rental. The new spring frame bed is very convenient for a recreative sleep. The house is a new building with exalted facilities.
The S-Bahn (train) is about 100m from our place. It takes about 40 min to the Octoberfest and 25 min to the city centre (direct way, no change required).
---