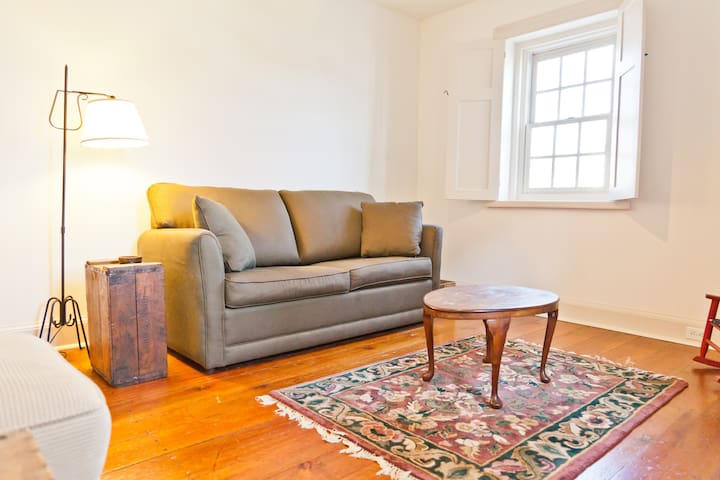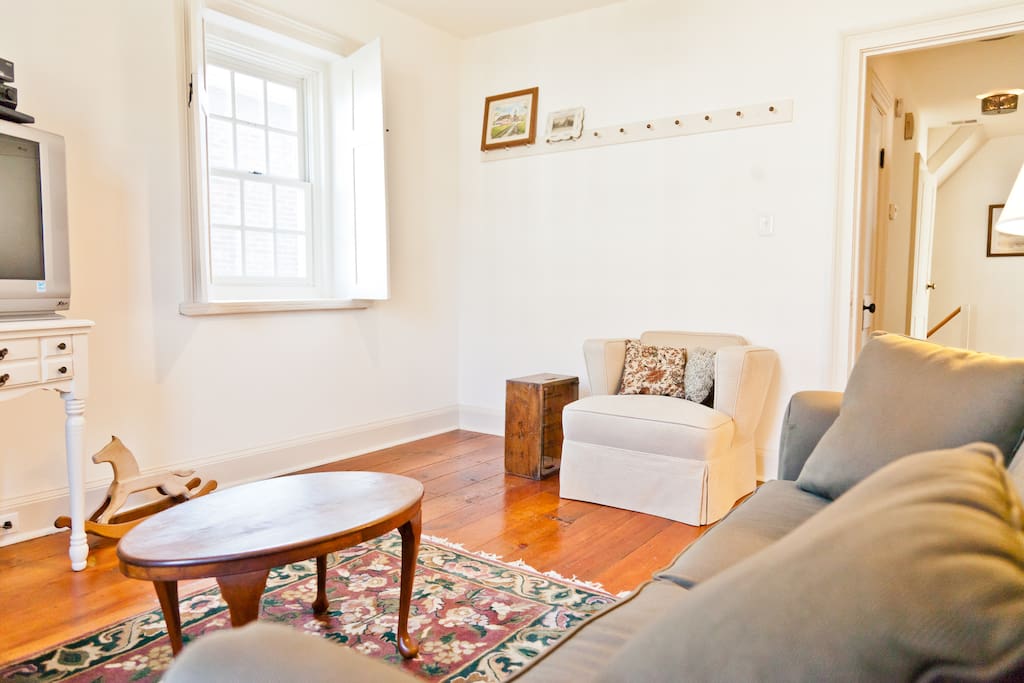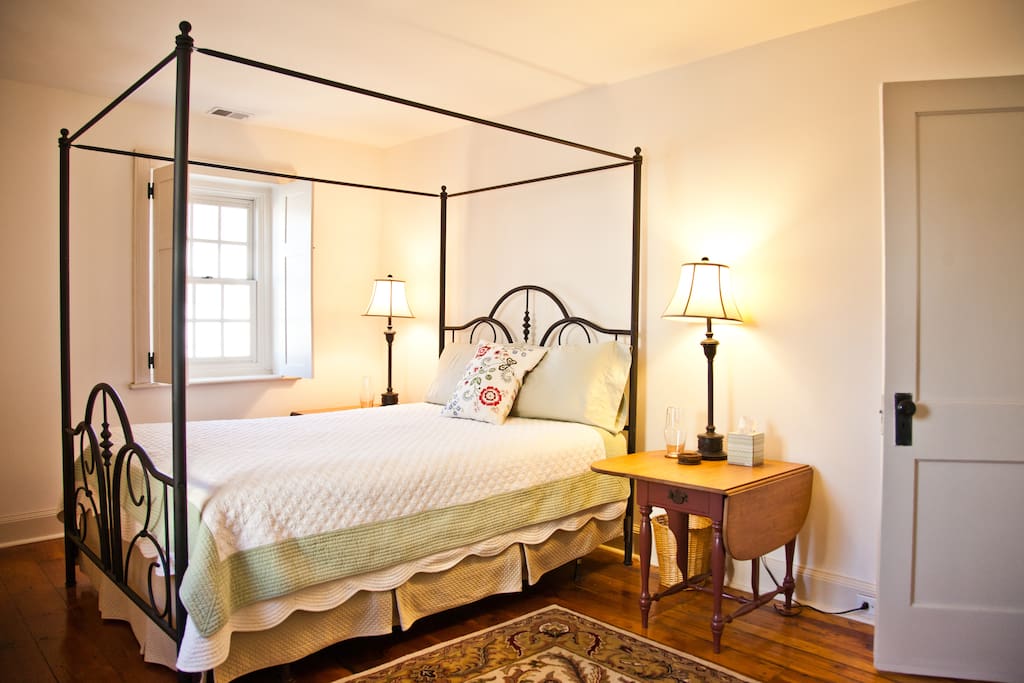 房源
SUITE Ökonomie (of the Old Economy Inn, an Historic B&B)
The Old Economy Inn consists of three lovingly renovated apartment suites, each with its own separate entrance, full kitchen, private bathroom, living room, bedroom, cable TV, free wi-fi, small library, and assortment of DVDs. Each suite also features its own central air and heating system.
PLEASE NOTE: IF SUITE ÖKONOMIE IS BOOKED, PLEASE CHECK OUT OUR TWO OTHER, NEARLY IDENTICAL LISTINGS, SUITE HARMONIE AND SUITE FRIENDSHIP.
All three suites are located within the Old Economy Village historical district, a national historical site 18 miles from downtown Pittsburgh, Pennsylvania. The properties were originally built in 1825 by members of the German Harmonist Society.
SUITE ÖKONOMIE is on the second floor and features a queen-sized bed in the master bedroom and fold-out couch in the livingroom to accommodate kids or an extra adult. There is an antique clawfoot tub with hand-held shower fixture.
The price of a night's stay in any of our suites includes a home-cooked breakfast delivered to you the following morning at a time of your choosing!
(Note: for long-term guests booking at either the discounted weekly or monthly rate, breakfast is not included in the price but is available on request on an a la carte basis.)
Breakfast options include:
* Fritattas: spinach & parmesan or bacon & cheddar
* Breakfast burritos: eggs, sausage, cheese, and--if you'd like--sour creme and salsa
* Absolutely delicious homemade muffins
* Oatmeal available with raisins, brown sugar, and assorted toppings.
We also provide complimentary coffee, tea, milk or half 'n half, orange juice, and assorted snacks.
(After you book your reservation, please call or email us to let us know your estimated time of arrival as well as your breakfast choices for the following morning!)
There is a wide variety of attractions in the area. The Visitors Center for Old Economy Village is right across the street--walking and guided tours are available throughout most of year. Other cultural attractions range from the Andy Warhol Museum and Scaife Gallery in nearby Pittsburgh, to Frank Lloyd Wright's architectural masterpieces, Falling Water and Kentuck Knob, a few hours drive away (advance reservations required).
Sports lovers can watch the Steelers, Pirates, and Penguins play; and fans of the outdoors can hike the beautiful hills of Western PA.
For more information, see (URL HIDDEN)
---
Great hosts! Debbie and Jim are great hosts! They respond promptly to any questions and they take very good care of the place. The place is extremely clean! The furniture was great, the bathroom was awesome and the beds were very comfortable. Although the place is 30 minutes away from downtown Pittsburgh, it is worth the drive and it is a quieter and more relaxing area than any other near downtown. I highly recommend this place, whether you're passing through or looking to relax in a quiet comfortable place.
---
We loved our stay!!! Unique, simple, clean, pleasant. Hosts very very attentive! They even called me to confirm booking when I requested, as it was a last minute booking. Kind and prompt replies! We even thought we left our scarf and they went searching for it and offered to mail it back to us. Free parking right out front. It is on a residential street however it was a very quiet neighborhood. Breakfast was delicious and brought to our table, hot and homemade. Thank you again, truly a delightful experience!
---
I love the simple architecture of the Harmonist Society and did my best to restore the Inn in keeping with their style. If you treasure old houses, I really think you will love staying at the Inn. Make sure to visit the Old Economy Village, a state historical site, right down Church Street.

We have also restored another Harmonist home about six blocks away from the Inn. This other building, which is also in the Old Economy Village historical district, is the new home for our catering business, the Old Economy Cafe. The Cafe opened in October, 2010, and it's where we prepare your breakfast and--upon special request--other meals for delivery to the Inn. Ask us about dinner options during your stay!