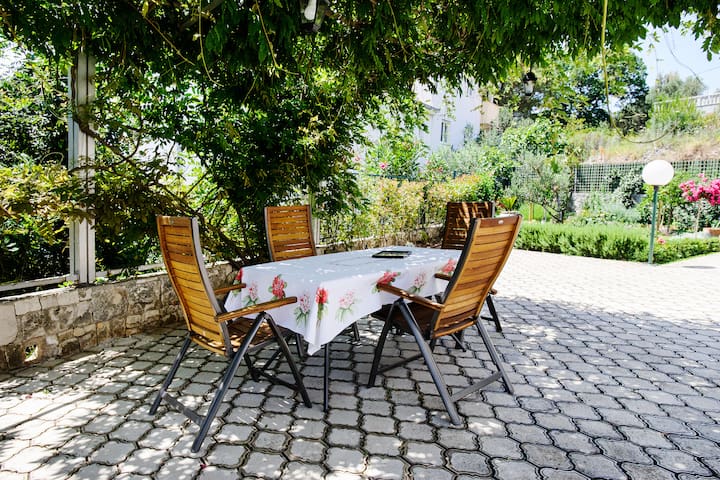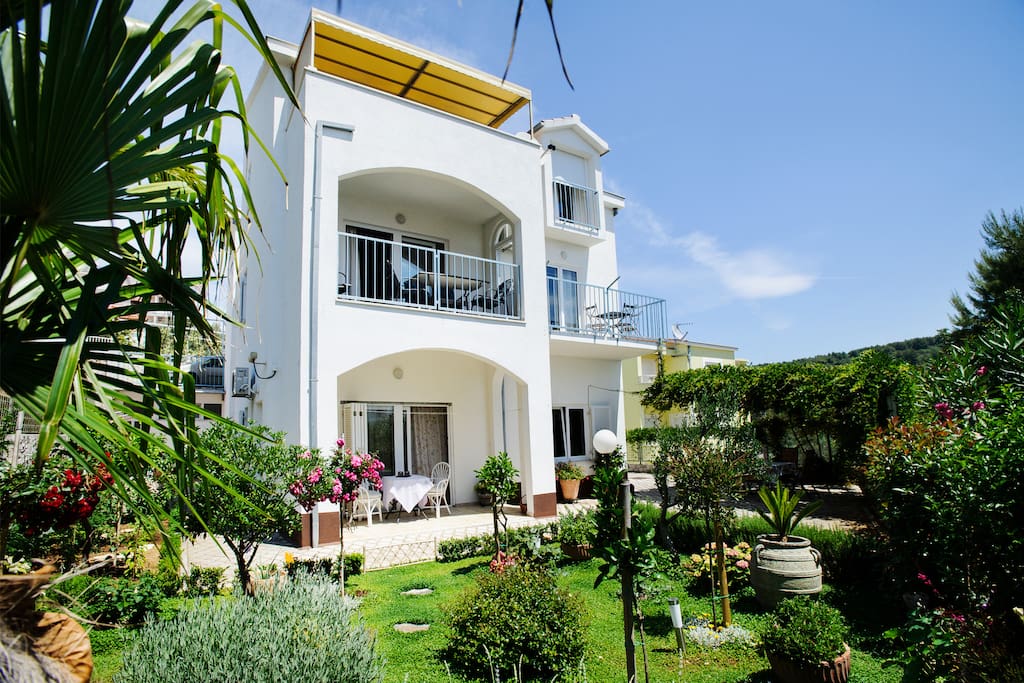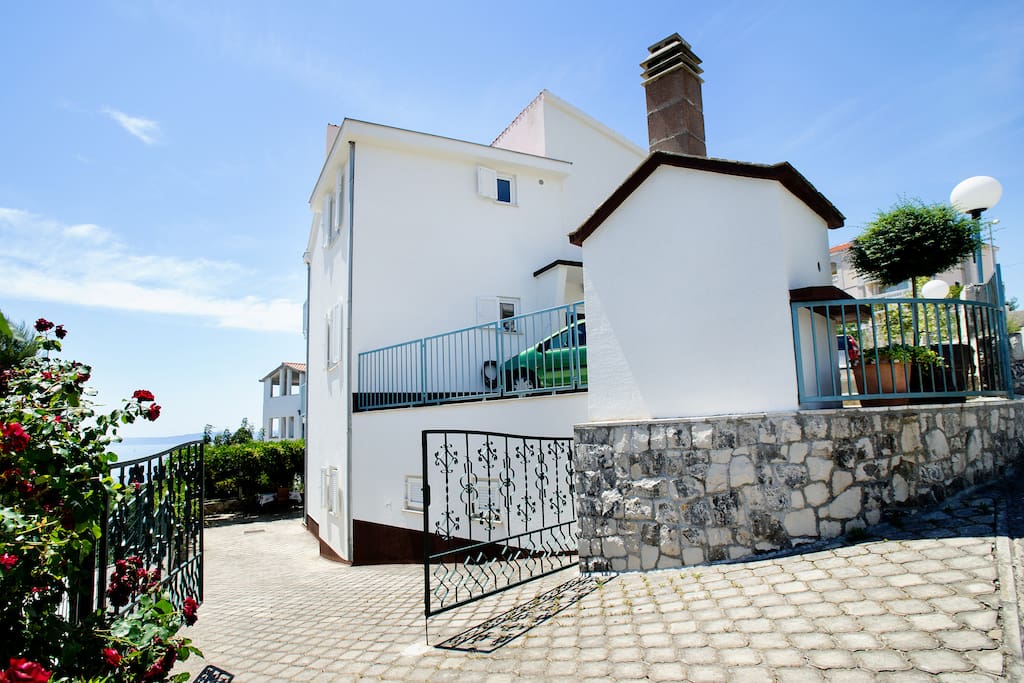 No stairs! This spacious, 50 m2 apartment, is located in a beautiful Mavarcica bay on the island Ciovo, which is connected by bridge with UNESCO Historic City of Trogir. It has direct access to the area next to the flower garden. It`s wonderful to sit at the table in the shade of wisteria enjoying your meal and glass of wine. The birds are singing, butterflies flying from flower to flower. And the beach is only 100 meters away, the cleanest sea in the world!
---
We find the apartament in excellent location: away from the main street (no noisy scooter), to the nearby restaurants, shop, vegetable stall and bakery you can walk on foot if you want, the beach is also close by. The apartment is very nice, clean, equipped literally everything - even a toaster or a lemon squeezer. I did not expect the change of towels in mid-stay - nice surprise. The terrace under the roof of the plant is excellent both in the morning and at the time of returning from the beach - during the meal. Children had space to run barefoot. Ljubica welcomed us very warmly, showed the whole apartment and space available. We could use the mint from her garden to our lemonade. But what was most important to us - was flexible about the time of our arrival. Thanks again!
---
Very peaceful place close to Mavarstica bay (one of the best beaches in Trogir area). Close to the centre of Okrug and boat taxi to Trogir. Ljubica is awesome. Flexible for guests. The apartment has every necessary facilities. Big advantage is a terrace in the shadow with the view of the see.
---
!!! Perfection in every moment !!! We spent with my family 10 days at Ljubica's place. More important thing is person of our host - Ljubica. Such a great person you can meet only few times in a lifetime. After we arrived at hers place, she welcomed us as a old friend or part of her familiy what was extremaly positive. You can feel like at home there. She called us during our journey if everything goes well (because we were much late). She welcomed us in our apartment which was very very clean, well equiped in every little detail (especially kitchen with dishes etc. which is important because you don't need to take nothning with you). Also for our 2,5 years old daughter - there was a small very comfortable bed with wonderful smelling bedclothes. Of course everything agreed before arriving. Communication was perfect every day - what we want to see, every wish, suggestions during our stay at Ljubica's place. She is s(PHONE NUMBER HIDDEN) lovely - like a member of familiy ;-). Ljubica's house is located only 3-5 minutes morning walking from the beach with no problem to enjoy and stay during whole day - also with a small kids. Most beautiful cities like Sibenik, Split, Omis, Makarska are only approx. 1 hour by car. Most beautiful city of Trogir 10 minutes by car. If you want to stay in a shade because of croatian sun you can enjoy in a very beautiful garden with patio, place for barbeque (for preparing dinner from croatian fishes and vegetables) carried with her heart like every small part of her house. What more can I say - it was a great pleasure to stay there and meet such a wonderful person like Ljubi REALLY REALLY is - a great THANK YOU. If I will plan for the future my visit in Croatia - only at Ljubica's place nothing else. We love you Ljubica!!!
---
Très bon accueil . Nous sommes arrivés un peu tard et le réfrigérateur contenait de quoi nous restaurer . L ' appartement est grand ,aménagé avec goût , très propre , avec une jolie terrasse . Notre hôte s ' est montrée très accueillante , nous a donné des infos sur la région , les transports . Des croissants étaient déposés le matin à notre porte . Un soir que nous étions un peu perdus en revenant de Trogir , Ljubica est venue nous chercher en voiture et nous a accompagnés le lendemain également . Vraiment une très bonne adresse . Serge et Sophie
---
Ljubica was very... very hospitable to my family !!! I would like to thank for everything... We spent 12 wonderful days in Croatia but the most important was that we met such a nice Person. Ones AGAIN Ljubica - Thank You :-) The apartament was very clean and big/ had very beautiful view -in the garden/. Everything was great !!!!!
---
Our stay in Ljubica's place was such relaxing and amazing at the same time. We were in two and we stay three days. Flat is perfectly provided by all the stuff for a great vacation and, in case of need, Ljubica is always at your complete disposal! Her kindness in taking care of us as guests were the real difference compared to any other place. Strongly reccomended.
---
I worked as a jurnalist for more than 25 years. I lived in England, Bulgaria, Israel, Jordan, Yemen...Currently working as a garden designer and do lot of traveling after the summer season. Every year I spend a few weeks in England and France, visiting gardens, galleries...I enjoy meeting new people, love children, dogs and cats. I could not live without books, music, art
语言:
English、Русский