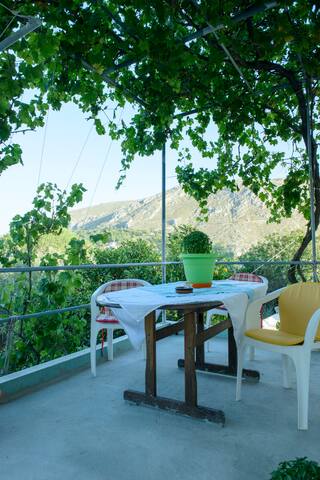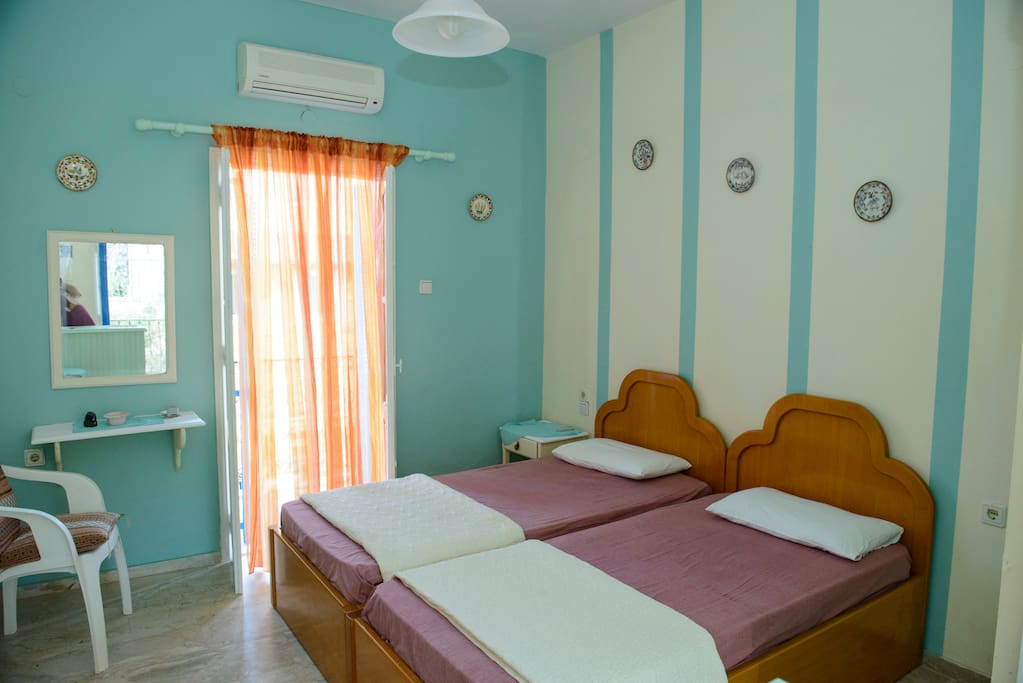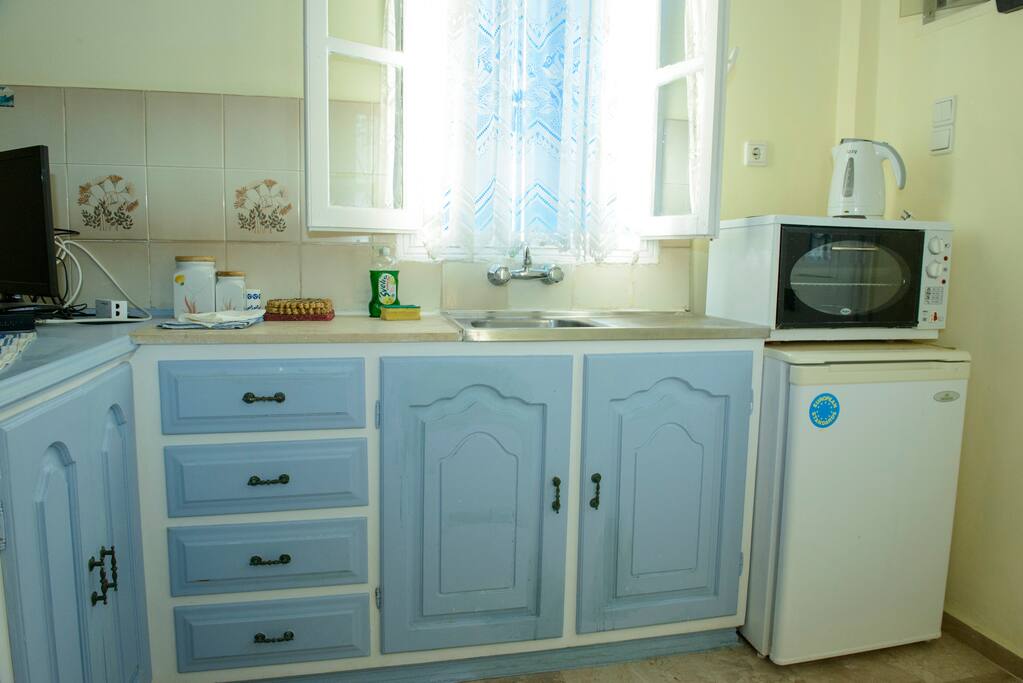 Nice studio with two single beds on the upper floor at Panormos with fast internet Wi-Fi in the room,A/C,plasma sat.T.V,washing machine free use,hair dryer,toaster coffee maker,kettle and fully kitchen set with oven for cooking everything the biggest super markt of Kalymnos is 80 metres far also the stop bus to main port of Kalymnos and Myrties/Massouri and rental scooters/car and 400M far from Linaria/Kantouni beaches,cafe,seafood taverns,night club,ATM,bank,pharmacy,restaurants,cafes.
房源
ΟΙ ΑΝΕΣΕΙΣ ΠΟΥ ΠΑΡΕΧΟΥΜΕ ΣΤΟΥΣ ΠΕΛΑΤΕΣ ΜΑΣ,Η ΦΙΛΟΞΕΝΙΑ ΜΑΣ ΩΣΤΕ ΑΠΟ ΤΗΝ ΠΡΩΤΗ ΣΤΙΓΜΗ ΝΑ ΝΙΩΣΟΥΝ ΣΑΝ ΤΟ ΣΠΙΤΙ ΤΟΥΣ.
房客使用权限
ΕΙΜΕΘΑ ΣΤΟ ΚΑΛΥΤΕΡΟ ΣΗΜΕΙΟ ΤΗΣ ΚΑΛΥΜΝΟΥ ΩΣΤΕ ΟΙ ΠΕΛΑΤΕΣ ΜΑΣ ΝΑ ΜΠΟΡΟΥΝ ΝΑ ΑΠΟΛΕΥΣΟΥΝ ΤΙΣ ΔΙΑΚΟΠΕΣ ΤΟΥΣ.
与房客的互动
ΕΙΜΕΘΑ ΣΤΗΝ ΔΙΑΘΕΣΗ ΤΩΝ ΕΠΙΣΚΕΠΤΩΝ ΜΑΣ ΟΛΟ ΤΟ ΕΙΚΟΣΙΤΕΤΡΑΩΡΟ
---
ΓΕΙΑ ΣΑΣ ΕΙΜΑΙ Η ΕΙΡΗΝΗ.ΜΕΝΩ ΣΤΗΝ ΚΑΛΥΜΝΟ ΚΑΙ ΤΗΝ ΑΓΑΠΩ ΠΑΡΑ ΠΟΛΥ.ΕΙΜΑΙ ΙΧΘΕΙΣ,ΜΟΥ ΑΡΕΣΕΙ Ο ΧΟΡΟΣ ΚΑΙ ΚΥΡΙΩΣ ΤΟ ΟΡΙΕΝΤΑΛ ΚΑΙ ΡΕΜΠΕΤΙΚΟ,ΕΙΜΑΙ ΣΥΝΑΙΣΘΜΑΤΙΚΟ ΑΤΟΜΟ,ΑΞΙΟΠΙΣΤΟ ΚΑΙ ΓΕΝΝΑΙΟΔΩΡΟ.Η ΜΕΓΑΛΗ ΜΟΥ ΕΠΙΘΥΜΙΑ ΕΙΝΑΙ ΝΑ ΚΑΝΩ ΚΑΙ ΑΛΛΟΥΣ ΑΝΘΡΩΠΟΥΣ ΝΑ ΓΝΩΡΙΣΟΥΝ ΚΑΙ ΝΑ ΑΓΑΠΗΣΟΥΝ ΤΟ ΝΗΣΙ ΜΟΥ ΜΕ ΟΔΗΓΗΣΕ ΝΑ ΑΣΧΟΛΗΘΩ ΜΕ ΤΗΝ ΕΝΟΙΚΙΑΣΗ ΔΩΜΑΤΙΩΝ ΚΑΙ ΤΗΝ ΠΡΟΣΦΟΡΑ ΟΙΚΟΓΕΝΕΙΚΗΣ ΦΙΛΟΞΕΝΙΑΣ ΣΕ ΟΣΟΥΣ ΜΑΣ ΕΠΙΣΚΕΠΤΟΝΤΑΙ.ΟΙ ΣΠΟΥΔΕΣ ΜΟΥ ΣΤΗΝ ΑΡΧΙΤΕΚΤΟΝΙΚΗ ΚΑΙ ΣΤΟ ΣΧΕΔΙΟ ΜΕ ΒΟΗΘΟΥΝ ΝΑ ΣΧΕΔΙΑΖΩ ΚΑΙ ΝΑ ΔΙΑΚΟΣΜΩ ΧΩΡΟΥΣ,ΣΤΟΥΣ ΟΠΟΙΟΥΣ ΟΙ ΕΠΙΣΚΕΠΤΕΣ ΜΑΣ ΘΑ ΑΙΣΘΑΝΟΝΤΑΙ ΣΑΝ ΤΟ ΣΠΙΤΙ ΤΟΥΣ.ΜΟΥ ΑΡΕΣΟΥΝ ΠΟΛΥ ΟΙ ΑΛΛΑΓΕΣ,ΓΙ'ΑΥΤΟ ΦΡΟΝΤΙΖΩ ΠΑΝΤΑ ΝΑ ΑΝΑΝΕΩΝΩ ΤΗΝ ΕΠΙΧΕΙΡΗΣΗ ΜΟΥ ΚΑΙ ΝΑ ΤΗΝ ΕΜΠΛΟΥΤΙΖΩ ΜΕ ΚΑΙΝΟΥΡΙΑ ΧΑΡΑΚΤΗΡΙΣΤΙΚΑ ΠΟΥ ΤΗΝ ΚΑΝΟΥΝ ΜΟΝΤΕΡΝΑ,ΛΕΙΤΟΥΡΓΙΚΗ ΚΑΙ ΕΥΧΑΡΙΣΤΗ.ΑΝΥΠΟΜΟΝΟΥΜΕ ΝΑ ΣΑΣ ΕΧΟΥΜΕ ΚΟΝΤΑ ΜΑΣ ΚΑΙ ΝΑ ΣΑΣ ΔΕΙΞΟΥΜΕ ΤΟ ΟΜΟΡΦΟ ΚΑΙ ΓΡΑΦΙΚΟ ΝΗΣΙ ΜΑΣ.
语言:
English、Ελληνικά