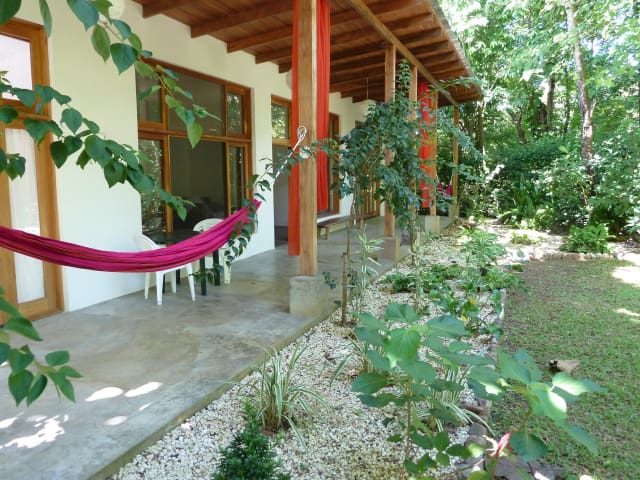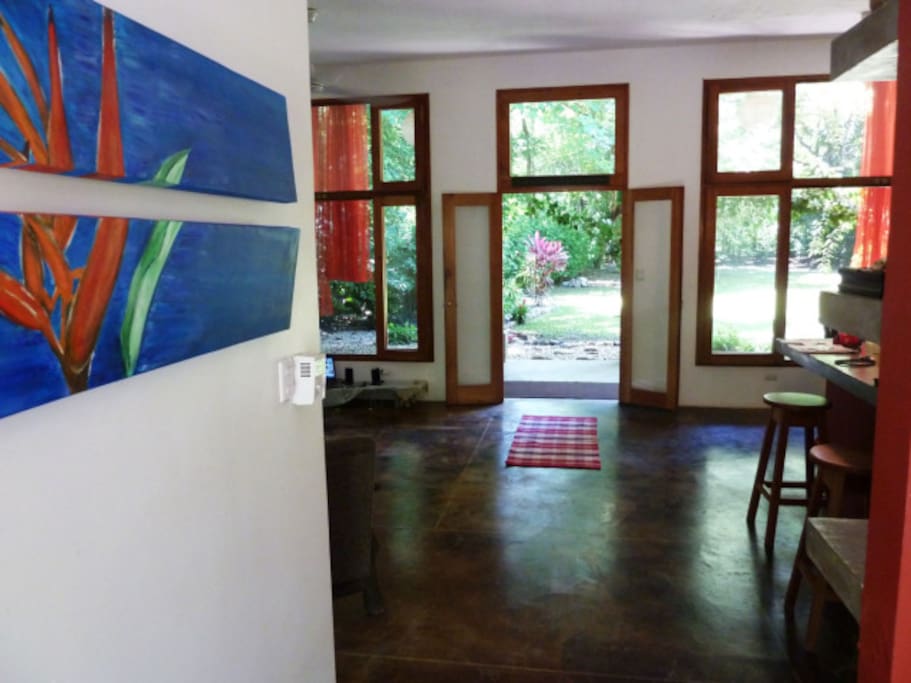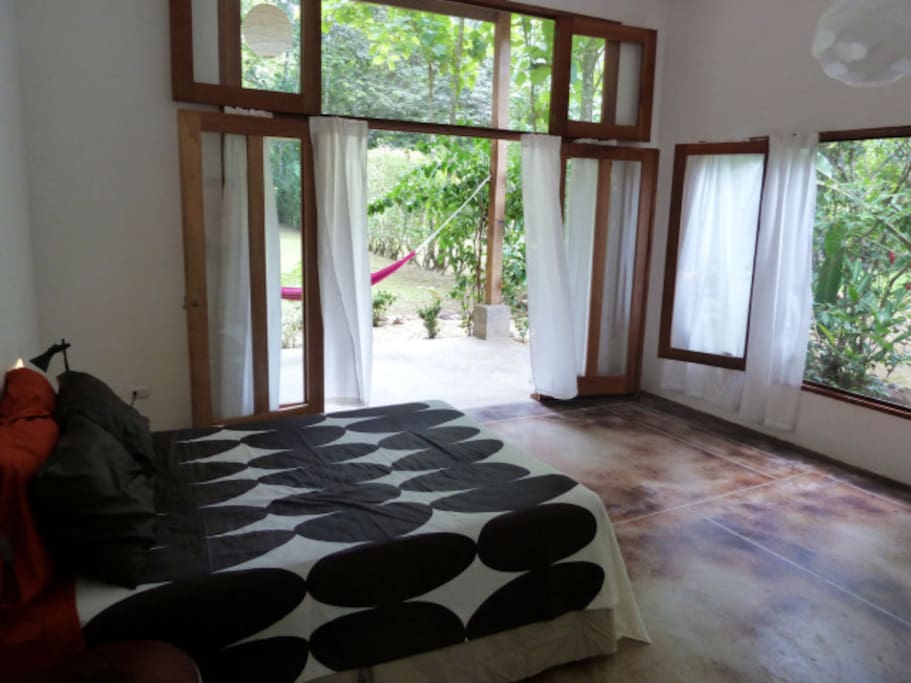 Beautiful Jungle Bungalow
Casa Escondida is a sustainably built jungle bungalow located one mile from world famous surf at Playa Hermosa, Costa Rica. Casa Escondida has two master suites, a full kitchen, a living room and a spacious porch overlooking the beautiful back yard.
---
To say that the pictures do not do this place justice is even an understatement! We left an iffy AirBnb in another part of the country and the host was quick and efficient to reply to our request to book the next day, communication was seamless and instant. As we arrived, we were greeted by the insanely helpful and knowledgeable groundskeeper, Richard. We miss this beautiful house but mostly we miss running into him and having him tell us about the country and showing us around the huge, meticulously maintained gardens that are on the property. Taking a morning stroll was serene! The house is perfectly stocked with all the items and amenities you may need for a long stay in Costa Rica. It is ideal for families or a group of friends as the rooms as located on opposite sides, each with their own private bathroom. The main area is large, the kitchen is absolutely functional and clean with everything you need to cook (and bbq!). We enjoyed waking up and making coffee and breakfast and eating it outside then lounging in the hammock overlooking the gorgeous gardens and planning our day. Just a short drive from Playa Hermosa, Jaco, Esterillos beach, Herradura, Playa Mantas and Playa Blanca (find this one, it's the best in the country!) and a short hour drive South to the beautiful Manuel Antonio Park (not to be missed!) You can easily head to Monteverde, Arenal Volcano and many other locations. We drove around the country as we spent a month in Costa Rica from the Caribbean up to Guanacaste province, but our 17 days spent at this house were the most memorable. It is, in our opinion, our favourite part of Costa Rica with such beautiful scenic drives off the Pacific Coast in all its glory and overlooking lush mountains - sunset views on the beach are a must! Thank you so very much once again and we truly hope to come back soon to this beautifully made abode! Truly, the pictures do not do it justice as we were blown away upon walking in! Cannot recommend this place enough with the absolute best groundskeeper you can ever think of! Absolute gem, Pura Vida!
---
Un réel trésor caché! Une très belle maison dans un décor magique. La maison était impeccable et très bien équipée (il n'y a toutefois pas de télévision, mais en a-t'on besoin en voyage?). Notre petite famille a adoré observer les papillons morpho, les aras et les autres bestioles qui entourent la casa. Et que dire du jardin! Le jardinier, Ricardo a été plus qu'avenant afin de s'assurer que nous soyons comme chez nous lors de notre séjour. J'ai pu pratiquer mon espagnol mais il se débrouille pour que nous le comprenions en anglais si nécessaire. Si vous voulez en apprendre plus sur la culture costaricaine vous serez servis avec Ricardo. Il se fera un plaisir de vous apprendre les noms des magnifiques plantes et arbres qui vous entoureront et vous suggérer des endroits hors des sentiers battus à visiter. Si nous retournons au Costa Rica, nous retournerons à la casa escondida assurément.
---
Great place for two-sets of couples, or a family. Beautiful central open-space looking into the backyard/garden. You can walk to Playa Hermosa, but it will take you 45+ minutes. The drive to Jaco is 10-minutes if you want to get into the place with all the amenities (seriously even a Subway...)
---