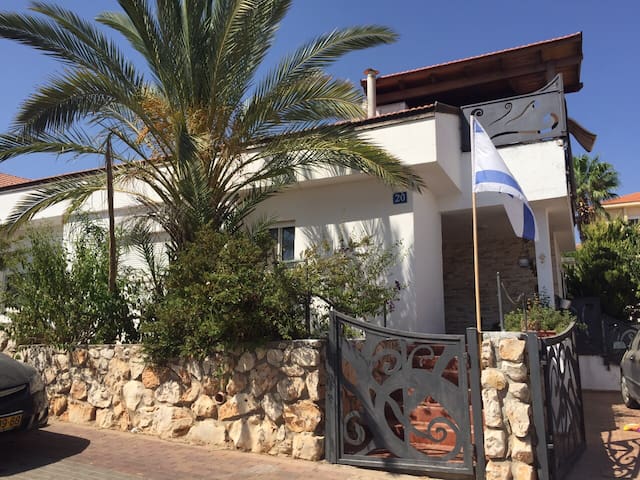 Large house with a garden,12 guests
Large and clean house with garden and parking.
Beit Knesset on our street.
Kosher kitchen.
Swimming pool at 5 min. Walk.
5 rooms with 2 bathrooms and 3 toilets.
for 12 guests.
located in Zefat upper city.
---
The pictures and description of the house were very accurate. We found a large, beautiful house with good-sized garden in a quiet neighborhood of new area of Safed. Since for us it was a vacation with extended family, it was nice that we had 4 reasonable-sized bedrooms, 3 bathrooms, and a very large living-dining area. The table easily sat 12. The house is a short walk to a small shopping center, synagogue, and some playgrounds. A short (15 minute) drive got us to the old city of Safed. At the start, we could not find everything we needed in the house, but the hosts were very accessible and helpful by phone so that all our questions and issues were satisfactorily settled in a short time. The large refrigerator allowed us to store all the food we needed for few days and the house is in good shape and a pleasant place to spend time in.
---
The house is as described except for the garden area. It's worth noting that the house is owner-occupied and seemed like the family just moved out for the time of the rental. The refrigerator was filled with food and family pictures were everywhere. We even found a homework assignment on the desk in one of the rooms. - The fact that we were sleeping in someone else's primary residence gave us an eerie feeling. Out of the 10 beds, 3 are queen beds in separate rooms. There was an office with a couch that was covered with sheets and a mattress with sheets on the floor for a total of 5 beds. I am not sure where the other 5 beds were. There was a main staircase leading to a very spooky, messy and dirty attic; we originally thought that the remaining beds were upstairs.
---