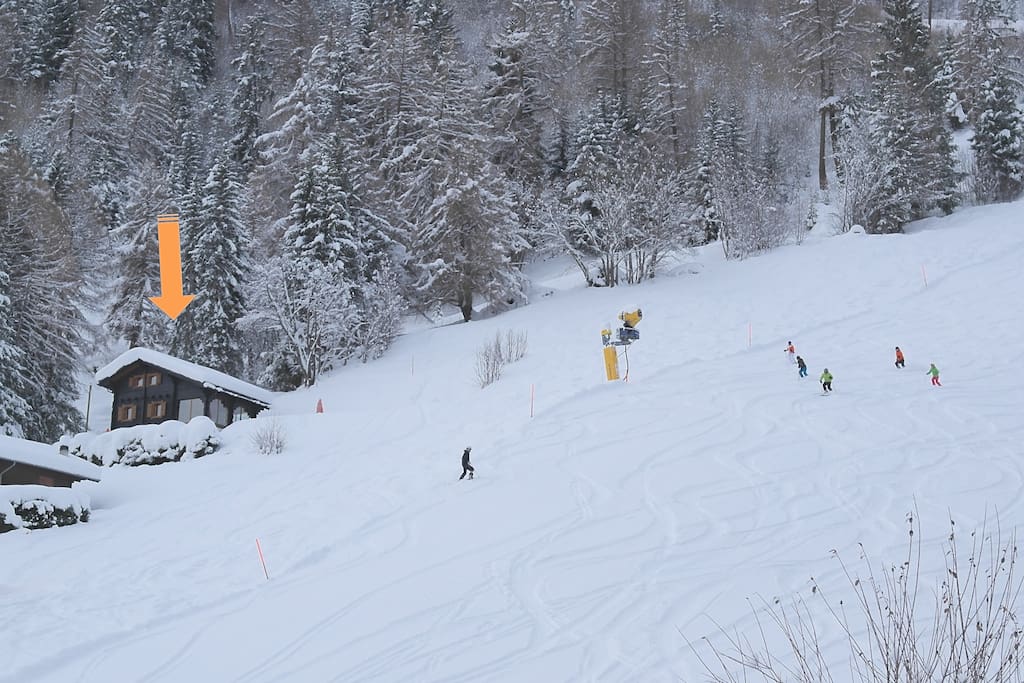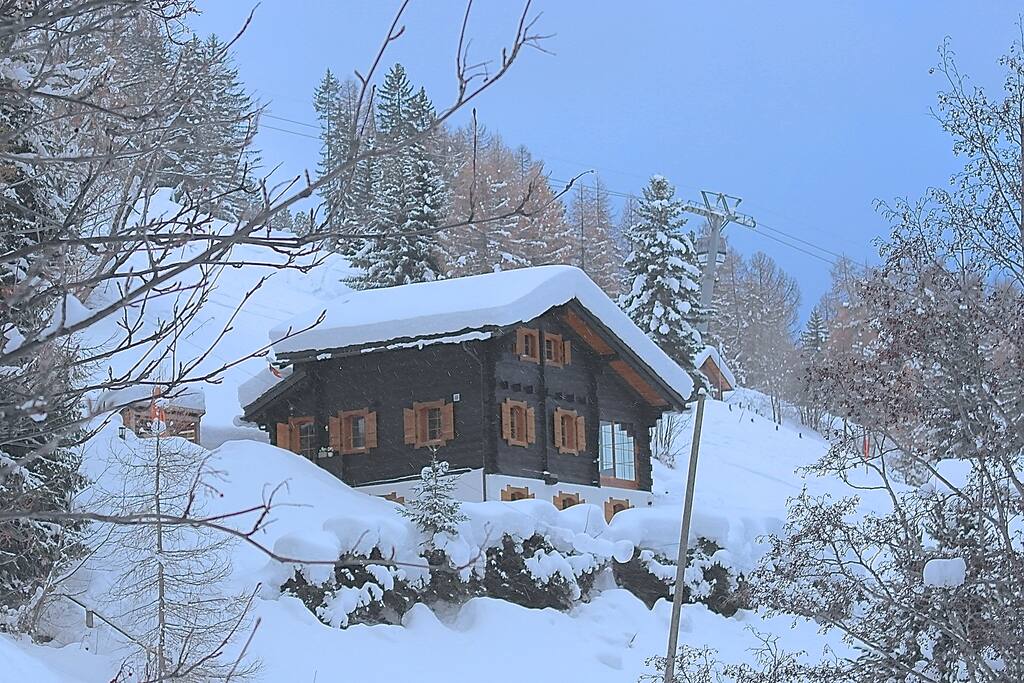 For ski enthusiasts; lovely chalet directly bordering the ski slope in the vast 4-Vallées/Verbier ski area (> 400km ski slopes, up ). Privately nested at 1550m altitude with breathtaking views. Fireplace, UK-TV, Apple TV, WLAN internet, luxury kitchen and high-quality beds.
Exceptional romantic venue: at arrival your luggage will be transported over the ski slope to the chalet by our private snow-quad. Center of resort Haute-Nendaz at 15 min. walk, or 2 min. by ski or car (private parking).
房源细节
The chalet is tastefully decorated to feel like a family home, fully equipped, including WLAN internet and Apple TV.
It offers 4 charming bedrooms, 2 bath rooms, accommodating comfortably 2 families (max. 8 persons). Large outside deck, bordering the ski slope.
The chalet is fully equipped with TV international channels, WLAN internet access, Apple TV, HiFi Stereo, dishwasher, induction hobbs, oven, microwave, 2 fridges, and a washing machine. First class beds with goose duvets. Log stove.
- Floor plans are shown in the pictures section.
房客使用权限
Guests have access to entire chalet and it grounds.
其他注意事项
The chalet is situated in a largely car-free zone, preserving the natural beauty of the area, and inviting for enchanting walks.
At your first arrival, you will be welcomed at your private parking lot -approximately 200m from the chalet- by our private chauffeur with snow vehicle. Your luggage will be transported over the ski slopes to the beautifully nested chalet, directly bordering the ski slope..... This transfer at arrival is included in your stay.
At the chalet, you will find everything you need for a truly delightful and relaxing stay in the Swiss Alps, whilst having Switzerland's largest ski area literally at your door step, and the center of the ski resort at walking distance. A short walk (about 75m) will bring you from the chalet to a paved road, which leads towards your private parking place and the resort centre. You may continue to walk for 15-20min (an easy walk) to the resort centre or take your car from the parking.
The centre of Haute-Nendaz offers various shops, 5-star spa/wellness of 2200m2, supermarkets, sports rental shops, banks, restaurants, bars, etc.
不适合婴幼儿(2岁以内)入住,或不能为婴幼儿提供安全的住宿环境
Please note: electricity cost are charged separately by the owner, based on actual electricity consumed (€0,25/kWh).
General Terms & Conditions:
These general terms and conditions are between the property owner ("we", "us" and "our") and the holidaymaker(s) who book our property. References to "you" or "your" are references to the person making the booking and all members of the holiday party.
Any booking is subject to the conditions below. These general terms & conditions form the basis of your contract with us so please read them carefully.
1. Making your booking
To make a booking you should make the payment specified.
The Damage Deposit (€500) may be used for any repair and/or replacement of the property, furnishings, fixtures and fittings that are necessary after your stay. We will return the Damage Deposit to you within two weeks following your departure, less any deductions in accordance with the booking conditions. Any Cleaning Fee will be used to clean the property, furnishings, fixtures and fittings following your stay and is non-refundable. Any Other Fee(s) will be described in the quote and are non-refundable.
No VAT is applicable to the rent.
2. Tourist tax & advance payment electricity consumed
Payment for Tourist tax (€2,5 p.p.p.n) and the advance payment for electricity consumed (€150) must be received, the latest, 1 week prior to you stay. Electricity consumed (€0,25/kWh) will be settled within 2 weeks after your stay, based on the actual electricity consumed during your stay.
Payments are payable to bank account of W.Barmentlo (ref. your booking period):
ABNAMRO Bank
Bank account (PHONE NUMBER HIDDEN)
IBAN NL23ABNA(PHONE NUMBER HIDDEN)
BIC ABNANL2A
4. Arrival and departure
You can arrive at the Property after 4 p.m. on the arrival date for your holiday and you must leave by 10 a.m. on the departure date.
At the end of each rental period, the Property is professionally cleaned. So you should find the Property clean and tidy on arrival. If you are unsatisfied, please report immediately to us, so we may take corrective action.
At departure, you agree to you leave the Property tidy; no unfinished dishes or garbage should be left behind.
5. Your obligations
You agree to comply with the regulations set out in these general terms & conditions, as well as any property manual/ booking conditions provided to you, and ensure that they are observed by all members of your party.
You agree to keep and leave the property and the furnishings, including items such as kitchen equipment, crockery and glasses clean and in good condition. You agree not to make any alteration to the Property, neither to the inventory, including items such as furniture and fittings.
You agree not to cause any damage to the walls, doors, windows or any other part of the Property nor to do anything that may be reasonably considered to cause a nuisance or annoyance to us or to any other occupier of adjoining or neighboring properties.
You agree to be liable for loss of any house key(s) during your stay. In case a key gets lost, locks will have to be replaced for insurance purposes and you will be charged with the replacement costs.
You agree to take all necessary steps to safeguard your personal property.
You agree to ensure that each member of your party is covered by comprehensive travel insurance (including cancellation, flight delays, loss and damage to baggage and other property) and health insurance (including evacuation and repatriation coverage).
You cannot allow more people to stay in the property than expressly authorized, nor can you significantly change the makeup of the party during your stay in the property, nor can you take your pet into the property unless detailed in correspondence and agreed with us in advance. If you do so, we can refuse to hand over the property to you, or can require you to leave it. We will treat any of these circumstances as a cancellation of the booking by you and we shall be under no obligation to refund you for fees already paid to us in those circumstances. Any refund will be at our sole discretion.
You agree to expose all your garbage in special containers located alongside the road near the parking.
You agree not to smoke inside the Property, and to refrain from meat fondue and frying inside the Property. The smell penetrates the interior of the Property and subsequently causes a long-term burden on future tenants. The administrator will perform checks at your departure.
You agree to allow us or any representative of ours access to the property at any reasonable time during your stay for the purpose of essential repairs or in an emergency.
6. Complaints
Every effort has been made to ensure that you have an enjoyable and memorable holiday. If however, you have any cause for complaint it is important that remedial action is taken as soon as possible.
It is essential that you contact us if any problem arises so that it can be speedily resolved. It is often extremely difficult (and sometimes impossible) to resolve difficulties properly unless we are promptly notified. Discussion of any criticisms with us whilst you are in residence at the Property will usually enable any shortcomings to be rectified straightaway. In particular, complaints of a transient nature (for example, regarding preparation or heating of the Property) cannot possibly be investigated unless registered whilst you are in residence.
7. Liability property owner
Our maximum liability for losses you suffer as a result of us acting in breach of these terms and conditions is strictly limited to the total fees you have paid for the booking.
We shall not be liable for any losses which are not a foreseeable consequence of us breaking these booking conditions. Losses are foreseeable where they could be contemplated by you and us at the time your booking is confirmed by us.
We cannot be hold responsible for any disturbance, alteration or obstruction to stay, in case if this is the result of unforeseen events beyond our control. We are not liable for malfunctioning of any household appliances, and we cannot be held responsible for inconveniences caused by works carried out by third parties.
Luggage transport services are offered without obligations. We cannot be held responsible for the availability, price and quality of services provided.
Your Booking is made as a consumer for the purpose of a holiday and you acknowledge that we will not be liable for any business losses howsoever suffered or incurred by you.
We shall not be liable to you for any personal injury or damage to or loss of personal property, except where the injury, damage or loss is caused by our negligence.
8. Law
The contract between you and us is governed by Dutch law and we both agree that any dispute, matter or other issue which arises between us will be dealt with by the Dutch Courts.
9. General
A group of youngster (average age less than 25 years) is not allowed to stay. Bookings without consent of us are invalid and will be canceled automatically. Payments are non-refundable.
You may not transfer your booking or any rights and responsibilities under these Booking Conditions to any other person, without our prior written consent.
If at any time any part of these Booking Conditions is held to be unenforceable for any reason under any applicable law, that part shall be deemed omitted and the enforceability of the remaining parts shall not in any way be affected by that omission.
These Booking Conditions, together with the quote, and our confirmation email contain the entire agreement between us and you relating to the booking and supersedes any previous agreements, arrangements or discussions.
最少住7晚
2017年7月02日 - 2018年12月31日期间最少住7晚