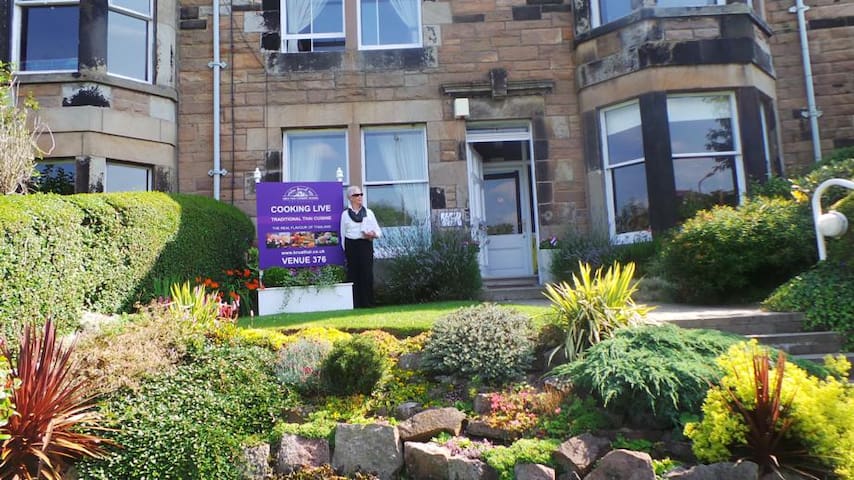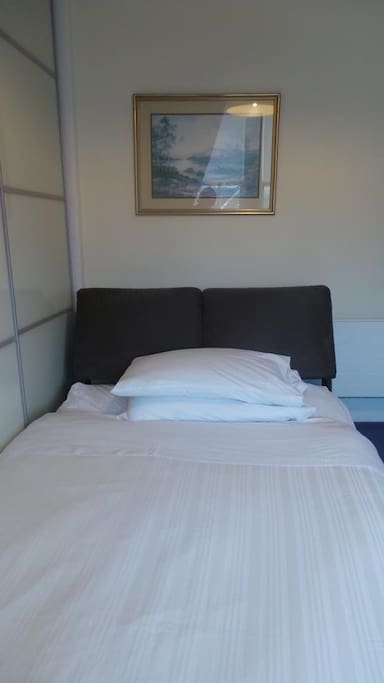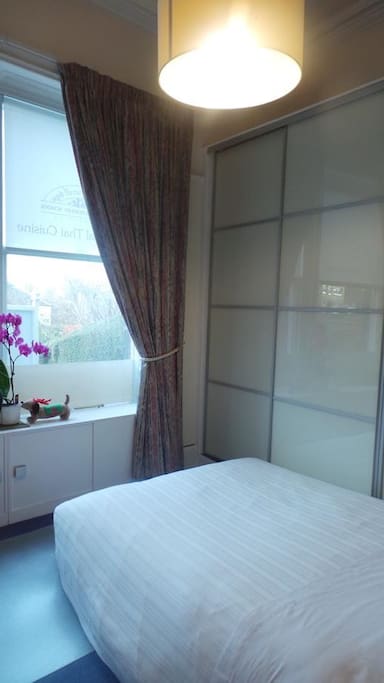 此房源的描述已由谷歌翻译从英语翻译成您的语言,但谷歌翻译并不能保证翻译的准确性。
请在看书/职业/重新登录爱丁堡时出示照片。这张优质沙发床是从约翰·刘易斯的高品质。我通常用作我的办公室。通常是我的办公室。如果你只想睡觉,并允许我在你出门时对电子邮件/打印信号进行核心响应。你可以预订顺便说一句,我们的地方是爱丁堡Krua Thai Cookery School。您可以从我们的网站"Krua Thai Cookery School - 爱丁堡"中看到更多的我们,Airbnb不允许。
房源
至少1晚在这张床上。信息和规则在房子NO。 1,2这个房间在楼下。这是我的办公室,但床是非常好的加上好的打顶者,我从Jonn Lewis买了我们的客人。比折叠床好得多。这张床适合需要与他们客人的住客。
注意:如果您希望与我们保持联系,您必须知道您的计划,否则您可能会收取50%的任何取消费用。不接受不到24小时的紧急预订。
与房客的互动
空间
我们的设施:•高品质的地方,为那些正在寻找超过一点平均标准服务,在非常好和安静的区域安全,并有很多巴士到市中心。我们在主路上。 •最佳/优于独奏旅客。 "一点额外的舒适和感觉在家里。你会像亲戚一样照顾好你。如果您正在寻找优质的地方,安全和舒适,我们的客人。 •远离家乡时感到脆弱的事情更糟糕。在您与亲戚同住的同时,我们将尽可能照顾,协助和支持您,尽可能地与我们保持联系。 •友好的主持人:高品质的住宿,非常好,安静的区域安全,有很多巴士到市中心。 •每人的价格,额外的客人支付£30 / pp /晚。 •品质家庭轻便早餐。全天提供咖啡/茶•每周免费洗涤一次/共用厨房/浴室•无宠物。 •最低报价现在1晚。宵禁2点没有醉酒的客人。 •丰富的免费停车场。 •所有床单/设备都是每位客人的新设备。我不会为新客人使用重复的床单。我相信你很欣赏这个。 •单人房:有一张单人床(Silentnight)我们所有的地方都使用白色床单,床罩,桌子,椅子和衣服导轨,供客人用作单人间的衣柜,充满了我们自己的东西!但在另一个房间里,我们有空的衣柜和衣服栏杆。 •双人卧室:第二人付费:£30.-或付款,您的抵达额外的人包括家庭质量轻的早餐从照片显示。 •如果您正在通过专业厨师寻找最优质的家庭烹饪,我们会提供餐点。您的贡献:£12(1道菜),£15,£20 / pp /餐。最好的质量/最好的价值比较吃饭在哪里他们需要赚取利润。预订规则:感谢Airbnb发送超级好客人。我们将确保您在远离家中的酒店不具有相同服务的情况下,留在质量/有用的地方。我们认为这不是个人的事情,而是要双方认识对方公平而美好。对于那些不想透露你的照片,全名/商业公司的人。请不要预订我们如果你想留在我们身边。请提供我们要求的。 •我们需要您最近的照片,您的全名,职业/学生/大学/参观爱丁堡的原因。
其他注意事项
注意:如果您希望与我们保持联系,您必须知道您的计划,否则您可能会收取50%的任何取消费用。不接受不到24小时的紧急预订。
---
---
不适合儿童(2-12岁)入住,或不能为儿童提供安全的住宿环境
请从房子里看到我们的房子的规定。 1。我们在我们的地方脱鞋。我们有拖鞋可用。提供优质的家庭清淡早餐。廉价出租车£25 /从机场出发。
---
---
---
---
This was one of the best experiences I ever had with (URL HIDDEN) and Ian are great people and Ru is a great cook as well. The place is very clean and close to bus stops for the city center. The daily breakfast was delicious and substantial (Ru's rhubarb crumble is f-ing amazing!). I will definitely try to book again with Ru if I am ever back in Edinburgh.
---
Ru was super warm and made me feel welcomed. I like her personality - very direct and straightforward. She prepared breakfast and left sweet note. Her house has easy access to the city with a bus stop just outside.
---
I would highly recommend staying with Ru and Ian. Their house is spacious, clean, quiet and comfortable. They are warm and friendly people and they went out of their way to make my stay as pleasant as possible. They offered tips on things to see and getting around. There are plentiful local buses from right outside the house and Ru kindly drove me into the centre twice during my short stay. I will definitely stay with them when I visit Edinburgh again. Thank you.
Dear Jessica, A very good morning to you. Thank you very much for choosing our place. We are no doubt very honoured to have you here. I wish you could stayed longer to hear more story of your most interesting life style. A great example for many to follow. I hope to have the opportunity to welcome you back again. Once again our sincere thanks to you as our perfect guest. Yours sincerely Ru & Ian.
---
I enjoyed the stay in Rujira's house It was very clean, confortable and convenient Rujira and his husband were very helpful and kind Thank you so much
Dear Jean/Pierre, Both names are just beautiful : ) thank you very much for your kind feedback. I am very happy to know that you're happy with our place. Next time, you come. I will need to give you a lift: ) We are only 2.7 miles away from city. You will need to come more often to know Edinburgh. I hope to welcome you back and sample of my Thai cooking. Very best wishes and sincere thanks to you for choosing us. Sincrely Ru & Ian
---
Was realy amizing! Ru and Ian are the perfect hosts. Execellent breakfast, cosy bed, nice chats and they gave me every help to orientade in Edinburgh. Busstop just in front of the house. And in top Ru let me enjoy her perfect Thai Cooking.
Good morning Babette, Thank you very much for your kind feedback, I truly grateful, we are no doubt very honoured to have you here. Your are one of our perfect guests, hey please come back for a wedding ceremony to the whom who has asked you...hahahaa...how great fun....See you soon. Once again thank you very much. Sincerely Ru
---
Really good host. Extremely helpful in very short notice, offering a good place to stay and any help.
---
DISCOUNT FOR LONG TERM. Our guests are mostly post graduate students, researchers, visiting professors from Edinburgh University. We are willing to host guests that have the same values and principles as us. Our information for you to know us and to feel secure and safe at our place. In return, we expect the same return.

BEFORE YOU BOOK: For those who arrived after 23.00 hr. please notify me first before you book, as It can be very late especially sometimes the plane delayed.

Our booking rules: Please show your clear photo and read our house rules, failure to do so, we regret your booking will be declined. We don't want guests that hide their face and career, we believe this is nothing to do with your privacy but to show respect to both parties. Please introduce yourself - name and family name, your career, your work company workplace /full face recent photo/link to allow us to see and to know you and if you want to help us with our final decision. Our place is not suitable for those who have mobility difficulty.

I also own the 'Krua Thai Cookery School' in Edinburgh. Krua Thai students are from 30 countries most of them are chefs from superyatchs. I am a kind of regularly present Thai cookery on STV called 'FiveLive STV, The Fountainbridge show' Krua Thai also runs 'Thai cookery workshop with lunch' venue '376 for Edinburgh Fringe' every year ( I used to work for various top-flight clients ie. Hilton International Group which cooked for board executives of Hilton. As you know Thai people are known as friendly, helpful and courtesy people. That's how Thailand is famous in charming hospitality. I also gained Dip. in Culinary Arts with Management, BA (Hons) International Hospitality Management which I surely know the true meaning of customer care. My husband is a British Architect he used to work at Building Standard Scottish Government as a principal architect (happily retired). We are very helpful, friendly, laid back, tidy and highly responsible couple. We enjoy British/western standard quality, safe, clean place to live and that good area. We live around our great /helpful neighbours. We love travelling and meeting new people and different cultures.
I am no doubt enjoy cooking and eating. My husband loves films and reading.

You can search more about me 'Rujira Herd or Krua Thai Cookery School' as it is not allowed to put on this site. Why not join us if you wish to enjoy a bit of luxurious when away from home...you do not just sleep here. We promise - you will be well looked after throughout your stay. You will enjoy Jasmine tea and Thai food...while watching professional chef cooking live when you book a meal with us:). I can reply quickly from 11 am. - 12 midnight UK time. If you don't want to wait too long please book at the time suggested. Out of this time, you will have to wait for my reply.

语言:
English、ภาษาไทย