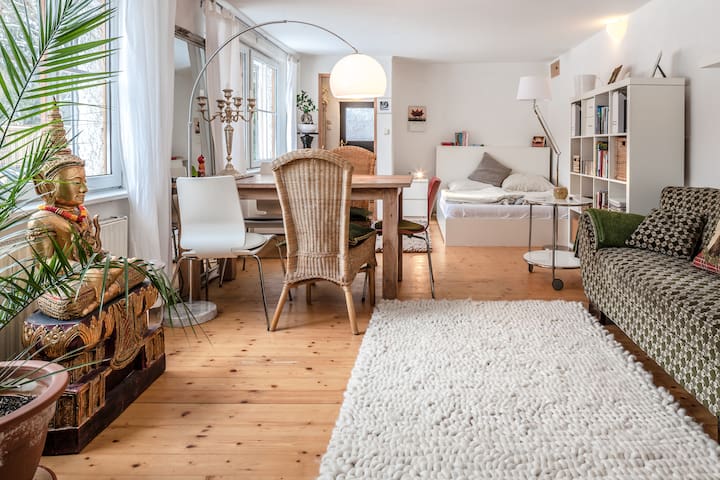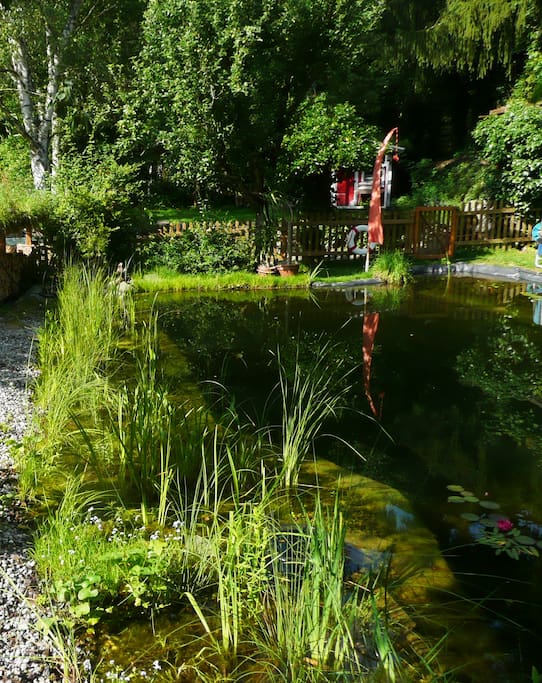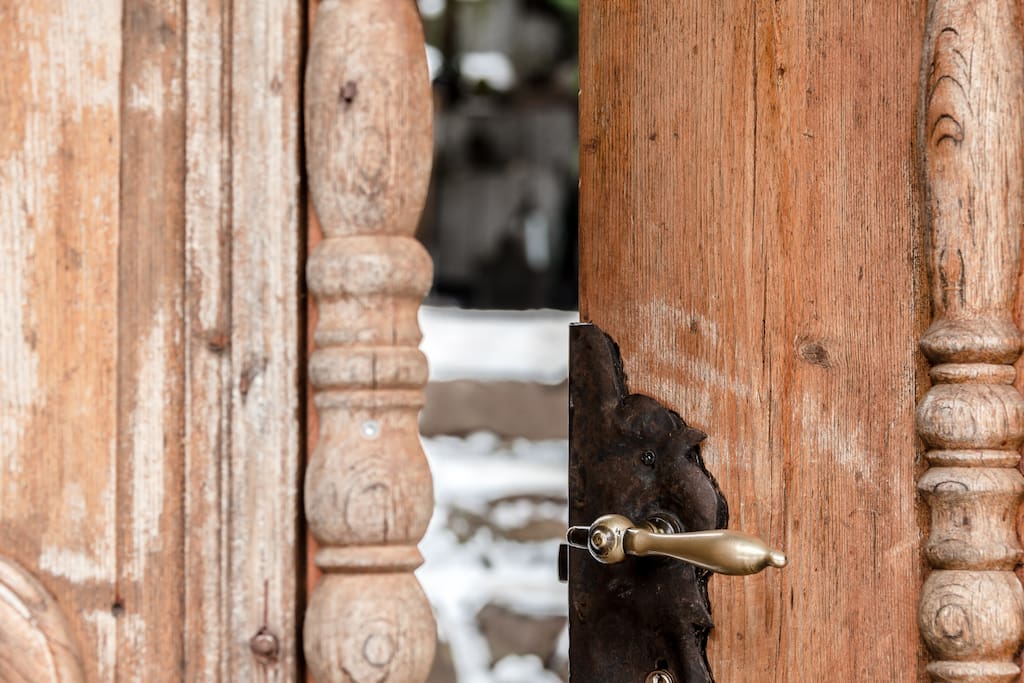 THE GREEN ISLAND IN THE CITY
Beautiful romantic apartment. 10 minutes from the city center.
Idyllic location, perfect in the green and yet in the city!
Wake up in the morning and look out over the large pond just outside your door.
You are independent with their own entrance !!
There are no parking problems! PRIVATE PARKING is available during your entire stay.
房源
Left of the hall a small daylight bathroom with a nice shower. Straight ahead the very bright living bedroom with two windows and view over the pond and the garden. A well-equipped, seperate, cozy kitchen. The apartment is well laid out and offers everything you need for a stay in Wiesbaden.
The rental price includes bed linen as well as fresh towels.
health spa; Theater; Casino; The famous Wilhelmstraße and the Rhein-Main-Hallen are just a 5-minute drive away.
Enjoy Wiesbaden in an accommodation with a lot of personality and charm!
房客使用权限
Our house and our facility has a very personal value for us. Please respect this respectfully and leave everything in a clean and tidy condition. We wish you an exciting and pleasant stay.
与房客的互动
Want to enjoy the nightlife in Wiesbaden? bars; A lot of good restaurants, cafes and numerous other entertainment possibilities like clubs and cinemas can be recommended at any time during your visit - the way there is a cat jump!
其他注意事项
With your booking you confirm my network ( WIFI ) only for lawful purposes and not to use for illegal uploading or downloading content or for other illegal activities.
If I should be prosecuted for their booking period you will personally liable.
In order to keep track of any crime - please fill out the rate available in the apartment five (5) questions.
---
Anita's home离市中心很近,闹中取静,靠近一个公园,非常适合一段时间的小住。房东一家特别热情,给予了我很多帮助。由于先生在法兰克福有工作,房东还特意带语言不通的我在市区和隔壁的一个美丽小镇逛了一天,并热情的邀请我参加他们的BBQ。谢谢他们给予我的一次美好的经历。期待我们后年再见。Anita's home near the city center, quiet, close to a park, ideal for stay for some time . Landlord a particular passion, give me a lot of help. As my husband working in Frankfurt, the landlord took me in a beautiful city and the neighboring town visiting for a day and a warm inviting me to participate in their BBQ.Thank for them that have given me a better experience. Please forgive my English is not good
---
Als wir die Bilder sahen, waren wir bereits sicher, dass wir dort Urlaub machen wollen. Als wir ankamen waren wir jedoch noch begeisterter. Wunderschön gelegen, mit viel Charme eingerichtet, sauber- einfach zum Wohlfühlen. Der Teich direkt vor dem Fenster ist sicher, gerade im Sommer, ein Platz zum Verweilen. Sehr schön !
---
Quaint, but in need of thorough cleaning. When we arrived, the hosts were out of town because of a family matter. Unfortunately, the wifi didn't work which made it difficult for us to communicate our arrival to our family in the country and to coordinate our visit. (host fixed it next day upon return) The place is in need of a thorough cleaning. Because it's built into the side of a hill below the main house, (I suspect this is a converted root cellar) and next to a small pond, there is significant humidity and the place smells musty. I mean bad. There were cobwebs everywhere and a grime on furnishings. The host has postings in German and English recommending to air the place out daily. The big thick rugs you see in the pictures are dust magnets and not easily cleaned. There was what I suspect is dog food in and all over the one closest to the kitchen which the host later confirmed as possible since a prior guest had brought a dog with them. Only one window has a screen and unfortunately the cleaning lady had left all of them throughout the apartment tilted open. The place was full of bugs, especially mosquitoes and spiders. The first night when I woke up to get a drink of water, there was a spider the size of my palm right above our bed. I have a photo of it next to a magazine I held up for scale before I swatted it. The host was actually mad at me for killing it. Ordinarily, I try to save critters, but when I wake up, tired from the trip, to find a monster right above my face, straight out of a National Geographic episode, I swat first and ask questions later. So why three stars (okay) instead of only one (terrible)? The place does have its charms. The overall property is a cross between American Pickers and Lord of the Rings. Road signs warning of elk, washer and dryer in an open outdoor shed, moss covered buildings, weather vanes on dead trees, etc. Very peaceful, secluded, yet close to the city. The giant dog is adorable, like a big teddy bear. The host was quite amicable after he got over his initial defensive attitude, but the place needs a thorough cleaning and a dehumidifier wouldn't hurt. Ultimately, this place isn't for us. This was our third AirBnB stay and after the first spectacular two, (see our feedback) unfortunately a letdown.
we have given mark in matters of communication only one star. but mark is right. we need to change our cleaning service. normally we clean the apartment itself. before marks arrival was a dog owner in the apartment. we were in sweden and had commissioned to clean a service. this service had left the windocws tilted all the time. so came spin and fly into the apartment. Large angle spider (Tegenaria atrica) also known as house spider, lives close to man, often occurs in the homes and houses of the Germans. In 2008 she was voted "Spider of the Year". For humans, the domestic angle and angle spins are safe . If you see a spider in your room, you will not have to crush it. It does not hurt, on the contrary. If it bothers you, you can easily catch them in an empty glass with lid, Such as an empty and clean jam jar, and outside again. but ...i will install moskitonetze to all windows .... American Pickers and Lord of the Rings. Road signs warning of elk......weather vanes on dead trees........ never heard of creativity...... washer and dryer is in a lockable laundry room !!! By the way, at the first and only talk with mark I offered him immediate free departure ....
---
Die Unterkunft ist wunderschön eingerichtet, sehr ruhig gelegen und die Terrasse paradiesisch. Der Service war einfach wunderbar und ich habe mich sehr sehr wohl gefühlt und komme gerne wieder.
---
Wir hatten eine herrliche Woche in der "kleinen Oase" von Anita & Gerhard. Herrlich ist der Teich vorm Fenster... Stadtnah und doch so ruhig. Die Wohnung ist sehr liebevoll eingerichtet. Wir haben uns super wohl gefüht. Anita und Gerhard als nette Gastgeber machen das ganze Profil rund !! Wir kommen gerne wieder
---
Wer das Paradies sucht, ist hier gar nicht so verkehrt. Eine wirklich idyllische Lage. Von der Stadt bekommt man nicht viel mit, obwohl sie gleich um die Ecke ist. Alles verlief unproblematisch, die Kommunikation war sehr gut. Insgesamt sehr zu empfehlen.
---
Hi,
my name is Anita. My husband and i have been traveling a lot. Our favorite activities are swimming, theatre, film, reading, gardening & meeting new & interesting people from all cultures.

We look forward to receiving guests from all over the world!
语言:
Deutsch、English、Svenska