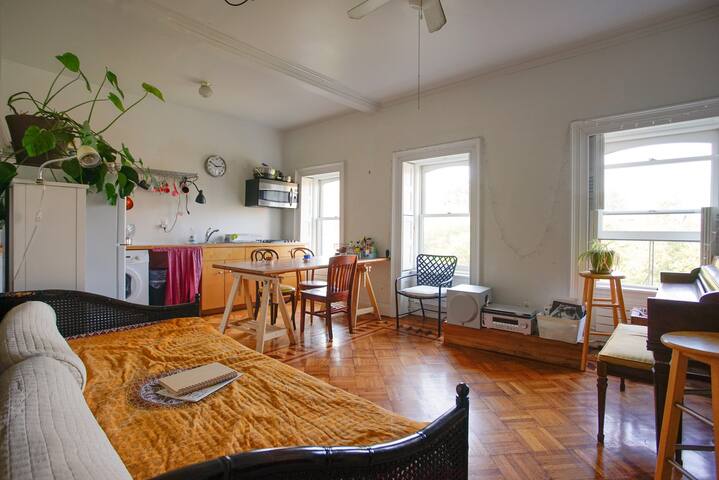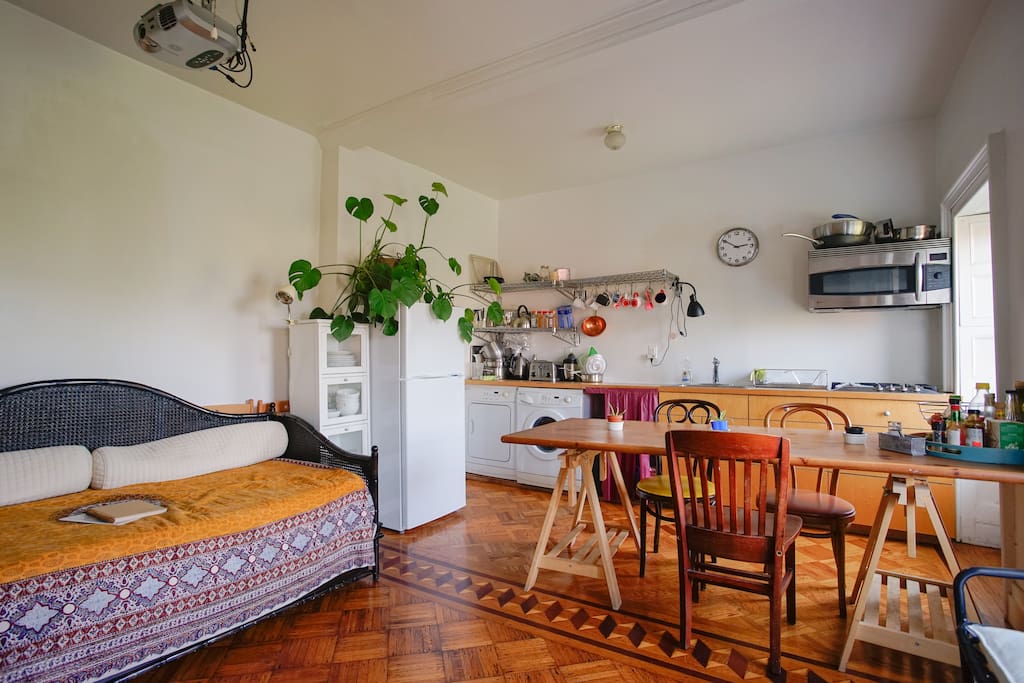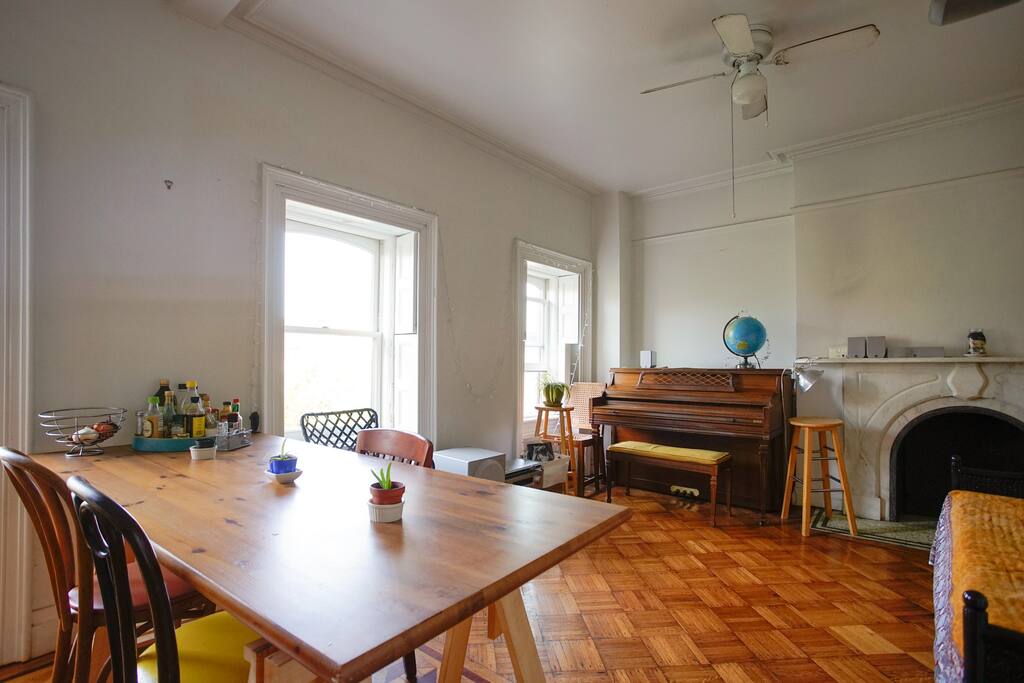 This authentic 2 bedroom apartment is bright, sunny, has beautiful hardwood floors and instantly will make you feel home in Brooklyn. Clinton Hill (Pratt area!!) is an up and coming neighborhood, that actually stille feels like a real neighborhood. 20 minute train ride till Lower Manhattan - or grab a bike and go over the bridge...
---
I stayed at Julia's with two friends as we interned in Manhattan for the summer, and this place was perfect! The rooms were cozy, the in-unit washer/dryer was a life-saver, and the air conditioning units were powerful. Our daily commute to the Financial District took about 30 minutes door to door, and our subway station was only a five minute walk from the apartment. The neighborhood is beautiful and residential. Julia lived upstairs during my stay, so she was always around if we needed anything and was incredibly friendly. I would definitely stay again if I could. We had a great summer!
---
Wir waren sehr sehr zufrieden! Die Wohnung war super für eine ganze Familie, die Umgebung angenehm, ruhig und der Weg nach Manhattan zu Fuß oder mit der Bahn jederzeit gut möglich. Sehr nette, hilfsbereite Gastgeberin, die sich gut auskennt und wertvolle Tipps geben könnte. Für uns war es ein super Aufenthalt, wir würden jederzeit wieder diese Lage und Unterkunft wählen!
---
We LOVED Julias spot in upper Brooklyn. If you ever need a good spot to stay in nyc This is the place! Me and a buddy were here for a month before having gone for 2 months in cali/Hawaii and out of all our airbnb hosts we deffinetly prefferred Julia, even tho all of our hosts had been great! Close to public transport and cafes/restaurants and only 20 minutes from downtown Manhattan. To sum it all up, stay with Julia.
---
There are no words to describe such a great experience at this lovely and stylish brownstone house in Brooklyn, with the amazing and beloved Julia! We highly recommend this house to everyone who is dreaming a house in the most beautiful city of the world ! This was a real Home away HOME! I stayed there for 39 nights along with my husband and 19 months baby. We just left the house and we have missed it already! We tried to extend our stay whist there but unfortunately our ticket reservation didn't allow us any change. I wish we could stay more! Let's see... The Neighborhood: Fantastic! Very safe and friendly! Very quiet, clean and with an amazing architecture. Everyone on the building was also very friendly and very patience considering that our baby could be noisy some times.. ! Transportation: The C train is less than 2 blocks away (less than 5 minutes walk) which goes everywhere! You definitely don't need a car but if you wish to rent one you could park at the neighbor with no issues! Also G train is around 10 minutes away (waking) which again is helpful for some specific areas. Within 2 minutes walk of the house you can find a supermarket, coffee shops and everything you need. The center of the town is maximum 25 minutes ride with the subway which was great as well. The House: it has everything you need!!! Whatever you can think that there is a possibility to need is already there! The view from the windows at the living room is gorgeous! There are two different bedrooms which are very comfortable! Our baby could easily sleep at a double bed which was very safe for him (you don't need crib or portable bed at all). Bathroom very comfortable too and there is also a jacuzzi! You can cook, enjoy movies, use the internet which is very fast, you can read wonderful books which are on the library.... In some words you can have a wonderful experience at this house! And last but not least.. Julia is Amazing! A baby chair and a wooden horse was waiting our baby in the house so he could feel comfortable as well! We arrived here without a baby stroller and we were planning to buy one whilst there. Julia even offered us her own stroller and we used it for many days which was more than helpful for us! And I will not forget to mention that a few hours before the New Year's Eve Julia had an amazing surprise for us in the apartment! A box with delicious sweets along with a warm wish note for the New Year! I can really write nonstop for our amazing experience at this place! Without a second thought simply book it if you wish to have an amazing experience in NY city ! For short or long stay, with family or friend or even alone, this is the house you must stay! Will...
---