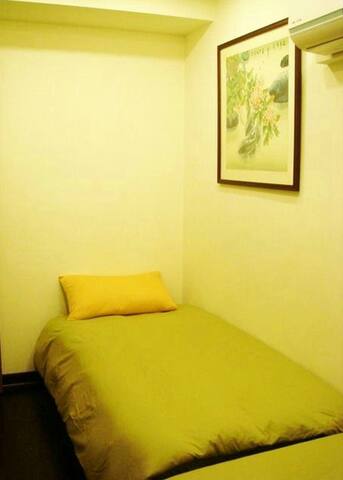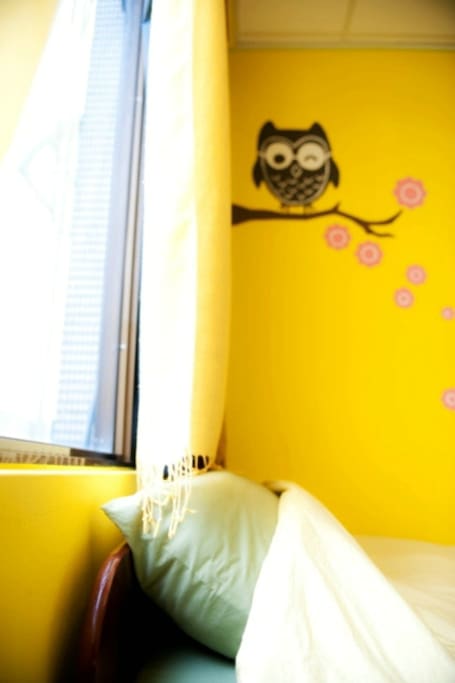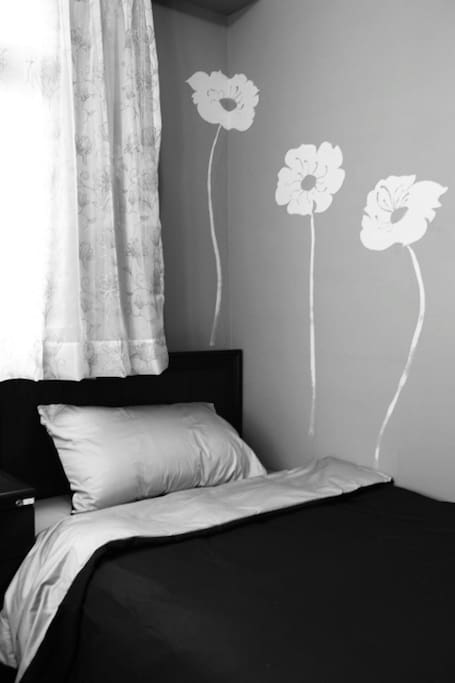 ★畅游台湾/Mrt Stay★
位于台北市热闹繁华的路段,是紧邻地铁口.更是邻近台北知名观光夜市的稀少绝品物件,纯住宿非旅馆。设施齐全.让您的租屋生活有着像回到自家般的亲切温馨,因台北租屋住宿地点在台北中算是很优,若无提早订房。恐多会向隅.※上附标准房参考照片.入住时视空房情况随机提供客房和床型.有多个类似,租客入住的房间可能与描述和照片略有差异.不可指定房间,由酒店安排住宿地点。
配备:床、液晶电视、冷气空调、全区免费无线WIFI网络、请支持环保.接触到私人的毛巾/牙刷请自备
房源
***在airbnb预订之前, 请使用的[联系我]按钮发送短信给我确认房源.***Before making a booking request on (SENSITIVE CONTENTS HIDDEN), please send me a message to confirm availability and rates first. You can do so by clicking on the [Contact me] button on the right side of this page.
~~~~~~~~~~~~~~~~~~~~~~~~~~
*MRT Stay *
A modern and fashionable home stay, it is a shared apartment, unlike a normal hotel.
It combines a flexible term, a comfortable price, different room styles, convenient transportation and excellent location.
Its clean environment is near MRT stations and its complete amenities will make you feel at home.
Staying here will make you relax naturally and help you get to your destinations quickly.
Our location also makes it easy to sample the different foods available in Taipei.

Amenities include: bed, LED TV, air conditioning, free WIFI, free cable TV, water heater, electronic hot water kettle , toilet paper, shampoo, hair conditioner, body lotion, facial cleaner, toothpaste, hair dryer.For personal hygiene consideration, we do not provide any toothbrushes or towels.,and use shared bathroom, and its own private bathroom.

(URL HIDDEN)nearby attraction(URL HIDDEN)
(URL HIDDEN) "Longshan Temple" is a century temple temple (two national monuments), is one of the four major attractions of Taipei Travel a must.
(URL HIDDEN) Huaxi Street Night Market is the first tourist night market in Taiwan, has a long history, more than game / snake meat restaurant in the evening there to kill the snake show, challenge your courage. More than 30 years old can be found everywhere, tease your taste buds.
(URL HIDDEN) Longshan Temple Underground Street "is Taiwan's first combined water dance landscape park, underground parking and underground shopping malls, underground street, there are a number of numerology stalls, these numerology teacher may interpret or change your future, believe it or not by you!
(URL HIDDEN) The "Monga clothing district: Taiwan's first sales of garments wholesale market from baby clothes to the shroud.
(URL HIDDEN) "Green Lane": 224 Lane Street Xichang concentrated than grass shop selling locally produced herbal-based, early / lack of Western medicine, rely on grass juice to cure many ancient remedies possession in which, also known as "life-saving Street. "
(URL HIDDEN) Buddha Street: Xiyuan Road for some gathered Buddha with 20 stores, is Taiwan's most famous Buddha appliance Street.
(URL HIDDEN) The "skinning Laos: Retain the Old Street area of a hundred years ago Fukienese and baroque-style buildings, red brick wall, with the arch of the arcade, and carved lattice windows, a walk during which seemed to go into the Qing Dynasty Monga.
(URL HIDDEN) "Watch Street: in Dali the street opposite the China Times" Watch City "-Taipei Bacheng cheap watch wholesale demand.
---
---
---
1.We require a minimum 2-night stay for the same room guests booking.
2.We only allow booking by reservations and we also do not accept reservations less than 48 hours before check-in.
3.Please email us the dates you are staying and the number of people in your group .We will tell you the availability of our rooms before you place a reservation.
4.We service hours is from 3pm to 7pm. As the property is only with accommodation which is without reception, please contact with the property (EMAIL HIDDEN) to advise the check-in time after making a reservation.If guests need to check in before 13:00 OR after 20:00, there will be an extra service charge, TWD 100 per hour.
5.Please Note! The address on website is for the property office NOT for the accommodation place. The rooms are located in several areas and it will be subject to the availability to provide different room types. We will reply all the arrangement details within 24 hours once we receive guest's email. Guests need to reply to double confirm all the details are correct. Then, they can show this email copy as the certificate to check in.
6. Guests need to prepare towel and toothbrush themselves. The property staff won't enter guest's room during the stay. Please keep the room clean and there will be an extra charge if guests need property staff to clean up the room.
7.The property provides airport transfer service (with additional cost).2.Children under. years old is free to stay if they share the bed with parents or guardian..Only the registered guests upon check-in are allowed to enter the (URL HIDDEN) should advise the property with the arrival time and details by using the contact details of the property on the booking confirmation..Pets are not allowed in the property (including seeing-eye dog and similar service animals). Thanks for your understanding.
8.For the maintenance of residential security, guests must comply the community's living Convention.Whoever violate our rental agreement or the community's Convention are considered as breach of contract and the immediate termination of the contract. We will confiscate the remaining balance and force you to move out unconditionally and immediately.
Please read the contract carefully and you will be deemed "have agreed" the above agreement after check-in.
---
---
---
★畅游台湾 / Mrt Stay★
位于台北市热闹繁华地段,紧邻地铁口.且是邻近台北知名观光夜市的~"稀少绝品"~物件,让你可品尝台湾传统在地美食外,更是逛街采买和观看时尚潮流的好地方,新美学民宿风格,兼具现代与时尚感,纯住宿非旅馆。租期灵活,平价舒适,近地鉄口,让您的租屋生活如回到自家般的亲切温馨,房间雖不大但性價比高是您台北另一个家.因在台北租屋住宿中算是很优,若无提早订房。恐多会向隅

配备:床、液晶电视、冷气空调、全区免费无线wifi网络、免费第四台有线电视频道、热水器、电茶壶、卫生纸、洗发精、沐浴乳、洗面奶、牙膏、吹风机.请支持环保.接触到私人的毛巾/牙刷请自备

出发前须知
1.此純住宿非旅館不设接待前台.客人订房后需主动Line-We Chat ID- mrtstay预约入住的时间. (我們check in時間:下午3點至7點).若提早于下午2点前或晚上8点后入住.每往前/后一个小时需另加台币100超时加班费.

2.请注意!网上地址为办事处地址非当天住宿地址.上附标准房参考照片.住宿位置位於多個地點.入住时视空房情况提供客房和床型.租客入住的房间可能与描述和照片略有差异.我们将于客人来信后24小时内回传接待细节.若無法確認入住時間者請取消訂單.

3.我們全區禁菸+禁酒.毛巾与牙刷请自备.在您連住期間.我們將不會再進入您的房內.請自我保持環境清潔.若需管家房務清潔須另付費預約

PS:因我們只是提供單純住宿.所以三人以上團體房只接受『同性』或『直系親屬』同住一室 .若不符合上述條件訂房者.房東有權拒絕接待並沒收租金.特此告知
~~~~~~~~~~~~~~~~~~~~~~~~~~~~~~
*MRT Stay *
The property is with convenient location, close to MRT station. It is also close to the famous night markets in Teipei which is very rare to find among Taipei properties. Guests can not only taste traditional Taipei cuisine, but do shopping and enjoy fashion in Taipei.

The property is with modern and fashionable design. It is not a hotel but pure accommodation. The stay period is flexible and price is budget. With its convenient location, guests will feel comfortable and sweet as stay home. Although the room is not that spacious, but with good cost performance. As the booking of the property is very hot, please make your reservation earlier.

Faocilities: bed, LCD TV, air-conditioning, Free WiFi, hot shower, electronic kettle, toilet paper, shampoo, shower gel, tooth paste, facial cleanser, hairdryer. Please keep environment protection and prepare your own towel and toothbrush.

The photos are the standard room. The rooms are with different locations. The room and bed types will be provided subject to the availability. Please leave the correct email address and check in time. The property will reply with the onsite staff's contact number, reception address & map, things to note within 24 hours. The guests need to reply the email to confirm and use the property email as check-in certificate.
语言:
English、中文