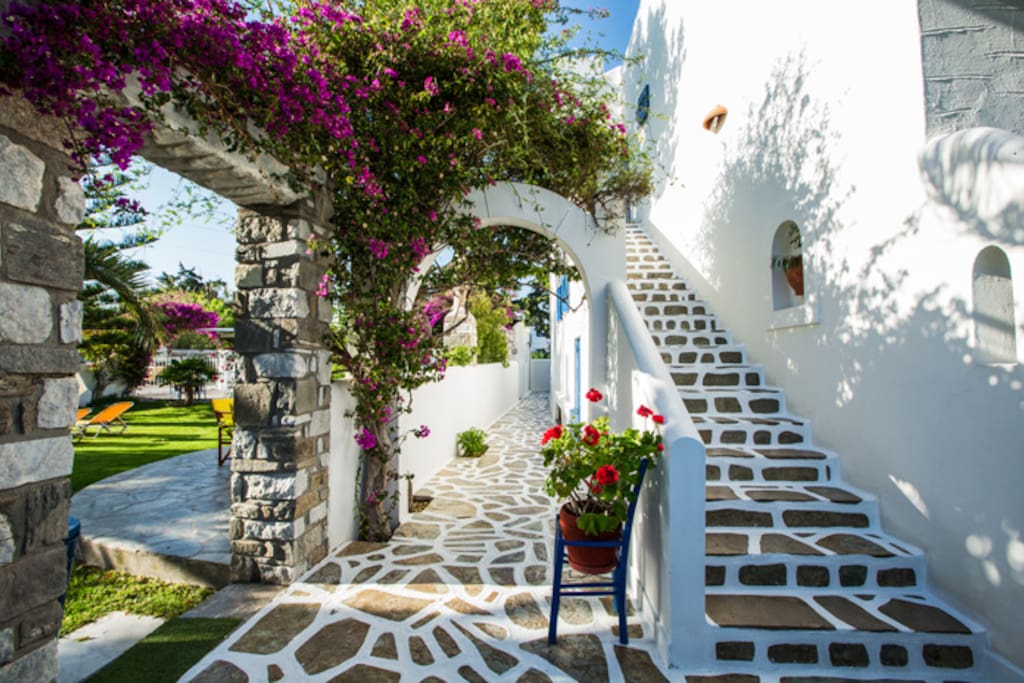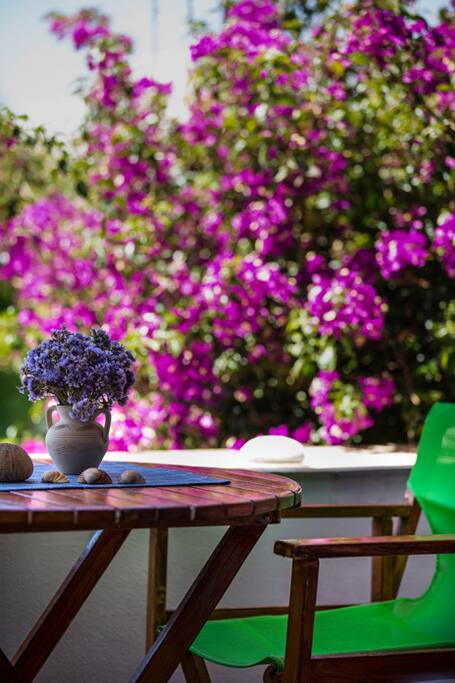 Angie's Studios is a family hotel business in Paros island, Greece (Cyclades) with different types of fully equipped holiday apartments in greek traditional style and private gardens, ideally located only a few meters away from Parikia's center.
---
Great address in an ideal location in Parikia : quiet and close to the center. Angie is very kind and her mother make a great marmelade ! Our room was exceptionally clean and there is very nice garden with beautiful trees. A must !
---
We had a great stay at Angie's. The place was clean and had plenty of space for two. The old town is a short 5 minute walk away and there are plenty of restaurants nearby. was a great host who gave us tips on places to eat and how to get to beaches around the island. We only stayed a short time but we'll definitely be back for longer next time!
---
Very peaceful place, Angie's studio is very well maintained and has a good location to discover Paros. The flats have a private balcony. Thanks to Angie for her kindness and professionalism. I recommend 100% this nice place.
---
Angie ´s place is at 5mn walk from all the shops and restaurants but is very quiet because not in the very center of the town. Angie is a very nice person. She gave us very good advices and was always here when we needed her. I really and fully recommand her place !
---
Angie's Studios was fantastic!! The space was clean and well kept, including the entire grounds which had beautiful sitting areas to relax and hang out. This overall is such a cute and quaint bed and breakfast. Air conditioning and wifi worked wonderfully. We were greeted with cookies and jam made by her mother. Angie herself is an amazing human being, so accommodating and made you feel like you are a part of her family! She took us onto a sunset boat ride and walked through the town with us, providing us suggestions of restaurants and bars. I miss Angie and Angie's Studios already!!!
---
If you like a quiet place in a charming part of Parikia with lovely streets, but still within a walking distance from the seafront and the nightlife, Angie' studios are made for you. The apartment was spacious, with a nice balcony. A what a lovely blooming garden! Angie offered us several small gifts that eventually makes you feel that you're not just "another client". And thanks again for her tips regarding good restaurants, nice neighboring beaches... Certainly a place to recommend.
---
Angie is a perfect host and the communication was very good. The apartment is close to the port, busses, shops and restaurants. All was clean, every stuff, which you need is in the aparment. A perfect place to stay on Paros.
---