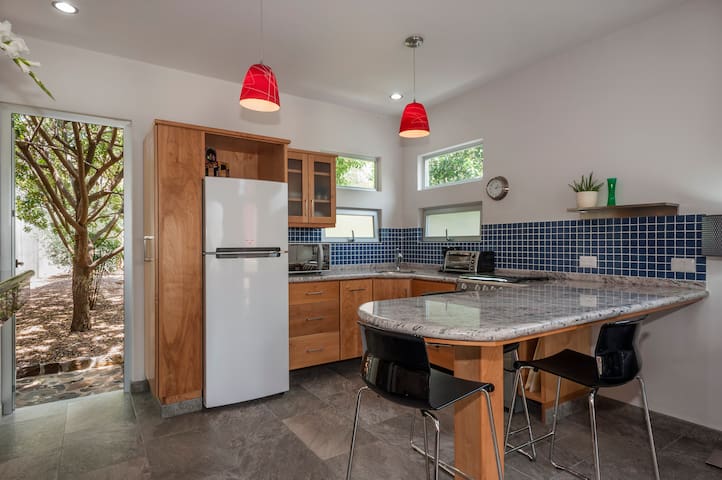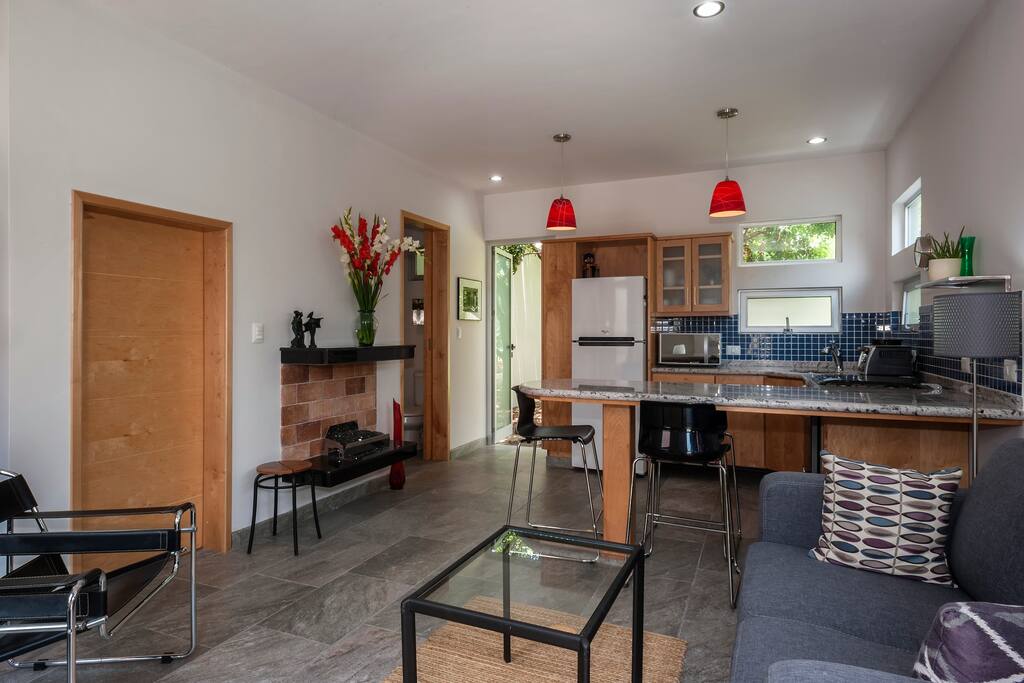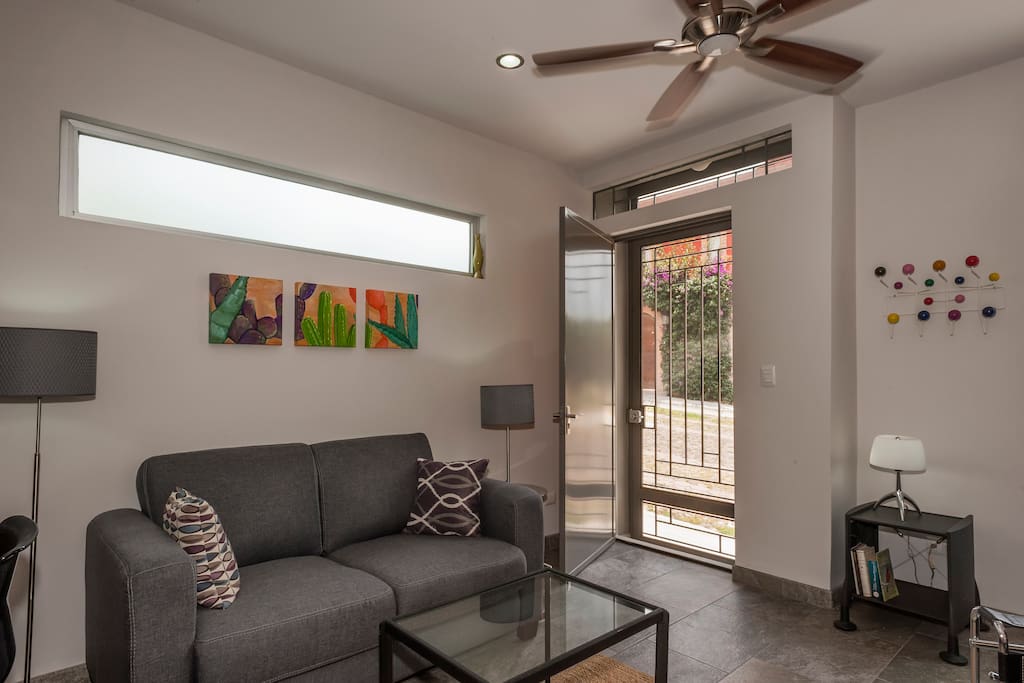 Newly built house with style and comfort. Located in Colonia Mexiquito, San Miguel de Allende on a private, secure street. Open floor plan, lots of light, modern decor. Fully furnished, American Queen bed. Outdoor terrace. Taxi or bus readily available. Easy flat walk to Centro. Close to Fabrica Aurora, landmark factory converted to shops and restaurants. Food, veggies, flower shops nearby. Includes everything to make your vacation relaxed and comfortable.
---
Earlene and Armstrong's casita is new, beautiful, quiet, and extremely easy to live and get work done in. The walk to town is quick and pretty and I look forward to it everyday. Earlene and Armstrong as hosts are warm, intelligent people who have made my month stay incredibly convenient and easy. I actually stayed longer in their casita because I enjoyed it so much.
---
AMAZING PLACE and AMAZING PEOPLE! We arrived really late at night due to a bus delay, but John and Earlene were incredibly gracious about it. They greeted us outside, gave us a tour of the apartment and provided us with maps and suggestions about our stay in San Miguel de Allende. They live next door but the apartment is completely separate from their home so we felt like we had our own personal space but when we needed anything they were available. The apartment itself is gorgeous. The pictures don't do it justice. It is modern - all of the appliance look brand new and work great - but it also feels like a home. We spent each night sitting in the living room going through our pictures from the day next to the fire place - what a romantic and comfortable place! The layout is great - bedroom upstairs was spacious and the bed was very comfortable. The bathrooms were very clean and the upstairs balcony was a great place to watch the sunrise and listen to the city. On our first day John showed us the walk into the main square. There are buses and taxis which you can use also but we found the walk to be very pleasant, even at night. With regards to security - San Miguel de Allende feels very safe and the apartment is very secure. We had a wonderful time staying here in Casa Moderna and we attribute a lot of that to how gracious, welcoming, and helpful Earlene and John were. Strongly recommend!! We will certainly be back to visit soon.
---
Earlene and Armstrong were most gracious and responsive hosts. I appreciated their warm welcome, the time they spent to orient me to the casita and the neighborhood, and the nice "starter kit" of food items they provided. The place was very much as described and depicted in photos, and proved to be a comfortable home base for my month-long stay. The kitchen was well-equipped and I prepared quite a few meals at home. While a bit removed from the downtown area, it was an interesting and pleasant walk or quick cab/bus ride to any destination, and was conveniently located not far from my Spanish school, Habla Hispana. I valued the peace and quiet of the neighborhood at night, as contrasted with the sounds of church bells, fireworks and/or roosters one is likely to hear in other parts of town. I would definitely recommend a stay to almost anyone, although those wishing to be right in the midst of the downtown action might feel a bit too far away.
---