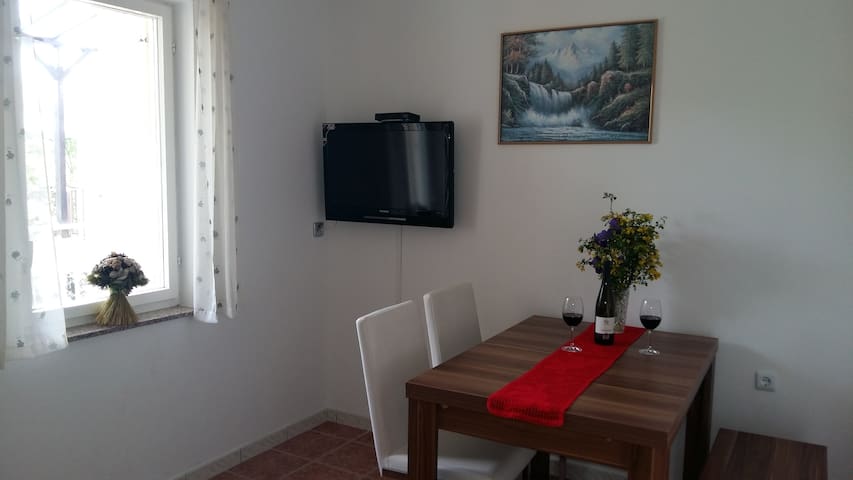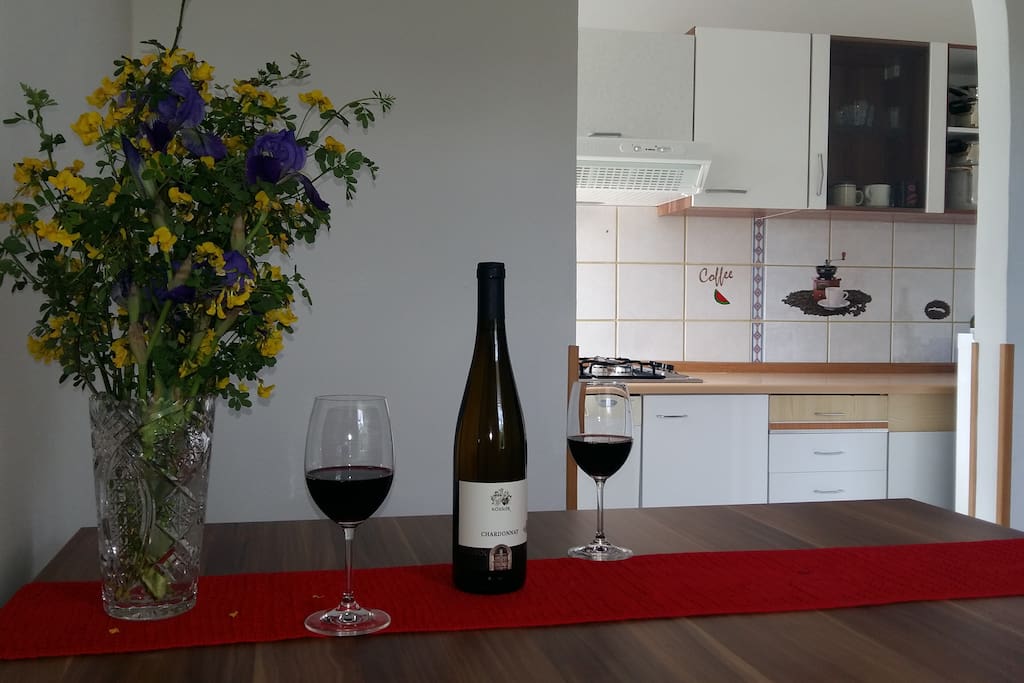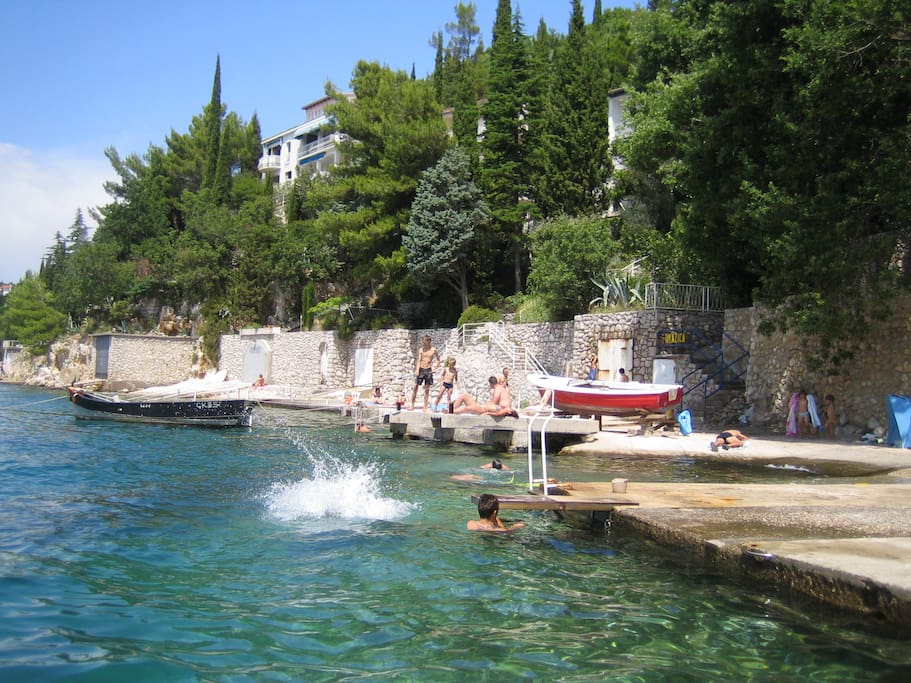 The apartment is clean and bright. It's located in a quiet neighborhood only 150 meters away from the beach and 350 meters from the supermarket.
You can chill on the spacious terrace, barbecue in the garden or use our free bikes.
与房客的互动
I myself or my grandfather Ivan who is also the owner of the place will always be available if needed.
Die Ferienwohnung ist sehr schön und nur wenige Gehminuten vom Strand entfernt. Vier Personen können dort gut übernächten. Jadranova ist ein kleines Fischerdorf welches ruhig ist und trotzdem die Möglichkeit bietet essen zu gehen oder Lebensmittel einzukaufen. Wir würden die Wohnung wieder buchen! Lieber Ivan vielen Dank für die schöne Wohnung und deine herzlichen und gastfreundliche Art!!
---
Accueil très sympathique par Ivan qui nous a expliqué (en allemand) où se trouvaient les plages et les commerces. L'appartement est bien équipé, spacieux et la terrasse ombragée est très appréciable. Ivan nous a laissé utiliser son barbecue ce qui nous a permis de partager un verre de schnaps avec lui. Il y a plusieurs accès possibles à la mer qui sont tous très agréables. Nous avons passé un bon séjour malgré la canicule (40°C) : Ivan nous a dit qu'il pensait installer la climatisation pour l'année prochaine, ce qui apportera un confort supplémentaire.
---
Die Ferienwohung ist sehr zu empfehlen! Besonders wenn man Ruhe sucht und das Land sowie Leute kennen lernen möchte. Die Wohnung ist sehr sauber und hat eine angenehme Größe für 2 Erwachsene und 2 Kinder. Absolut toll ist die Terrasse zum frühstiücken und Abendbrot. Das Haus liegt in einer ruhigen Nebenstrasse ohne Lärm. Zum nächsten Steinstrand führt eine steile Treppe, wo man unter Einheimischen und ein paar wenigen Touristen baden kann. Für die Kinder war der Badeort super. Eisladen, Pizzeria und Konsum ist per Fuß nicht weit weg. Lidl ist mit dem Auto in der nächsten Stadt (da ist der Strand übrigens sehr voll). Ivan war sehr freundlich und half uns bei Fragen immer weiter, da er gleich mit im Haus wohnt. Vielen Dank für Wein, Muffins und den Bootausflug ;-)
---
The apartment is in quiet surroundings. It is conveniently located near a path taking you down to the beach. The closest beach is more of a boat stay rather then a beach as such, but this is by no means a drawback. A very nice beach with a perfect shore for going in, also fot kids, is close by. Nevertheless we spent more time on the beach down from the house. Also very young kids may enter water down there, as you enter water from the ground. The only problem is going up from the beach on stairs. But this is standard issue here. Most of the beaches need some climbing Down and after that, up. And The exercise you get is priceless The apartment is perfect for a family of four or even five (2, 3 kids). It has all you can possible need. And The host is extremely firendly. We had a great stay and I can rekomendacja the place with all my heart. Jadranovo itself is really nice place for family vacation.
---
I spent two weeks in Jadranovo with my family. The apartment is clean and tidy. It is located close to the beach, in quiet corner of Jadranovo. Very comfortable for 4 people (2 adults, 2 kids) - separate bedrooms make a diffrence. Spacious terrace, fully equipped kitchen and large bathroom complete the picture. Ivan, Marko's grandfather and a host, was extremely helpful - when I had a flat tire in Rijeka (20km away from Jadranovo) and I had to leave my car there, the following day he dropped me off to Rijeka and organized the local on-road tire service. He also prepared homemade tiramisu cake and gifted us with the lovely bottle of local wine. The attitude of the hosts towards us was really amazing. If it were possible to give more than five stars, undoubtly I would do it with great pleasure. Highly recommended!
---