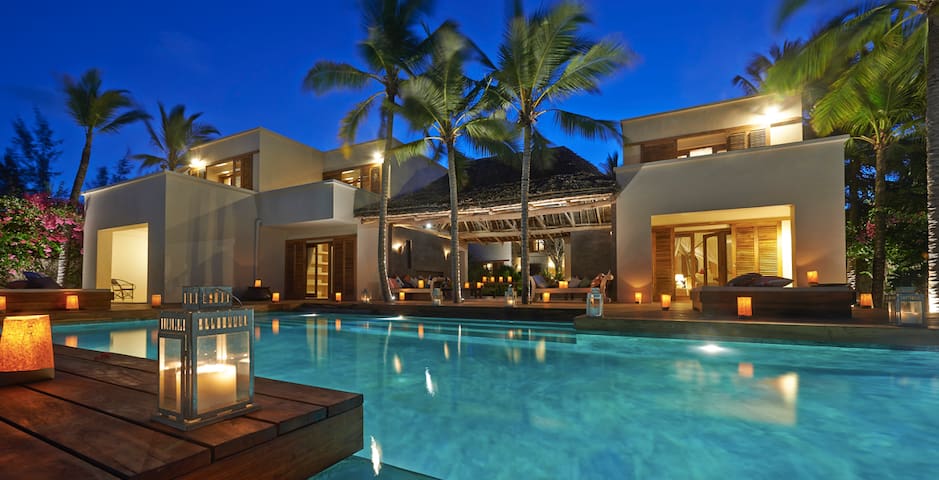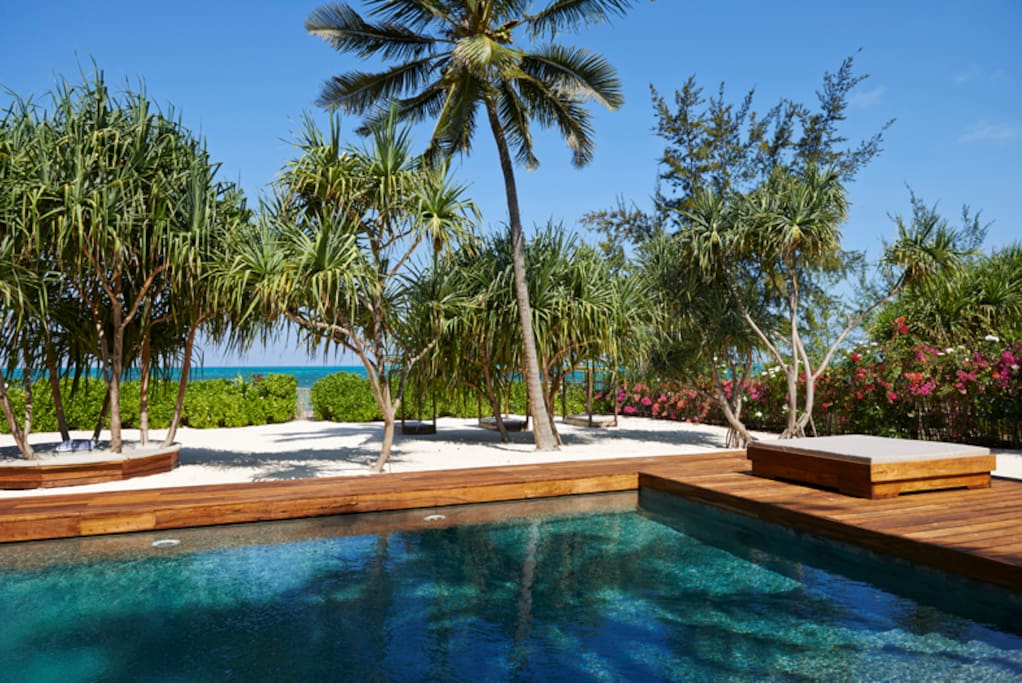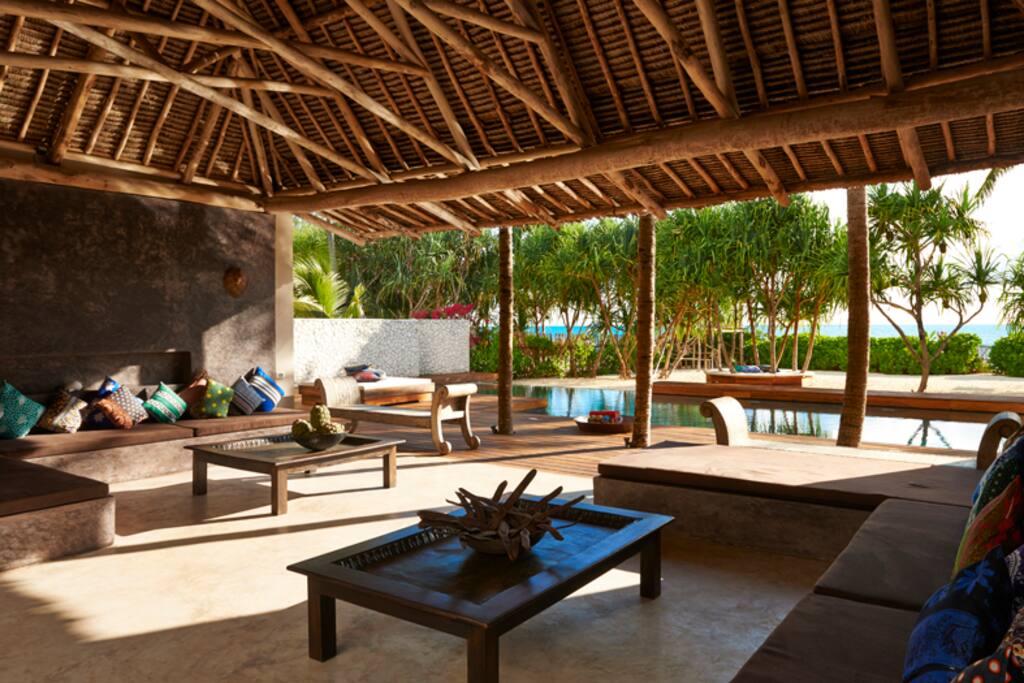 Wow, what a stay. After reading the rave reviews we (an extended family of 10) had high expectations, but they were exceeded by far. The Villa first of all is gorgeous, the layout is perfect, the rooms are huge and stylishly decorated. The beautiful Zanzibar white beach is right in front of the villa. There is an amazing Kite Surfing spot 5 mins cab away, great snorkeling in the area, and canoes in the Villa. But this is much more than a normal airbnb. There is a fantastic staff of 11 people on site, but it feels like you're on your own. The villa is always immaculate. There is a great chef on site, breakfast is delicious (and included) and if you want it, you have amazing lunch and dinners with local fresh produce tailored to individual diets, decided with you on a day to day basis. But the hosts are what make this listing a one of a kind. Communication with Sara before the stay was perfect, prompt and helpful. And then every day, Andrea would come help us organise menus, set up massages, guided tours, yoga sessions, whatever we wanted, always with a smile, regardless of how many times we changed our mind. And when we were away he was always available on the phone to help with anything. He went over and beyond and it made for such an enjoyable and relaxing stay. We loved every minute of it and can't wait to come back !
---
If you're planning a trip to Zanzibar, Casa Da Mare is by far the best place you can stay at. I cannot begin to describe how beautiful and clean this place and how amazing Andrea, Sara, the chef and the rest of the staff are. Here are a few of the reasons why you should DEFINITELY stay there: •The villa is beyond beautiful, the rooms are very well decorated, the pool is really nice, you have clean towels every single day, the beach is 1 min away, there's a tree house, TV Room, mats, and night guards and this is ONLY for Casa Da Mare residents •The chef is amazing, he prepares breakfast every single day (included in the price), and you can ask for lunch and breakfast. He will make sure to cook something different every single day according to what you want and your preferences. We ate the most delicious fresh fish (from octopus to crab, tuna, king fish....) and when we were craving cake he cooked a delicious cake. •The staff is beyond generous and helpful at anytime •Andrea & Sarah are the best hosts you can hope for. They are nice, funny and beyond helpful. They made sure we were happy, they booked everything for us, our stay would have not been the same without them. A few examples of how amazing they are: oOn the first day, one of us forgot her passport at the airport, Andrea did everything he could, called a million people, arranged a taxi for us to go to the airport and we got it back oHe had a planner and made sure and reserved for us to do something different everyday oOne day, we were coming back from the beach and were craving ice cream, ANDREA did the ice cream by himself oWhen we left the house, he always called to check up on us and make sure we were ok oHe arranged everyday a cab for us to stay with us the whole day oHe made sure we always had drinks and that the house was always safe Whatever you can wish for, Andrea & Sara can get it with a smile: food, drinks, massage, yoga, Zanzibar typical clothes, trips around the Island.. just dream and they will make it happen! Again, if you're planning a trip to Zanzibar whether you're a group of friends, a family or couples, this is THE place to go. Sarah & Andrea, we miss you already! Thank you for everything. The Bachelorette Ladies :)
---
Sara and Andrea were the perfect hosts. Our communication before arrival was always prompt and complete. They coordinated our pickup from the airport, understood our interest in picking up food and wine from a store and stopping by an ATM to load up on local currency on our way to the villa, and made sure our driver was prepared for all this. The villa was even more than we could have expected from the pictures. Words really can't describe how in awe and excited we were when we arrived. Andrea quickly showed us around so we could all pick our rooms, then briefly reviewed the property features and routines (breakfast, cleaning, staff, etc.). He stayed on property overnight just to be sure we settled in without issue, and while always available on property during the day if we needed him or Sara, stayed out of our way and was never overbearing. The beach and surrounding property was gorgeous, remote and relaxing. He and Sara took care to arrange any type of outing we were interested in, be it dinner at a local restaurant, a trip to Stonetown with a guide to show us around, a surfing and snorkeling excursion, and a sunset cruise around the bay. The house was exquisitely decorated and the quality of construction and finishing was the highest I've seen in all my travels around East Africa. The owners really did a superb job in building such an amazing villa. The Casadamare staff were absolutely fantastic. Sara and Andrew have a great team providing friendly, professional service that was always attentive when needed. The only thing you can't tell from the pictures or description is how fantastic the food is. The fresh ingredients and skilled kitchen staff prepared some of the best meals I've had. We did dinner out at The Rock our first night but after discovering how delicious dinner prepared by the villa staff was the next day we never ate another meal out again. Can't recommend the value and experience of Casadamare highly enough! We will *definitely* be back.
---
A weekend in Heaven!! My group and I (ten people) stayed at Casa Demare on the weekend of October 14-17. And what a weekend it was. The villa was truly out of this world: Extremely spacious, stylishly decorated, cozy and welcoming. There's a large swimming pool as you enter the villa and you can see the ocean from the main seating area. There's a tree house, plenty of sunbathing chairs, round couch areas between trees. When the tide is high, you can walk for 30 seconds and reach the ocean for a swim. The villa was always clean and the service was exceptional. The food we were served was superb. We still crave the breadsticks and the fresh seafood. But what made our weekend perfect were the hosts, the lovely Andrea and Sarah. From the moment we got to the villa they treated us like family. They were extremely helpful and welcoming. They proposed different places for us to visit and arranged for all of our activities such as snorkeling, massages in the villa (can't recommend this enough), and a visit to the old town. They took care of us from start to finish and we can't thank them enough for the lovely weekend. By far the best hosts I've had the pleasure to deal with on airbnb. Overall Casa Demare is a definite repeat to us and we can't recommend it enough. This will always be our getaway go to place.
---
This listing was an absolute dream and far exceeded our expectations. We were welcomed by Sara, Andrea and their staff of 10. They took care of our every need and we were free to relax and enjoy this magnificent villa and beautiful white sand beach. The meals were outstanding! We were there for 1 week with our family of 7 and each day they delighted us with a fantastic breakfast, afternoon tea and gourmet meals. The home is huge and has many sleeping options with in each of the 7 suites. It was impeccably clean and tastefully decorated with beautiful Swahili accents and antiques. Andrea took care of all our needs and bookings such as massage chauffeur services and excursions. It was the most luxurious week for our family that we will never forget. Thank you Sara and Andrea!
---