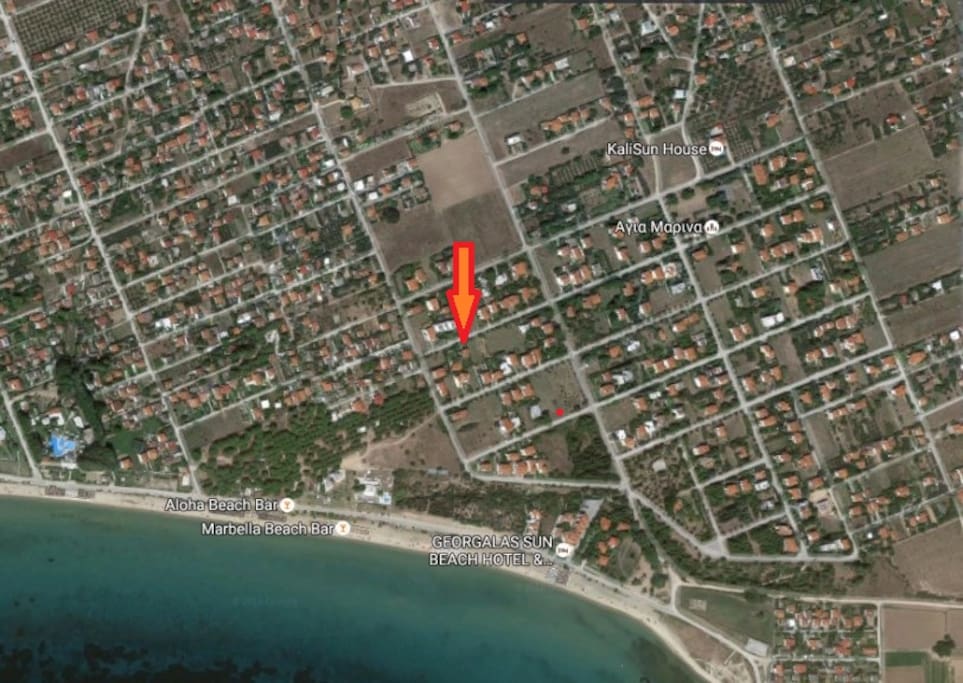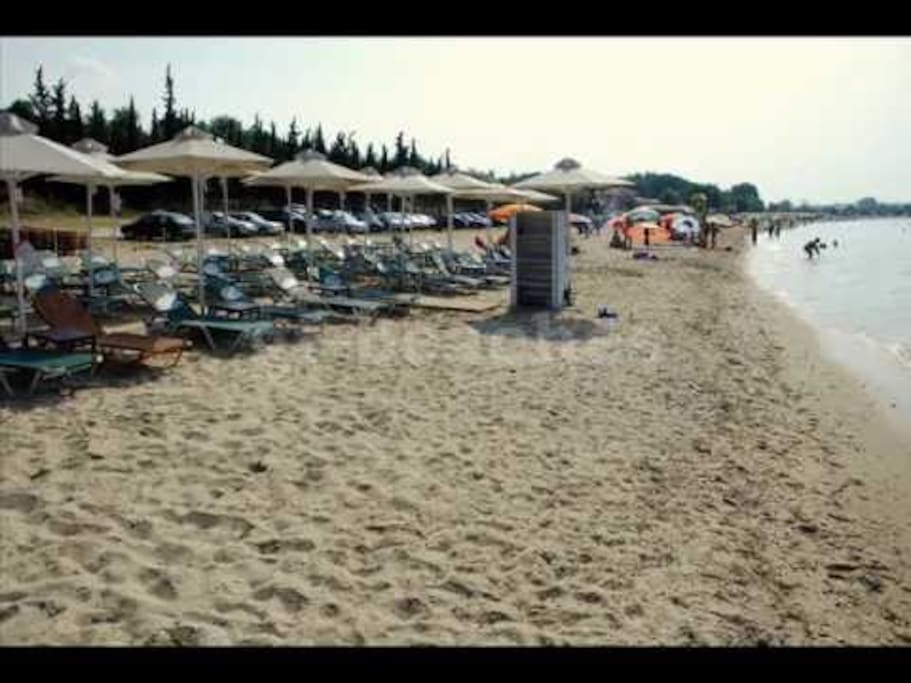 A traditional cottage in Geoponika with a beautiful garden. 5 minutes walking from the sea, 5 minutes driving from Kalikrateia, half an hour driving from Thessaloniki. This is a part of a Two Floor cottage, however only the first floor is available.
---
We are a greek family living in Germany and every year we visit Greece. This year it was the first time with our little child and it was one of our best stays in Greece. It is a very family friendly neighborhood so called Geoponika in Kallikrateia 500m away from the mediterranean sea and the beach. The house itself has two apartments. We were at the groundfloor which is approximately about 30-40sm and totally enough for a family with a small child (1-4 years old) if you have a travel bed. The apartment has a big kitchen (totally new) and a living room that has in the middle the bed for the parents and a closet for clothes. It is one open space with the kitchen. There is also a small bathroom with a shower and a window but it's convenient and also in a good shape. We were also allowed to use completely and solely the outside area of the groundfloor where you have a big table and chairs to sit outside and we could also park our car inside. You have also a clothes line and a washing machine. The washing machine is also to be used by the apartment above. The second apartment above has 3 rooms a kitchen a bathroom (both very new) and a big balcony. We could have a look inside so that's all we can say about it from our short memory. We know Kallikrateia since many years and it's located very central and only 35km from Thessaloniki away and gives you great opportunities to go more south to other places of Chalkidiki or the island Ammouliani or even to travel to other places in the north. You will need for sure a car in this neighborhood Geoponika even though you just walk 5 minutes to the beach you need a car to go to Masoutis supermarket or other stores in Kallikrateia City. The streets our very broad and you can easily have a walk with your baby buggy even in the night as the streets are lighted and the area is security protected. The owner of the house is a family that lives in the house next door on a different plot. The parents Leonidas and Meropi gave us such a great hospitality. We really felt that this was our house. Whenever we needed something they were always willing to help us. It was more than just a service-customer relationship. It was family environment. We have spent many nights together talking with them about different things. We can recommend them blindly as we have experienced such a wonderful stay with great memories. Thank you from the bottom of our hearts.
---
Μου άρεσε η άνεση και η κάλυψη των αναγκών μου.Μου άρεσε η περιοχή ,η διαδρομές περιπάτου και η ομορφη και καταγάλανη θάλασσα. Νομίζω οτι κάλυψε τις ανάγκες μου στην ολιγοήμερη παραμονή μου και θα ήθελα να την επαναλάβω με την πρώτη ευκαιρία. Συνιστώ ανεπιφύλακτα τον χώρο για ένα ζευγάρι που επιθυμεί την ησυχία και την άνεση.
---