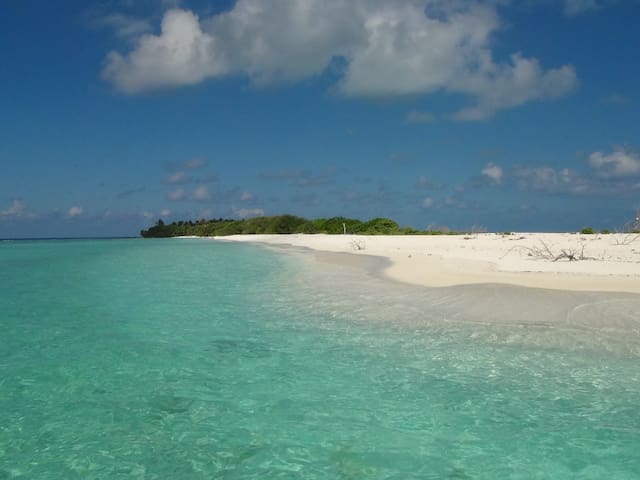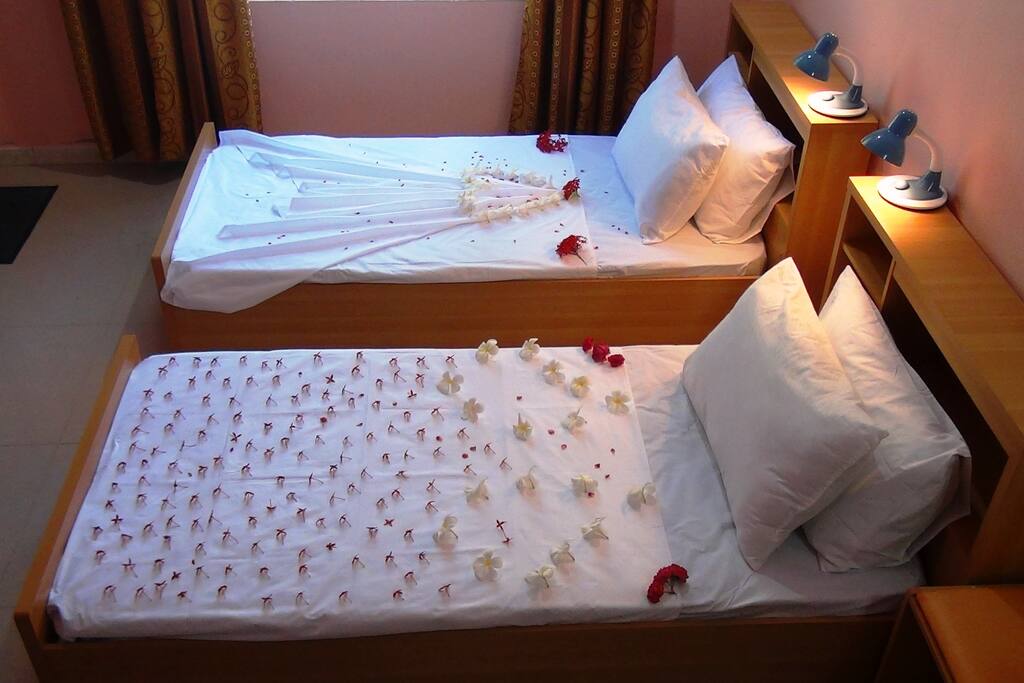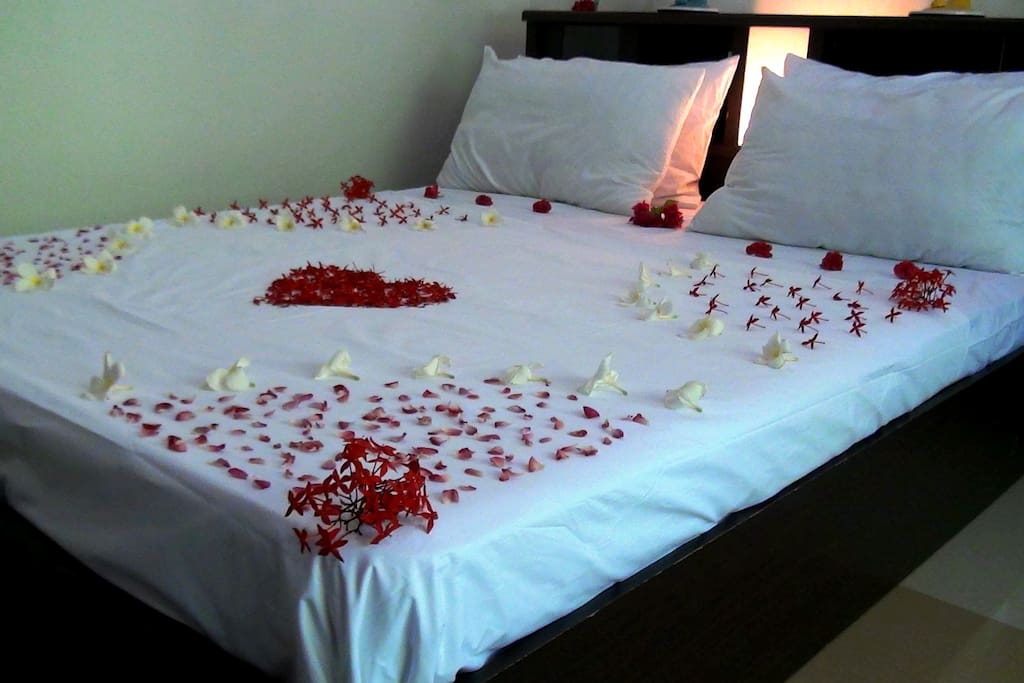 房源
我们位于Fulhadhoo岛,一个小型美丽的人口约300人,发现于Horsbugh Atoll。这个自然美丽的岛屿被几个沙滩和无人居住的岛屿包围。富兰哈岛长约1.920公里,宽度0.250公里。此外,这座历史悠久的岛屿已经在历史的页面上发现了自己的历史,因为着名的探险家弗朗索瓦·皮尔德(Francois Pyrard)在岛上遇难,在1600年前就回到了岛上。我们的岛屿以其清澈的水域和白色而闻名沙滩。 只有一小部分(约20%)的0.47公里平方米的岛屿居住着,而其余的广阔地区被高大的棕榈树和沙质地面覆盖。我们力求最大限度地满足马尔代夫及其文化对各地游客的需求。世界。特别关注钓鱼之旅,潜水,水肺潜水,沙滩旅行,无人居住的岛屿等活动,我们提供最便宜的价格,任何人都可以访问这些美丽的核心岛屿!不再需要保存多年才能看到这个美丽! 异国旅行:我们为附近无人居住的岛屿提供特别之旅,拥有美丽的清澈海滩和礁石! 冒险:出发到沙滩,尝试不同的钓鱼方式。浮潜,尽情享受! 马尔代夫美食:包括各种令人垂涎的菜肴。从海鲜到素食,轻松挑选。 转让: - 我们提供4条主要路线到我们的旅游宾馆。 1)当地渡轮快艇:为了获得最佳的成本效益的方法,这种转运方式是完美的,因为它提供了一个2小时的旅程到最近的岛屿,我们的宾馆Goidhoo只有15分钟远离我们的宾馆由我们的私人速度发射。 费用:每人45.00美元(单程) 附表: 男子在星期六,星期一,星期四上午10点离开 男性星期一,星期一,星期四到达1700点 时间:2小时 路线:男性/机场到Goidhoo(2小时) Goidhoo到宾馆岛(7分钟) 2)通过国内机场: 从易卜拉欣纳西尔国际机场到达哈拉万豪国内机场的每日国内航班(Airfare-USD129 / - 每个单程),并通过快艇特许转移到宾馆: 成本:成本完全取决于乘客人数。单程旅行的标准固定费用为250美元,单身人士的费率取决于乘客人数。 例如:如果6名乘客在快艇上旅行,那么一名乘客的票价是42.00美元。 3)私人快艇 可用24小时,可安排至少4人,最多20人 成本:成本完全取决于乘客人数。单程旅行的标准固定费用为950美元,单身人士的费率取决于乘客人数。 例如:如果6名乘客在快艇上旅行,则一名乘客的票价为158.00美元。 时间:1小时45分钟 路线:直达男性/机场至岛屿(1小时45分钟) 4)空中出租车 空中出租车带您到我们环礁附近的一个度假胜地(可可棕榈)。从那里你可以在几分钟内通过快艇出租我们的岛屿 费用:每人240美元(单程),快艇租用120美元 时间:25分钟到达目的地10分钟
We are located in Fulhadhoo Island, a small beautiful island of population approximately 300 , found in Horsbugh Atoll. This naturally beautiful island is surrounded by several sandbanks and uninhabited islands. Fulhadhoo island has an approximate length of 1.920 km and a width of 0.250 km. Moreover this historical island had found its self in the pages of history as the famous explorer Francois Pyrard was shipwrecked near the island and had made his way on to the island back in the 1600's.Our island is well known for its crystal clear waters and white sandy beaches.
Only a small proportion (about 20%) of the 0.47 kilometer squared island is inhabited while the remaining vast areas are covered by tall palm trees and sandy grounds.We strive to offer the maximum satisfaction in exploring Maldives and its culture to visitors from all over the world.Focused specially on activities such as fishing trips ,snorkling ,scuba diving , trips to sandbanks,uninhabited islands,we offer the cheapest affordable rates available for anyone to visit these beautiful corel intensified islands ! No longer would you have to save up for years just to see this beauty !

Exotic trips : we offer special trips to nearby uninhabited islands which possess beautiful crystal clear beaches and reefs !

Adventures : Set out to sandbanks and try out different methods of fishing . snorkeling and enjoy to the fullest !

Maldivian cuisine : consists of a wide range of mouthwatering dishes. From seafood to vegetarian dishes, select your pick with ease.

Transfer :-

We offer 4 main routes to our tourist guesthouse.

1) local ferry speed boat : For the best cost efficient method, this transfer method is perfect as it offers a 2 hour journey to the nearest island to our guesthouse Goidhoo which is only 15 mins away from our guesthouse by our private speed launch.

Cost : USD 45.00 per person (one way)

Schedule :
Male' departure at 10:00 am on Saturday , Monday , Thursday
Male' arrival at 1700 hrs on Saturday , Monday , Thursday

Duration : 2hours

Route : Male'/airport to Goidhoo (2hours)
Goidhoo to Guesthouse island (7min)

2) Via Domestic Airport:

Daily domestic flights available from Ibrahim Nasir International Airport to Dharavandhoo Domestic Airport (Airfare- USD129/- per oneway) and transfer to Guesthouse via speed boat charter:-

Cost : Cost entirely depends of no.of passengers. Standard fixed rate for one way trip is USD 250 and rate for single person depends on the no.of passengers.
Eg: If total 6 passengers are traveling in the speedboat , then the fare for one passenger is USD 42.00.'


3) Private Speedboat

Is available 24hrs and can be arranged for a minimum of 4 people and maximum of 20 people

Cost : Cost entirely depends of no.of passengers. Standard fixed rate for one way trip is USD 950 and rate for single person depends on the no.of passengers.
Eg: If total 6 passengers are traveling in the speedboat , then the fare for one passenger is USD 158.00.'

Duration : 1 hour and 45 mins

Route : Direct Male'/airport to Island (1hr and 45mins)


4) Air Taxi

Air Taxi takes you to a nearby resort (Coco-Palm) in our atoll . From there you can come to our island via speedboat hire within a few minutes

Cost : USD 240 per person (one way) , USD 120 for speedboat hire

Duration : 25 mins to resort + 10 mins to destination

---
---
---
---
You can stay on the local Island beaches and even snorkel from the shores. On local islands, bikinis aren't really worn, nor do men walk around with only shorts. Living among the local Muslim population you generally wouldn't strut around half-naked as you would in a resort village. This is all part of the experience and shouldn't be seen as a drawback - there is plenty of opportunity to soak up the sun and pose for those fantastic holiday beachwear photos on the uninhabited islands.
The island council will also permit a special area in the beach for tourists where they can freely swim in bikini..
 
In local islands following dress are minimum requirements:-
Men : T-Shirt and shorts
Women: T-Shirt, blouse, Shirt and skirt or shorts which hides down to ankle.

In uninhabited islands however , tourists are free to wear bikinis and all types of swimwear.
---
中等
旅程开始前的5天之前取消预订可以获得全额退款。如果在旅程开始前5天内取消预订,第一晚的房费将不可退还,但可获得剩余住宿天数房费50%的退款。
---
---
I stayed at Azoush for 5 nights and I had a great time. Arriving at the island I felt very welcomed. The staff and also the other inhabitants of the island were really kind and friendly. The food was very good. My room was clean; there were some problems with the power but at last everything worked out well. Azoush is not a resort but if you walk to the beach through the jungle (it takes about 15-20 minutes) and see the beautiful beach and the ocean you forget about any missing of luxury. I was also taken to the uninhabited island for free on my last day which was a nice experience. If you decide to stay at Azoush notice that you have to pay your bill with cash and the only possibility to get cash is by using an ATM at Male. I've been there with my credit card but luckily I could meet one of the guest family at the capital to take me to an ATM and to hand him over the money. Finally I would definitely come back to Azoush again! Thank you Mohamed for the great experience.
---
Azoush Guesthouse is a slice of paradise. I spent 5 days there on the beautiful island of Fulhadhoo. The guesthouse is clean and colourfull and the staff is just amazing. Forget about the resorts. Here you get to live on a local island, meet the friendly locals and get to know their culture and taste their food. From the island, the guesthouse provides day-trips. I especially enjoyed octopus-hunting with a local fisherman, the trip to an uninhabited island and all the snorkeling around the island. The island itself is so beautiful, and everything you ever imagined about the Maldives. The best thing is that you almost have the beaches to yourself, since there are no tourists on the island. I highly recommend this guesthouse. I will come back for sure!
---
I'm Mohamed Shahid (Owner of the Guesthouse) and I am from Male' Maldives.