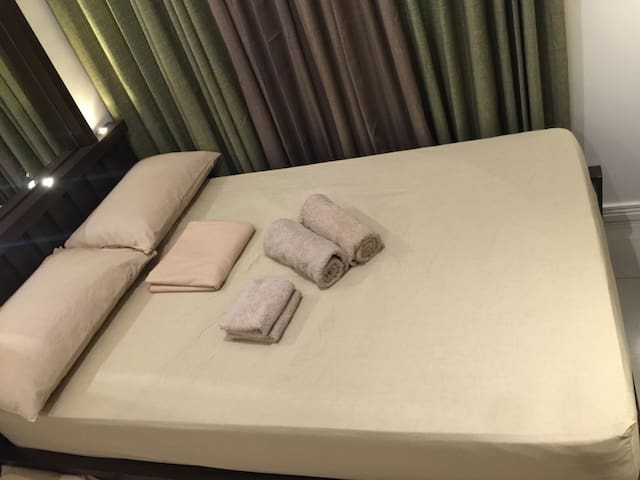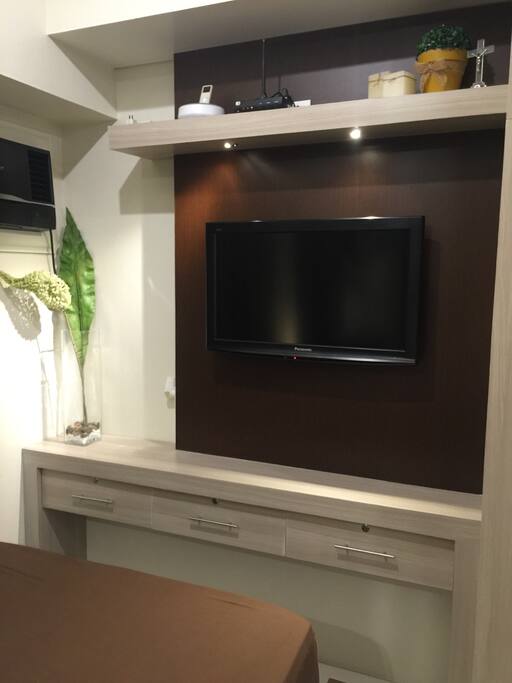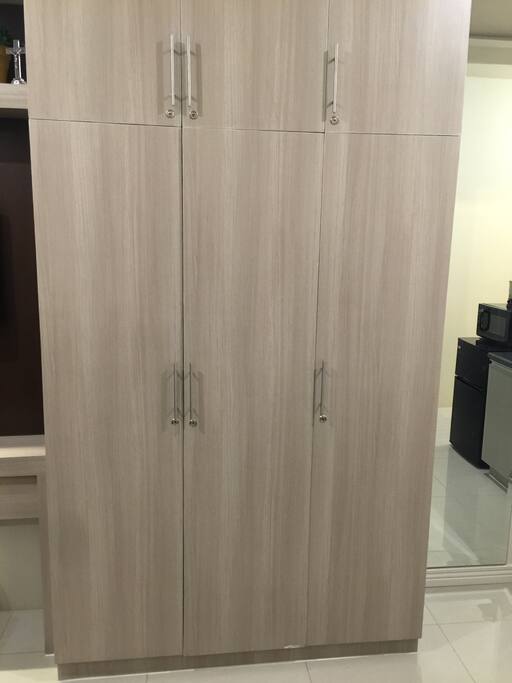 New unit comfortably , Facing Makati Skyline and swimming pool. An affordable yet accessible located at CBD (Central Business District) of Makati City. Free unlimited wifi and sky cable tv.
房源
10 inches thick special double bed (clean and no bed bugs guarantee), 1 extra charge for extra 1 pull out bed
Extra charges: (optional)
Use of swimming pool
Cleaning
Extra towel
Extra linens or bed sheet
Extra person
房客使用权限
ROOM AMENITIES: 27TH FLOOR TOWER 2
Facing Makati Skyline City view
Facing Swimming Pool
Internet wifi
Air-conditioner
32 inches flat screen TV
Sky cable TV channels
Bed (good for 2)
Cabinet w/ cove lights
Basic office supplies
Dining table w/ 4 seaters
Kitchen Utensils
Personal Refrigerator
Electric kettle
Microwave oven
Private Toilet / Bath
Shower heater
1600 watts hair dryer
Basic Cleaning Materials
220Volts Universal Sockets and USB
Extension wire
Smoke Detector
LED Flashlight
EXTRA ADD ONS: (optional charge)
Bed (good for 1-2 person)
Cleaning
Bed linens(bed sheet/blanket/pillow covers)
Bath towel/s, Face Towel/s
Minibar (for sale inside the ref and mini cabinet)
Essentials (for sale inside the ref and mini cabinet)
Cooking Wares / Cooking Utensils
Laundry Washer / Dryer (Level 2 Tower 1)
PODIUM LEVEL AMENITIES: 6TH FLOOR TOWER 2
Kiddie and adult Swimming Pool
450 sqm Swimming Pool with Lap Lane
Outdoor Playground
Jogging Trail
Playroom
Emergency Clinic
Spa
Sauna
Gym p100 per use
Lounge
Function Halls (for rent)
Garden
ROOF DECK AMENITIES:
Barbeque Areas
Skylounge
20 Seater Mini Theater (for rent)
GROUND LEVEL / ACCESSIBILITIES:
711 Convenient Store
Fastfood and Restaurant
Walter Mart Mall , Cinemas and Supermarket
Makati Cinema Square
Don Bosco Church / College
Greenbelt Ayala Mall (7 mins walk)
ACCESS ROADS:
Chino Roces Ave.
Arnaiz Ave.
Amorsolo Ave.
South Super Highway / Skyway
Terminal Airport (6.6km approx 15min ride)
HOUSE POLICY:
No Smoking
No Pet/s
Check in anytime after 2pm
Check out anytime before 12nn
(early check ins or late check outs are subject to room availability)
Early check in or late check out P150 per hour(if available)
Security Deposit p2000 (refundable)
FOOD DELIVERIES:
visit website of foodpanda or download the food panda app
与房客的互动
Contact me anytime anywhere here in airbnb or text me, ill reply asap :)
其他注意事项
- bed is covered by a german leather for hygienic purposes and newly washed linens
- local cable channels available only
Poduim Level Amenities:
Concierge
Jogging Trail
Gym
Study Hall
Multi-Purpose Hall
Play Room
24/7 Security
Function Rooms
Swimming pool
FIND YOUR CENTER AT THE BEACON
Located within the Makati Central Business District (CBD) at the corner of Don Chino Roces and Arnaiz Avenue, The Beacon puts the Philippine's premier business and leisure center literally at your doorstep. The area is a hub of business and commerce, home to major local and international corporations, banks, embassies, schools and hotels. A large shopping center with an abundance of bars, restaurants and retail establishments make Makati a playground for those looking to shop, party or just have a good time. At The Beacon you can be in the midst of this vibrant city and still have a relaxing place to come home to.
---
---
---
---
---
---
House Rules / Important Notes:
Strictly No smoking / smell of cigarette. P1000 penalty fee.
Strictly No Animal/s or Pet/s.
No vandalism / no posting anything at the walls or furniture or appliances.
No Visitor sleepover over night - P500 extra charge per person per night
No cooking specially Frying / Grilling inside the room P1000 penalty fee
Stained or Damage or Lost Linen / Bed sheet / Towel/s - P200 charge per item.
Turn off appliances when leaving or not using it to avoid over heating or damage of the item/s.
Incase theres a damage or lost item or water leaks. Kindly inform the host /owner immediately for replacement or fix the item.
FAQS (frequently Asked Questions) Transient Guest House / Condo Apartment BEACON ARNAIZ TOWER 2 UNIT 2701.
The Beacon Tower, Arnaiz Tower 2, Arnaiz Ave cor Chino Roces Ave., San Lorenzo Village, Makati City 1229
Updated: June 15, 2017
Unit Owner / Host: Mr. Melvin Aquino
TABLE OF CONTENTS
SECTION 1: LOCATION / HOW TO GET THERE?
SECTION 2: CHARGES / RATES / RESERVATION BOOKINGS
SECTION 3: ABOUT THE OWNER AND CARE TAKER
SECTION 4: AMENITIES
SECTION 5: THE APARTMENT SPACE
SECTION 6: SECURITY DEPOSIT
SECTION 7: CANCELLATION POLICIES
"QUESTIONS AND ANSWERS" SECTION 1: LOCATION / HOW TO GET THERE?
1.01
Q: What is the address of the Condo Building? and Landmark?
A: address: 27th floor , unit 2701, The Beacon Tower 2, Arnaiz Tower 2, Arnaiz Ave cor Chino Roces Ave., San Lorenzo Village, Makati City 1229
Landmark: Beside Makati Cinema Square Mall and Waltermart Mall, Chino Roces Ave. (formerly Pasong Tamo) Makati City.
1.02
Q: How far is the condo unit from the airport? I will take a metered taxi, and how much is the cost?
A: From international airport manila to Beacon, the host recommend to use the skyway, its only PHP 20 for the toll fee. It will take 10 to 15 minutes drive; a metered taxi cost you an estimated amount of PHP 130 to PHP 150. Or use uber or grab app if you may wanted to book a car.
1.03
Q: How far your unit from the airport? I want to try to commute using subways / bus / jeepney, and how much is the cost?
A: An hour depending the situation of traffic or rush hour. The host strongly suggest take a taxi, if the guest/s are arriving late at night. Because subways are closing by 10pm or 11pm. Bus and Jeepneys are 24 hours but limited.
Step 1. From the airport of Terminal 1 or 2 or 3, Guest may ask the airport staffs where is the shuttle or jeepney going to the MRT Taft Station.
Step 2. From MRT Taft Station, buy a ticket going to MRT Ayala Station.
Step 3. From MRT Ayala Station, go to Glorietta Park Square infront of Dusit Hotel. There's a Jeepney station going to Libertad. You must tell the driver to drop you off at BEACON or Makati CInema Square, then you have to wait until the jeepney's passenger seat are full. And Jeepney will start moving to its destination route.
SECTION 2: CHARGES / RATES / RESERVATION BOOKINGS
2.01
Q: How much is the charge of your condo guesthouse / transient?
A: Rates are not constant and it is different depending on the off-season, low season, high season and peak season. To know about the rates, you must contact the owner / host.
2.02
Q: Is it good only for 4 guests?
A: Yes. 1 to 4 guests only are allowed to stay in the unit. An additional payment after 2 guest per night stay.
2.04
Q: Do you have parking space for visitors? how much?
A: Yes , 30mins for visitor, one car only. If the guest or visitor of the guest may use the pay parking 24/7 open at the Makati CInema Square. (basement area) (approximately Php45 for 3 hours and 10pesos per hour exceeding) or P100 overnight parking fee just outside the Mc Donands or KFC at the Makati Cineman Square Mall.
2.05
Q: How are we gonna check in? and who am i going to get the room key?
A: Good question. Some guest has different time of check in, to avoid waiting for both parties (the guest and host or unit owner). The passcode of the key will be inform the guest on the day and time of their check in (for safety reasons as well and security).
SECTION 3: ABOUT THE OWNER AND CARE TAKER
3.01
Q: How can we trust you? How can you prove that you are the legal owner of the unit?
A: Guest may meet the admin officers of the condo apartment: during office hour's weekdays 8am to 5pm manila time except for holidays and weekends.
Another Suggestion: Guest or friend of the guest can ocular the apartment and set a meeting with the host or caretaker. By appointment only.
3.02
Q: Can I ocular the unit before I check in?
A: Yes the guest can ocular the unit before staying, by appointment only with the host or caretaker. (as long the host, the unit is available and no check in guest). Php 200 ocular fee, refundable if guest will book the unit.
3.03
Q: Can the host / caretaker go inside the unit anytime during our stay?
A: No, unless there is permission from the guest. Or if the guest has medical condition or alone. The owner / caretaker sms or call the guest from time to time, Guest must advice / reply / call in 24hours. Guest safety is very important.
SECTION 4: AMENITIES
4.01
Q: Do you have Cooking wares?
A: None, but the unit has own kitchen, (most hotel has no cooking wares, no cooking policy specially no frying) However, guest may use the electric pot that may use for boiling or heating water. The kitchen has plates, mugs, glasses, spoons, forks, scissors, personal refrigerator, Microwave oven with microwavable plastic packs for re-heating foods.
Guest may buy food or eat outside just a few steps away from the condo building or call any available resto or 24/7 fast food chain for deliveries.
4.04
Q: Do you change the towels, bed linen, blanket, and pillow cover every day?
A: Only one set of linens provided on your first day of check in. However the host have a extra set bed linens and towels (if available). You may ask the host about the rental rates.
4.05
Q: Do you have mini bar / mini market inside your unit?
A: Yes. The items are for sale actually. (if available) yet very affordable. Kindly provide an exact amount.
4.06
Q: Can we use the building amenities?
A: Yes, only the registered guest/s are allowed to use the Swimming pool, children's playground (6am to 10pm) daily. (If available) (not available during the process of maintenance and cleaning of the facility)
4.07
Q: Is there any breakfast included?
A: None. But you may have your food delivered. Outside the condo building has a lot of fast food and resto nearby as well such as 711, Jolibee, McDonalds, KFC, little TOKYO, and many more.
4.08
Q: Do you have washing machine inside the room?
A: None, guest may call or sms the laundry services, its free delivery and pick up for your clothes. Or guest may go to 2nd floor to drop the items need to be wash, Laundry shop name is Love & Care Laundry"
4.09
Q: Do you have add on's?
A: Yes, here are the following add on's (if available) Essentials, Linens, Towel/s, Cleaning services
SECTION 5: THE APARTMENT SPACE
5.01
Q: Bathroom is shared or private?
A: The apartment has its own private bathroom.
5.02
Q: Is there a housekeeping during our stay?
A: None, the guest can use the basic cleaning materials inside the unit (broom, dustpan and mop). But there's an additional charge for the cleaning of the unit (by appointment / if available).
5.03
Q: Other important house rules / inside the building?
A: No any act of violence, no shouting, no loud TV, no loud music, no house parties, no illegal drugs, no gambling, no pet/s, no smoking, no drilling, no vandalism, no cooking, no grilling. No strangers, no prostitutions, and Visitors are not not allowed for sleepover / shower. If the guest disobey these peace and order rules. Guest can vacate the apartment. Non-refundable.
5.04
Q: Do you have CCTV?
A: common areas, lobby, elevator have CCTV system and tight security.
5.05
Q: Do you have cabinets / drawers / hangers / safety vault?
A: yes the middle and right large cabinets are available for the guest with hangers. Other cabinets or drawers are not available.
Safety vault, default passcode is 1234, then press (e) for enter. To change the passcode, kindly press the button at the back door of the safety Vault.
5.06
Q: Can I bring a visitor?
A: Yes, but not allowed to sleepover at the apartment, otherwise extra charges will apply.
5.07
Q: What is the size of the studio unit?
A: the size of the unit is 21 square meter (226 square feet). Good for 4 guests.
5.09
Q: What if theres a black out?
A: In case of black out or electrical maintenance, the building can provide a generator for the refrigerator and lights, kindly contact the host or maintenance staff to assist and activate the fuze for the emergency generator, If available. Furthermore this kind of event is beyond our control.
SECTION 6: SECURITY DEPOSIT
6.01
Q: How much is the Security Deposit?
A: Rates may vary…Initially security deposit of approximately Php 5000 upon check in and its refundable upon checkout deductible only if the guest has parking dues, availed items of the mini bar, lost key or damaged any property or appliances in the apartment.
6.02
Q: Why is there a security deposits?
A: A security deposit helps to protect the unit apartment during the stay of the guest. Accidentally or intentionally broke or missing any property of the apartment, it will be deducted of the security deposit.
6.03
Q: What if I lost the apartment key or damage the doorknob locker?
A: The Apartment Key is very important, guest must take good care of it, if the guest or broke inside the door lock or lost in any situation. The guest must replace the doorknob to a new one for safety reason for the future guests. Penalty fee of P2000.
6.04
Q: What if I lost or damage your furniture / appliances accidentally /intentionally during my check in?
A: Consider it sold by the guest. All items are in good condition and functioning. Guest must take good care of them as part guest responsibilities in staying the apartment unit. By turning off appliances when not in use; to avoid over heating etc. All prices of the items are with the owner.
SECTION 7: CANCELLATION POLICIES
7.05
Q: What if I never showed up upon my check in to checkout date? No advice / no notice such as sms or call to the owner during the check in dates. Can I still refund?
A: We will cancel your reservation and non refundable. Non re bookable
NOTE: PLEASE ACKNOWLEDGE THE INFORMATIONS AND FAQS ABOUT THE UNIT. IF YOU HAVE QUESTIONS, FEEL FREE MESSAGE THE HOST.
Thank you,
MELVIN "Vino" AQUINO Host
---
严格
旅程开始前的7天之前取消预订可以获得50%的退款。如果在旅程开始前7天内取消预订,该预订将不可退款。
---
---
---
The building is very nice and clean, very safe and has a great staff. It has so many amenities you could use- I especially enjoyed the pool (which was also clean with clear waters and not stinking with chlorine) and the sauna. The elevators are REALLY fast so it won't take you much time to reach the 27th floor. The location is really good, very accessible to local transportation and very near to everything. An uber ride to greenbelt would not even cost you 100 pesos. There are a lot of convenience stores, restaurants and coffee shops around the building so its also really convenient. The flat itself is quite small but should be just perfect for 1-2 persons. I was impressed by the cleanliness of the flat, especially by the bed and the floors. And the smell? Heavenly. The first time I went inside, the flat smelled so good I instantly fell in love and I knew I was going to have a pleasant stay there. The view from the roofdeck is spectacular and I enjoyed just lounging there and watching everything down below. I loved the fact that soap and clean towels are provided. The bathroom is also quite small but still good and clean- perfect for me since I was a solo traveller. The water heater worked perfectly fine. The bed and pillows are uncomfortable at first because it's covered in leather but at least I'm confident that it's really clean and not soaked with the previous guests' bodily fluids. There's also a mini bar provided in the fridge which I appreciated for times when I want to drink something but can't be bothered to go down and buy. All in all, I enjoyed my stay in Melvin's flat. However, although there is internet, the connection can be really slow sometimes (which I know is out of the host's hands). There is also no cable TV. But, who needs cable TV when there are lots of things in the building and around you that you can do instead, right? Would definitely recommend this place and the next time I'm back in Makati, hopefully I can book Melvin's place again.
---
My family calls me Vino , and im a young at heart businessman who like to travel and explore new cultures. I love new challenges and i respect the main aspect of a relationship. More than 10 years in events industry, i own a some condo units in Makati City. We have also an event venue, apartments and resort pool in the province of Bangued, Abra near Vigan City.
语言:
English、Sign Language、Tagalog