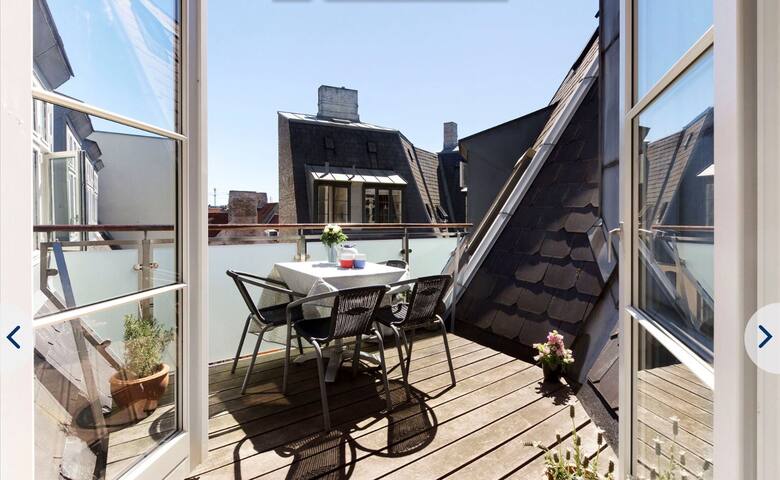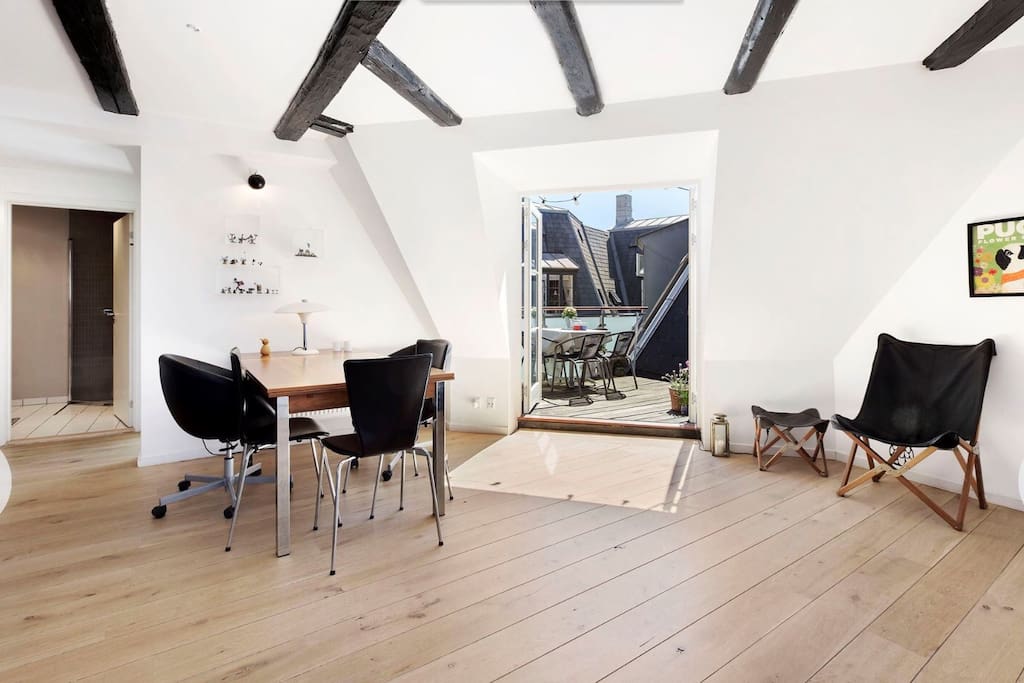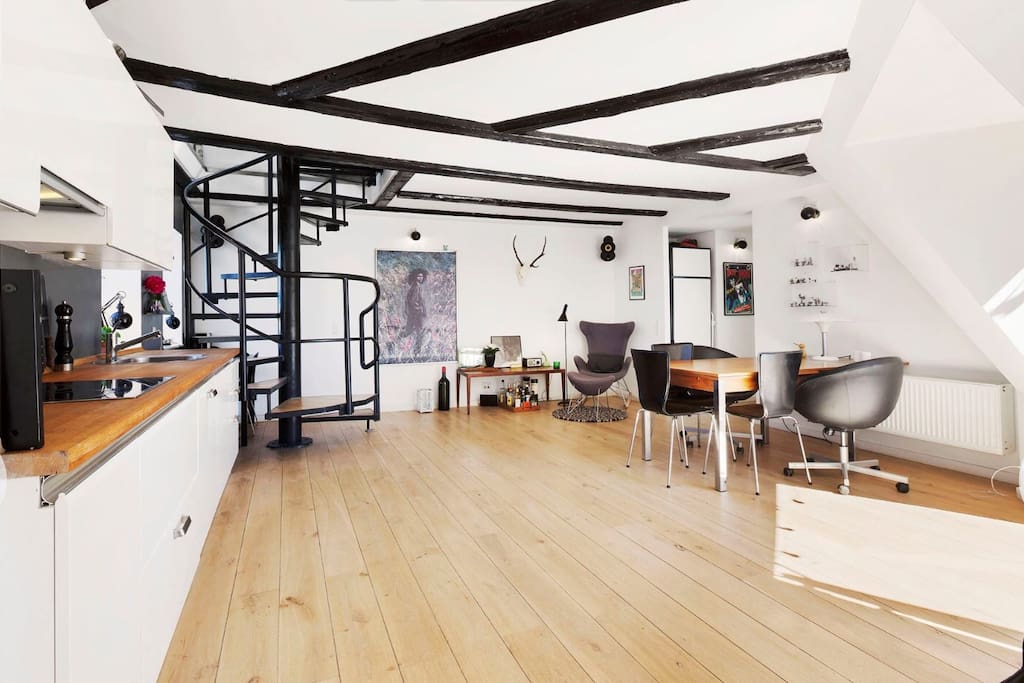 Excellent beautiful special apartment, stylish, clean and comfortable. We were two people, and the two floor layout gave plenty of room to spread out with a bedroom and living area of the top floor, and an open-plan modern kitchen, dining, and sitting area on the bottom level. The outdoor space -- nestled between the roof eaves -- was gorgeous, private, had a table the seats four comfortably, and was a great place to enjoy a morning coffee or afternoon cocktail. Convenient! Just a five minutes walk to norreport station, with direct access to the airport (25 mins), louisiana museum and malmo Sweden (less than an hour), shopping in Fredericksburg (2 stops, 5 mins?), really anywhere was close and accessible at this station! Within walking distance: famous open food market (5 mins), longest pedestrian shopping street in Europe (8 mins), botanical gardens (10 mins), charming tivoli and the central train station (10 mins), meatpacking district (15 mins). We even walked to Nyhavn and Christianhvn, which were a bit further (maybe 30?), but just a few stops by norreport train if you prefer. The immediate neighborhood had many small cute shops and cafes, although peacefully quiet for sleeping. We took a great bike tour (bike cpn with mike) which departed right around the corner. So location was perfect. Place was clean and beautiful, WiFi worked well, key transfers were easy, hosts checked in perfectly. Highly recommended.
---
Joakim and Cecilie's apartment is a really great space. It's in a historical older building, but completely modern and new inside with really nice hardwood floors. It's got a unique layout and design with a sprial staircase leading to an upstairs living room and bedroom. The neighborhood is super central with lots of cool shops and restaurants around the corner, as well as being close to the metro station and the central train station. Joakim and Cecilie are also very friendly nice people. They leave a welcome note with local tips as well as some chocolate and Danish beer as snacks which is a nice personal touch. I'd definitely recommend their apartment for a fun trip to Copenhagen.
---
A great stay in a great apartment... Cecilie and Joakim's penthouse is perfectly located in the centre of Copenhagen. It was less than a 15min cycle ride to any of the main sights/sites- and a short walk from many of them. Joakim met us and even though we were a bit late (nearly making him late for his own holiday!) he was friendly, welcoming and made the time to give us some recommendations (which we visited and were excellent!) We'd highly recommend this apartment and Joakim & Cecilie as hosts. Thanks so much!
---
My boyfriend and I live in the city center of Copenhagen and we love to travel.