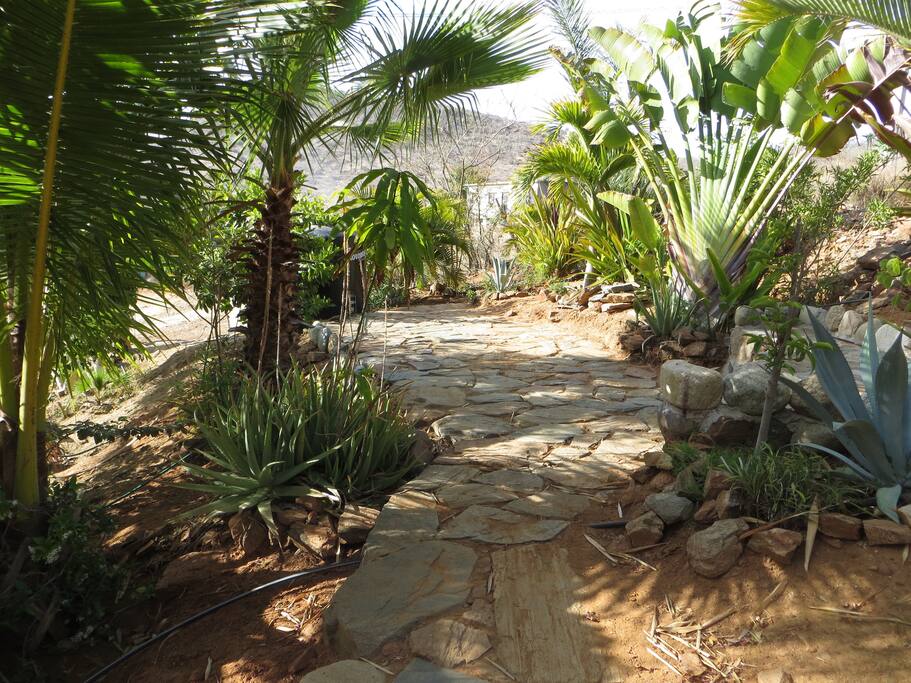 Nicely landscaped home in a very safe and lively Mexican neighborhood overlooks the quaint town of Todos Santos, lovely views of the Sierra de la Laguna Mountain Range, large upper deck with second bedroom accessible by exterior stairs, comfortable beds, high speed internet.
---
Pauline, everything was wonderful! I wanted a peaceful rest and vacation, and that's exactly what I got! The house was clean, very cute and well supplied. Great location at the end of town off the Main Street. I was welcomed and kept company by the neighborhood dog (I named her Precious), and was able to visit with my friends who are trying to convince me to move there. I met Nina at her restaurant Rumi Garden, spent a night drinking Mojitos and dancing at Restaurant Le Moreno's, and even drove to Cerritos beach. My whole experience was so laid back I was able to get the rest I was searching for. My friends Reggie and Karen have the perfect response to the question "What do you do all day?" They respond, "We don't know, but it takes all day". I'll be back soon.
---
We stayed at Pauline's for a week and loved our time there and in Todos Santos! We walked into town everyday, sometimes twice a day. It's about 15-20 minutes but completely manageable...and you pass the best local taco shop (Tadeo) in town on your way to old town! It is on a hill, but if you've walked a steep hill during your lifetime and survived, I think you can make if just fine. You can also take long beach hikes from the house via el Faro to el puntos lobos or even back into Todos Santos (past la poza lagoon) via the beach. The home is cute, simple, clean and comfortable in the traditional Mexican style. It has not been heavily remodeled yet, so you'll find some crooked, dented and rusty things, but all very functional. The upstairs bedroom has it's own bathroom and is accessed by an outdoor staircase. There are 2 great old rocking chairs up on the balcony (in addition to a hammock) and we spent most of our time at home on the balcony looking over the town of Todos Santos. Lots of extra bathroom soaps, lotions, aloe, etc are available as well as a stack of towels. Kitchen is well stocked with pots and pans, tea kettle, dishes. There is a drip coffee maker and grinder. Pauline also left us some food items in the fridge which was a great kickstart. Several 5 gallon jugs of purified drinking water in the home for us to use as well. We used the beach umbrella for our outings and were so thankful to have it! We saw a boogie board and guitar as well but didn't need to use them but so nice the are available! Wifi was strong and reliable. No TVs. We also had the hottest showers we've ever had in Latin America at this home! The neighborhood dogs are so nice and friendly. We even had a kitty cat friend here too. Bring your earplugs for the gallo nextdoor :) We loved this home and felt very comfortable there for our week and we'd happily return. If you are looking to join a Mexican neighborhood for your stay, this place is perfect!!!
Dear Diana, Chris and Marta, So enjoyed hearing about your adventures... you sound like the most athletic and enthusiastic crew we've ever had! And we really appreciate your thorough and thoughtful review! We promise to do a bit of remodeling, including painting and a new shade upstairs. Mil gracias. Pauline
---
Pauline and Josh were very available by email, the house was easy to find, and just as described. We had coffee upstairs on the second floor every morning, the view of the town is wonderful. We brought our camping hammock so we could both siesta in the sun upstairs too! We walked a lot, but having a car made day trips and errands much easier. The only thing I would share with others is that the town can be very noisy at night. Pauline mentions it in the notes at the house, but I was grateful that I already had ear plugs in my purse from work. It's not every night, but a couple of them the dogs and locals were having a big time! It would have been an unpleasant surprise if I'd been travelling with children. Overall though, it was just wonderful. Thanks so much for sharing your home with us!
---
This a great casa with spectacular views of todos santos from upstairs. The hammock is wonderfully relaxing and i highly recommend taking a siesta in it. The house is easy to find and it is walkable from town but i highly recommend renting a car. It is much easier and quicker to get around town and to be able to access the swim-able beaches in the area.
---
What a charmer of a house! Perfect for a stay in Todos Santos. If you want to meet the locals (Yes! You do), walk to town, the Miramar, the Pacific, or just hang out and read, this is the place to stay. We spent mornings on the palapa with coffee, and afternoons there as well with watercolors trying our best to capture the beautiful view of the town and the mountains beyond, enjoying the breeze and listening to the sounds of the neighborhood. The kitchen is charming, there is a lovely outdoor garden and two bedrooms and two bathrooms. Pauline and family were exceptional hosts. Very easy to reach and in touch quickly and very responsive if we had any questions before during or after our stay. We loved it, can't wait to go back. We slept like babies. Came home so relaxed and happy.
---
Our family really enjoyed the authentic cultural experience of staying at Casa Santos! The house was very comfortable and clean and everything was well maintained and worked very well. We met some other visitors staying at a "top-rated" resort nearby and they were without water some days and complained of poor maintenance. It was very relaxing and enriching to spend our mornings cooking and taking in the neighborhood vibe and desert scenery from the deck before heading out for our daily adventures. It was also nice to have a "home" to come back to. Our 2 young daughters, ages 8 & 6, were intrigued by the Mexican daily life around us and it was meaningful to see how the carpenters, fishermen, small-business owners and their families live. There's a nice ridge 5 minutes from the house from which you an view the ocean, a lighthouse, etc. It's a short drive to town where you can eat some of the best mexican food anywhere, find some live music or people watch all the tourists and retirees:) Pauline & Josh were very easy to communicate with and provided great tips on where to go, which beaches to play on, etc. We highly recommend Casa Santos for anyone looking for an authentic experience!
---