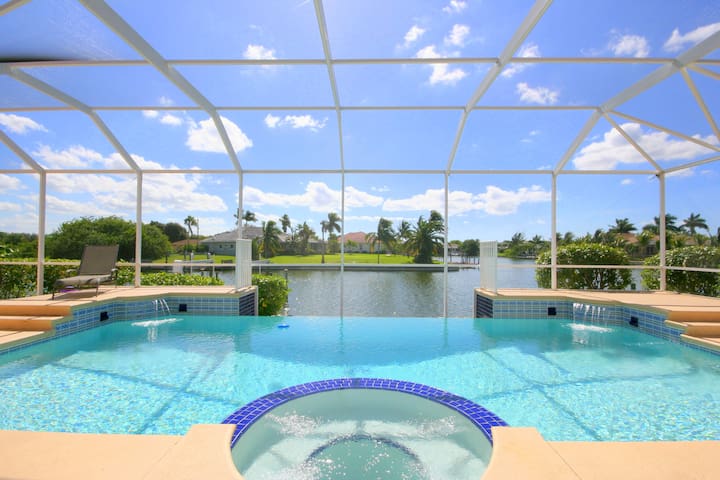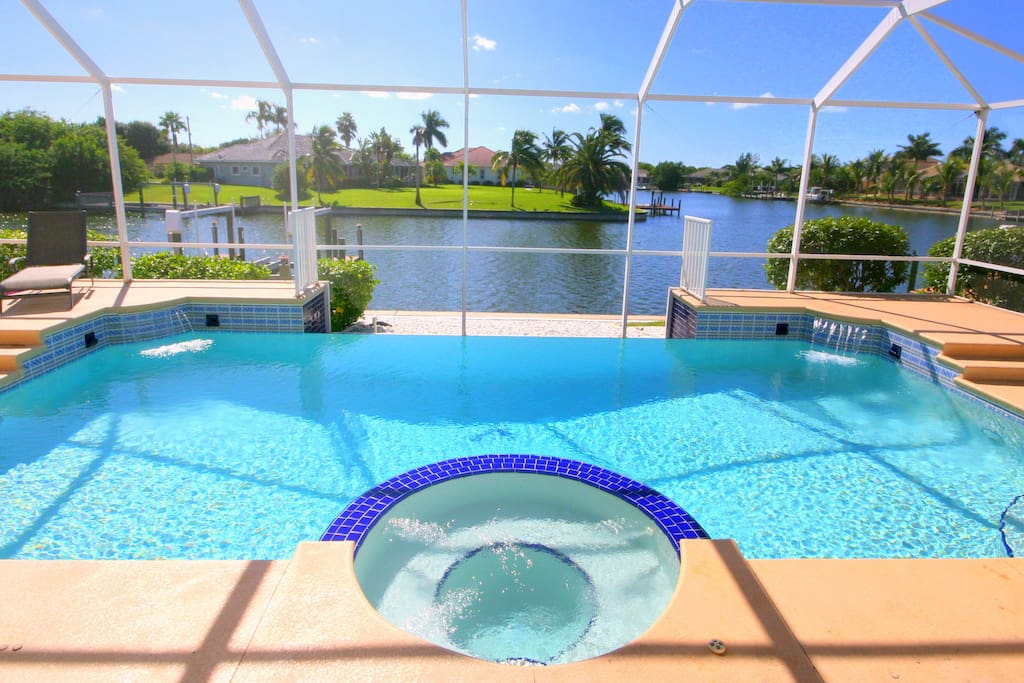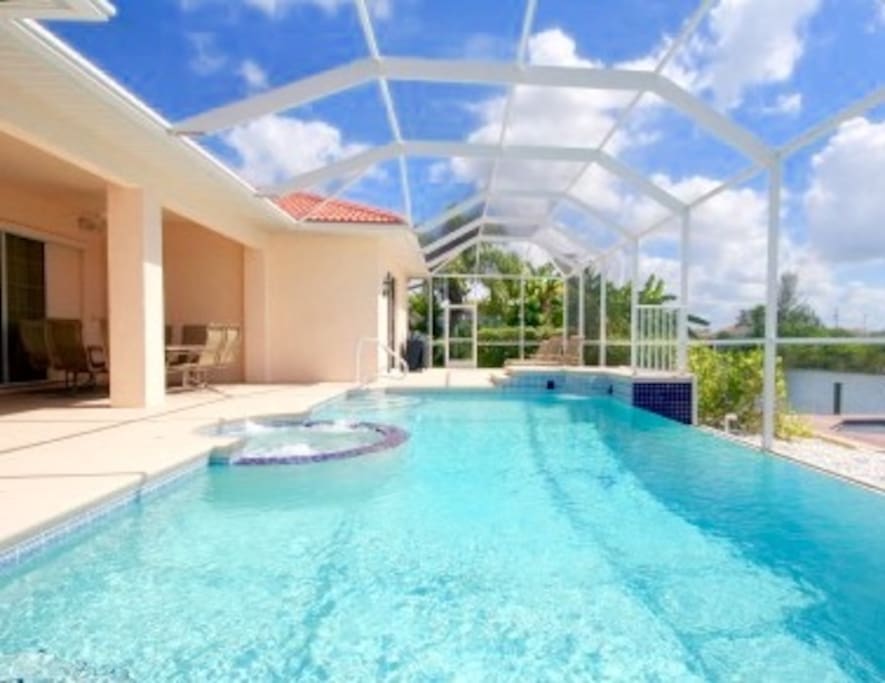 此房源的描述已由谷歌翻译从英语翻译成您的语言,但谷歌翻译并不能保证翻译的准确性。
放松在神话般的海滨Poolvilla贝拉焦:
4 bd,3 bths,可加热泳池/水疗中心,电梯码头,海湾通道,免费无线上网。
Bellagio别墅是当代风格的家庭,享有壮观的海滨景色。
全南暴露!太阳一整天!
使用我们的船租优惠!
房源
如果你正在寻找一个优雅的房子,一个很好的价格,这是一个!
我们的家位于Cape Coral非常好和安静的部分,位于Cape Coral非常理想的西南地区。
质量和便利性的卓越标准,无钥匙进入方便的入住将超过您的住宿预期。
您将彻底享受这个豪华的海滨别墅。
这个宽敞,现代化的行政风格,海滨度假屋总共超过11000平方英尺(超过2600平方英尺的生活区),坐落在一条宽阔的运河上,设备齐全,布置高雅,以满足最挑剔的客人。
我们现代的4床/ 3浴池别墅Bellagio有一个太阳能/电动南面可加热的游泳池,(游泳池可以加热!),热管,屏蔽的拉奈(露台)区域和船坞与电梯。这个属性配备了最高的标准与优质的家具,配件,无线互联网,52"液晶电视,立体声,录像机和DVD播放器。
我们提供一切为方便您 - 洗碗机,微型洗衣机/烘干机,烧烤气体格栅,吹风机,浴室和沙滩毛巾。
全空调和所有客房均设有吊扇。
可容纳八人。
在佛罗里达州划船
使用我们的船租优惠!:别墅贝拉焦酒店位于海角众所周知的许多受欢迎的海湾通道之一,运河上充满了鱼,如snook,甚至垂钓者的最新手也应该取得成功。
您可以探索许多美丽的岛屿,餐馆和海滩,只能从水中进入。
距离Caloosahatchee河有45分钟的车程,距离美丽的墨西哥湾以及Sanibel&Captiva的隔壁岛还有15-20分钟车程。
房客使用权限
从起居区滑动的玻璃门和其他四间卧室的玻璃门通向俯瞰宽阔运河的被筛选的游泳池区域。
通过滑动玻璃门走出来,您会发现南面的Infinity游泳池配有热水浴缸。
池深6英尺深,可加热。
泳池和水疗中心在屋顶上拥有自己非常经济的电加热器和太阳能电池板。在大房间内部使用数字面板,您可以轻松设定所需的水温。游泳池可以加热!
甲板面积超大,有阳光充足的空间,户外用餐或静静地坐在阴凉处阅读一本好书!在拉奈,有一张桌子和椅子可以享用一杯咖啡,或者吃早餐或午餐,同时注视闪闪发光的水,看鱼跳,和招呼可能游泳的海豚;或者在观看我们壮观的佛罗里达日落时,品尝晚间鸡尾酒!
离开拉奈,走几步到码头去做自己的钓鱼,或者走下游泳池,在躺椅上放松或晒日光浴。
拉奈区包括屏蔽泳池,热水浴缸,休闲椅,用餐区和燃气烧烤架。
大屏幕户外区域为户外娱乐和娱乐提供了完美的设置。拉奈地区全天提供鞣制的阳光。
这个家庭对于有孩子的家庭来说是安全的。它有一个"儿童安全围栏",也可以拆除并储存在车库内。
与房客的互动
该物业由专业物业管理公司管理和维护。
这个家庭对于有孩子的家庭来说是安全的。它有一个"儿童安全围栏",也可以拆除并储存在车库内。
我们提供婴儿床和高脚椅,不收取任何费用,如果需要,请提前通知我们。
---
---
---
A Boat Rental is not included in the rental rates, the boat rental optionally.
It's a 45-minute ride to the lock in Caloosahatchee River and another 15-20 min to the beautiful Gulf of Mexico and the barrier islands of Sanibel & Captiva.
Four winns:
For experienced driver only!
Pricing: 1200 USD / week or 200 USD day
Minimum rental period 3 days
Boat instruction / obligatory 150 USD
Cleaning 50 USD
Sea tow / on-water towing service / obligarory 25 USD / week
Tax 6 %
Refunbable security deposit 1000 USD
The renting amount for boat is due 14 days after rental confirmation and has to be transfered on our US bank account free of any bank charges to me.
Pets are not allowed. If a pet is found to be on premises, it could result in eviction and forfeiture of all monies prepaid.
The rental property is a non-smoking property. Smoking is strictly prohibited inside any of the rooms inside the building under any circumstances. If we discover that people have been smoking in the house a charge of 200.00 USD for extra cleaning to eliminate the smell will be deducted from the security deposit. Smoking outside and on the lanai is permitted.
We will provide you with a Complimentary Starter Kit of toilet paper, dish and wash soaps. If you need to replenish these items, the Publix Supermarket is a few blocks away.
Our home has a gas BBQ, if the gas bottle is empy, it is the responsibility of the tenant to refill it.
Tenant(s) agree that no more than the number of authorized people as booked on Airbnb shall occupy the property. If more people than indicated on Airbnb will occupy the property, the violation will result in additional charges. Tenant(s) agree(s) to pay an additional penalty fee of $50.00 (plus 11% tax) per guest per night or they will be expelled from the property at any time. In the event that occupancy is exceeded over maximum of 8 people, tenant(s) agree(s) to let the owner, owner's agent, or property manager remove them from the property and retain all monies whether earned or unearned.
Bed linen, bath towels and beach towel are available at no charge.
A baby crib and a high chair can be provided at no charge. (Please inform us ahead if needed)
CHECK-IN TIME IS 4:00 PM –
-For check-in please make an appointment with our property manager in Cape Coral Mr. (Name given upon booking), cell phone: +1 (239) (number upon booking).
-There is no key required as the home is equipped with an electronic keypad lock. You can go directly into the home. The access code will be send to you by email approx. 1 week prior to arrival. Please provide your arrival flight number or if you travel by car your expected arrival time.
-Electricity is charged according to meter readings taken on arrival and departure. The cost of electricity will be calculated on use up until departure. The cost of electricity up to $ 50.00 per week is included. Excessive electricity usage is charged at $0.12 per kWh. These possible charges have to be paid in cash by the tenant(s) at time of check-out.
CHECK-OUT TIME IS 10:00 AM – Check-out is strictly enforced so that property management has adequate time to prepare the property for the next scheduled tenants.
Please contact our property manager 1 day prior to departure to set up an appointment for the check-out, at which time he will meet you at the home to check the condition of the home as well as perform the final electric meter reading.
Before departure, be sure to do the following:
-Empty the refrigerator.
-Take all trash to the to the trash cans in the garage.
-Lock all doors and close all windows.
-If there is a complaint from either party, notice must be given to Airbnb within 24 hours of check-in. Airbnb will mediate when necessary, and has the final say in all disputes.
-Tenant(s) who initiate(s) rental will remain responsible for all other guest(s), children, or visitors during occupancy of subject property. The tenant(s) shall undertake to prevent any member of his party from causing a nuisance or disturbance to neighbouring occupiers.
-The Owner, his property manager or employees, accept no responsibility for loss, injury or damage to any member of the tenant's party or their property, howsoever caused, arising in any manner out of the rent of the premises.
-The tenant(s) must notify the landlord and the property manager of any damage or theft to the house during your occupancy, or this plan is void and the tenant(s) will be held responsible for any damage to the house. Faults that are found before or during the rental period have to be reported to the property owner or to the property manager immediately.
MAINTENANCE: In the event of equipment malfunction within the unit, property management will expedite repairs as quickly as possible. Any maintenance items should be reported to property management as soon as possible.
There is a lawn service mowing the grass around the building and a weekly pool service checking and adjusting the water quality.
TELEPHONE USAGE: This property is equipped with a telephone for your convenience. There is no charge for incoming calls (not including collect calls) or outgoing local calls. You are prohibited from making calls to or from the vacation home, if these calls generate charges.
UNITS FOR SALE: In the event that the property, which you are renting, is listed for sale, property management may need to coordinate the showing of the property during your stay. We will make every attempt to schedule the showing at a convenient time to lessen any disturbance of your vacation.
MISCELLANEOUS CHARGES: A charge of $65.00 for the garage door opener will be withheld from your deposit, if not returned to property management upon your departure.
-At your arrival, please check the BBQ grill for cleanliness. Please contact property management if the BBQ grill isn't clean. An additional cleaning fee of $50.00 will be charged for BBQ grills to be dirty at check-out.
HURRICANE POLICY: If you are traveling between May and November, please note that this is hurricane season. We encourage you to purchase trip insurance to protect your vacation investment since property owner will not give any refunds for vacations interrupted by hurricanes, including mandatory/voluntary evacuations.
Aus Rücksicht auf Allergiker und auf die Wünsche der meisten unserer Gäste wird die Villa Bellagio ausschließlich an Gäste vermietet, die in den Gebäude nicht rauchen und die keine Haustiere dabei haben.
Das Rauchen ist auf der Terrasse gestattet.
Das Haus ist besenrein zu übergeben.
---
---
---
---