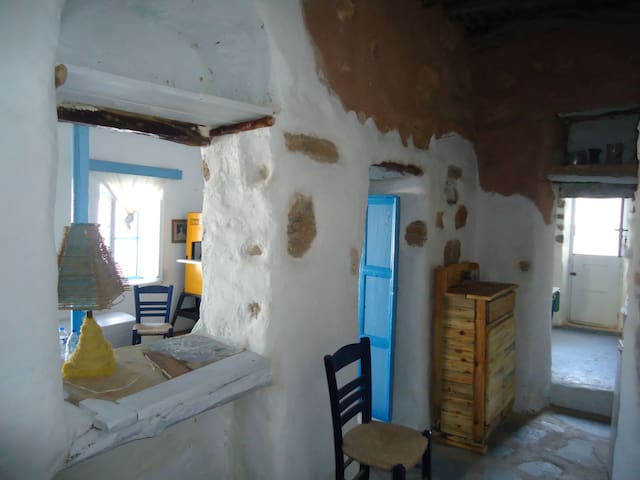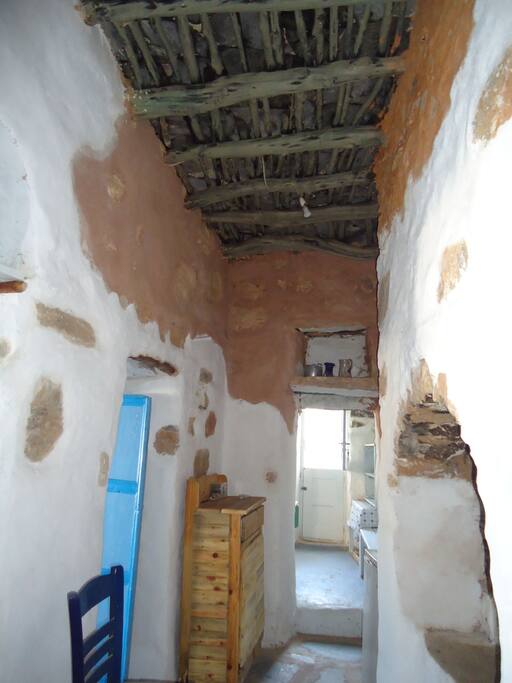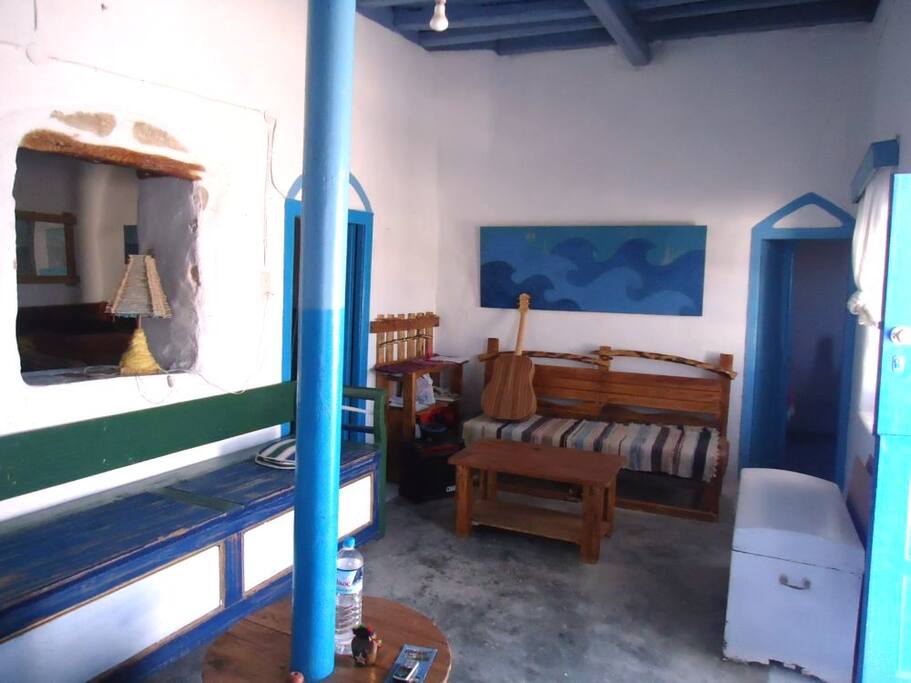 This is a very old and simple stone house 400y old up on the hill. It is quiet ,relaxing with great view.Need to walk 65 big stairs from the car parking.Recommented for fit couples or families with children over 8 y. old
---
Maison traditionnelle familiale avec une magnifique vue. Quelques marches à monter, mais depuis le parking ce n'est pas si dur que ça. Nick nous a aidé à porter les sacs (mais éviter quand même d'avoir une valise de 20 kg par personne...). Charme incroyable pour cette maison. J'ai adoré la douche-toilette à l'extérieur avec vue directe sur la mer, et sans vis-à-vis. C'est rustique mais tout ce qui est nécessaire est là. Nous étions une famille de 4 (2 adultes et 2 ados). Nick est venu nous chercher (chaleureusement) au port d'Aegiali malgré l'heure tardive (deux heures du matin). Il y a deux restaurants près de la maison, et le village principal est accessible à pied (facile en descendant, beaucoup moins en montant), mais tout est devenu quand même plus pratique quand nous avons loué une voiture le lendemain (facile et pratique, on a pu la prendre à Aegiali et la rendre à Katapola). Nick nous a aidé, donné plein de (bons) conseils (restau Saturini à Tholaria), nous a offert une confiture locale en souvenir, et nous avons longuement discuté comme des amis au moment du départ. Bref, je CONSEILLE VIVEMENT. Nick was very kind, helpfull and warmull. We loved his charming traditional family house with great view. Not too difficult to walk the steps, but it's better to rent a car (easy in Aegiali... we rented at the last moment in Aegiali, and give it back in Katapola). Avoid to have a big heavy suitcase for each traveler, even if Nick is strong and can help to carry. Towels provided. I recommand warmly.
---
Our stay at Nick's house has been amazing. The place is so quiet than you feel very isolated even mid-August. The village has an incredible view on the sea and the port. Moreover, having a shower with a view on the ocean is absolutely unique experience! Nick has been very nice and helpful. I definitely recommend the place.
---
Nick est quelqu'un de très sympathique, il est venu nous chercher à l'aller et nous a ramené jusqu'au port au retour (ce qui nous a évité les 400 marches avec nos gros sacs a dos). Le logement est grand et confortable mais surtout très atypique avec une vue exceptionnelle. Si vous ne louez pas de voiture soyez de très bons marcheurs car il y a plus de 400 marches (20mn) du port jusqu'à la maison. Nous y avons passé un super séjour, merci Nick !
---
This home is the absolute best place on the island of Amorgos, maybe in Greece! It has beautiful rustic details, the most incredible view, and a very real slice of the island's history. All while being very comfortable! The best part about this room is the owner, Nick. He is the absolute kindest, best man, and was so incredibly helpful during our stay. For example, luggage was lost in the airport on Mykonos, and he called everyday and planned a way to get it back to us, maneuvering the ferry schedules and all! He also saved us with pick up and carrying luggage when our second Airbnb host was not responsible for meeting us in the morning--we don't know what we would have done without Nick! He also is wonderful and fascinating--an artist and musician and furniture maker. We hope he always will stay in touch, and care about him so much as a friend now, as well as the best Airbnb host!
---