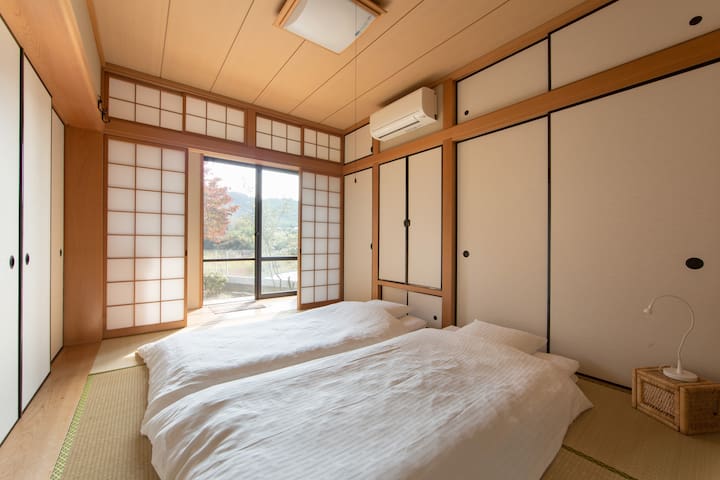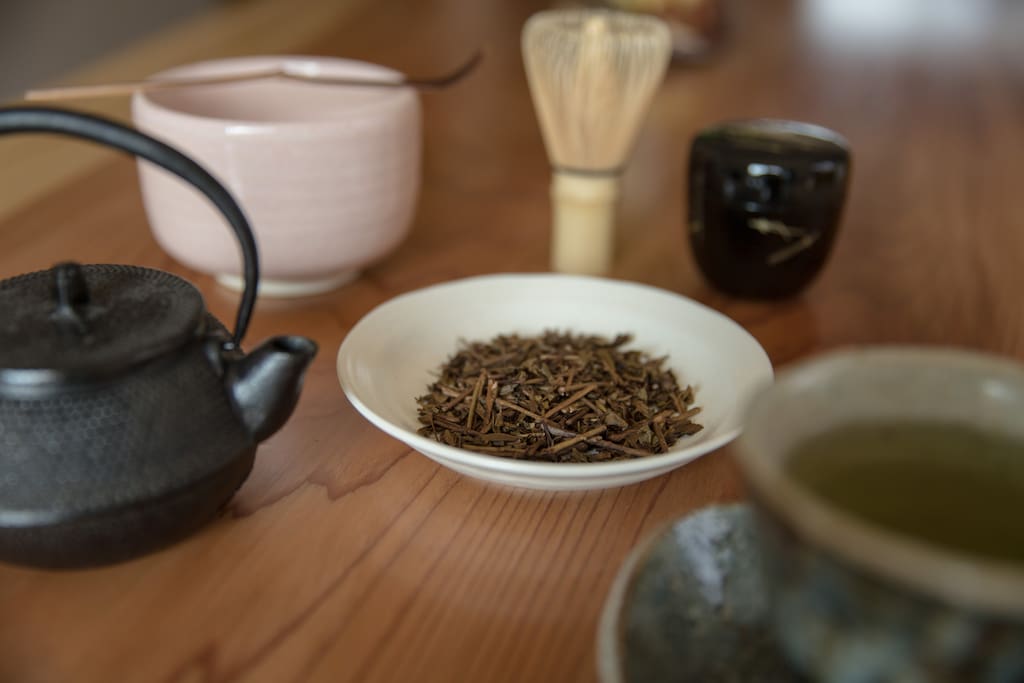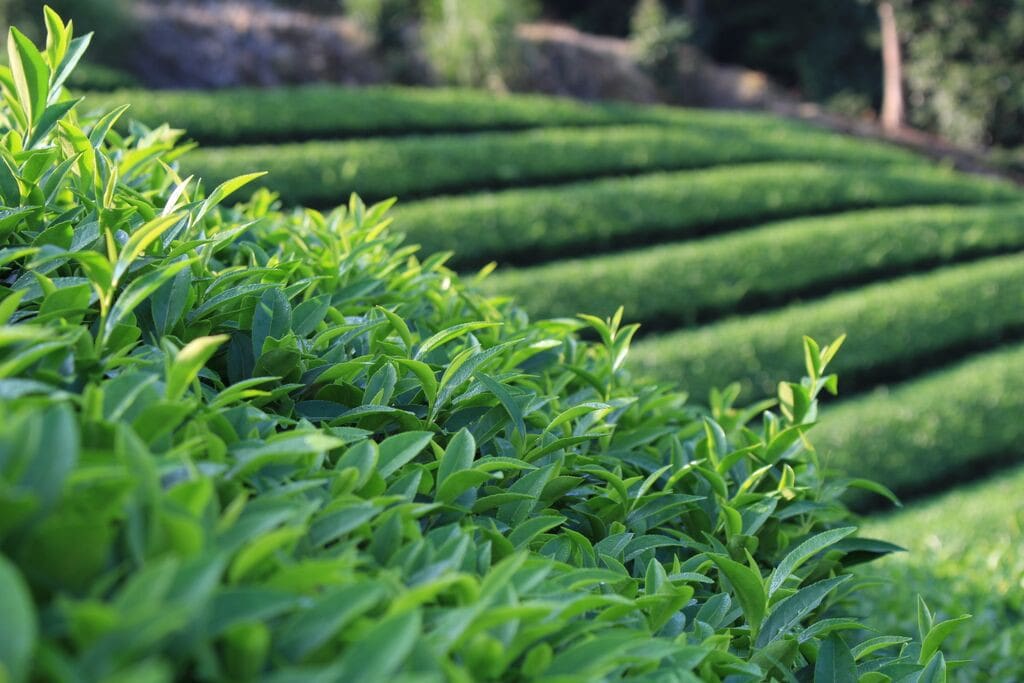 如果你喜愛綠茶, 又怎能錯過宇治茶的發源地。住在Michael家Blodge Lodge讓我們這次旅程變得更特別。為了能感受到當地的文化, Michael抽空帶我們到附近的正法寺去欣賞楓葉和銀杏樹, 並且他介紹了不同的地點給我們, 例如天空Café、和束茶咖啡館、石寺の茶畑等等。在這個小小的村莊, 我們找到旅行中最重要的東西, 寧靜、大自然、茶文化。 當地人非常地友善, 我們在當地一間小小的餐廳Waka (和花) 吃到超好吃的蛋包飯; 在和束茶咖啡館買到很特別的茶葉: 紅富貴茶(Benifuuki)。Michael家是我們在日本旅行中感到最舒適和最溫馨的家, 茶啤和Michael太太做的菜也絕不能錯過。期望再次能來到這裡﹗ If you love Green Tea stuffs, how can you miss this place, Wazuka. Michael's house is the best and most comfortable house for us to walk around this beautiful village. He given all information about Wazuka to us and guide us to walk around this village. We are lucky that as we can see many maple leaves around with green tea fields. In addition, we found so much peace, nature and tea culture from this place. Staying at Michael's house given us a quality time to review our whole trip in Japan, relaxing and enjoyable. Much appreciate! Michael, looking forward to see your family again!
---
Mike and Ikuchan were the ideal hosts. Their home is in the beautiful tea fields of Wazuka, in a quiet village in the countryside of Japan. They took us on a wonderful hike, showed us some great local spots to eat, and made some incredible meals for us (Ikuchan is an amazing cook). They're a wonderful family and I look forward to staying there again.
---
This is by far one of the most unique Airbnb experiences we've had. Once we arrived at the house, the host and hostess greeted us warmly and gave a insightful lecture on the tea of Wazuka. The hostess drove us to the center of the town for dinner and introduced us to many of the locals. The bedroom and bathroom are exceptionally clean and you can see the tea field from the room's window. Michael and his wife Ikuko are great hosts and they sincerely wished we had a good experience at their place. The breakfast itself that Ikuko prepared would make this house a five star.
---
Our 3 day/2 night stay in Wazuka at the Blodge Lodge was a welcome retreat from city life on my [now] fiance's and my 2 week trip around central Japan. Michael, Ikuko, Olivia, and Margie really make you immediately feel like you're apart of the family. The friendliness and hospitality shown by the Blodge clan, along with the absolutely breath taking Wazuka hills, made our stay one of the ultimate highlights of our trip. As previously mentioned, Ikuko's cooking skills are out of this world! Definitely stay in for dinner at least for one night. The room and bathroom is gorgeous and perfectly maintained. Getting to Wazuka from Tokyo was much more quick and easy that I could have imagined and leaving to Osaka was even more so. I couldn't more highly recommend staying at Blodge Lodge. Michael and his beautiful family were amazing hosts and we hope to one day come back and visit again.
---
Blodge Lodge was great! Although I could not take advantage of all that it has to offer Michel and his wife were excellent hosts providing breakfast daily which was excellent as well as an excellent view of the tea fields. It's just want you will need to relax after a stressful week in Kyoto. You might want to talk to Michael about what he might be able to offer around tea ceremonies, tea tours and cooking classes.... Thanks Michael i'll surely be back with more time.
---
lodge Lodge was just what we needed after two weeks in Kyoto city. We woke up in the morning and it was so quiet. They have a large Japanese bathroom and tub. Our hosts, Michael and Ikuko made us feel so welcome -- as if we were part of the family. The kids, Olivia 6, and Margie 3, are open, friendly, and talkative. (See my portrait on my profile drawn by Olivia). They took us out to local restaurants and meet with an organic tea farmer. They also treated us to a tea ceremony and we got to see some of the small town life with the public bath and kale fields. Did I mention the best part? Ikuko is a wonderful cook. Ask for the Japanese breakfast, its fabulous. And dinner, for more than a reasonable fee, is out of this world. Come stay here, you won't regret it.
---
此房源的描述已由谷歌翻译从英语翻译成您的语言,但谷歌翻译并不能保证翻译的准确性。
来吧,留在我们可爱的家坐落在茶田。从几乎每个角落享受完全放松和壮丽的景色。您在这个历史悠久的茶村里的住宿绝对是您日本旅行的亮点。
房源
欢迎来到Wazuka!不仅是一个美丽的乡村,还有日本茶摇篮。
房客使用权限
您将可以使用您的干净舒适的房间(您将留在房子的两个客房之一)。客房享有令人难以置信的自然风光和附近茶园的美景。您还可以访问一楼的大多数空间,包括厕所,浴室(浴缸和淋浴)和餐厅。如果您有任何疑问,请询问。
与房客的互动
在大多数情况下,我们(我的妻子或我)中至少有一个会在宾馆。我们喜欢与客人互动,并渴望让您的住宿值得。如果可能,我们将很乐意在您的住宿期间为您提供帮助,包括提供有趣的事情的建议或回答您可能有关宾馆,城镇或周围的问题。而且,我们的年轻女儿可能也会有你的问题;)。
---
---
---
★在房子内或酒店内禁止吸烟。
★请在门口取下你的鞋子。
★当你离开房子时,请关闭空调或加热器。
★请不要把你的手提箱放在榻榻米上。他们很精致。你的房间里有一个空间,把手提箱放在瓷砖地板上或衣柜里。
★可应要求使用洗衣机。
★厨房基本上是禁止的。然而,我们可以在冰箱或橱柜中提供空间来存储饮料和/或小吃。
---
---
---
---
Hi! I'm originally from suburban Chicago, but have now lived in Japan for several years.

Here is the story. At the age of 20 I traveled the world with the international student group Up With People. Following that program, I came to Japan to visit a friend from that group. On that trip, I fell in love with this wonderful girl, and we have been together ever since.

We have traveled the world together and have lived in many places over the years. Our favorite thing has been getting to know people wherever we go. Sharing meals, sharing time, and sharing stories together.

And now, we have moved to a picturesque countryside village of 4000 people with an 800-year-old history of tea growing. The Cradle of Japanese Tea.

Wazuka is filled with beautiful tea fields, rice fields, and mountains, and even better great people. It truly feels like being in a different world, like living in in a simpler time. And yet, we are just a short drive to Nara City, Kyoto, and Osaka

My wife and I have chosen to settle in this amazing place with our two young daughters. And, we really hope to welcome you with our open hearts, our home-cooked meals, friendly conversation, and top-notch hospitality.

We look forward to seeing you soon!

Michael, Ikuko, Olivia, and Margaret


语言:
English、日本語