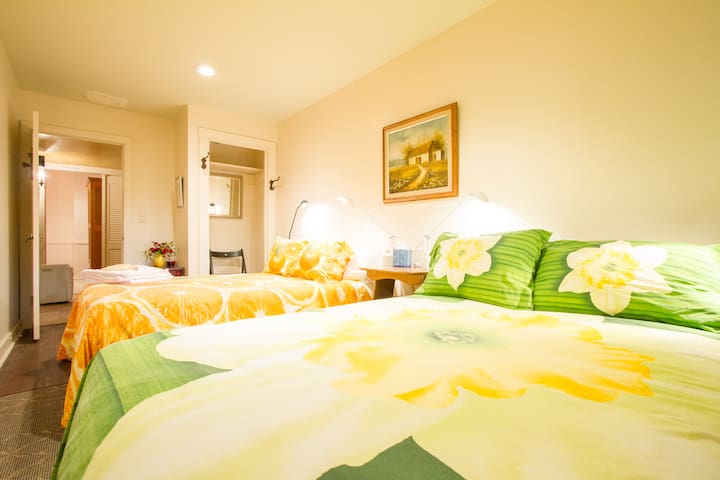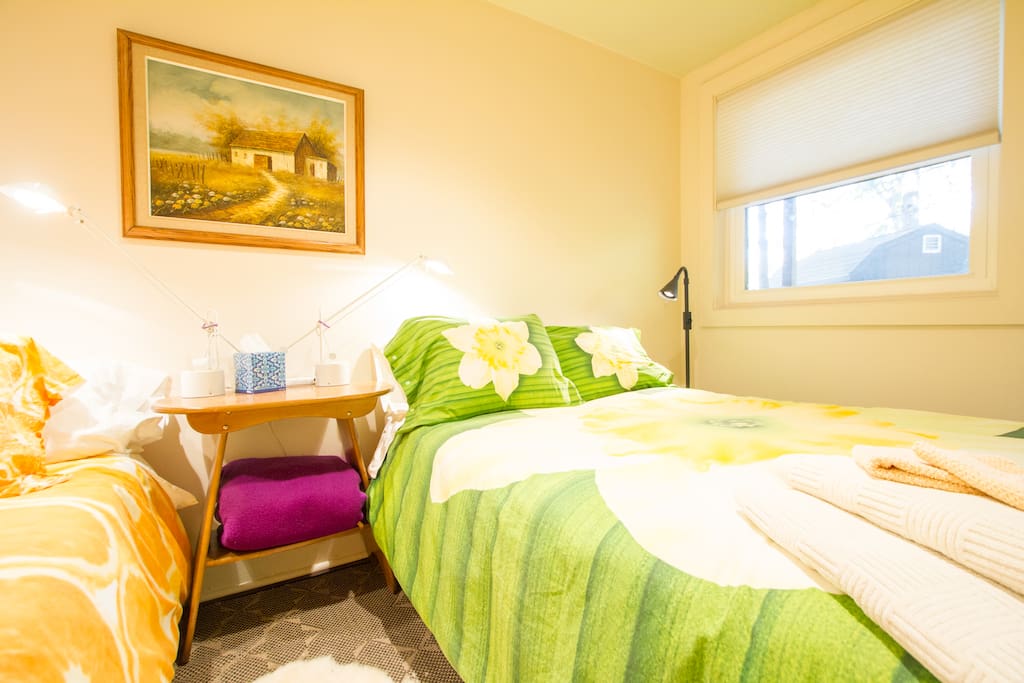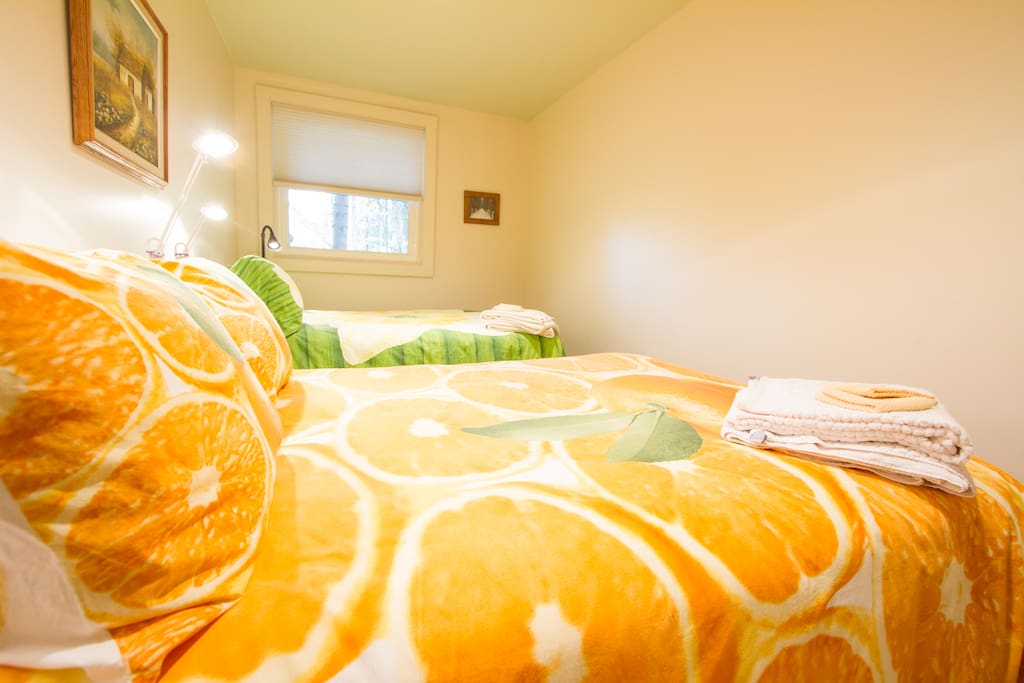 Yogabnb Warrior 2 Room (2 double beds)
Yogabnb Warrior 2 Room (2 double beds)
This room has two double beds to book privately or with friends/family.
Your morning meal is a choice of traditional, vegetarian or raw breakfast. Morning yoga included Saturday am or upon special arrangements made ahead of time.
---
My partner and I came to the mountain for a summer concert. We were running late on the day we arrived. I texted with Lynne, our host, to let her know. Her responses were warm, lighthearted and accommodating. We awoke the next morning and made our way upstairs to a fresh, bounteous breakfast. Lynne showed us around her home which we were encouraged to use almost every inch of. And we did. It was just a few minutes walk to the mountain from the backyard. We couldn't have been more relaxed. We opted for an afternoon nap so we missed Lynne's yoga class, but the other guests emerged from her studio looking blissed out. When I travel I hope to find the comfort and security I feel in my own home. I found it and more at Yoga BnB. Highly recommended!
---
We had a wonderful stay at YogaBnB. Lynne was so helpful throughout our time there. We were within walking distance to the main center of Stratton Mountain and many other local attractions. The home was beautiful and breakfast was great. We will definitely be staying here on our next visit to Vermont!
---
Loved our stay! We spent two nights in warrior 2 and it was instantly our home away from home. Lynne took extra steps to make it easy for check in, local recommendations, and learning about her guests' needs. Most impressive homemade granola --- don't skip breakfast if you decide to stay at YogaBnB. We will definitely be back next season :)
---
The Yoga BnB was awesome. Lynne and Dave are amazing hosts, it was a pleasure talking with them about the region, cooking etc...breakfast was delicious including delicious home made granola and oatmeal. The bedroom had 2 queen beds witch reduce the space to move around and closet space is limited. It is a shared bathroom for 4 bedrooms but we never had any congestion. everything is very clean and neat incl bedding and towels. It is at 10 min walking distance to the ski slopes. Great experience and we will definitely recommend it. Thank you Lynne and Dave.
---
I am a professional yoga instructor with a background in fitness , raw food instructor , cook book author, food manufacturer, and my husband is a retired entrepreneur also with a varied background.We have had many careers but have lived in our home a top Stratton for 30 years.