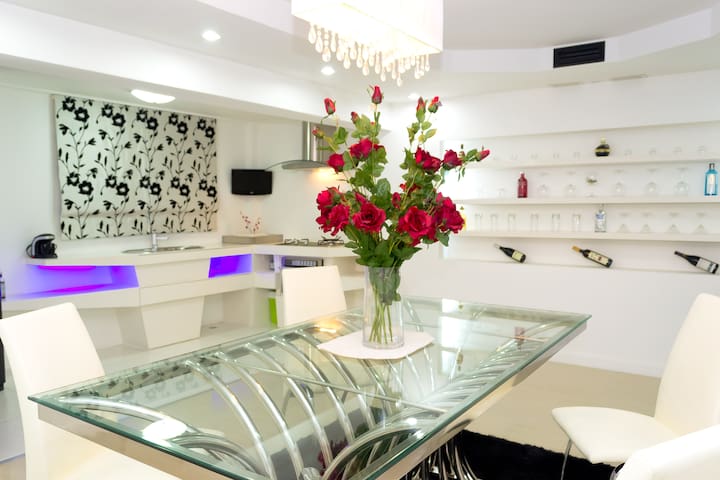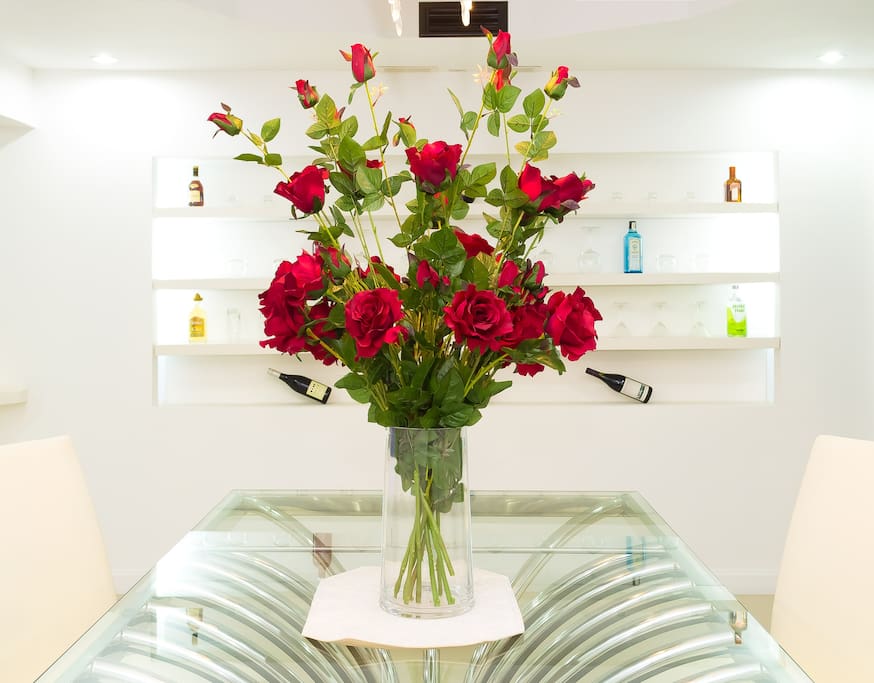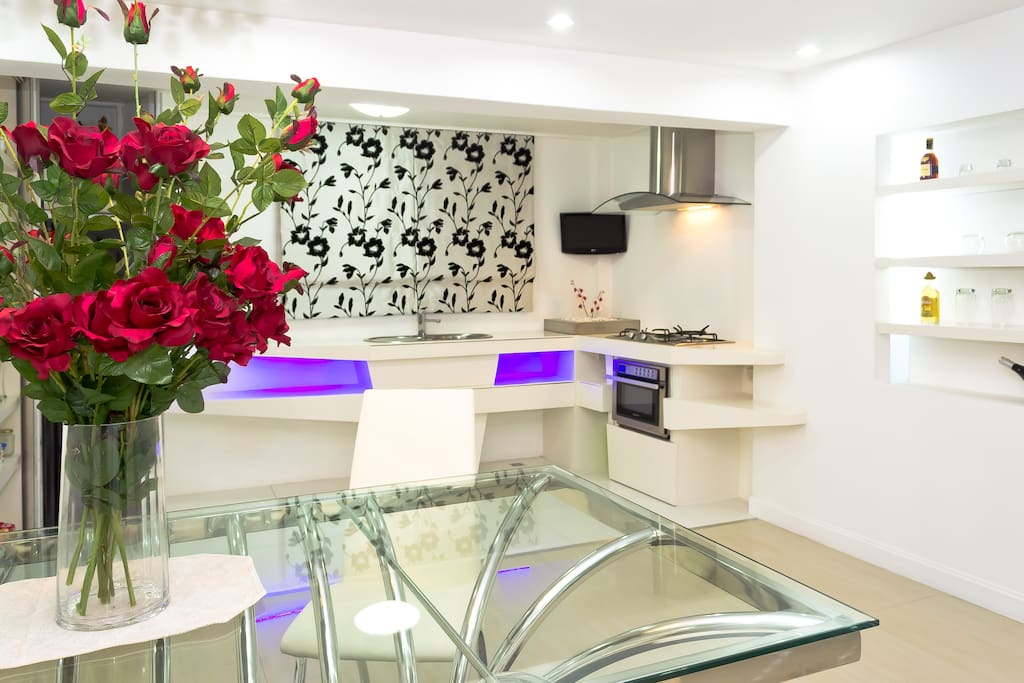 整体感觉非常不错,几个小伙伴都住的很开心,房东推荐的吃海鲜的地方让人十分怀念.Dan也提供了非常有用的信息,让我们感觉非常舒服。下次过来会继续住他的房子。谢谢。 Feel gud and Dan told us a lot of interesting things and experience for this lovely city. And the house is very clean,comfortable and quiet.
---
芭提雅之行很荣幸的遇到这位叫做DAN的希腊房东,之所以用中文,是因为答应Dan帮他告诉国内的驴友还有一个如此好的选择项。房间是位于芭堤雅海岸线边的山上,如果不堵的话,打车到步行街也就5分钟的路程。房间是一套独体别墅,4层,装修非常漂亮,有3间卧室。生活用品一应俱全。院里还有一个amazing的游泳池。总之住惯了性价比不高的宾馆的旅游完全可以试试这个选择。
Thank you Zhao... We look forward to you coming next time with your families... And we promise you, you will have more living supplies... :) Remember... That on Son Kran ( when you came ) is the New Year Holidays for all of Thai people which they celebrate with the water festival and they are all in happy mode... Lol Take Care and See you guys soon... :)
---
This place is incredible. It's enormous, the AC runs really cold, and it's a very cheap Uber (100 tub) from walking street. I literally ditched my hotel at Centara Azure AKA trashy hostel to and ate the costs to come here. Dan and Pomly are wonderful hosts that provide everything you could possibly need. Worth it.
---
Dan and Pomly were amazing hosts even before we got there! They were so helpful in getting us there as well as answering all questions before arriving. Upon arrival Dan was super welcoming and made us feel very at home! The place was absolutely beautiful, just like the pictures and it was great for us to be able to enjoy the pool, our own kitchen, and the lovely views from the balconies! We loved our stay and would definitely come back again! It was a great girls weekend!!
Thanks Natalie... It was So nice to have just Girls....for a girls weekend .... :) So nice to have people who travel the world offering their assistance and time to help so many people in need... It was a pleasure meeting you all and having you stay in our beautiful White Elegance... :)
---
The customer service of Dan and Pomly was fantastic. There wasn't a moment during my stay that I didn't feel they are truly trying to make your stay the best. The property description and pictures was totally accurate. The neighborhood was as described and I didn't have any issues. Very safe and many places nearby for food and beverages. There is construction going on all over Pattaya so there are some construction noises during the day, but not disturbing.
---
The Home: Simply put the home was as described White Elegance. Both Dan and Pomly put careful consideration into the design choices and you get the sense that this is a home desired to be shared and expresses the style of the hosts. Clean. Modern. Stylish. Whenever my party stayed in the home we were always able to relax with boundless options to spend leisurely time. The balcony offers incredible space and fresh air. The meditation room/office gave any of us ample opportunity to find solace as needed. The living room was easily capable of entertaining guests with settings that allowed for lively entertainment or intimate settings. When all was said and done and rest was truly needed the bedrooms were splendid. Bedrooms were spacious, with truly firm beds, soft pillows, and environmental controls that allowed one to forgo the comfort of sheets, although they were available. I would gladly stay here again if I should ever journey to Pattaya, if not for the space then for the hosts. The Hosts: Dan and Pomly are a airbnb force to be reckoned with. From booking to check-in they were very responsive and supportive capable offering advice that would cover any all travel needs. They know Pattaya, they know transportation, they know how to offer advice to cater to individual tastes. They are also among the friendliest hosts I have met, very sociable and astute, they were available when needed and absent when not. Thank you for a wonderful airbnb experience in Pattaya. I hope other guests have the opportunity to experience the same Hugo
---
我们专注于创造最惊人的家园.... 以最神奇和热情的款待..... 我们这样做.... 所以我们美丽的客人可以享受放松和享受我们美丽的白色优雅的家,感觉总体的和平与我们... :)
We specialize in creating the most amazing homes....
With the most amazing and warm hospitality .....
We do this....
So our beautiful Guests get to both Relax & Enjoy our beautiful home of White Elegance & feel in total peace while with us... :)
房源
白色维多利亚时代优雅与自己的触摸的现代芙蓉旨在启发所有你的感觉... 我们这个美丽的家园,无与伦比的注意力是最小的细节,位于我们相信芭堤雅最佳位置。给你,你的家人或朋友两个世界的最好的,当你想逃脱,并从你的每一天休假。 它可以让您在更干净,更安静和轻松的自由区域,您可以放松身心,享受这个豪华的精品家庭和海滩只有350mtrs远.... 要么 如果你感觉有点大声,想要整个世界知道你有你的派对鞋子...。那么这不是太遥远... .lol 只有很短的车程,您可以探索所有令人惊奇的酒吧,咖啡馆和餐馆,使这个地方区分。 完美的假期... 我们美丽的白色优雅是理想的家庭,一对或两三个想要逃跑,或一个假期与几个好朋友。 我们独特的,拥有一个现代宁静的豪华风格的家庭,分布在3层楼和一个屋顶区域,坐落在Prattamnak海滩的微妙的山坡上,就在一个宁静的小高尔夫球场后面....总是让我们放松并享受它对我们的舒适。远离这一切,放松我们的家,或出去体验这个伟大的国家提供的宝藏。 我们美丽的维多利亚风雅特色: 一个设备齐全的厨房...意味着你还可以在早上喝上一杯咖啡,不管你的心脏想要什么,都可以做一顿盛宴(有一个迷你等离子,甚至可以观看你最好的烹饪节目)。 一个诱人的餐厅,如果你想吃一杯葡萄酒,或者甚至在你的沙漠餐后用自己的伏特加鸡尾酒,就有一个墙吧吧 (客厅也在这个楼层) 一个开放的休息室,溢出到BBQ /娱乐/游泳池区域外面,包括最新的55"高清/ 3D智能电视,内置互联网和自动同步环绕声系统,最大的效果,性能享受(电缆,DVD,蓝光,USB)和惊人的环绕声系统,让您可以观看和聆听任何您的心愿(电影,体育,纪录片等),并享受它,当然,索尼Play Station如果你是一个很酷的玩家。 有3间完全空调的卧室都配有特大号床,私人浴室和浴缸,都配有所有必要的西式设施。卧室有自己的私人阳台,所有卧室都有自己的32"等离子电视(有线),如果你喜欢看电视或在床上听音乐... 有空调的办公室/学习/冥想室,具有打印机,扫描仪和免费的Wi-Fi设施,可供您随时使用(如果您需要...(对不起笔记本电脑不包括.... lol)以及24英寸等离子电缆检查这个消息或彭博社跟上你的小天堂之外发生的事情。 这个房间也可以用于私人调解室,您可以将自己的私人冥想曲调连接到我们位于房间内的音响系统。 有24小时的安全摄像头监控,安全和警报系统安装在我们可爱的家,随时保持您和您的个人物品的安全。 每3-4天((星期日除外))将会清洁一次,以确保您真的不必抬起手指。 如果你想要租一辆汽车,摩托车,踏板车(甚至是水牛...),那么在停车场就有你自己的免费停车位,让你有这个额外的安全以及。 在路的尽头,步行2分钟,你会发现一个迷你超市,商店,小酒吧和各种各样的咖啡馆和餐馆,一路上下,让你去海滩。 如果你喜欢海滩,就像我们一样...你决定在那里度过一天,甚至冒险,你会发现许多运动,你可以做(排球,慢跑或步行),水上运动,包括喷气式滑雪,得到香蕉船(真正的乐趣),风帆和降落伞冲浪,甚至还有一个水上公园。 如果你觉得放松,得到宠爱...好让我告诉你...你在正确的地方.....总天堂... :-) 关于泰国的美丽事物...无论你的心脏需要或想要什么...一定要照顾你,回家的费用的一小部分...。 回来放松...这个区域有你可能需要的一切...泰国按摩,油按摩,香气按摩,足部按摩或在海滩漫步,以获得新鲜的果汁或新鲜水果等... 咖啡厅,拿铁咖啡,摩卡咖啡,卡布奇诺咖啡,茶,绿茶,很棒的早餐早餐(或更有可能是早午餐), 美丽的白菜和避暑胜地(世界以其伟大的事业而闻名),非常适合午餐,晚餐或当之无愧的冷饮。它正在路上,提供一些壮观和有趣的风景。 还有一个神话般的... Le Saigon餐厅(我最喜欢的)在山顶的顶部(字面上在山顶)在建于最高海拔的建筑顶层的芭堤雅...提供芭堤雅的一些惊人的夜景和所有的烟火辉煌..食物是一流的,融合了惊人的泰国融合美食与一个美好的,轻松的环境,让你的呼吸,而不是提神奇的沙漠。 吃饭,喝在...!由你决定!!! 如果你是高尔夫球手...我们可爱的家园后面有一个高尔夫球场,您可以在屋顶看到岛屿上的日落岛岛。 如果不是高尔夫球手,但是你是一个购物者,食物爱好者,享受会议新人...有数百个酒吧和餐馆可供选择,许多地方购物。从当地小市场到设计师商店的大型室内购物中心和伟大的电影院。 这是很容易到达所有这些地方...有24小时泰铢巴士,将带你到城市的任何地方。告诉他们你想去哪里,他们会接你,把你放在任何你想要的地方。 您可以在任何许多旅行社轻松预订芭堤雅以外的地方到任何许多旅游目的地的旅行。 泰国以其美妙的景点探索,寺庙,稻田,海滩和夜生活而闻名。 你可以尽可能多地做你想要的。 如果你想参加郊游,我们可以推荐一个伟大的司机Sutorn,他可以在这个"微笑之星"周围向您展示。他非常熟悉泰国,所以即使你不知道你想去哪里,他可以带你到一些伟大的地方。 我们感谢您允许我们让您了解我们可爱的豪华住宅和我们的生活。 我们希望您感到舒适和快乐,选择和留在我们的家,享受天堂的这个小小的生活给你和你的亲人...当我们在家我们喜欢。 照顾和保持微笑 Pomly&Dan :-)
White Victorian Elegance with its own Touch of Modern Fleur is designed to Inspire All Your Senses…
This beautiful home of ours where impeccable attention is paid to the smallest detail is situated in what we believe in the best location of Pattaya. Giving you, your family or friends the best of both worlds when you want to escape and take a holiday from your every day .
It allows you to be in the cleaner, quieter and hassle free area that you can relax and enjoy this luxury boutique home and the beach which is only 350mtrs away....
O(URL HIDDEN)
If You are feeling kind of Loud and want the whole World to know that You have your Party shoes on…. Well that is not too far either….lol
Only a short drive away you can explore all the amazing bars, cafes and restaurants that make this place distinguish.
The Perfect Holiday…..
Our beautiful White Elegance is ideal for a family, a couple or two or three wanting an escape, or a holiday with a few great friends.
Our unique, with a touch of modern & serene luxury style home, which is spread over 3 floors and a rooftop area, is perched on the subtle hillside of Prattamnak beach and just behind a serene small golf course.... always lets us relax and enjoy the comforts it has for us. Get away from it all and relax in our home or get out and experience the treasures this great country has to offer.

Our Beautiful Victorian Elegance Features(URL HIDDEN)
A fully equipped Kitchen... meaning you can still have that cup of coffee in the morning, cook up a feast, whatever your Heart desires… (with a mini Plasma to even watch your best cooking shows)(URL HIDDEN)
A enticing Dining Room that has a Wall Bar if you feel like having a glass of wine with your meal or a even make yourself a Vodka cocktail after your Meal with your Desert...
(A guest bathroom is also on this floor)
An open plan Lounge room that spills out on to the front outside BBQ / Entertaining / Pool Area…and consisting of the latest 55" High Definition / 3D Smart Tv that has Inbuilt Internet and Automatic Syncing with the Surround Sound System for maximum effect, performance and enjoyment (Cable, DVD, Blue Ray, USB) and a amazing Surround Sound System to allows you to watch and listen to whatever your heart desires (films, sports, documentaries etc) and really enjoy it … and of course Sony Play Station if you're the cool gamer kind….
There are 3 fully air conditioned Bedrooms all with king size beds, private bath rooms & bath tubs all consisting with all the necessary western amenities. The bedrooms have their own private balconies and all bedrooms have their own 32" Plasma Tv's (with Cable) if you feel like watching Tv or listening to music in bed…
An air conditioned Office/Study/Meditation room that has a printer, scanner & free Wi-Fi facilities ready for you to use if you need to… (sorry laptops not included....lol) and also a 24 inch Plasma with cable to check the news or Bloomberg to keep up with what is happening in the world outside your little Paradise.
This room can be also used for a private Mediation Room were you can connect your own private meditation tunes to our sound system located in the room.
There is 24hour security camera surveillance, safe and an alarm System installed at our lovely home to keep you & your personal belongings safe at all times(URL HIDDEN)cleaner will come every 3-4 days, (except Sundays) to make sure you really don't have to lift a finger.
If you feel like you want to hire a car, motorbikes, scooters (or even a Water Buffalo..lol) ...there is your own Free parking space in the parking area that is off the road, allowing you to have this extra security as well.

At the end of the road, 2min walk, you will find a mini supermarket, shops, small bars and a variety of cafe's & restaurants all the way up and down the road that takes you to the beach.
If you love the beach… like we do…and you have decided to spend the day there and even be adventurous … you will find numerous sports you can do (Volley Ball, Jogging or Walking), water sports including jet-skiing, get on the banana boats (real Fun), Wind and Parachute surfing, there is even a Water Park.
If you feel like relaxing and getting pampered… Well let me tell you…you are in the right place..... total Paradise… :-)
The beautiful thing about Thailand…. whatever your heart needs or desires… be sure it will be taken care of for you and a fraction of the cost of back home….just sit back relax… this area has everything you are likely to need… Thai massages, Oil Massages, Aroma massages, Foot Massages or stroll on the Beach to get a fresh juice or Fresh Fruit etc etc …
Cafe, Latte, Moka, Cappuccino, Tea, Green Tea, great for that morning breakfast (or more likely brunch) ,
The Beautiful Cabbages & Condoms Resort (World renowned for its great cause), is great for lunch, dinner or a well deserved cold drink. It is literally down the road and offers some spectacular and interesting Scenery.
There is also the fabulous... Le Saigon Restaurant (My Favorite) at the top of the of the hill (Literally at the top of the hill) on the top floor of the building that sits at the highest elevation in Pattaya... offering some amazing night scenery of Pattaya and all its fireworks splendor.. The Food is Superb, blending with amazing Thai fusion cuisine with a wonderful, relaxed setting that takes your breath away... and not to mention fantastic deserts.
Eat in, Drink in..! Up to you!!!
If you a Golfer…. There is a Golf Course just behind our lovely home which you can see from the roof top while you are watching the Sunset over the Island Koh Lan.
If not a Golfer… but you are a Shopper, Food Lover and enjoy meeting new People… There are hundreds of bars and restaurants to choose from, , many locations for shopping..varying from small local markets to large indoor shopping malls with designer shops and great cinema complexes(URL HIDDEN)
It is so easy to get around to all these places…there are 24 hr baht buses and will take you anywhere within the city. Just tell them where you want to go and they will pick you up and drop you off anywhere you want.
Excursions to places outside Pattaya to any of the many tourist destinations can be easily booked at any of the many travel agencies.
Thailand is known for its wonderful sights to explore, temples, rice paddies, beaches and night life.
You can do as much or as little as you want.
Should you wish to take outings we can recommend a GREAT driver Sutorn who can show you around this Land Of Smiles. He is very knowledgeable of Thailand, so even if you don't know where you want to go, he can take you to some Great places.
We Thank you for allowing us to you give you some insight to our lovely luxury home and our life(URL HIDDEN)We hope you feel comfortable and happy to choose and stay in our home and enjoy what this little life of paradise has to offer you and your loved ones…that we enjoy when we are at our home.
Take Care & Keep Smiling
Pomly & Dan :-)
房客使用权限
我们希望你在我们美丽的家中逗留期间有一个很好的体验....所以请不要欢迎使用我们美丽的家中提到的所有领域...
We would love for you to have a great experience during your stay in our beautiful home.... So please feel more than welcome to use all the areas that have been mentioned in our beautiful Home...
与房客的互动
我们喜欢旅行...旅行的最好的一部分是会见当地的人们。 他们知道如何给我们最好的建议和几乎所有的建议.... 所以我们希望你觉得你会有同样的友善从我们...和....我们非常乐意帮助你们任何你可能需要我们来帮助你....
We love to travel... and the best part of traveling is meeting the local people from the areas....
they know how to give us the best advise and recommendations on almost everything....
So we want you to feel that you will have same friendliness from us... and.... We are more than happy to help you guys with anything you may need us to help you with....
其他注意事项
我们也想指出,我们每晚可以容纳不到4人,而且价格较低。我们正在做这件事,是因为我们发现有许多单身人士和单身夫妇喜欢留在我们可爱的白色优雅。 所以如果你不到标准的4人,请写信给我们,让我们知道,所以我们可以根据你将留在我们美丽的白色优雅多少人的比率... 我们希望能帮助... :)
We would like to also point out that we do accommodate and have lower rates for less than 4 persons per night... We are doing this because we have found that there many single persons and single couples that like to stay in our lovely White Elegance.
So if your less than the standard 4 persons, pls write to us and lets us know so we can give the rate according to how many people you will have staying in our beautiful White Elegance...
We hope that helps ...... :)
---
---
---
Pls treat our lovely home like it is your home... With Respect and Love
No Pets & No Smoking in the Home pls... Although you may smoke on the balconies, on the Rooftop and also Outside on the Pool Level Setting area is cool...
Our home is located in a quiet small block of townhouses with other permanent residents. It is very quiet and family friendly area but small parties are welcome providing others are not inconvenienced.
Pool can be accessed 24 hours a day.
When Cooking in our beautiful Kitchen, PLS... keep in mind that is this is a Holiday home for our guests and NOT your home as back home. We ask of you to be MINDFUL of the GUESTS who are booked after your booking and stay....
So we ask of you to limit the cooking, oils & spices you use to cook to a limit, as this will be absorbed in the homes Blinds, Furnishings, Rug that will Overrun the homes beautiful essences that you have been greeted with and other guests will greeted upon their arrival....
Pls be aware, if any of the above rules are broken, we will unfortunately be forced to terminate our Short Term Rental Agreement we will make between us upon arrival and the booking and we don't rely like to do that.
We have allowed for the Electric & Water Utilities to be Free up to 20 units per day... (That is quite a lot).
However....if you choose to go over the 20 Units per day, there will be a over usage amount of 8.5 Thai Baht/unit charged at the local rate.
If you are looking to not exceed the 20Units per day, pls exercise the following...
Switch off your Air Conditioners, Hot Water Heaters, Plasma Tv's and Lights when not in use or when you are not in the home.
Infants are welcome free of charge... :)
---
Hi Everyone.... We live in The Beautiful Land Of Smiles..... We love to walk on the Beach, Meet New People, Enjoy Great Food from all over the World & Travel to visit New Beautiful places, filled with Beautiful Moments to remember Forever... Our Aim is to Always Feel Goo…
语言:
English、Ελληνικά、ภาษาไทย