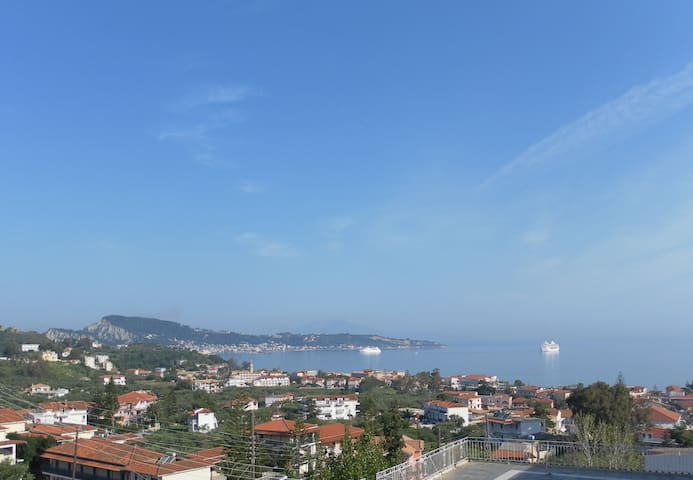 Panagiotis was an exceptional host, to say the least! From the moment I booked my stay upon arrival, he communicated as soon as possible to answer all of my questions. You can see that he takes pride in keeping his guests at ease. We arrived to the airport and Panagiotis was waiting for us after our baggage claim. He assisted us with our luggage which was extremely sweet and arranged for us to have a car delivered to the apartments, which could not have been more helpful! (I highly recommend renting a car for exploring the island.) Panagiotis made sure to check and see how everything was going throughout our stay and even invited my friend and I to a local bar/restaurant where he worked for drinks. We went and it was awesome! My friend and I stayed three nights here and it was not enough. The view is SPECTACULAR and the lemon trees and flowers surrounding the apartments are beautiful. Panagiotis and his family made our trip wonderful. His mother offered us homemade biscuits which were delicious and even helped us with a cab to the Zakynthos port. All in all, this airbnb stay will be HIGHLY recommended to anyone I know traveling to Zakynthos! I could not be more pleased. Thank you again Panagiotis! :)
---
Siamo due giovani ragazzi che hanno alloggiato nell'appartamento di Panagiotis per 7 notti. Posizione ottima, a un minuto dal centro di Argassi e 5 minuti dal centro di Zante. I proprietari della casa e la loro famiglia sono stati davvero gentili e disponibili in quanto si sono occupati del trasporto da e per il porto di Zante alla casa e dalla casa. L'appartamento è poco vivibile per gli spazi ridotti. Mancavano elementi essenziali come lo spazzolone per il bagno, la scopa ed il bidet. Se non si hanno grandi pretese di qualità dell'alloggio è un appartamento tutto sommato accettabile per la permanenza sull'isola.
---
It was an absolute delight staying at Panagiotis's place. Both he, his brother Mario and indeed all the family were so friendly and helpful. Their home is a hidden gem, literally! Way up above the busy and bustling Argassi, away from all the noise, you enter this idyllic courtyard full of richly coloured flowers and trees and plants - just over the road from the olive groves. The apartments are basic but very clean and provide everything you need. To look out from the balcony at the most fantastic views over the town and the sea beyond, whilst also being surrounded by the rich green colours of the mountains was sheer heaven. It is a five minute walk down the hill to the busy and bustling street with many bars, restaurants and shops, at the end of which is the main road which takes you by bus into Zakynthos Town or the other way to Vassilikos with the fantastic Banana Beach and many other beaches along the way. It is also worth a visit to Kalamaki Beach with endless sunbeds and clear blue sea. Argassi itself has been built up to the sea shore so not many beaches although all the hotels along the main road provide lots of sunbathing facilities, pools, beach bars, restaurants, etc. Panagiotis and Mario provide you with all the general info together with car/bike hire, etc and arrange for cars to be delivered to the apartments. Panagiotis also works at the Green Frog bar and restaurant where the food is exceptional and extremely reasonably priced. Because of the location of apartments, it is a bit of a steep walk back up the hill, but great for walking off all that fantastic food ! An absolute bonus was Mario picking us up from the airport on our arrival and then Panagiotis driving us back at the end of our holiday, at 4.30 in the morning!! It goes without saying we will be back to visit these warm and friendly people, where nothing is too much trouble and where they go out of their way to ensure you have the most fabulous holiday. Thank you so much. xx
---
Panagiotis and his family are super friendly and helpful. We were picked up from the airport and brought to Olive Tree Apartment V, with an amazing view. The end of the hill towards the apartment was on some hot days sometimes a little tough to conquer. However, at the apartment we received so much information, some nice chats and some fresh food which made us feel super comfortable. Staying with Panagiotis and his family enables you to meet amazing people, enjoy the heart of Argassi within a few minutes and relax at the apartment which supplies everything you need.
---
Hello all, my name is Panagiotis, born and raised in Zakynthos
I love nature, hiking, cooking and good food!
I am passionate about history of my island and greatly enjoy discovering new facts and exploring unknown sites.
If you would like to know more than tourist guides tell you, I will be more than happy to share my knowledge with you and provide you directions for exciting trips.

Hobbies are hiking, reading and growing hot chillies!! and lately trying to learn to play percussions!

Don't hesitate to contact me for any questions...



语言:
English、Ελληνικά