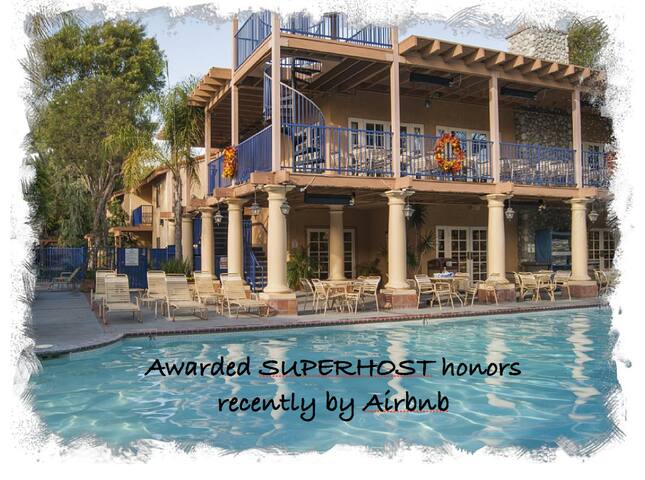 Only 2 days left to reserve for 2017.
5 days already reserved. Sunday thru Thursday night only.
Can only book up to 6 months in advance of the dates you desire.
IMPORTANT!!!!….THERE IS A ONE TIME $50 CLEANING FEE THAT IS PAID DIRECTLY FROM YOU TO DOLPHIN'S COVE UPON ARRIVAL. (The $50 is not a part of this here transaction). Many times my guests tell me that they were never asked for the $50 and never had to pay. So, if you are not asked, consider it a bonus.
房源细节
THE PROCESS OF GETTING THE DATES YOU WANT.
Inquire first on the dates you want by sending me a message. When you give me the dates, I will have to check availability with Dolphins Cove. I will let you know to go ahead and reserve those dates if they say they are available or let you know they are already booked for that time. If available, I will reserve with them and then confirm your reservation.
CLEANING FEE. As stated above the $50 cleaning fee is paid directly to Dolphins Cove, by you, upon arrival UNLESS you are the first reservation for the year. Due to the confusion of a past guest, I need to explain that this is the fee charged for the cleaning ONCE YOU LEAVE, not during your stay. Regular cleaning schedule applies as per Dolphin Cove's guidelines for the week as usual.
PARKING AND HOW TO SAVE DISNEY PARKING FEES….
One of the BEST KEPT SECRETS is that the location backs up to one of Disney's Parking Lots. We usually, leave our car at the cove and walk to the lot, passing the city bus stop, and take the tram to Disneyland for FREE. It looks like the walk from Dolphins Cove to the actual tram stop is 1/4 to 1/3 mile. I never timed it, but since I walk a 20 minute mile, I would say it is 5 to 10 minute walk at most. We asked Disney first if it was ok to do this and they said it was no problem and enjoy. We SAVE $18 a day in Disney parking lot fees and leave our car at the timeshare.
The only negative to this is they said the only time this parking lot closes is when there is rain, as the electronic equipment they use is out in elements and therefore they close this lot. Then your choice is to take the city bus, your car to the other parking lots or walk, which is approximately 1.1 miles. In all the years we have gone at all different times of the year, we have never had a problem. Lucky I guess.
SAVE MORE THAN USING HOTELS
Remember through us, you pay no other fees like hotel tax, resort fees, etc. Only, I believe, the 6 % to 12 % fee to Airbnb which is added when you make the reservation. You will see this before you confirm.
DESCPRIPTION OF ROOMS
We fell in love with this place, Dolphin's Cove, when we stayed there and took me a while to find a 2 bedroom to purchase. We are owners, not someone trying to sell timeshares. Look it up on the internet. It is a Wyndham Vacation Resort Timeshare. If you have been to timeshares, you know how nice they are. All resort rules MUST be followed. This unit has sleeps 6 with:
* 1 king size bed (bedroom 1)
* 2 twin size beds (bedroom 2)
* 1 queen size pull out sofa (in living room)
* Balcony or Patio
RESORT AMENITIES
• Outdoor Swimming Pool
• Outdoor Children's Pool
• "Get Out & Play" Activities Program
• Exercise Equipment/Fitness Center
• Outdoor Hot Tub
• Game Room
• Picnic/BBQ Area
• Putting Green
• Laundry Facilities
• Daily Activities
• Grocery Store Nearby
• Late Check-ins
• Movie Rentals
• Sorry, no pets
We love it there. With timeshares, just bring your clothes and food and your pretty much set. Everything you pretty much need is there to use. Kitchen has your pots and pans, utensils, dishes, glasses cup and many more items. Just bring your food.
No elevators so request a first floor if that is necessary. Let me know when you inquire to reserve so that I know to ask for that. It is only a 2 story resort. This place has beds for six adults, maybe more, if you have small children. Keep in mind that this is a small family friendly cozy time share resort. Not the 5 star high rise timeshare resorts you may have visited before and that come with the high price tag as well.
Another hint is that we like to get a room just down the hall from the rec room. The bathroom is nice there and we utitlize it as a second bathroom. Works out great and this can be a lifesaver if you know what i mean. LOL. Lately, when I have been reserving they are now asking if I want the 1 bath or 2 bath with my 2 bedroom unit. So it may be an option if the 2 bath is still available. Tell me when you inquire if a 2 bath is something you would like to try for.
RIGHT NEXT DOOR TO A DENNY'S.
One More thing. If you look at the street view of the property, you wiil notice a driveway, which is ours to the left and behind it is an orange building next door that is on Harbor Blvd, same street at Disneyland. That Orange Building is Denny's. We would go for breakfast with their $2,$4,$6, $8 menu and then head to Disneyland. Cheap Breakfast for the Disneyland area and it is practically on your doorstep. Just another helpful tip. I can't control it if they change their menu though.
DAILY EVENTS CALENDAR (ADULT AND KID FUN)
Dolphins Cove has an event calendar they will give you for social events they have for the week when you arrive. Look up the resort to see more.
FREE LAUNDROMAT AT THE RESORT & COMPLIMENTARY DETERGENT IN YOUR ROOM.
与房客的互动
I am not at the property here, but only a phone call away and available anytime a need arises no matter the time of day or night.
其他注意事项
You can use the tram in the Disney Parking lot, behind our place, free of charge. But note that the lot is closed when there is rain or threat of rain.
为了保护您的账号隐私和付款安全,请不要相信其它任何平台的折扣或优惠券代订,并始终在爱彼迎站内转账和交流。
Must follow all rules set by Dolphins Cove which is standard practice for any hotel type facility. You can utilize the bathroom in the rec room as a second bath when it is open which is very early in the morning until late at night.
Gerry, was an amazing host. Followed up on all questions quickly and offered support all along the way. I liked her instantly. As this was my first time with Airbnb, I was a bit concerned given that I was with a colleague and on a business trip and wanted everything to run smoothly. The place was described perfectly --well managed facility and walking distance to the Convention center and many restaurants. It was very safe. No issues at all.
Thank you Ariella. It's so hard to host for me when not at the location like my actual home is. We love meeting new folks and sharing stories. I forgot you said this was your first time until you said that. Honestly from our conversation, I felt like you were already a pro at this. I manage my home location as well which is very steadily booked throughout the year whereas I only have one week a year to book this location. You should try Airbnb with folks at home too. You seem like someone who might appreciate it. We really enjoy Airbnb homes where you become one with the family and hear the stories and see how others live. We love Airbnb and hope you will in your future stays too.
---
The place was as described, very comfortable. Lots of pillows, which I like. I was very busy, so I did not spend much time in the place, but it was in a great location and everyone who works there was very nice. Gerry was very easy to communicate with. Always responded quickly. I would gladly stay there again.
Thank you Lauren for keeping in touch with me as well. That is so courteous of you. I'm always worried about the places I can't be there to help my guests to immediate needs and you eased my mind. I'm so glad this place worked out for you. Come stay with me in Manteca, CA, some day. Would love to meet you in person some day.
---
We wanted to bring our two girls (2 and 4) to Disneyland for the first time. We were nervous about spending outrageous amounts of money and getting a substandard place. I found Gerry's listing on airbnb and not only was the room at dolphin's cove more than we were looking for (size, location to Disneyland, amenities, etc) but it was super affordable. Also Gerry was invaluable in answering my questions and giving me advice. We are totally going to stay here again.
---
My husband and I moved here from Fremont CA (SF Bay Area hour away) to Manteca, CA, 15 years ago, in 2002, and said....whatever will we do with this big ol' house? So in 2011 when Airbnb entered my life, I knew It was an answer and the reason we fell upon this particular home. It was made for Airbnb and has brought us unbelievable joy hosting such of variety of people from all over the world. I have learned and experienced so much interacting with my guests. Can't tell you how lucky I feel to be able to do this. So blessed.

Our last daughter is moving to Disneyland and will be attending the Disney College Program and working at the park. I'm so happy for her but sad too that she will no longer be close to us. We will officially have joined the empty nesters club. Our daughter, is a very sweet loving girl and was the reason for the move to Manteca. She has completed her AA degree and now she is off to her next adventure.

We have 2 other older daughters. Our eldest is a nurse with our 2 grandkids and our second daughter is a very talented artist who will soon be working with the Humane Society in Santa Barbara very soon here.

My husband's hobby is Halloween and he and his partner spent a lot of time in the 17 years of presenting the "Scary Perry Haunted House" which showed about 5 nights a year, but takes about 6 months to prepare and pack up each year. It was top quality Haunted House and outdid what a neighborhood haunted house would usually put do. 2014 was our last showing at our home because we outgrew our home and neighborhood. They are still on the hunt to find another location that suits this production better.

We have lived in the bay area all our lives until we moved an hour east of it. So we know the bay area quite well. We have spent many years turning our yard into an oasis and think we are about done. We get many compliments on how beautiful it has turned out and it is great to see my vision become a reality. I love flowers and gardening but since we got the dog, things have changed. The dog who thinks flowers are toys. Flowers make me happy. He is 6 now, so I may try to attempt growing them again.

I love hearing people's stories so I hope, if you stay here, you will tell me yours.

I, myself, happily retired from 34 years in the automotive industry. I have a jewelry business on site. Also sell cinnamon rolls. I was encouraged by guests to post this because they said they wish they had been prepared in advance of knowing this. Just ask me if you are interested. I don't feel right pushing my products onto my guests, so please don't worry about that. If you enjoy looking, that's different.

Hope your plans can be included with a stay in our home.
Happy travels, Gerry & Phil of Manteca, CA
语言:
English