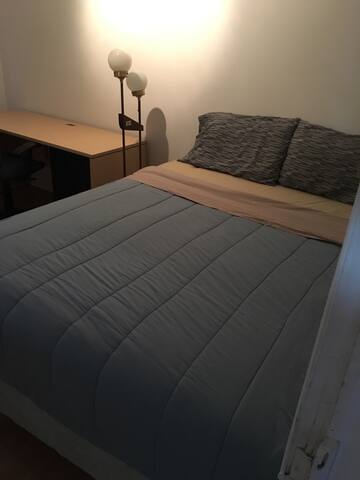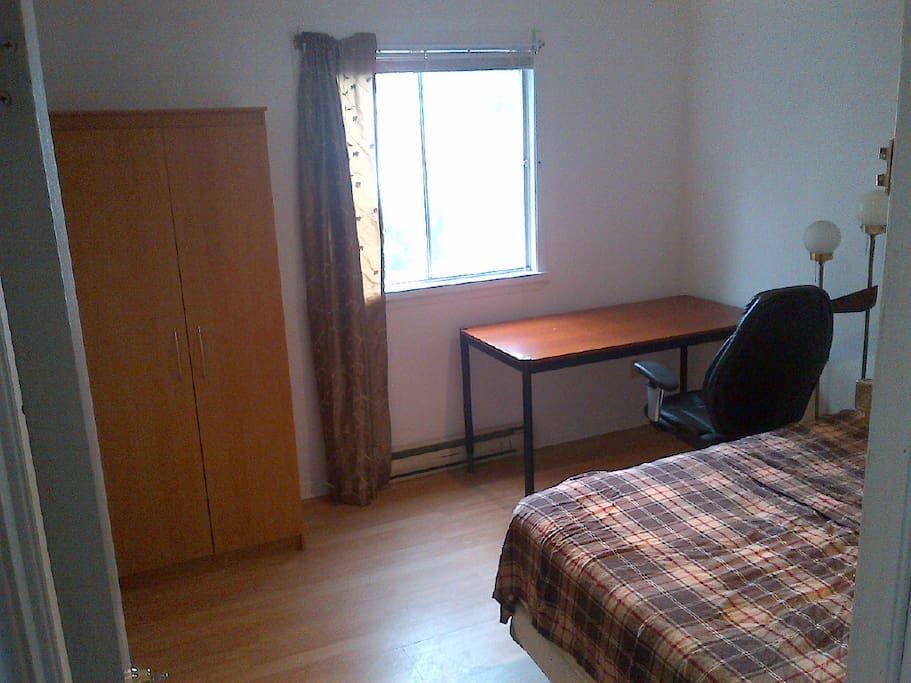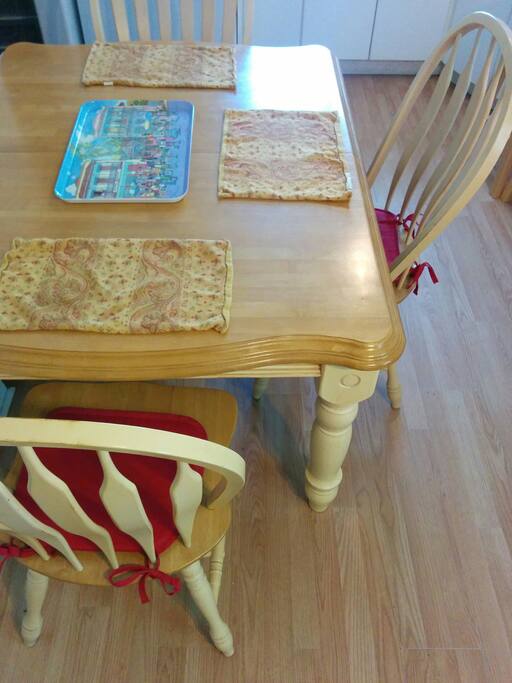 Fully furnished room in a shared, exchange-student occupied apartment/ rooming house.10 minute walk to Queen's campus, fast, reliable WIFI, fully-equipped kitchen and lots of fridge space, lock on bedroom, house cleaner, and last but not least, nice people to share the home with.Take a look at my reviews.Price includes utilities and electricity, internet, house cleaner and household items like toilet paper, garbage bags etc. Rent lowered by $205/ month because I'm late to post the listing.
房源
Please send a message before booking for additional, seasonal information and ideally to also say a bit about yourself ei. what you study, age and, if you like, a bit on your personality/ what you do for fun etc. It's a house- share after all so having a bit in common is important.
Apartment is quiet from road noise as it's rear-facing (with a view of backyards) yet still downtown and very well-located overall with almost a dozen restaurants, a grocery store and a park within a 5 minute walk.
This apartment was designed as a rooming house originally. The ground floor has the kitchen and living room and there are six bedrooms above (two on each of the three upper floors). In its design, building a unit upwards seems to allow for six people to share a home more easily as there are only 2 people living on each floor and it just doesn't seem to have the noise traffic of, for example, a 6 bedroom house. The noise travels much less from floor to floor than it does around a house.
There is a fully-equipped kitchen with two refrigerators, lots of cupboard space and tons of utensils, pots and pans.
The story behind this accommodation is this. I own a courier service and I wanted to rent a building where I could have my home and a small office in the same building that was also located downtown, in proximity to the market and clients we serve. The best option for this combined-use building was this unit. As it had many extra bedrooms, I made them available to rent. I have been managing my home and business residence in a similar way for about 9 years. In that time, I've shared my home mostly with exchange students and also my brothers who were Queen's students. I'm now 34 years old. More about me below.
On the main floor there is a small, separated room with its own exterior entrance for my business. This is a room used by my delivery drivers to pick-up and return equipment such as payment processing machines and paperwork. The business room is separated from the living room by tall cabinets and is just a storage room. (no one works there. All dispatching and administration is done from my employee's homes)
The internet is cable internet with WIFI and has unlimited bandwidth.
There is laundry in the hall of the apartment complex. (Our unit is part of a greater building that has two other units that are identical to ours). It is $2 for washing and $1 for drying. (The rest of the apartment complex and the laundry is managed by the owners of the building and not by me).
Our house cleaner comes weekly to clean the bathrooms and the floors of the common areas.
Electricity, utilities, internet, house-cleaner included. Toilet paper, hand and dish soap, garbage bags etc are a shared (very minor) expense between all residents.
Rental period up to January 1 required (or an adjustment in price equivalent to that time frame).
This is an excellent opportunity for exchange-students for a one semester accommodation. It is only available at this late date because I only opened the listings on Aug 27 as I had yet to decide what I wanted to do with my home this year and I was very busy and away for a lot of the summer.
I look forward to hearing from you!
---
---
---
Cleanliness:
Do dishes and clean up after yourself in a timely manner (wiping counter, table etc). Sweep the kitchen floor and change the garbage bag now and then. If we all do a bit, it works out. Keep in mind, this is an apartment share and our house cleaner doesn't do this kind of daily stuff.
Lock door every time you enter and exit (even if someone is in the kitchen or living room)
No smoking
Follow schedule for taking out garbage
---
---
---