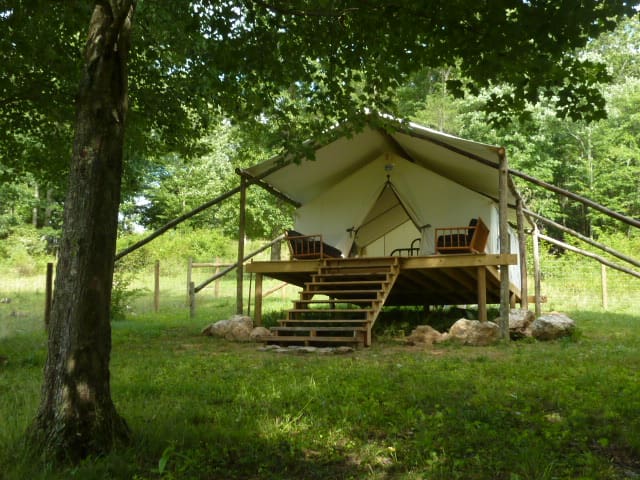 成熟的树荫遮蔽,俯瞰牧场,占地100英亩,享有蓝岭山脉的壮丽景色。冷静的微风。蚊子免费 对于那些想要从每一天强调拔掉和撤退的人来说,这是恢复活力的地方。
Shaded by mature trees, overlooking pasture, on 100 acres with a superb view of the Blue Ridge mountains. Cooled by gentle breezes. Mosquito free.
For those who want to unplug and retreat from every day stresses, this is the place to rejuvenate.
---
The Lee is everything I'd hoped for and more. Theresa has really put a lot of thought into everything provided - truly a glamping experience! There's a set-up camp stove, water, cooking supplies, a cooler, and even a solar shower a short walk away. The Lee is also truly dog friendly! It's well situated on open farm land that guests are welcome to wander on. I think my dog had the time of his life running through the fields and had great interactions with Theresa's dogs. Above all else, Theresa was incredibly welcoming and my only regret is that I wasn't staying longer. I highly recommend this glamping site - both to those new to camping and wanting to ease into it, and those that are frequent campers and want to spoil themselves! I know I'll be back again.
---
We loved Theresa and her husband and The Lee. It was truly a memorable weekend. The tent has everything we needed plus the property is beyond beautiful. We slept well, ate well, enjoyed the quiet. Theresa made sure to check on us and was available for anything we needed. We definitely want to return! Thank you!
---
The tent and land are beautiful. I booked this listing based on reviews since little details were provided in the listing. It was a nice weekend getaway, but Theresa had to go out of town. I contacted her (texted and later called) on Saturday afternoon because we were having difficulty finding the shower, and she never returned my messages. I understand that things come up sometimes, but if she knew she might be unreachable, I would have appreciated having the contact information of someone who could help us. We were unable to shower all weekend due to Theresa's lack of communication. She still has not messaged or gotten in contact with me in any way to apologize for "ghosting" us. I can see how she would be a fantastic host if she were present, but having had to go out of town and leaving us on our own with no way to communicate any issues, I don't think I would choose to stay here again.
I am so sorry that Alexis had trouble finding the shower. Unfortunately the Memorial service we were attending was in an area with no cell phone reception. It was an oversight of mine not to have left Farmer Gary's phone #. He did go over to our property twice to see if all was o.k. The first time as he saw no one outside the tent, he did not want to disturb. On his next visit, one of the guests cars was gone and there was no sight of anyone. I reviewed my instruction to Alexis with Airbnb and they felt that they were"very clear and concise" I have learnt from this experience. From now on a map of the property showing the shower , trails and our house will be left in the tent. I will be more careful in making sure that I have left Gary's phone #. Alexis mentioned that additional lighting to the tent would be useful. We have not done this as we don't want to distract from the natural environment. Darkness and total peace are the attraction for us.
---
The Lee was our first experience glamping. It was perfect! Quiet (but for nature), isolated (accommodating an outdoor shower in the field), great views, attentive hosts from booking to leaving, brass bed with wool blankets in the summer (cool breeze the whole time), front porch couches to do NOTHING! I could live here, my 17 year old daughter, maybe not. Afraid to write too many good things as it may stay booked from here on out, but it would be impossible to go wrong with this property. Thank you so much for setting camp for me :-) Pam and Lilli
---
Our 3 night (27th wedding anniversary) stay at "THE LEE" was STELLAR! This was our first "glamping" experience so we were extremely pleased and hope to return either in the Fall or early Spring. Upon arrival, we were a wee bit concerned that our old Honda Odyssey might not make it up the unpaved farm road leading to the tent site (we simply dropped into 1st gear and the front wheel drive did just fine). There we were met with spectacular sites (sunrises and sunsets were AMAZING! Also, after a heatwave back home with 17 out of 19 days in the 90's, we were delighted to actually wake up to the feeling of chilly 50 degree mountain air - in late JULY no less! Our hostess was so warm and helpful in getting us settled in. The glamping site was everything we hoped for and more where we found freshly baked cookies on the table and newly harvested vegetables from the garden (a medium sized cooler of ice and water was sufficient for the few food staples we brought which needed refrigeration). The outdoor propane fueled (two burner) stove was used each morning for our coffee/breakfast (kitchen was more than adequately stocked with plates, bowls, cups, flat ware, pots and pans - everything one might need for camping style cooking). As "outdoorsy" folks who have a lot of camping experience (including back packing/no trace camping), we were not at all intimidated by the outdoor Loo. We were given very detailed instructions on how to use the composting toilet and one cannot argue with the stellar mountain views while handling one's "business." :-) The outdoor solar shower was sufficient (but just FYI ......about a 50 yard walk from the tent) and we'd suggest waiting till early afternoon for the best opportunity at retrieving hot water. My husband brought his fly fishing gear along so was quite pleased to have caught (and released of course) a number of bass from the pond. When not hiking around the property, we spent a great deal of time on the lovely (raised platform) front porch. The dulcent sounds of cows in the distance and numerous deer in the meadow were very much welcomed. We'll be back for sure!
---
My husband and I went on a mini air b&b retreat. 2 nights in 3 locations and hands down with out a doubt.. this was our favorite. If you keep reading the reviews you'll learn that Theresa and Brian have provided everything you'll need for camping.. from water, to matches! Everything! Just bring a desire to relax, read, enjoy being disconnected from electronics. If this is what you are looking for .. you found a super place to do it!!
---
We feel fortunate to have stumbled upon such a lovely part of the country, away from the sounds of traffic. Rolling hills, wonderful views and pitch black night skies. We spend our days gardening, working on the land, and observing nature.