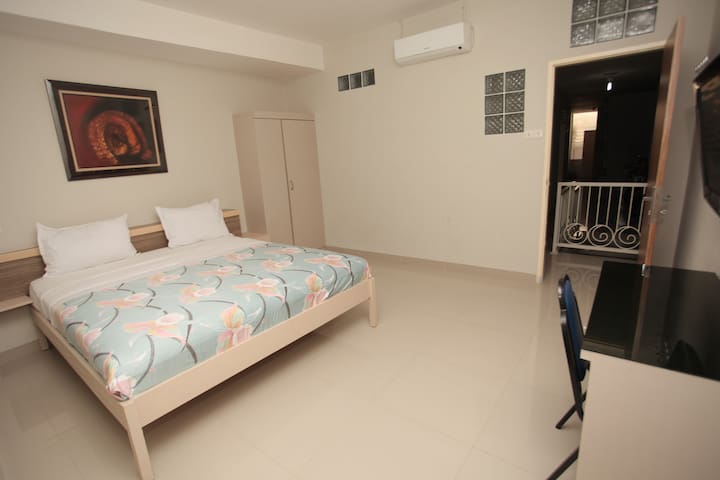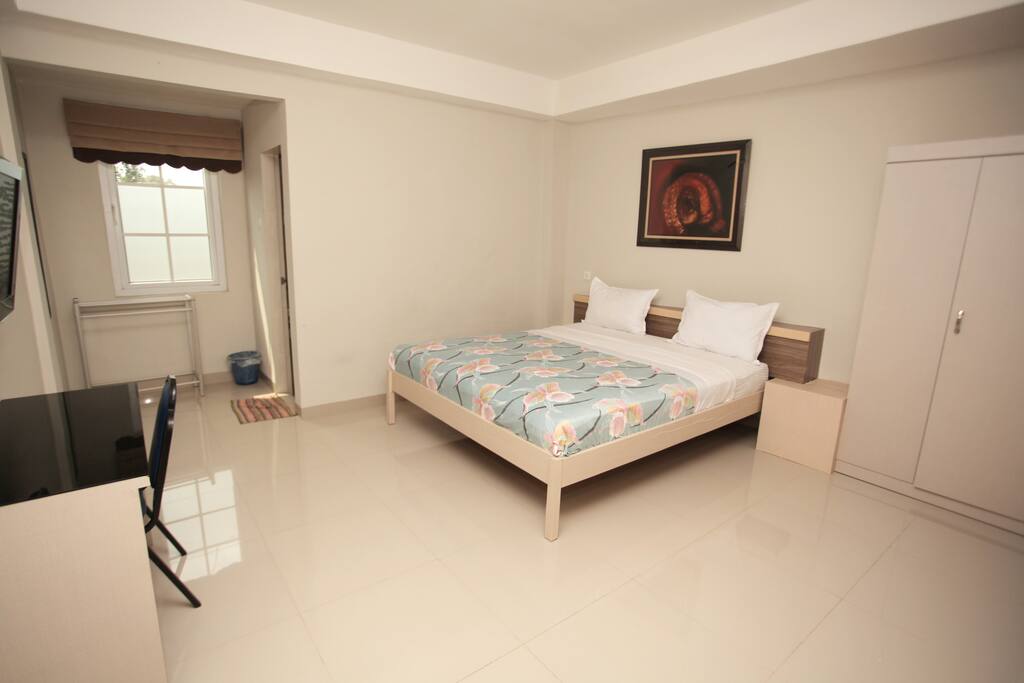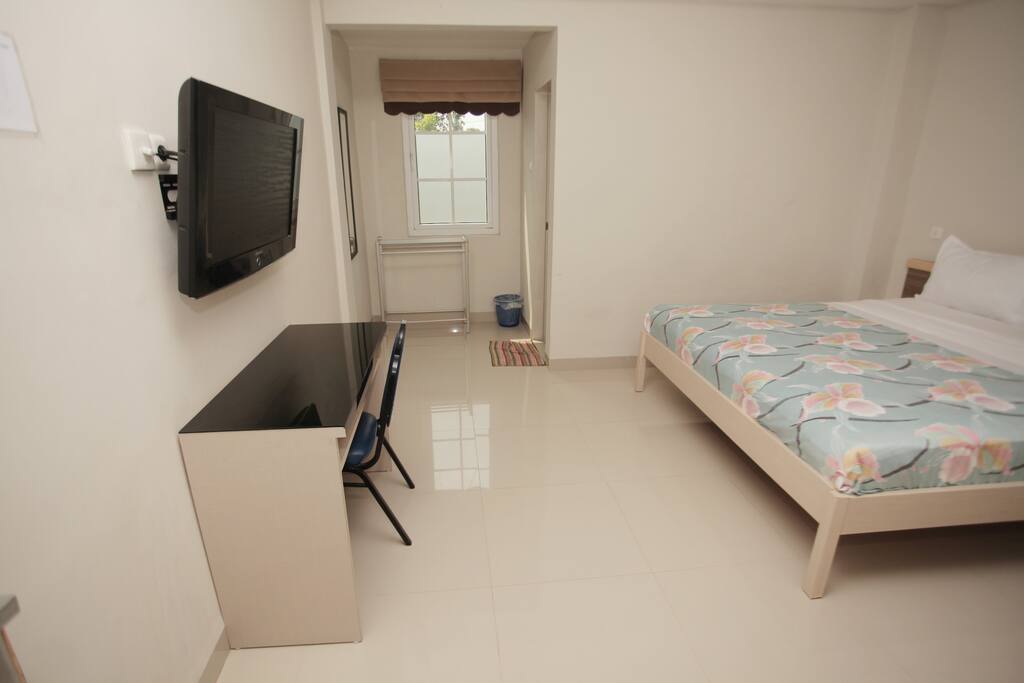 Spacious Room in city center
The room is quite wide. have a cabinet, air con, and tv also. The apartment is also close to Merdeka Walk ( food market) , Kesawan ( old town area ), Medan Fair Plaza, Petisah Market ( a place to shop cloths and others).
next door is milo family karaoke. and you can also order some food or drink from there to your room.
the public transport is easy to accsess. airport shuttle bus or train is near the apartment. only 10 minutes away, and you can simply reach it by 'threecycle motorbike' or by taxi.
---
The place ok. Quite big room with minimalis interior. But the location is noise and not many place nearby for food. Wifi not working at all. I asked to receptionis and they didnt know when it will be fixed. Signal in the room not good. Bathroom ok except to flush for toilet and no toilet paper.
---
It is very good as a bed and breakfast. It's very clean and the air conditioning works well. It is located in the downtown, easily to identify and relatively close to many places of interest - distance that can be traveled on foot (shopping centers, exchange ofices, some tourist atractions). The staff is friendly and the owners - a family - are very kind. We received from them all the information and support for everything we needed. Communication with them has been great both before and during accommodation. As written in the description, they or through their partners, offers a wide range of other services than the accommodation (laundry, scooter rental, transfer from / to the airport, transport to other places or tourist programs and excursions). Medan is an interesting city, worth seeing, but not too well organized for tourism. Usually tourists prefers it as a hub to other places in Sumatra. All sights in town can be covered within 2 days.
---
Hotelnya bersih dan nyaman. minimalis tapi cukup sesuai kebutuhan saya. Ada TV dengan input HDMI dan koneksi internet di kamar sehingga saya bisa tetap mengakses pekerjaan. Staff hotel ramah & helpful. Pak Andrio juga sangat ramah dan selalu siap membantu untuk hal-hal lain seperti rental mobil, etc. Terimakasih sudah membolehkan saya untuk menginap selama 2 hari.
---
Very clean spacious room on a busy road (which you dont really notice with a closed window), with a simple bathroom and semi-cold shower. Big tv and a good clean bed. Friendly staff, not all speak English but Andrio and Ratni made sure they helped us wherever they could. Good communication and pickup from airport and transport to Bukit Lawang was easily arranged. Would go back again if visiting Medan again.
---
What a lovely homestay this was!! I do not like Medan much, but this place took me away from the hustle of the city! Gusti (the employee there) was so sweet, though her English isnt 100% she still helped us with everything we needed. Also Yini and Andrio were so prompt with any questions we had, and went out of their way to make sure we were comfortable. Thank you so much for such a wonderful stay!
---
Hi my name is Andrio Simatupang and my wife Ratni. We are Indonesian. We are a friendly couple who love to travel, meet new people and share stories. we like outdoor activity like hiking, jungle trekking, diving and city touring.

We can arrange for you
AIRPORT tranfer : 180. 000 / car Bukit Lawang :600.000 / car *call
Lake toba : 800.000 / car *call
Home-Brastagi : 500.000/car *call
Medan city and culinary tour 500.000/ car *call
*normal price, will be different if high season

And another destination upon request.
*if u need more info, message us*

语言:
Bahasa Indonesia、English