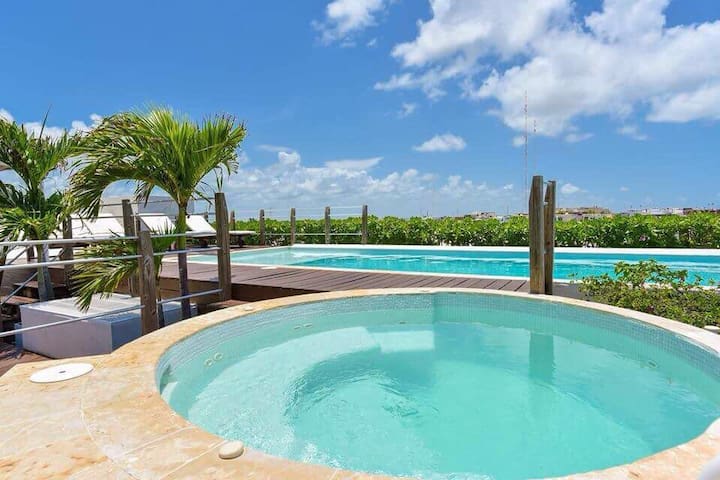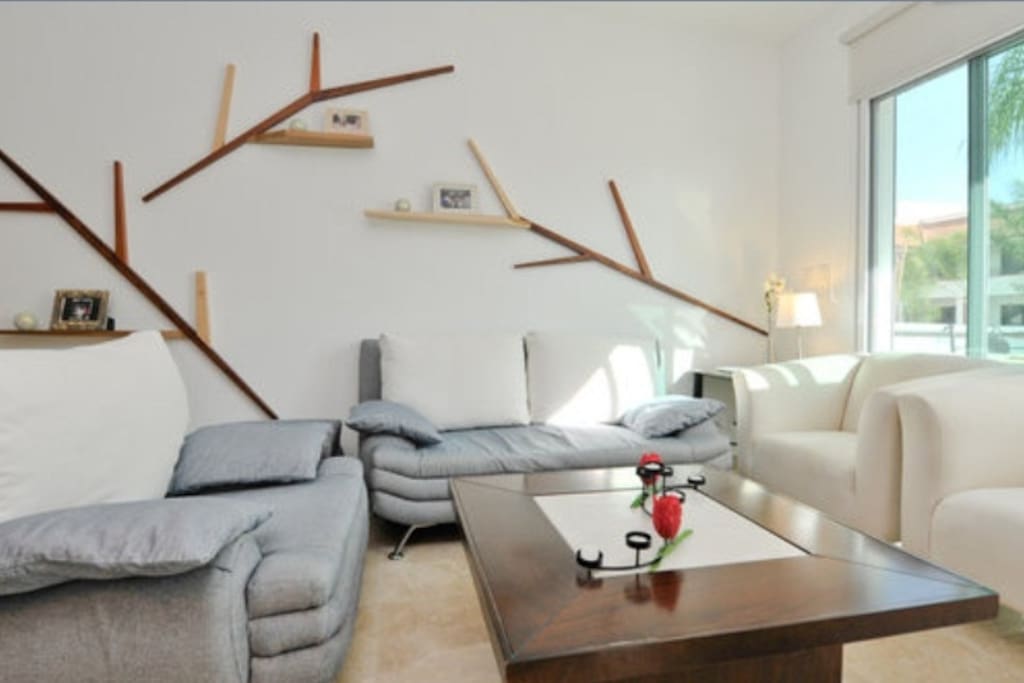 2 bedroom, A/C ,wifi, Balcony, Fully furnish, Luxe Linens. Lift to Sea View Sunny Pool+Jacuzzi. Steps to 8 Best Beach Clubs, Safe in Center, 1 street to Shop/Restaurants, 3 to Party/5th, 4 to Sea. For 1 to 8 guest! Best for Groups & Families!
Welcome,
Cheryl & Friends =)
房源
Welcome,
To Experience to live in a Sophisticated life style while you enjoy your holidays in this New Trendy SEA VIEW POOL Apartment of 2 Bedrooms and 2 bathrooms, near by 8 Beach Clubs and lots of great amenities in a Safe and perfectly located Luxury Condo. !
I am so proud to have select this exclusive property to you and I hope you can enjoy it. Your holiday experience will be enhanced by my local knowledge, willingness to assist you in any way and drive by my desire to ensure that you get the most of your Playa Del Carmen Holiday experience. This is hassle free holiday living in the Paradise within an exclusive and private atmosphere!
This are the Choices of Occupancy in a PRIVATE APARTMENT.
Month Rental Option is available here only during February and March, October and November. But for other dates i can offer you other properties, some additional fees apply mlike electricity and according to the number of Guest above 1 or acording the number of bedrooms requested.
Option 1A: For 1-2 Guest in ONE Bedroom, 1 king size bed.
Option 2A: For 2 Guest in ONE Bedroom, 2 Fulls size beds.
Option 2B; For 2 Guest in TWO Bedrooms.
Option 3A: For 3 Guest in ONE Bedroom, 1 king size bed + 1 twin bed.
Option 3B: For 3 Guest in ONE Bedroom, 3 Twin size beds.
Option 4 : For 3-4 Guest in TWO Bedrooms, 4 Full size beds
Option 5: For 8 guest in TWO bedroom with 4 full size beds.
Option 6: For more than 8 Guest till 14 guest you can ask for renting TWO Apartments of WO bedrooms each in Two nearby Condos.
Ask for Final Rate and availabilty before booking. Instant booking is posible as well, how ever i appreciate for a better service if you can book with at list 24 hrs in advance, please.
READ MY 110 REVIEWS, I STAND OUT FOR:
1*Enjoyable Sunset & Sea View from the Jacuzzi and swimming pool at the garden roof terrace with bed chairs, dinning room and living room up there for experience a nice outdoors living!
2**Great Design & Safe Life Style Condo: Trendy Luxury New Condo with Two bedrooms, Living room, dinning room fully equipped kitchen, private balconies & relaxing fountain view. Securty 24/7 , Safe in Room LapTop size, Personalized Electronic Access Code per reservation, Safest Condo to live in all the City.
3***Prime Location: 4 blocks from the sea & Beach Clubs.
3 Blocks to 5th Avenue Shops and all the night life,
2 Blocks to transport to excusions, Services, Bank, Laundry Services, Stylist, Gym, Post, Hospital, Pharmacy, Main Plaza & Free Public events.
1 Blocks to Restaurants, Big Super Market & 24/7 Convenient shop and much more.
4****Cleanness and Excellent amenities, From your arrival and trough your stay, Enjoy all our welcome amenities, try the luxury Sleep at our Clean soft hypoallergenic bed linnens, fresh quality pillows and a full set of cotton towells per guest,
5***** Personalize attention from Host, I am happy to attend you directly as my Guest.

INCLUDED IN YOUR RESERVATION YOU WILL ENJOY OF COMPLIMENTARY:
*Access to our relaxing Roof terrace with Sun beds and umbrella at the dinning room with Seasonal discounts.
*Personalize Access Code per Reservation.
*Safe, Lap top size for your valuables
*High end contruction apartment and fittings such as Marbel Floors & High Ceilings
*Fully furnished & totally equipped apartment
*Refrigerated A/C throughout in all the apartment plus ceiling fans in every bedroom.
*Quality carpentry fittings in Furniture and Closets with plenty of hangers
*Fully equipped kitchen with welcome amenities.
*All purify drinkable water you need during your stay.
*Gas Cook top with electrical switch to turn on
*Thick crystal windows ( reduce sound from outside) for more level of rest and quietness.
*You can choose the size and number of beds from our options.
*Baby crib and toddler's bed, carry on, Toys, on premise included on rate.
*All Windows with Mosquito nets.
*Huge Foor to Ceiling Mirror in Main Bedroom
*Two Full Bathrroms with welcome amenities and Hot Water 24/7
*Two bicycles for your use *100 usd per bicycle as Deposit is required.
*Intercom
*USB extra ipod/iphone charger
*Roof-top Terrace with Swimming Pool and Jacuzzi, note the jacuzzi has no preheated water but jets are working perfectly.
*Unlimited exclusive dediated to guest FREE High Speed Wi-Fi
*Flat Tv Screen with full HBO program Cable TV and bilingual programs
*Other welcome amenities to make your trip more enjoyable.
*Concierge services 24/7 to help you to dont stress and enjoy your holidays with transport at the gate of the House!
*1 free safe parking spot in front of property plus a safe private parking inside the building.
ADDITIONAL COST:
-Shuttle from Airport to home requires an additional cost , ask when booking with promotions during the year.
-Breakfast service at your door has an additional cost of $6 usd per day per guest. Not included tip.
-Breakfast at the Beach has an additional cost of 190 mx pesos per day per guest, not inlcuded tip-
Come to Experience to live in a Sophisticated life style while you enjoy your holidays!
With kind regards, Feel yourself very Welcome to inquire and to be my Guest.
Cheryl and Friends =)
房客使用权限
When you Book You also can have access to a Common areas such as fully equipped kitchen, living room, dinning room, balcony, roof terrace, pool, Jacuzzi and including near by 8 beach club facilities n the area :)
We can arrenge Beakfast at your door or breakfast passes at the Beach Club, Night Clubs, Restaurant reservatons, Nature and Park Tours, Yatch excursions, Special events, Photography Sessions and Gym passes as well other activities too.
与房客的互动
I CAN ALSO HELP YOU TO ORGANIZE FROM YOUR DETAIL DAY TOURS WITH THE BEST LOCAL ADVISES TO YOUR SHUTTLE FROM AIRPORT AND OTHER PARTY SERVICES THAT YOU MAY REQUIERE.
其他注意事项
THE RATE SHOWN ARE PER PERSON . ADDITONAL FEES APPLY SUCH AS AIRBNB FEES, DEPOSIT AGAINST DAMAGE GOODS, EXTRA CLEANING FEES, ETC.
THAT IS THE STARTING RATE PER 1 PERSON PER NIGHT IN A ONE BEDROOM PARATMENT BUT IF YOU WISH TO HAVE ACCESSS TO THE SECOND BEDROOM THEN THERE IS EXTRA FEES .
---
---
---
---
---
---
Playa Del Carmen is a multicultural city and we look forward to hosting all peoples of the world. We love the opportunity to learn about each of our guests' backgrounds and show respect to all.
Welcome to Playa Del Carmen
This are my home rules to makes your stay in this apartment more easy and comfortable as visitor to this place.
• GUEST OCCUPANCY:
When you chose for a One Private Bedroom Option this means you will be sharing common areas such as kitchen and living areas (dinning room and living room ).
Private areas are only Your own bedroom and your bathroom.
If you want to keep the entire apartment in a private way theris an extra fee per night is charged.
The price is per one Guest and minimun ocupancy for private apartment is the price per two guest.
Only registered guests are allowed inside the apartment and on the property.
The initial capacity of this apartment is for 1 adult, but apartment can host in two different bedrooms 9 guest in total.
Any extra persons sleeping, using and living at the apartment outside the agreement of the original reservation via Airbnb will cause a fee of minimum 85 usdlls per night per person.
There is a "No Pets" & "No smoking" policy in the building and this cannot be relaxed. So bringing pets from outside is not allowed and will be cause of ending the reservation.
•NOISE:
At common areas like halls, parking garage, patios, pool , corridors and terraces, please avoid to raise up your voice or shout loudly, speak softly. specially if you comeback from party in the middle of the night or early morning.
Please do not talk to someone from one floor to the other as this can be disturbing for all residents in the Condo and we like to keep a very calm and peaceful polite environment away from the noises and disturbing tourist areas.
•SMOKING:
This is NOT allowed inside. Please be respectful by smoking at the terrace and close the door, so the smoke odor don't get in, or visit our roof terrace which is perfect for this purpose as well, make sure to dispose your ashes properly and make sure its in a safe way.
•FURNITURE:
We request that you do not change the position of it, or sit with wet clothes in any furniture or beds in the house or do not put your feet on furniture, couches or other apartment surfaces not intended for feet!
You agree to pay a fine starting from 350 usd to up for any damaged made on the fabrics of furniture at the living room, chairs and any other upholstered items inside the apartment that present damages for misuse during your stay.
Wet Cloths & Towels - The apartment have a private small area were you can hang your cloths to be dry in you prvate balcony, We have provided enough hangers at home and a "mobile cloths rail" at the balcony for this purpose. Remind to not use the building balcony aluminium hand rails or windows frames or furniture or beds for this purpose.
Any left wet towels should not be placed in the furniture, chairs or floors or inside the closets, its best leave them in the towel hangers at each bathroom.
During your stay if you need professional laundry services are available at just one block away from the house. consider that Guest are responsible for taking care of its own laundry.
The Silvana Laundry at Av. 20 Norte and calle 10 Norte, they deliver a excellent service of 3 kilos minimum of cloths for only 45 pesos, about 2 usd!!!, includes on it the washing of your cloths, softener, dry them and the proper folding of your cloths in a few hours the same day if you deliver them before 10 am.
Please respect the rights of other future guest by caring about when you are using tanning lotions, sunblock creams or bugs repellent by being appropriately dressed inside the apartment. This also keeps the couches and bedding much cleaner for all guests.
•HOUSE KEEPING:
After three days for short stays we change the towels and the linen in your bedroom. Please don't pile them in a bulk, DO NOT put towels on the floor at all or use them to cleaning purposes for the floor or any other surfases, be conscious that the same towels will be wash and reuse during your entire stay. Just leave hanged all exactly how you find them in the towel hangers of the bathroom.
The cleaning service takes around 4 hours to be done, so we request your cooperation to do this job at our standards properly by leaving alone the apartment and tiden up your personal belongings in the bedrooms. So let us know in advance your agenda so we can organize well and have the time to do so more conveniently the cleaning for all.
Keeping a tide apartment and any Short cleaning is responsibility of the Guest during their stay, so we aim for your cooperation an understanding, respecting our home and keeping it tidy for your own comfort until we can during reasonable daylight hours.
For monthly stays we offer you to contract an outside cleaning service on your own since the month rate don't include any cleaning service at all, only the welcome cleaning is included in your montly rate.
In all reservation types the apartment will be stocked with initial bathroom amenities, paper towels, napkins, kitchen basics ( condiments, oil, dressings) toilet paper and basic cleaning supplies prior to arrival. Guests are fully responsible for all their household and personal supplies. None food or groceries is included in your reservation, but we have ready some welcome amenities for your arrival, such as coffee, tee station, chips, fresh drinks, plenty of purify drinking water, salt, sugar, pepper and tons of condiments that you may need for preparing anything you want to try.
If you need it, we can assist you to make for you, your first groceries upon advance payment, especially if you arrive late.
You agree to pay a fine starting from 100 usd for any items broken such as glasses and plates, damage towels, damaged sheets, damaged duvets, pillow cases, but not limited to this only, every item included in the house, since every item should be in perfect condition as you receive them at check in as a common polite thing to do as a responsible guest.
Damages and theft will be reported in your profile and directly to AIRBNB, claiming a resolution from them as state in our Host policy protection and you agree to pay fully the cost of replacement of this items before your departure.
•ROOF TERRACE:
The roof terrace and pool is a shared public space, even when almost nobody is there, so please respect the rights of others when enjoying the use of this common area by readings and caring of these "roof terrace rules", They are clearly displayed at the entrance to the pool area.
Also be aware that is very important that you use the elevator with non-dripping cloths each time you entry, please help us to keep a spotless condo by when you comeback from the beach/ the pool.
At the pool areas before leaving please leave all as you find it, taking with you any cans, chips bags, return at home all plastic cups, plates or any item you use up there leaving the area clean and clear for other residents, so any guest and resident will enjoy this area as you did.
As we mention before Pool and apartment are only for registered guest, so if you plan to make a party or something that involves outsiders, this need to be acknowledged an submitted to the Condominium board before your arrival, if this is happening without notice to the Condominium board, they are entitled and have the right to prevent it to happen by any means.
At night when leaving the pool area and unless none is there too turn off the lights.
• ELECTRICITY CHARGES:
Help us keep maintain our affordable rates: Water and electricity are the two most valuable and expensive commodities in town. Save water and electricity and be environmentally friendly, by turning off the air-conditioning and the lights when you are not using the bathrooms ( Air extraction and lights), the bedrooms, the living room Fan and lights, and dining room lights, the kitchen lights, and and when absent from the apartment as ANY person would do while go away to work or for other reasons, here is exactly the same.
When you open windows and sliding doors, please turn off the air-conditioning due all the new air is hot and will be missing. If you want to come back to a fresh apartment, very keep doors and windows close. It will stay fresh for the whole day!
So before locking the door when leaving don't forget this 3 important things :
1-TURN OFF everything when leaving the apartment, you always can turn it on when you will be back!
2-YOUR WALLATE because you may need it and my phone written in.
3-THE KEYS because it may take time before I can come to help you, none else hold duplicates of keys of my home.
When check in a reading for the electricity measurement will be done in your presence and at the end of your stay, with this we will obtain from the Mexican authorities an official calculation of the cost. DON'T WORRY a responsible use of Air-conditioning for our apartment may apply a state fee of around 100 usd as Total for one week stay!
For long term monthly rental You agree to pay the difference from the included 100 kilowatts per month, any kilowatt above that have a charge of 4 mx pesos plus taxes. This rate is non negotiable for month rentals, a reading of meter will be done at your arrival and a close account will be made at your departure.
•SAFETY :
Access to the property is by personalized CODE, this will be given in Person at check in of each reservation and this will be valid only until the midday of the day you have to check out. This access code is private and should not be shared with nobody in town, residents or tourist, this is to ensure the safety of all residents and Guest and everyone's belongings.
It's very important to send your flight itinerary within a week prior to arrival to organize our agendas and be ready for your check in. Check in has to be at after 3 Pm due we have also check out the same day so we need enough time to receive you properly.
If anyone ask you how much d you pay for staying at our Apartment please not give any information, just answer you don't know because you are staying at your friends place.
If any stranger ask you for our personal data, names, profession or any contact information, unless is your real friends, refer them to Airbnb, please keep our information confidential, is very important to us to make sure we will be fine after you leave. Some people will infer that this a exclusive complex and that involves having certain means to get it, no matter how hard this might be for us, so we all make safety and our safety is also in your hands as well , We will not share any information about you at all with none, so please make wise use of our information by sharing it only to your close friends and trust network of acquaintances by referring them via Airbnb only.
About your shoes in case you aim for walking bare feet we suggest you to leave all your shoes INSIDE the apartment.
There is a gas stove, so please make sure all is off before starting to use it and also while end up using it.
For warming water and most of visitor make a smart use of the microwave for this simple purpose, be aware of the basic safety recommendations when handling this equipment, like not putting metal base containers, tetra packs. Also some of our plastics containers are not intend for Microwave, so check the symbols of it on the bottom.
Please be aware to use the kitchen tools and knifes with precaution, they can sharp, and for this always use the green crystal cutting board provided for this purpose, Citrus, Lemon and Onions may stain the Granite and create a lasting damage on the stone.
Always keep the mosquito nets close so you can enjoy of the fresh wind without being bothered by bugs, bees and mosquito bites.
Safety at Party - Never walk alone in other routes than where the tourist walk, don't share your financial situation with estrangers, don't give exact address of where do you live or with who, don't let yourself be companion by strangers back home, always make appointments only in public places, don't go to illegal raves or private party's specially if this ones will be at a home, and of course more if is someone you really don't know for long, make sure you are not alone if you go to those places when arriving and when leaving, don't drink more than what you are used to do: I promise you, fun and party will be there tomorrow again ;) . Don't fall sleep at the streets, don't pee at street or walk with beers, If a problem happens around you just stay away of it, in this cases police will be happy to fine you or even make you spend night at jail plus a minimum 150 usdlls fine, don't ever let yourself be involve with anyone related to drugs or prostitution, It's a federal offence and police might know this before you know it and get you in big problems. If you get lost and you can't reach me by phone please ask advise to locals: prefer shop owners, lady's or families.
Always bring my phone number, any local could assist you in case of an emergency and i will provide f or you any information or whatever is necessary to help you. Also if you have some doubts, questions or you just like to find how to get to a place, always use the Airbnb messaging tool, I will receive it immediately in my mobile no mather if I don't have internet. I will contact you back with the best information.
For your tranquility our home is located in the safest area in town!
• RENTING ONE SINGLE BEDROOM
If you choose for the option of shared apartment, this means you have rented One Master Suite Bedroom with private end suite bathroom, then the same rules an recommendations apply to you, either you are a couple, a single traveler o friends traveling together. In this case you must be aware that we will share the kitchen and living room, but don't worry normally I am too busy working , and I will be polite enough to give you plenty of freedom an privacy to enjoy the apartment as well.
•OTHER :
IF YOU CHOOSE FOR OUR BED AND BREAKFAST, THIS HAS AN EXTRA COST AND IS SERVED IN TWO DIFERENT LOCATIONS , ONE NEAR BY THE HOUSE AND THE SECOND AT A NEAR BY BEACH CLUB. FROM 8 AM TILL 12 PM DAILY.
Lost keys will be replaced at your expense with a minimum charge of $150 USD. This is not negotiable.
You agree to pay prior departure for any damaged caused in the property, outdoors and indoors, not limited to the permanent items such as doors, walls or floors, windows, including linens, towels, pillows, duvets, every decorative item, house accesories in all the apartment, tvs, fridge, stove, oven, fans, air condition units, furniture, all kitchen appliancess cooking pans, stoneware, cuterly and every item damaged in the public areas of the building. Also you agree to pay for Lost remote control for garage = U$ 150. This is also not negotiable.
You agree to pay fully the cost of any brokrn , missing or damage of any equipment or home accessory and furniture will be charged immediately and notify to the Airbnb resolution center.
Tips in this town have their rules, the percentage starts for a normal service from 10% of the total bill, GIVING TIP IS OPTIONAL even when its written as part of your total, you always can point you just want to pay the bill an give the tip direct to the waiter, he will be happier due normally if you pay it charged to your cards at the total bill, this might not end up going to the waiter. Also none can force you to tip, as this is still your right to recognize a good service.
Beach clubs may charge nothing if you like to enjoy also a drink at their places. However first line of beach line is free landing! If you want to bring your own drinks and food, don't forget to be environmental friendly.
In case you are really bored, two big cinemas are in town, Any taxi can take you for about 50 pesos, Wednesday is the day everyone got a 50% discount in booth ( 35 pesos) Movies are exactly the same in the US check the Subtitled versions with original sound.
In Playa are about 4 big malls besides the touristic 5th Avenue, Two relaxed beaches, one near and one a by taxy, Some well worth it beach clubs to be, And lot of my recommendations are places for locals but also have my list of romantic, fun, or fancy places to dine and go out, we have visit lots of them as customers.
For excursions and activities, all depends what do you like and we gladly can discuss it when you arrive.
Any other special request we can emailed before your arrival so all will be set on time!
THANK YOU FOR READING!
Because we care, this House manual may look very extensive but all has come up by a reason and basically is to ensure your safety and peace in your holidays by blending into our community.
We have experience of hosting more than 600 travelers from all over the world. So each individual is different, however this is Mexico: a new environment for you, a Mexican society, a city that has the same issues every time.
Where we want you to have a wonderful experience with all our local knowledge, you are more than welcome!
Best Regards, Cheryl L. Dennler

Estas son las normas de la Ocupación del apartamento que esta solicitando pata su estancia.
Estas normas tienen la exclusiva finalidad de garantizar su seguridad y armoniosa estancia durante su estancia y son vigentes desde el check in hasta el check out de la propiedad y aplican a todos los huéspedes registrados en la reserva original de Airbnb.
Confianos en que gracias a ellas usted gozara de una excelente y segura estancia al cuidar de los suyos apropiadamente y mantener este departamento en las mismas condiciones en que lo recibió.
Se dará un check list de todo el contenido del apartamento, en caso de faltar algún articulo mencionarlo inmediato al encargado para que no sea cargado a su cuenta como un faltante o daño.
Se espera respeto, cortesía y los buenos modales tal como se ofrece a los invitados en todo momento de su estancia. No se permiten mascotas, No esta permitido fumar dentro del apartamento o en sus zonas comunes.
Por favor, si Usted fuma hagalo en las áreas designadas para este fin y deje las ventanas cerradas ya que el olor a humo puede meterse en la casa y dejarla oliendo por dias y eso no es grato para mi o mis futuros huespedes, Gracias por ser responsable, consciente, limpio y considerado para mantener la casa limpia y en su mejor estado durante sus vacaciones tal y como se le dio deberán entregarla exactamente igual al check out.
Usted acepta que pagara por cualquier daño causado a muebles, al eduficio, carinterias, ropa de cama y toallas y cualquier equipo electrodoméstico, electronico, digital y decorativo o funcional en caso de ser dañado, roto, perdido o deteriorado durante su estancia.
Ademas se Contaran el
Numero de artículos entregados y se checara el estado de los muebles, Se contaran: toallas, cristaleria, plaque, articulos de cocina y accesorios etc, todos los objetos y utencilios entregados al check in verificando que se encuentren funcionando, completos y en perfecto estado. La reclamacion de los daños se hara por medio de Airbnb y se registrara en su perfil de ser necesario cualquier mal comportamiento, ivonducta irresponsable, antisocial o descuidada.
Realmente aprecio mucho su buena educaciòn y esfuerzo por ser gentil y amable con los residentes y personal de servicio.
Asi como ser Honesto y Responsable si ha cometido una falta involuntaria.
No se permiten conductas escandalosas, contratación de servicios de escort o realizar actividades ilícitas de manera enunciativa mas no limitativa a realizar apuestas, actividades de consumo de estupefacientes, sustancias prohibidas que contravengan una o cualquier reglamentación federal, estatal, municipal y local.
Poner la musica muy alta en areas comunes o dentro del departamento fuera del horario establecido. Las reuniones si es permitido siempre y cuando no disturben la paz de los residentes o no pongan en riesgo y o peligro la vida e integridad física de huespedes o residentes,
No observar estas normas conllevara a una cancelacion anticipada. La falta de responsabilidad y comprometer la seguridad propia y la de los residentes se considera falta grave, Asi como tener conductas agresivas o violentas en estados de ebriedad o bajo influecia de substancias prohibidas y cualquier acto que deliberadamente rompa las reglas de la casa, las reglas de convivencia y de seguridad durante su reserva.
MUY IMPORTANTE este reglamento aplica a todos los invitados y el Huesped que contrata en su nombre acepta las condiciones del mismo.
El huesped que contrata queda como responsable absoluto de la seguridad e integridad física de todo su grupo ante las autoridades, deslindando a el propietario de los imbuebles, administracion del condominio y a Airbnb de cualquier posible disputa o querella que quisiera entablar en su contra en caso de incurrir en violaciones a la presente normativa, sin dejar de lado que como consecuencia a sus faltas en las que incurran de forma individual o como grupo deberan de desalojar las instalaciones inmediatamente del suceso y sin reembolso de las siguientes noches no usadas e incluso enfrentar cargos por cualquier daño material ocacionado y o destrozos a propiedad privada y enfrentar la intervencion de la fuerza publica si asi se considera necesario para reforzar la salida de la propiedad.
Incluido es una falta el caso de sospecha de presencia y uso de substancias ilegales dentro de las propiedades y/o cualquier daño material a los articulos, muebles y todos los accesorios y enseres dentro del departamento y Areas publicas del Condominio para lo cual debera cubrir integramente el Valor de lo dañado para conservar la reserva.
Por lo que esperamos el mejor de sus comportamientos y de sus invitados para disfrutar de una feliz estancia.
En estancias mayores a 1 semana se incluyen 100 kilowatts en la renta como máximo , el costo de kilowat adicinal sera de 4 pesos mexicanos mas iva . Pagaderos el dia de la salida o se descontara contra deposito.
Bienvenido a casa,
Saludos cordiales,
Cheryl L. Dennler
---
严格
旅程开始前的7天之前取消预订可以获得50%的退款。如果在旅程开始前7天内取消预订,该预订将不可退款。
---
---
---
Hello, Im Cheryl from C & J PROPERTIES,


Nice to meet you in Airbnb, its our pleasure to be your future Host.

We are in Riviera Maya already many years ago , Profesional Rental Property Management in the Riviera Maya with a speciality in Luxury Properties.

Feel welcome to enjoy of a special attention in an exclusive enviroment in all our properties.

We love to Host and welcome all Airbnb Guest, help them with our best tips & all info to enjoy a wonderful experience while you are on hollidays or business trips.

We often try all the new Restaurants/Bars/Cafes and only keep the best ones fo recommend to our Guest.

Feel yourself welcome, ready to enjoy of a safe enviroment when book any of our properties. we have an envy location an nice welcome amenities, explore a relax life style, with our Mexican Twist and create your best holiday experience!

Come and enjoy any of clean beautiful Homes with all the privacy and independence that you want, just a few steps from Sea (4 block = 400m) and close to all the Vibrant life & all action in 5th Avenue and the Party Clubs and all the beach Clubs, None car is needed.

Also perfectly located to go to enjoy the nearby natural attractions, Hassle free during your day trips and its always so easy to come back home.

Save any of our homes in your favorite Wish Lists by click the heart, so you can find us easy in the future to enjoy an amount of amenities you will just Love during your Stay.

Get access to our special offers for repetitive Guest and Millennials.

We look forward to meet you, feel yourself warmly and happy Welcome in Riviera Maya!

Looking forward to Welcome you!
Mi Casa es Tu Casa !

Kind Regards,
Cheryl & friends
语言:
English、Español、Français、Italiano、Nederlands