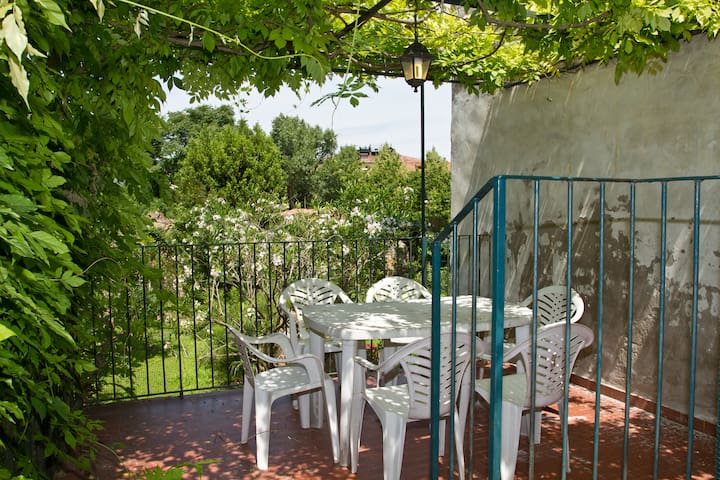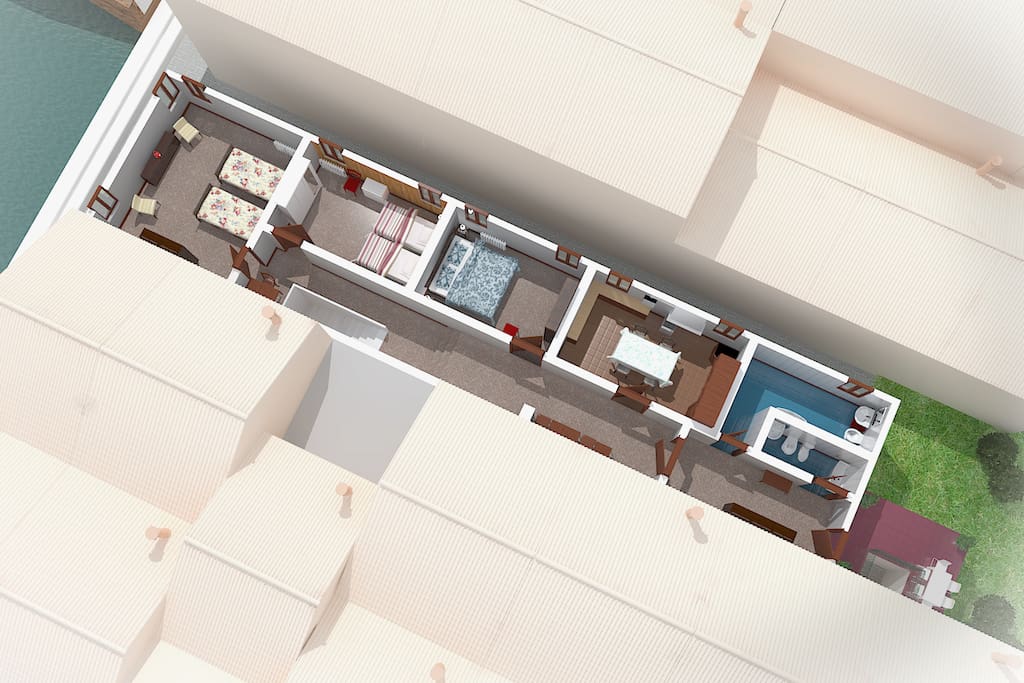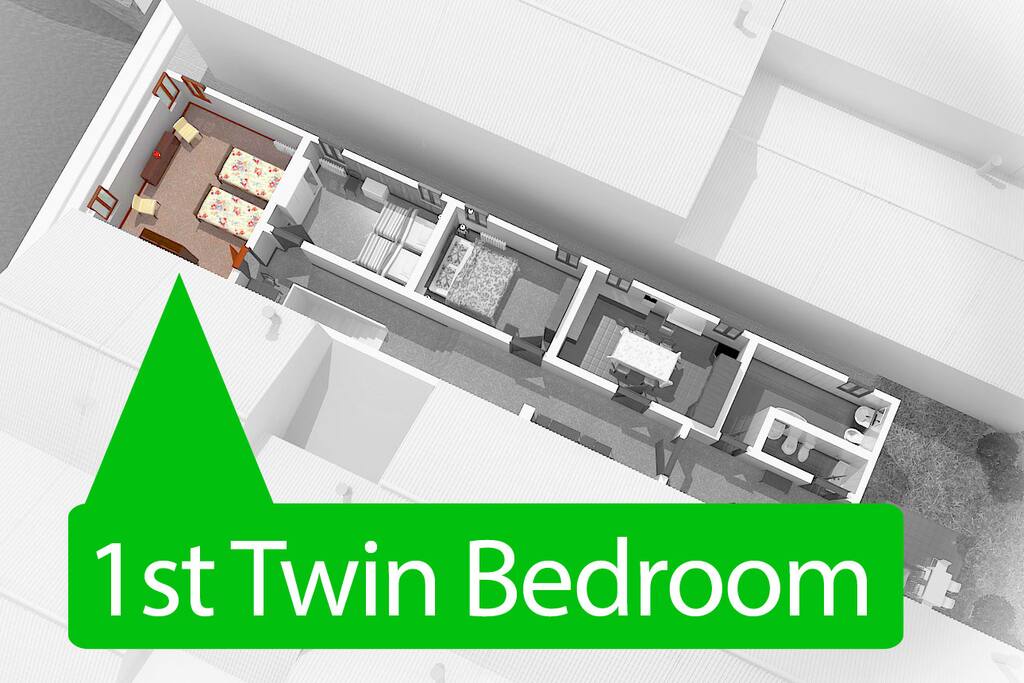 Very comfortable and spacious three bedrooms apartment with terrace.
房源
公寓在一楼,有很多自然光线。装饰简单,配有木制家具。两间浴室舒适,空间分明。第一间双床卧室的窗户俯瞰着运河,叫做里约热内卢卡米尼。在公寓的对面,设有一个俯瞰花园的美丽露台。 入口处在一楼,那里有通往公寓的楼梯。 理想的一群朋友。
The apartment is on the first floor and there's a lot of natural light. The decor is simple with wooden furniture. The two bathrooms are comfortable and the spaces are well divided. The windows of the first twin bedroom overlooks on a Canal called Rio dei Carmini. In the opposite side of the apartment there's a beautiful terrace overlooking a garden.
The entrance is on the ground floor, where there is a stair leading to the apartment.
Ideal for group of friends.
房客使用权限
厨房 宽敞且设备齐全的厨房设有两个窗户。 浴室 两间浴室。第一个有一个浴缸和两个窗户。第二是小,没有窗户,没有浴缸/淋浴。 卧室 三个卧室与窗户。一间是一间双人卧室。另外两个是双卧室。 空调 所有三间卧室的空调。 BED尺寸 这些是床垫的确切尺寸: 2张单人床:190x90厘米 2张单人床:200x90厘米 1张双人床:200x160厘米 尺寸 平方米:150 平方英尺:1614 卧室 衣柜 床头柜 镜子 厨房 冰箱冰柜 水槽 水壶 燃气炉 煤气灶 炊具:锅,平底锅,餐具 莫卡锅 烤面包机 饮用自来水 浴室 浴缸 厕所 坐浴盆 窗口 两间浴室 镜子 吹风机 化妆品 清洁工具 洗衣机 扫帚 拖把 桶 海绵 碎布 吸尘器 晾衣架 其他 第一层 所有卧室都配有空调 单独加热 美丽的街道,法院,建筑和运河的景色 安静 很多自然光 良好的隐私 阳台 铁和铁板 两个钥匙组 非常适合儿童 好的老客人 不适合残疾人士使用 允许外面吸烟(阳台,法院等) 检查和检查 入住时间:14 退房时间:11 提前入住是免费的,可应要求提供。这是否取决于当天到达的情况。请问。 延迟入住(19:30之后):50欧元
KITCHEN
Spacious and well furnished kitchen with two windows.
BATHROOMS
Two bathrooms. The first has a bathtub and two windows. The second is little, has no windows and no bathtub/shower.
BEDROOMS
Three Bedrooms with windows. One is a double bedroom. The other two are twin bedrooms.
AIR CONDITION
Air conditioning in all the three bedrooms.
BED SIZES
These are the exact sizes of the mattresses:
2 single beds: 190x90 cm
2 single beds: 200x90 cm
1 double bed: 200x160 cm
SIZE
square metres: 150
square feet: 1614
BEDROOM
Wardrobe
Bedside table
Mirror
KITCHEN
Fridge with freezer
Sink
Kettle
Gas Oven
Gas stove
Cookware: Pots, Pans, Cutlery
Moka pot
Toaster
Potable Tap water
BATHROOM
Bathtub
Toilet
Bidet
Window
Two Bathrooms
Mirror
Hairdryer
Toiletries
CLEANING TOOLS
Washing machine
Broom
Mop
Bucket
Sponge
Rags
Vacuum cleaner
Drying rack
OTHER
First floor
Air conditioning in all bedrooms
Individual heating
Beautiful view over the street, court, building and canal
Quiet
A lot of natural light
Good privacy
Terrace
Iron and Iron board
Two Key sets
Great for children
Ok for elderly guests
Not suitable for people with disabilities
Smoking allowed outside (balcony, court etc...)
CHECK-IN AND CHECK-OUT
Check-in time: 14
Check-out time: 11
Early check-in is free and possible on request. It depends if there are arrivals the same day. Please ask.
Late Check-in (after 19:30): € 50
其他注意事项
入住期间清洁:应要求(价格要求) 抵达时的床单和毛巾:包括(免费) 床单和毛巾更换:应要求(价格要求) 水,煤气,电力,暖气:包括(免费) 宠物(猫,狗等):不允许 儿童床:应要求(免费) 空调:包含(免费) 互联网:未提供 早餐:未提供 包含增值税 地方税:不到期
Cleaning during stay: On request (Price on request)
Bed linen and towels on arrival: Included (free)
Bed linen and towels change: On request (Price on request)
Water, Gas, Electricity, Heating: Included (free)
Pets (cat, dog, etc.): Not allowed
Child Bed: On request (free)
Air Conditioning: Included (free)
Internet: Not provided
Breakfast: Not provided
VAT: Included
Local Tax: Not due
---
---
---
Check-in time from: 14
Check-out time until: 11
Flexible: Early check-in is free and possible on request. It depends if there are arrivals the same day. Please ask.
Late Check-in (after 19:30): € 50
---
---
---
The apartment is in a very nice part of Venice, outside the tourist track but a short walk from everything. Close to the charming and lively Piazza Santa Margherita which is full of life both during the day and night. It also has a supermarket. The apartment itself is grand, and all the bedrooms are spacious. The real selling point however is the lovely terrace where we enjoyed home made dinners and breakfasts. We found the apartment easily, around a 10 min walk from Piazzale Roma. I can highly recommend this place to anyone who wants a comfortable stay in Venice, whilst not being suffocated by the tourist hoards.
---
Anyone wanting space, and the opportunity to live authentically as a Venetian, should consider Luca's apartment. The first thing that strikes you is how massive it is. From the magnificent front bedroom with three windows looking out over the Santa Margherita canal to the private terrace overlooking gardens to the rear, this apartment adequately allows six people to holiday together without being on top of each other. It was comfortably furnished and had everything this multi-generational family needed. It got the thumbs up from everyone from the teenagers to the grandparents. It is in a great location. A quiet area where you got to experience life as a Venetian but near the busy campo di Santa margherita for restaurants and bars. It's near the S. Basilio waterbus stop and a handy walk to both the bus station and the train station once you get your bearings. A fully equipped kitchen allowed us to eat in one or two evenings and there is a supermarket a few doors down from S. Basilio that has anything you might need. The terrace made the beers and wine at the end of the day all the more enjoyable. There are two bathrooms, a bonus for six people. While we were there the air conditioning broke and a text on a Sunday morning before we went out received a reply a few hours later to say all was fixed. Now that's service. Thank you for a perfect stay.
---
Well, let me tell you the story of how I created Airbnb before Airbnb and managed to stay poor :):

In 2001 I was desperate for online money because I wanted to travel hard.
The previous year I had left my export manager position in Italy and went to Australia in search of exotic places, big spaces and everything else which would satisfy my great thirst for freedom.
After 7 months traveling in a van with old and new friends I was kicked out by the Australian immigration (I was selling websites but I was on a tourist Visa) and ended up in Bangkok, then Bali.

Asia opened a new world of possibilities to me.
It was exactly what I was looking for.
Distant cultures and spectacular landscapes were great but what really excited me were the prices: it was really really really cheap.

I just needed the equivalent of 500 € a month to travel.
With that money I could stay in single rooms and eat out three times a day.

But after a whole year traveling I was almost broke so I took my flight back to Europe determined to do "something online" and travel forever.

I tried a couple of things like buying didgeridoos in Australia and handicrafts in Asia to sell in Europe.
It kind of worked but it became quickly clear that it was hard to manage while traveling.

Then it hit me.

I remembered that when in the '90s I passed through Prague railway station, I was always welcomed by ladies showing pictures of their apartments and offering me to stay there.

I usually did so, and it was always a great deal.

So, one day of March 2001 I took my old Fiat Tipo and, with the equivalent of 2500 € left in my pocket, I went to Prague.
I parked at the station, went in almost elegantly dressed and looked for those ladies.

There they were.
I had prepared my pitch and printed a fake business card with "Italian Travel Agency" or something like that but at the last moment I got the cold feet.

– "What the hell am I doing?", I said to myself, "this is so stupid".
But another voice in my head said:
– "You've got nothing to lose, and if this doesn't work it's the office again".

"No. I want to go back to Bali", I thought, so I forced myself, I went to one lady and said:

– "Hello, I am from an Italian travel agency and we'd like to put your apartments online. We'll send you customers against a commission".

I handed my fake card and proudly displayed my futuristic digital camera with a floppy disk (most people had never seen one yet).
She looked at me and said "ok".

She took me to her apartment and I took some (ugly) pictures.

I repeated the process with two more ladies and in a day I set up my first apartment rentals website.

It hit 's first page pretty quickly and a few days later I had my first customer and my first commission.
It was probably something around 20 € but for the first time I realized that maybe I had found a way to travel forever.

So I went to Budapest, then Krakow, then to work in a hotel in Spain, then Riga, Tallinn, Vilnius, then to work in a hotel in Fuerteventura.

Then, in 2003, I was free.

The business made money and it paid for my tickets, meals and accommodations.
I could not ask for more, only pray that it could last forever.

My life routine became something like this: six months in Asia, two months in Eastern Europe to get more apartments, a month in Italy to see family and friends, six months in South America and so on.

In 2004 I took a whole year off.
I asked my brother to run the business, give me some percent of the earnings and I went for a one year trip with a Round the World ticket.

In 2005 I was in China and hired a pretty basic php developer who, for about 1200 €, developed a site where owners could upload their apartments, communicate directly with customers through a filtered message centre and customers could leave reviews.

If it sounds like Airbnb it's because it is. The only difference is that I never thought of convincing people to share their houses, as in Eastern Europe they had been doing this for decades under socialism in order to get some hard currency from tourists.

The story goes on and it's too long for this article.
The point is that I had a good idea, a clear goal (travel full time) and it worked.

I didn't get rich though.

Airbnb came and did very well what I never managed to do properly.

When I tell this story the first reaction often is "you could have been Airbnb".
Could I? Sometimes I wonder.
But then I realize that I couldn't have because I did not want to.

Even if I had the abilities, focus and determination of the Airbnb guys, which I doubt, my dream was not to grow a successful big business or change the world with the sharing economy.

I wanted to change my world, only.

The amount of sheer happiness, experience, insights and the deep feeling of gratitude I felt for so many years are worth to me today so much that I simply can't regret a minute of it.

So, no, I did not miss a chance.

I made the most of it.

IMPORTANT:
We probably won't meet. I take care of making the reservation process easy and fast. Have you noticed the professional photography, the 3d floor plans and the very fast replies? This is what I do and I'm good at.
Check-in is dealt by other people, sometimes the owner, sometimes an agency, according to the apartment.
So if you are looking for the real Airbnb experience where you meet the real owner of the apartment, you should probably not book with me.
语言:
English、Español、Français、Italiano