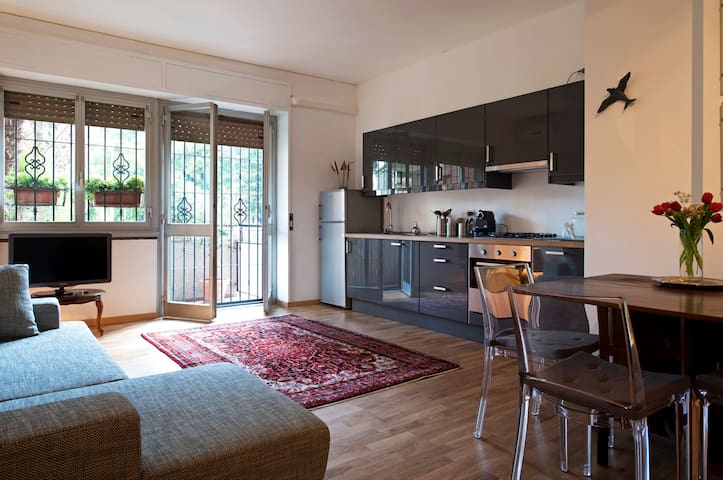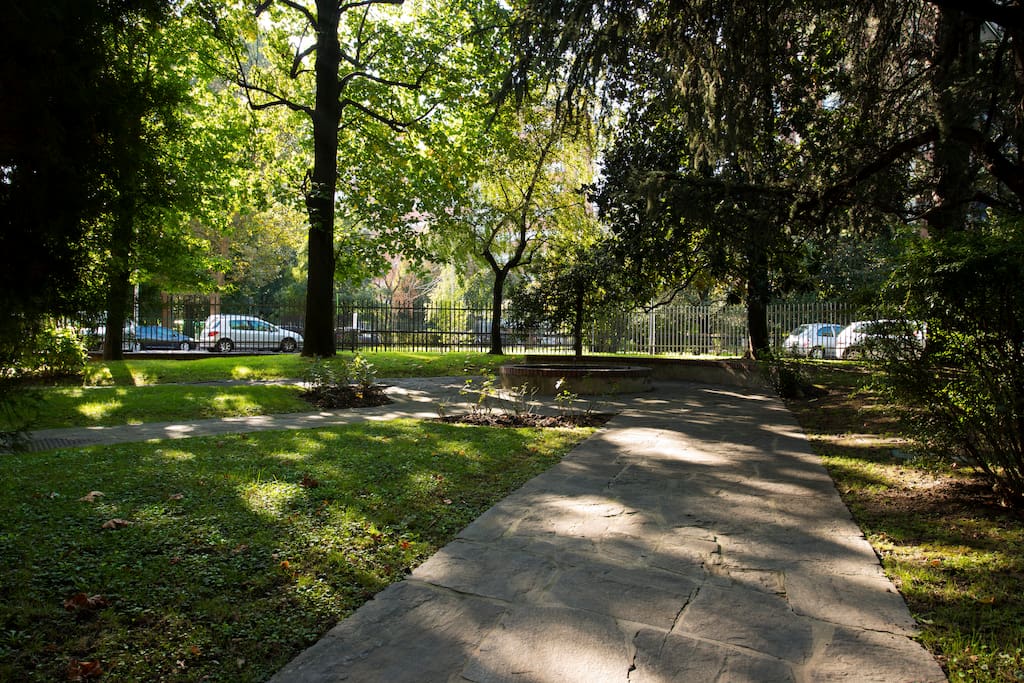 公寓位于米兰最绿色的地区。超市与市中心(10分钟地铁),铁路车站,Fiera市,Mico,Rho Fiera和主要的米兰(URL HIDDEN),并参观米兰! 在墙壁上有特色和有趣的作品!
The apartment is in the most green area in Milan. Super connected with City Center ( 10 minutes by subway), railway Stations, Fiera city, Mico, Rho Fiera, and the main Milan (URL HIDDEN) and see Milan!
At the wall particolar and interesting works!
房源
公寓距离Fiera Milano CIty和会议中心非常近,步行5分钟即可到达Scarampo和Teodorico大门,还有Rho Fiera博览会和市中心:10分钟地下,其实地下停车场QT8只有3分钟的步行路程从公寓。 Yuo将在我的公寓保持非常舒适,因为它是完全可选的,有一个非常高速的wifi,工作得很好。 床间是两个:一个非常大,一张特大号床(在这个房间可以打开另一张单人床和一个愉快的小沙发床非常舒适...)和另一个与大号床。客厅内设有一张双人沙发床。 这间公寓拥有现代和古老的家具,墙壁上很有趣的油漆。 这所房子位于米兰最绿的地方,非常安静,但与城市的其他重要场所有很好的联系。米兰不仅是时尚的中心! Yuo可以参观非常重要的博物馆和古迹,或新加坡的壮观景色。 您也可以从Cadorna车站乘坐四十分钟的火车,到达美丽的意大利科莫湖,马焦雷和加尔达湖。如果你喜欢购物,你可以乘坐巴士从卡斯特罗广场(Cairoli)到城市购物:Vicolungo和Fidenza Village,距离米兰只有一个小时。在米兰各地,也在城市的中心,你可以进入最好的品牌渠道!我会给你的地址... 来看看在米兰逗留多好啊!
The flat is very near to Fiera Milano CIty and Congress Centre, 5 minutes walking to Scarampo and Teodorico gates, and also to Expo Rho Fiera and to the city center: 10 minutes by underground, in fact, underground stop QT8 is just 3 minutes walking from the flat.
Yuo will stay very comfortable in my flat, because it's full optional and there is a very high speed wifi that works very well.
The bed rooms are two: one very large, with a king bed (and in this room is possible to open another single bed and a delightful small sofa bed very comfortable...) and the other with queen bed. In the sitting room there is a double sofa bed.
The flat has furniture modern and ancient, very interesting paints at the walls.
The house is in the greenest place of Milan, very quiet but very well connected with the others important sites of the city. Milan is not only the centre of the fashion! Yuo can visit very important museum and ancient monuments...or the new spectacular skyline Garibaldi area.
You'll can reach also the beautifull Italian lake Como, Maggiore and Garda, just in forty minutes by train, from Cadorna station. And if yuo like shopping you'll can go by bus from Piazza Castello ( underground Cairoli) to the city for shopping: Vicolungo and Fidenza Village, just one hour and alf from Milan. All around Milan, and also in the center of the city, yuo can enter in the best brand outlet ! I'll give yuo the address ...
Come and see how nice is to stay in Milan!
房客使用权限
你到达公寓时,我来找我残疾人士也很容易进入。我有一个库房..如果你需要,检查完成,离开你的行李全天前离开米兰!
You'meet me when arrive to the apartment. It's also very easy to access for disability persons. I have a stock room ..if you need, check out done, to left your luggage during all the day before leave Milano!
与房客的互动
在米兰逗留期间和逗留期间,我和客人保持联系。我总是准备好在他们假期期间的每一个需要。
I stay in contact with my guests before and during their stay in Milan. I'm always ready for every need they may have during their holiday.
其他注意事项
我想你会在我的公寓里保持很舒服!来看看!我将随时准备帮助您,满足您的每一个需要。
I think you'll stay very comfortable in my apartment! Come and see! I 'll be always ready to help you for every need you may have.
---
---
---
---
All the other facilities that you see in the images are included and they are private
---
---
---
My family and I really enjoyed our visit to Milano. This apartment is located in a quiet neighborhood near the QT8 metro. It's only a five minute walk to the QT8 metro stop. Very easy to get to the city attractions and restaurants. For families there is a park near by that has a small playground. Valeria was a great host and provided great advice during our stay.
---
Excellent place to stay, close to train station, good communication by host and was on time to meet us for check-in, home was very clean, neat and welcoming, had pastries, juice, milk and coffee for us for breakfast, felt like home. Would highly recommend staying at Valeria's home.
---
I highly recommend Valeria's place for families with kids. It's very close to the metro line (5 min walk) and is in a quiet area. Great place to get a good night sleep after all the hustle and bustle. Valeria was an amazing host, warm and welcoming. She had stocked the fridge with food which was super helpful. She even had placed a panettone which we enjoyed. The home was clean and well maintained. Linens and cooking pans were also very clean. She had informative brochures in the home for reading. She even helped us get taxi to the train station. Was kind enough to accommodate us even though we came early when we arrived. If you have a family with kids looking for a place to stay. Look no further than this one
---
Valeria was a wonderful host. She met us at the door and gave us an extensive tour of her beautiful apartment, and she checked in with us via email to make sure our stay in Milan was perfect. Her apartment is as it appears in her posting - quiet, spacious, and nicely decorated. She even has a washing machine! Her apartment is one minute from the QT8 subway, and there is ample parking in the area. I would highly recommend anyone visiting Milan to stay with her.
---
This was a gem of an apartment to find in Milan. It was cozy and the beds were very comfortable. It definitely suited our family's needs. Valeria was a sweet hostess and met us at the apartment and helped us acclimate and pointed out the nearest shopping area, etc. She even had wine and treats for us (and a small Christmas gift). We felt very welcomed. I'd definitely recommend this place. The only draw-back that one might want to consider (and for us, it wasn't really a big deal), is that this location is a bit secluded, and would be difficult to walk to most places from. There is a shopping center within walking distance with a park on the way (which our kids enjoyed). However, if you're looking for a place more in the center of things, staying here would prevent that. Just so you know. We loved that it was quiet and we didn't really want to be "in the middle of things," so it was perfect for us. We were able to find parking easily too and had no problems with that. It's a great area to walk around, but we had to drive to restaurants. The apartment was warm and great to do laundry at. It was clean and a quiet location. Everyone we saw in the area was very friendly too. Cute and fun apartment decor too. Stay here when you visit Milan! =)
Thanks lisa for yuor review! Exactly how yuo write...every place in Milan is different ... My apartment is quiet, in a green area, in which yuo can park free....and well connected with center by 10 minutes metro red line ...if yuo want to be in the down (URL HIDDEN) apartment is'nt for yuo...best regards Valeria
---
The flat is very cosy and extra clean. Located in the center of the city and near a metro station. Valeria surprised us by her hospitality. She was so sweet to leave us welcome food and bottle of wine and food for breakfast. I recommend Valeria as a host and her flat to everybody who visits Milan.
---
Nous avons été très très bien reçu. Plein de gentilles attentions pour nous rendre le séjour agréable. L'appartement est très calme, malgré une voie rapide à proximité. On ne l'entend vraiment pas du tout. Je recommande vivement cet appartement.
---
I'm a teacher of Italian literature, but , my rel passion is Psicodramma: so after a four years school, in 2012 , I became a Psicodramma director. I love also every kind of art: paint, music, architecture...I love people and I want to be in good relation with everyone.
I wish that my guests fell in my flat as well as in their home! So I 'm always disponibile for every necessity or problem. I wait for we could meet and yuo could visit my beautifull city! Milan is wonderful!
Valeria
语言:
English、Italiano