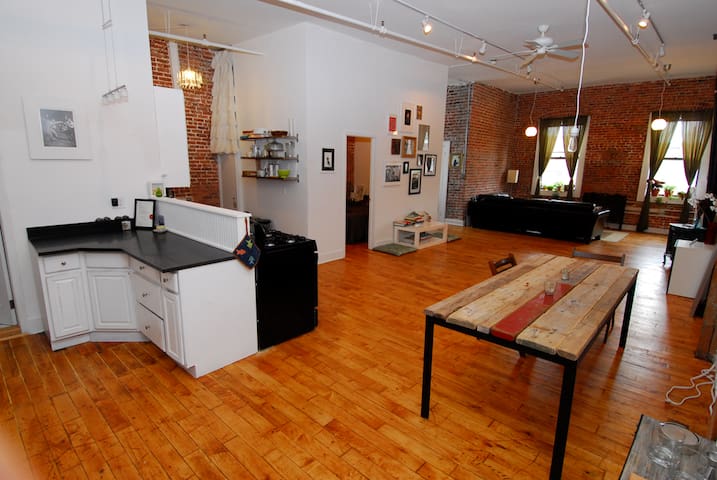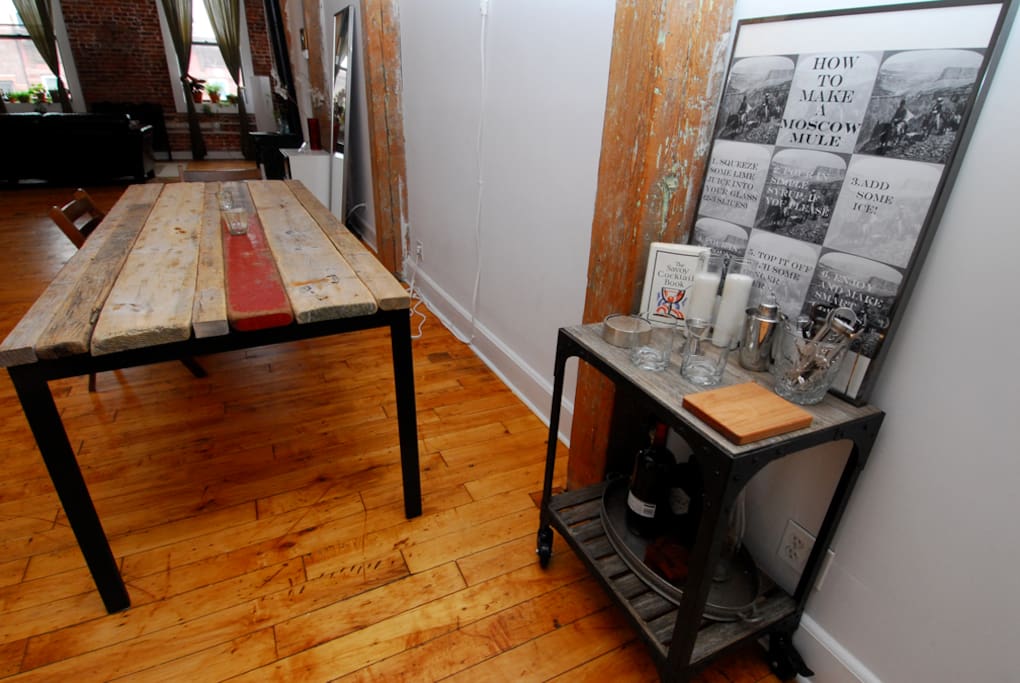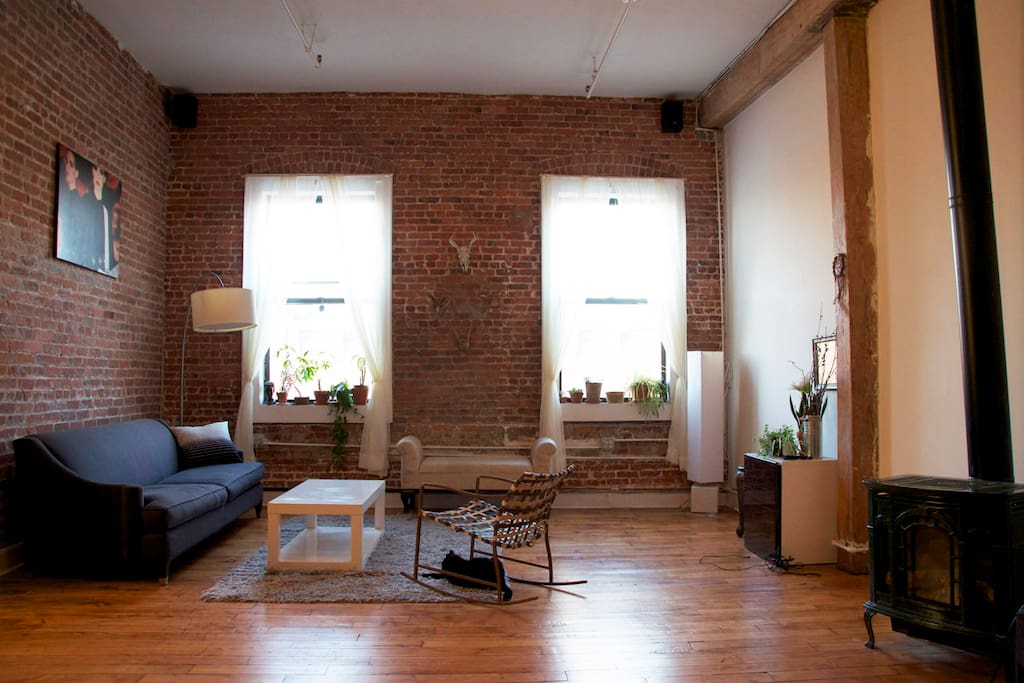 房源
NOTES: Please don't inquire if you're looking to "host a gathering" or stage some kind of shoot.

ALSO: Please do not send us reservation requests before communicating with us directly.

Anyhow!

Your very own loft in Greenpoint, Brooklyn. We go away almost every weekend, hence the availability being mainly those days.

Here's the deal:

- Gorgeous, newly renovated 1,100 sq. foot loft -- perfect for a couple!

- 3 blocks from the Hudson River Ferry, which can take you to Dumbo, South Street Seaport in Manhattan, Midtown, Queens and Governor's Island in a matter of minutes!

- Apartment is not a share, no roommates whatsoever

- It's a 1-bedroom, so you won't be sleeping in the living room

- Extremely safe + secure building, quiet, only a couple apartments per floor

- Brand new bathroom and kitchen (amazing shower + plumbing, dishwasher, stove, etc.)

- A/C in the living room AND bedroom

- You'll have your own office

- Stereo with all your iPod hook-ups ready to go

- Wi-Fi of course

- The loft DOES come with 2 of the greatest cats in the history of Brooklyn. They're domestic short-hairs -- both of us here are deathly allergic to cats and have zero problems living with them (though, we get that it's different for everyone.)

- The building itself is in easily the best section of Greenpoint -- 100ft from the G Train entrance (which takes you directly to midtown Manhattan OR deeper Brooklyn, like Park Slope, Carroll Gardens, etc) -- a highly populated, highly safe neighborhood.

- A tennis ball's throw from the G train which is your gateway to Times Square

- 3 blocks from the East River Ferry, which can take you to the Brooklyn Bridge, Governor's Island, Downtown Manhattan and beyond.

- Out in the neighborhood, there's Papacitos, our favorite outdoor taco joint -- there's Paulie Gee's, the best gourmet pizza in Brooklyn -- there's Five Leaves, which has the craziest/best burger in town -- there's Manhattan Inn (a restaurant) with the best brunch on the planet, accompanied by a live pianist -- this neighborhood has got you covered.

- We're steps away from Franklin Ave, which is the go-to for great bars, wine stores, coffee shops and boutiques -- we'll give you an extensive list of where you need to go once you've booked the place...also, your a 10-minute walk from Williamsburg.

- Upon booking, we'll provide you with a word doc w/literally everything you could ever need to know about the place/neighborhood/transportation.

Live it up!
---
---
Pretty standard:

Don't smash things.

Don't spray cheap champagne all over the ceiling.

Don't kick the cats.

Don't degrade the cats.

Don't set fire to our clothes.

Don't set fire to our books.

Don't set fire to anything, actually.

Don't throw a party (We'll find out.)

Don't steal our things, we work hard for them.

Don't steal our cats, they work hard for us.
---
We loved our stay at Ben and Sarina's loft. Everything was extremely well-organized and thought out in terms of our arrivals/visit/departure and the loft was 100% as advertised. The neighborhood is terrific if you are up for urban hipster experience...gritty, cool, noisy, fun. Loved it and we would highly recommend this loft. there is some significant work being done this fall, we hear, on the nearby subway station, so plan accordingly. Also, if you have lots of luggage be prepared for the stairs leading up to the apartment. Good exercise but not for everyone. Thank you Ben, Sarina , and sweet kitties. We would definitely come back (assuming you'd have us)!
---
Our stay at the loft was awesome -- it truly is a gigantic, cool space right in the heart of Greenpoint. I traveled with three friends and we slept two in the bedroom and two on their big couch. We had a car, which we parked really easily down the street. Ben was super easy to work with and very communicative, and the kittens were a blast to hang out with. If you want an "authentic" Brooklyn experience that is actually probably WAY nicer than half the apartments around you, this is the place to stay! Thanks so much, Ben!
---
I stayed at Ben and Sarina's place at the start of the NYC summer and frankly I couldn't have chosen a more ideal place. The apartment is incredibly spacious, light and easy to keep cool. It is located super close to the L train, so it's a short trip into Manhattan and a short stroll into Williamsburg, but still retains a chill suburban vibe to it. The cats were super relaxed and easy to live with, as were Ben and Sarina to deal with. Big win :)
---
It says "Ben" but it's actually Ben + Sarina, an affable Los Angeles couple who tend to travel quite a bit.

We like our Bill Callahan, our kale, our vodka grapefruit drinks, our adventures throughout CA and above all, we love our kitties (so you best as well if you wanna rent the place!)

As of now we are self-employed Angelenos:

Together we do the following: Edit a magazine, run a skin care line, teach spin classes, sell fine prints, photograph weddings & dreams, events management and lots more.