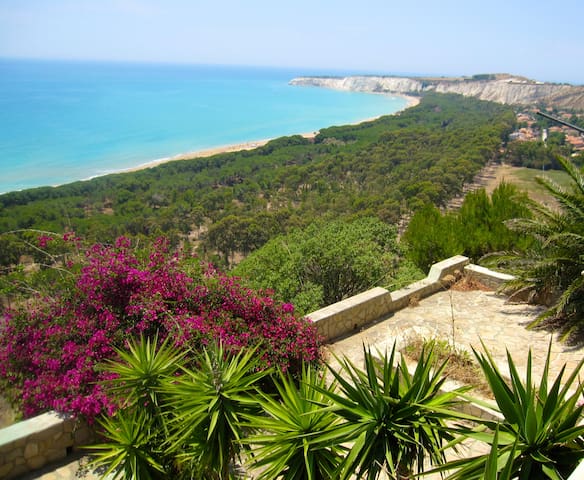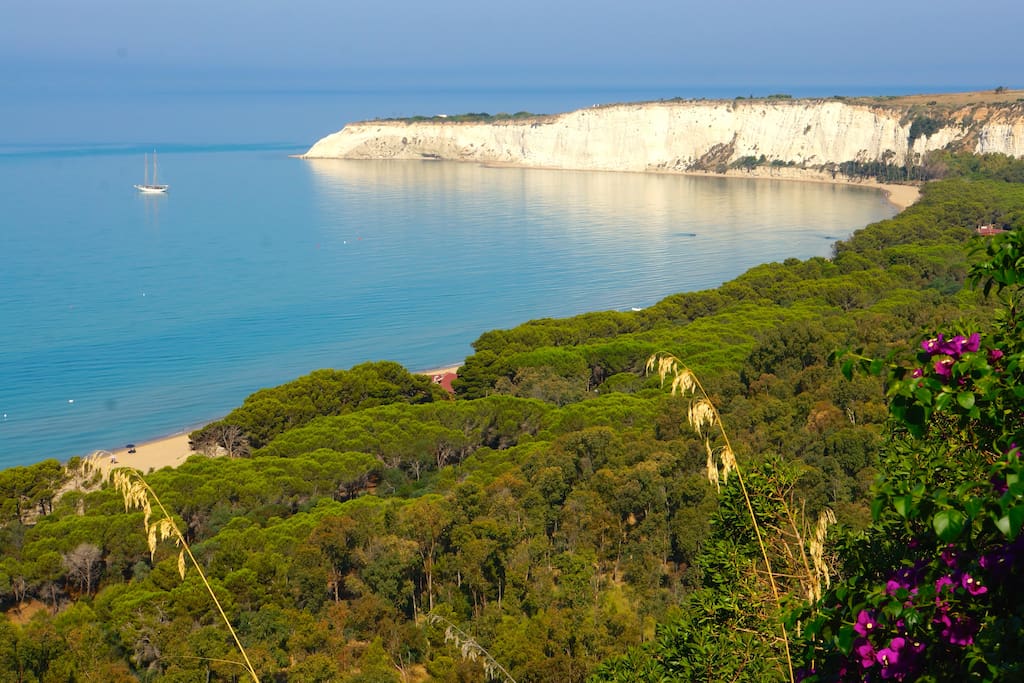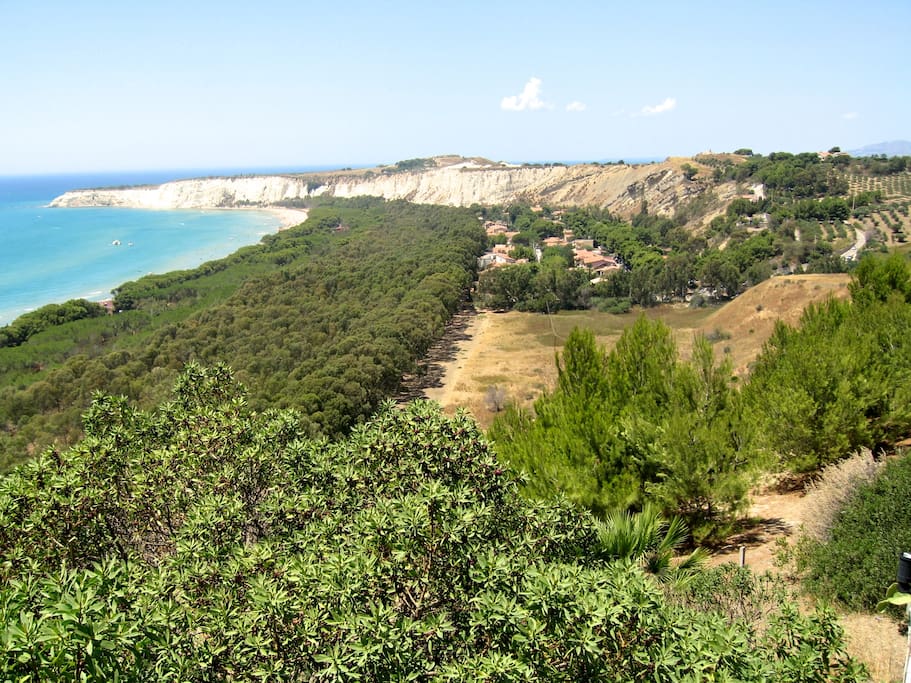 HOUSE with terrace, spectacular view of one of the most beautiful beaches of Sicily.
IDEAL PLACE
to spend a beach holiday in close contact with nature, smells and colors of an uncontaminated Sicilian. Walks on the beach, beautiful sunsets, nature excursions to discover picturesque deserted beaches (Reserve of Torre Salsa and the Platani River), cultural and archaeological routes (temples of Agrigento, of Selinunte) .. eat good fish in front of the sea.
房源
HOLIDAY in SICILY
beautiful sea view of Eraclea Minoa in Agrigento-Sciacca
IDEAL PLACE
to spend a beach holiday in close contact with nature, the smells and colors of a Sicily still untouched, in one of the most beautiful archaeological island. ..... A little corner of Sicily where regenerate body and spirit. Walks on the beach, lovely sunsets, starry sky, the moon shining on the water, natural flavors, natural and historical excursions, discovering deserted beaches by picturesque scenery (Reserve of Torre Salsa, Reserve River Platani), archaeological and cultural itineraries ( the Greek city of Heraclea Minoa,) ... and not least eating fish in front of the sea
UnTerzodiLuna
is a house on the sea, inside a private property, with private access to the beach. Located in the area between Agrigento (30 minutes) and Sciacca (30 minutes) overlooking the famous beach of Eraclea Minoa and Bovo Marina: a beautiful bay of the sea embraced by a large pine forest, bordered by two spectacular cliffs of white rock: Cape Blanc and Cape Salsa. Bordering the two Nature Reserves of Torre Salsa and the River Platani.
THE HOUSE
is simple in its outward appearance, but full of colors, comfortable inside and with an organization of outdoor spaces suitable for different times of the day.
Spread over two levels, connected by an external staircase.
7 beds: (3 double, 1 single), 4 Bedrooms, 3 Bathrooms with shower, 1 large Living area with sofas, dining area, kitchen area.
All rooms are equipped with ceiling fans for ventilation
GROUND FLOOR
The ground floor was renovated this year and has a new and modern furniture. A large living room (with kitchen area, sofa area, dining area), 1 bedroom (with double bed + wardrobe + adjoining bathroom), 1 small bedroom (with single bed + small bathroom adjacent)
FIRST FLOOR
Leads to the upper floor with an outdoor staircase.
The First floor has not been renovated. It keeps the spirit of the original house.
1 bedroom, sea view, with double bed.
1 bedroom, overlooking the countryside, with double bed and single bed.
1 bathroom with shower.
OUTDOOR
PORCH side, equipped with table and sofa circular masonry
TERRACE sea view with built-in sofas
The HOUSE is a house of family. It is offered to guests only in certain periods of the summer season. The owner lives in an annex near the house, with its own entrance. Available to provide all the necessary information and reveal small but precious 'secrets' of the area.
ACCESS to the SEA
There are several accesses to the sea.
BEACH MARINA BOVO equipped with Private Beach and Restaurants
PRIVATE ACCESS (in the house)
Within the property there is a private road that goes down the hill and reach the pine forest (6 minutes on foot, by car 3 minutes).
Once at the Pineta:
On the right, the village of Eraclea Minoa (with supermarket, factories and places of refreshment on the beach)
A sn, skirting the pine forest, you have access to a more private area of the beach and not equipped
PLACES TO VISIT
Heraclea Minoa - ancient Greek city, with its museum and theater
Scala dei Turchi (15 km) spectacular white cliff
Agrigento (30 km) with the famous Valley of the Temples
Caltabellotta (30 km)
Sciacca (30 km) and its spa
Selinunte (70 km) and its enchanting archaeological site
Gibellina (90 kilometers) with its architecture and contemporary art
Natural Reserve of Torre Salsa (4 Km)
River Nature Reserve Platani (8 Km)
房客使用权限
All spaces adjacent to the house: the ARCADE SIDE TERRACE and the front of the house.
与房客的互动
I am very happy to give all the special information about the place ... restaurant, excursioni ....
其他注意事项
CHEK-IN ore 13 in the morning
CHEK-OUT ore 9-9,30 in the morning
---
---
---
不适合婴幼儿(2岁以内)入住,或不能为婴幼儿提供安全的住宿环境
respect, politeness, friendliness,
---
---
---
This is a spectacular place ! The 180 deg view is breath-taking. Amazing to have breakfast looking at the sea! So beautiful. We were two families, one with 3 kids downstairs and another familiy of 1 child upstairs. The patio on the east side is perfect for afternoon and evening. Jose is wonderful and genuinely happy ! You will not regret this stay
---
Iosè est une hôte très attentionnée et disponible. Elle a pris le temps de nous faire visiter le secteur et les commerces du coin. Elle est sur place, donc très pratique pour les conseils et support. La maison est superbement située avec une vue à couper le souffle. La plage est très proche et très belle. À 45 min. de la Vallée des temples et d'Agrigento et à 30 min. de la fameuse Scala dei Turchi. Par contre, notre endroit préféré a été la réserve naturelle de Torre salsa avec le même type de rocher blanc, les 3000 touriste en moins! ;) Seul bémol: l'air climatisé serait un must en été! Un superbe séjour!
Mi dispiace davvero molto per il caldo , ma è il primo anno che è cosi forte . E' stata una estate molto particolare , le temperature sono state molto alte in tutta Italia e dunque anche in Sicilia . Normalmente questo è un posto molto ventilato e anche la casa è munita di grandi ventilatori al soffitto che la rendono fresca ... per cui basta creare un pò di corrente che normalmente si sta bene e soprattutto in un habitat naturale che non fa ammalare il corpo..... mi dispiace ! :-) Je suis vraiment désolé pour la chaleur, mais c'est la première année si forte. C'était un été très spécial, les températures étaient très élevées en Italie et donc aussi en Sicile.Normalement, c'est un endroit très ventilé et même la maison est équipée de grands ventilateurs de plafond qui la rendent cool ... alors créez un peu de courant qui normalement est bien et surtout dans un habitat naturel qui ne tombe pas malade du corps . ... Désolé!
---
We have all enjoyed staying in Maria's little house so beautifully situated in front and above the sea. The view is stunning and surely the highlight of this house. If one likes to be surrounded by nature to relax it is the perfect place to be. We lived a few nights on the terrace to admire the black starred sky. We particularly appreciated Marina Bova beach we could reach by car in less than ten minutes. Marina Bova beach offers as well a few restaurants and amenities but also if one like to walk along the sea an endless huge wild beach is to be discovered ! In Maria's house we had enough space for three couples to stay and enjoyed it and we thank Maria for her warm welcome. Fabienne
---
Lose Maria could not have made us feel more welcome. She was helpful and available to give us suggestions, but also discreet and mostly left us to ourselves. She is by nature a warm, welcoming, kind person. The Holliday House was actually even nicer than it appeared in the pictures. It is simple, and elegant, and comfortable with a stunning view over the Sea. Everything worked well, and the house is close to the beach, an easy 10 or 15 minute walk. We went with our family of five and had an amazing, delightful time. The beach was actually quite empty when we went in June, the water is quite warm and there are wonderful parks and amazing temples nearby. I would highly recommend it to anyone who loves nature, culture, the beach and great seafood. We all miss it and would love to go back one day!
---
Endroit merveilleux où passer des vacances reposantes ! La vue est à couper le souffle, la terrasse très agréable et la maison bien adaptée à un groupe d'amis (4 chambres et 3 salles de bain, réparties sur deux étages indépendants l'un de l'autre - on accède au 1er par un escalier extérieur). Iosè Maria est adorable et très disponible. La plage est à environ 1/4 d'heure à pied. Un très bon souvenir !
---
Our stay at Iose's house in June 2015 was one of those unforgettable experiences we always look for on vacations - but rarely find. We are a multigenerational family (grandparents, parents, children 7-9 years old), and we all found it wonderful to stay here. The majestic setting (on a cliff overlooking a nature reserve with an amazing sandy beach and turquoise waters of the Mediterranean) was only matched by Iose's heartfelt hospitality. As a native Sicilian, she provided us with invaluable advice on everything from best local restaurants to ceramic artisans in nearby villages. Given Italy's popularity as a tourist destination, we especially enjoyed the secluded, quiet setting, and still can't believe we found a beach that was mostly empty (as opposed to being swamped by umbrellas and people) - this was June, after all. A car is necessary, but provides easy access to local wineries, other beaches (Bovo Marina, Torre Salsa, Scala dei Turchi), and markets in a nearby village (Montallegro). Ruins of an ancient Greek amphitheater at Eraclea Minoa are nearby (15 minutes by car), as are the magnificent temples at Agrigento (35 min) and Selinunte (60 min), both of which are UNESCO World Heritage sites; and charming town of Sciacca (40 min). The house itself is nicely furnished; ground floor is more contemporary than the upper floor, but both are very comfortable. One of the upstairs bedrooms looks out to the sea. The six of us had plenty of room. The two floors connect via outdoor stairs, which may not be ideal for the very young or very old, although our 7-year old had no problem with them (and used them at times for acrobatics!); for them, the downstairs bedroom may be a better option. There are several outdoor seating areas, with lush greenery and welcome shading. You can prepare your own food in the well-appointed kitchen that only lacked a sharp knife ;-) or you can avail yourself of the local dining options, of which there are many good ones, but we have to single out Canaima in nearby Bovo Marina. During our stay in Sicily we explored far and wide, clocking >2000 km on our rental car, but were always thrilled to come back to this place and enjoy its magic.
---
Villa superbe avec une vue magnifique sur la baie et une grande terrasse très confortable. On ne se lasse pas de la vue de la chambre. Nous étions une famille avec 3 jeunes enfants. La Sicile recèle de multiples trésors cachés. Iosé est une hôtesse très accueillante et très souriante, vraiment agréable. Great villa and great view. The terrace is also very comfortable. Only compliments to make to Iosé and to the villa. Iosé is a very charming host.
---
Sono una psicoanalista di orientamento junghiano, per adulti e bambini . Ho vari interessi che comprendono l'architettura e l'arredo, il cinema, gli spettacoli di danza e di arti visive. Mi piace studiare i miti Greci e scrivere della loro attualità.. Seguo con grande passione l'Arte contemporanea in particolare tutte le forme dell'Arte che comunicano veramente qualcosa e si muovono all'interno di uno spirito sociale. Ballo il tango argentino. Sono siciliana e amo cucinare e mangiare bene, curiosa, accogliente e pronta a dare la mia disponibilità se necessaria. Mi piace condividere con gli altri le mie conoscenze, ma ....tengo molto alla mia privacy e al rispetto , all'ordine e alla buona educazione.
Vivo a Roma e abito la casa nei mesi estivi con il mio gatto Botolino, con qualche buon amico/a, e con i miei genitori. La Casa è una vecchia casa di famiglia costruita negli anni 60, di proprietà dei miei genitori e dei miei parenti . Da qualche anno sto aiutando i miei a sistemarla per renderla più abitabile e riuscire a godere al meglio delle bellezze del posto. Ogni anno aggiungo un pezzetto . Quest'anno sono riuscita a ristrutturare il piano di sotto e spero presto di riuscire a fare lo stesso con il piano di sopra che al momento rimane più in sintonia con lo spirito originale della casa.

Voglio aggiungere, per chi lo sceglie, che questo è un posto speciale. E non soltanto perchè il luogo della mia infanzia pieno dunque di ricordi profondi. E non soltanto per il panorama di grande bellezza che si gode dalla casa e che emoziona ogni qual volta lo si guarda. Ma perchè è un posto pieno di forti energie, autentico, per certi versi ancora selvaggio. Le straordinarie bellezze naturali che lo avvolgono danno la possibilità di ritrovare un rapporto autentico e diretto con la natura. Un posto che ci riconcilia e ci aiuta in modo vertiginoso a rigenerare il nostro corpo , ma anche la nostra mente e il nostro spirito. Ma che richiede perchè ciò avvenga un sano spirito di adattabilità e tolleranza. :-)

语言:
English