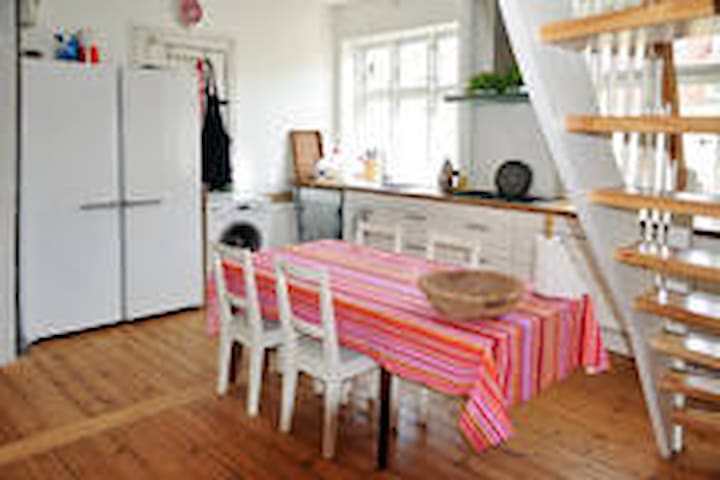 Our apartment is situated near center of Copenhagen in a quiet and family friendly area. Open street with a good atmosphere and space for social life. Light apartment with access to sunny balcony.
---
Kirsten was an exceptional host. She and her husband made me feel part of the family. We had several great evening conversations, and even went to a football game together. Her family was also very respectful of my space and privacy. All in all a great experience if you want to meet a Danish family and get a better sense of the culture.
---
We are a multicultural family with kids from 10-16 years old. We enjoy bringing people from the whole world into our daily life and we have 15 years experience doing this. We are filmmaker and photographers and work with different people in our professional life. We have been traveling in the whole world, and are use to integrate to other cultures. Our apartment is 165 m2 all together. The kitchen and bathroom is to be shared. The bathroom is in a typical Copenhagen style, which means that it is small but functionel. The Kitchen is light and new renovated and with all modern useful needs (washingmaschine, no dryer, dishwasher, microwave, oven, stove etc. We offer a sharing apartment with 2 private rooms (2 double) and a cosy attic (100 m2 to 2-5 persons) with acess to balcony. With possibility to extra beds (matresses). It is placed in walking distance from CPH. City center. And 100 meter from public transport. Shopping less than 1 km. Away and about1 1/2 km. from shopping center. Quiet and family friendly area with acess to playground as you also find the apartment:-). Feel free to ask any questions, and we are more than glad to help you, thanks.