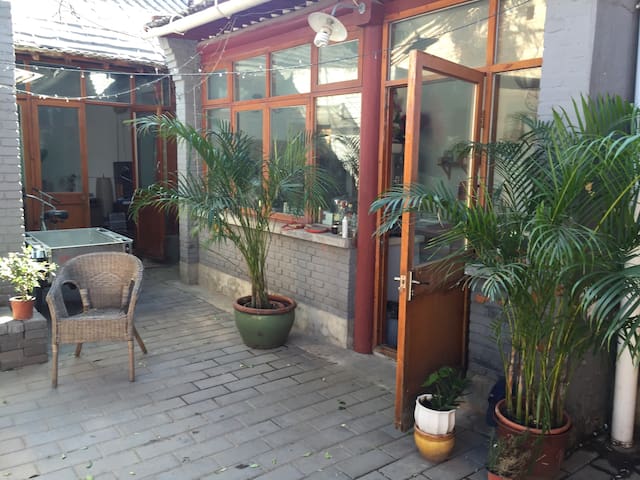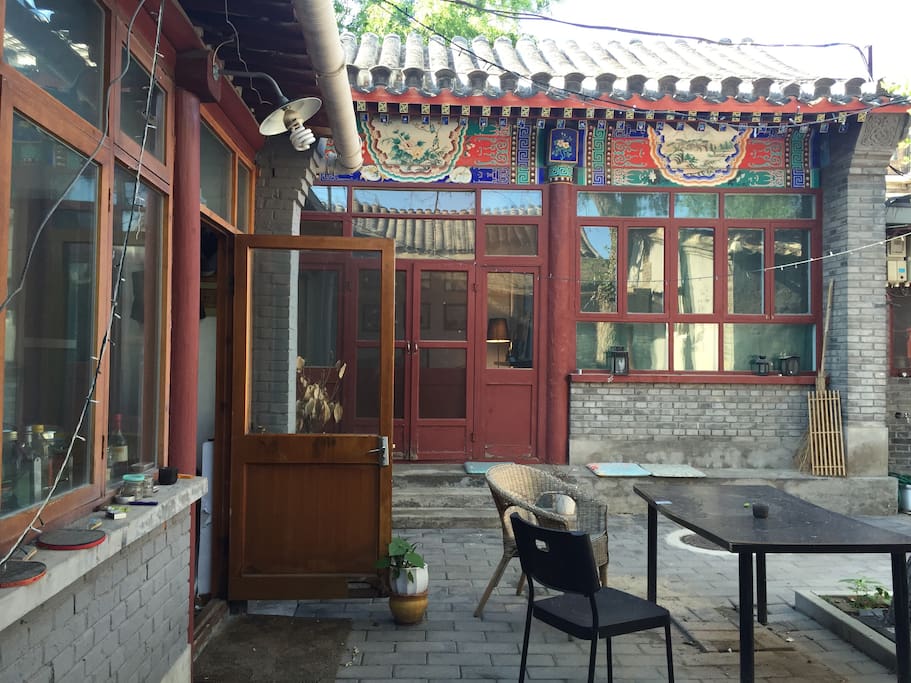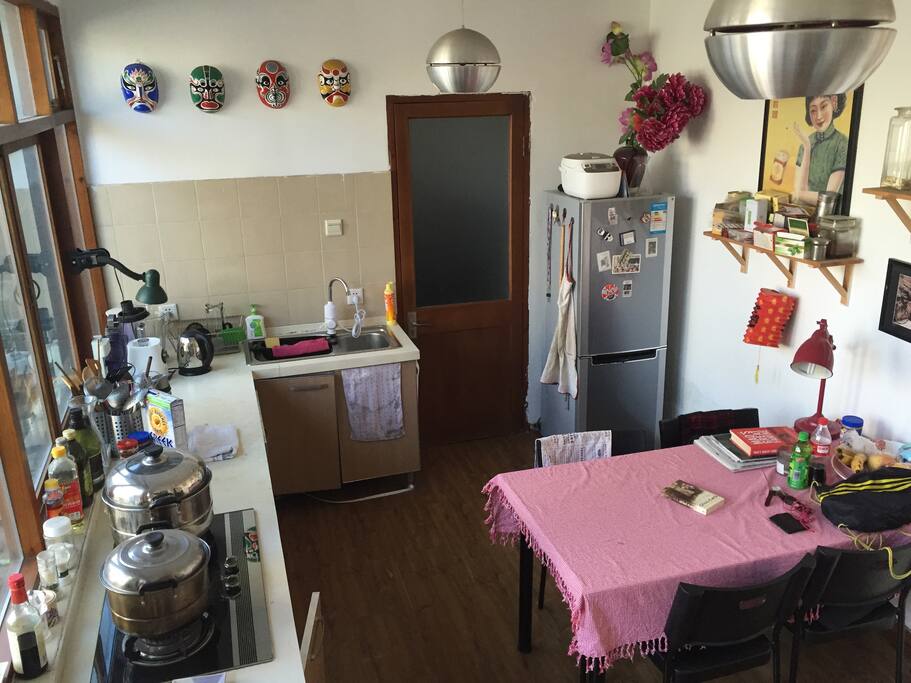 Beautiful Spacious Hutong Courtyard
房东人很棒,给我们提供了很多帮助!房子漂亮,很大,很温馨,是房东自己住的地方。周围还有很多胡同、鼓楼大街等等。强烈推荐! Jacob and his roomate Jake are amazing, friendly and helpful. They gave us detailed information around the location like fangjia hutong, wudaoying hutong and offered anything we needed. The house is very cozy, comfortable and made me feel at home,equiped with a kitchen, bedroom, living room and a glass-roof bathroom. lounging in the sofa and watching jujubes fall from the tree was such a great relax for a busy week. It was really a surprise for us to find such a lovely house in the center of beijing!!!!
---
Cozy hideaway from the noisy hustle and bustle of the busy Beijing streets. Tucked a couple streets off the main thoroughfare, this single story apartment in one of Beijing many Hutongs was a nice escape at the end of a long day walking. My favorite parts of the place are the private courtyard, which gets these beautiful shafts of afternoon sunlight through the date tree, and the powerful, hot shower with a skylight. Pretty dandy. Chris is a sweetheart, and very quick to respond via email. Go visit!
---
My host was great, very welcoming. He gave me very precise directions on how to find the place, and was nice enough to come meet me at the nearby subway station. Despite being close a subway station and lots of great restaurants, this Hutong apartment is very quite and welcoming, with little noise from the neighbors. The courtyard was lovely to hang out in, and the space plenty big enough for myself. I would gladly stay here again.
---
This place is the real deal. Big courtyard, comfortable private bedroom and living room, and an excellent private bathroom, connected to the bedroom, with skylight and great shower. All very difficult to find in a Beijing hutong house. It's extremely close to Beijing's hipster epicenter, convenient to the subway, and well-equipped with heaters, important in the winter. It's well lit and quiet with the odd bicycle bell and pigeon coo. Jacob was a very responsive and gracious host, even though he was on the road. His directions made the place very easy to find, and his roommate Jake is a charmer. A+.
---
我们住在北京市中心的传统胡同庭院房子里。舒适,安静,宽敞:您可以坐在庭院区外面,在日期树下放一杯咖啡,在沙发上休息,或者在舒适的卧室里隐藏。
We live in a traditional hutong courtyard house located in central Beijing. Comfortable, quiet, spacious: You can sit outside in the courtyard area and have a coffee under the date tree, lounge on the couch, or hide out in the cozy bedroom.
房源
我们是北京着名的传统胡同庭院房。宽敞,安静,有很多自然光,夏天很酷,冬天温暖(由于采暖良好),这是迄今为止居住在一个城市中最舒适和愉快的方式,否则感觉有点压倒性。生活空间分为两半,每侧有一个客厅,卧室和浴室。中间有一个连接双方的共用厨房。客人将一边住 - 我的室友(友好的英国人)住在另一边。你会有我自己的一面,虽然你现在可能在厨房遇到我的室友。
Ours is the kind of traditional hutong courtyard house for which Beijing is famous. Spacious, quiet, with lots of natural light, cool in the summer and warm in the winter (thanks to good heating), it's by far the most comfortable and pleasant way to live in a city that can otherwise feel a bit overwhelming. The living space is divided into two halves, with a living room, bedroom, and bathroom on each side. In the middle, there's a shared kitchen connecting the two sides. Guests will live on one side -- my roommate (a friendly Brit) lives on the other. You'll have my side to yourselves, though you might run into my roommate in the kitchen now and then.
房客使用权限
客人可以使用卧室,私人浴室,客厅和共用厨房。房子里还有一个室外庭院,如果天气很好,你可以坐下来阅读或聊天,或者等一下猫走过你上面的屋顶。
Guests will have access to a bedroom, private bathroom, living room, and shared kitchen. The house also has an outdoor courtyard where, if the weather is nice, you can sit and read or chat or wait for a cat to walk across the rooftops above you.
---
---
I'll provide you with a key to the front door. Please lock the door when you leave.
---
I'm a journalist living and working in China. I've been here for the last four years, getting to know the country, the language, and the people. Beijing is one of the most exciting places in the world, but it can also be overwhelming. For me, one way of coping with that excit…