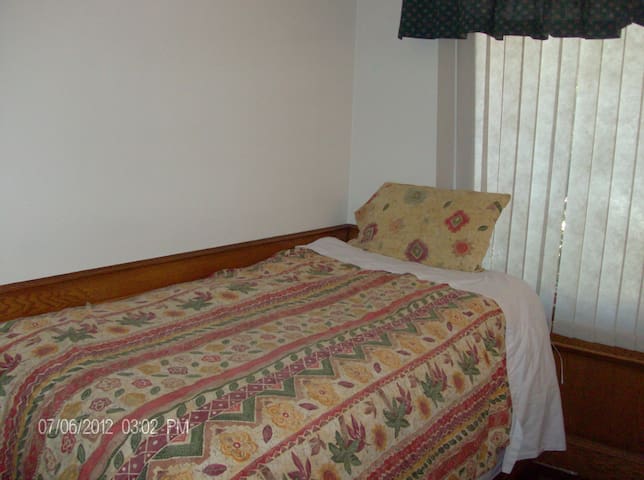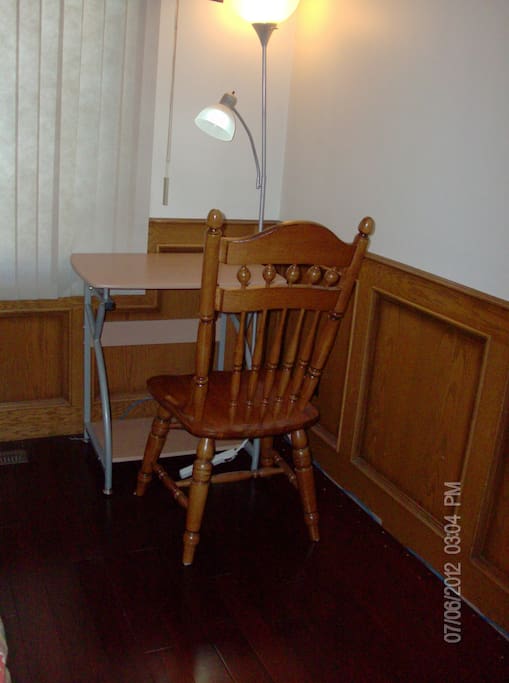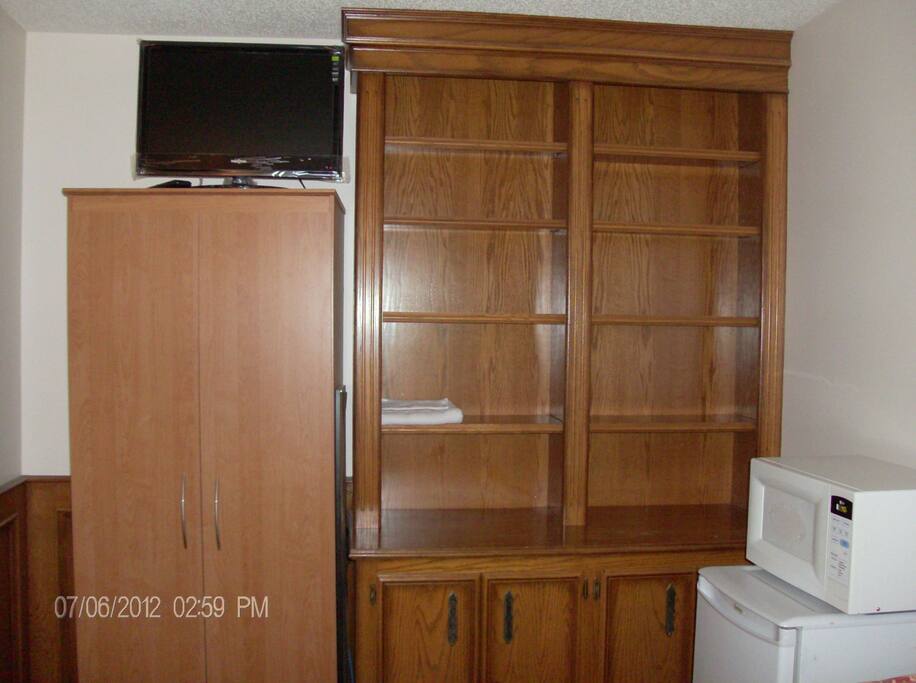 房源
besides this the cozy economy room, we have also standard rooms and deluxe rooms.
Add $5/d for less than 7 days and add $10 for single day. Breakfast is optional and add $5/d. Each additional person: $10/d. Normally we do not accept double occupation, please contact for double occupation.
Each clean room has private LCD Cable TV, bar fridge, wireless/wired internet, microwave, wardrobe or build-in walk-in closet, table, night table, and room locker. The deluxe room has coach, dresser, and coffee table. Sheet and blanket, bath towels can also be provided. Free shared kitchen and washer/dryer with free detergent, softer, and bleach. Free street parking. Hardwood flooring that is easy to be cleaned. Optional floating carpet or rug or top of hardwood.
Unlike many shared renting, this place is very clean. The two-storage house is located in the good peaceful, convenient neighborhood.. Almost all of our guests so far are very happy with their staying here.
Bus stop is almost in front of the house. 13 minutes walking (4 minutes bus) to crowfoot LRT. Four minutes walking to the library or YMCA. Six minutes walking to the major shopping area.
Only for the persons who are quiet, clean, friendly and considerable to others. No smoke inside the house, no illegal drug, no-illegal activity, no pet; be quiet after 10:30 pm. Since tenants living this place are expecting that this is a quiet place, no child. We reserve the right to terminate the rental contract for those who post trouble of our rental situation.
Free brewed coffee in the morning and free self-serving coffee/tea anytime during the day. Optional self serve breakfast at the grocery purchase price.
Many of our guests are from hotel, motel, or other short term rental, and felt better: not just the better prices. The place has all you need for the short term living.
Single or two days will be booked only under certain conditions. Double occupation will normally in deluxe room only, and in other rooms, the double occupation will only accept for the last minute reservation of a day or two. We might decline of double occupation when there have already a couple in any non-deluxe rooms.

Please our other rooms in this web site. The breakfast will be optional, though we prefer the guest prepare their own food.
---
---
1. quiet especially during the night between 10;30pm and 7am. Make sure, your volume, talking, door, etc, will be low volume so as do not bother other's sleep. Some of the tenants may be sensitive to noisy during the night.
2. respective and considerable to others, and resolve any differences with peace and respective.
---