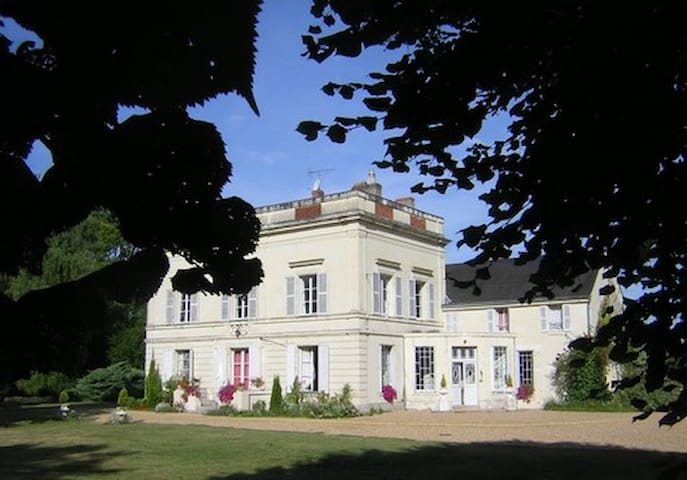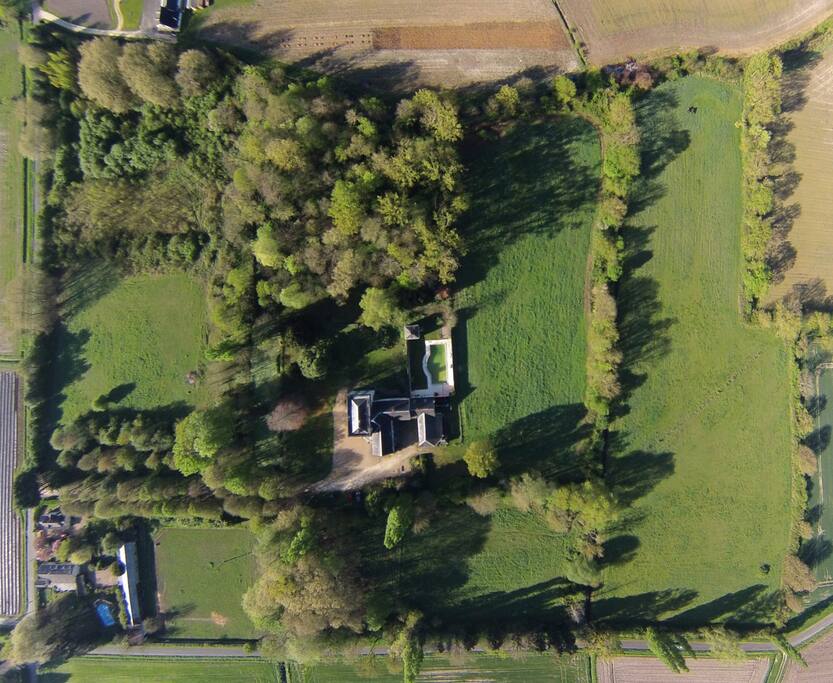 Group & Family House Loire Valley
Get a taste of the mild climate and genteel setting of the Loire Valley near Angers and within a few minutes of Saumur. The area is really worth discovering, and the atmosphere of a real family home will be a warm welcome for you and your fellow travelers.
Our aim: to preserve the spirit and friendly atmosphere of the house "Les Longchamps".
For a stay you'll really enjoy, we are pleased to provide accommodations in our guestrooms or the gîte apartment for one night, a weekend, a week or longer. Whether you're traveling solo, as a couple, with your family or a group of friends (up to 20), you can choose the formula that works best for you - guestrooms or gîte apartment). You can even bring your horse on vacation with you!
What is there to do for fun at Les Longchamps? Make the most of the moment, play pétanque, badminton, feed bread to the horses, curl up near the fireplace with a good book, go for a swim in the pool in summer, have a good time with your friends, be together.
Our vast grounds means everyone can feel free to make the most of the various areas of Longchamps, while respecting others.
The keyword is good cheer!
Inès de Castilla
The Longchamps home
The main house was constructed using freestone, typical of the Saumur region, in the second half of the 19th century. It backs onto a renovated farmhouse dating to the 17th/18th century.
Upstairs in the main house, the guestrooms (the Divine Proportion Suite and the Prince Rose room) and the gîte apartment (Sea Bird) were respectively awarded with 3 stars and 2 stars from Clévacances in 2005.
These accommodations can host about 10 people, or even more with extra beds added in the bedrooms upon request.
A large family or group of friends can also rent out Les Longchamps in its entirety for a weekend, one week or longer. This is a special gîte package. In the old part of the house, other rooms are then made available (see the Gîtes page).
---
C'est une grande et belle maison ancienne, où l'on se sent accueilli par ses propriétaires, une maison habitée mais mise à notre disposition, où petits et grands peuvent trouver leur place sans se gêner, où l'on peut faire des grandes cuisines ou se reposer, avec tout autour un petit parc accueillant pour chacun , une belle et grand maison à vivre pour une grand famille ou un groupe d'amis ; nous n'avons spas eu très beau temps mais avons passés un très bon séjour.
---
Très bon WE passé à Neuillé chez Inès et Bertrand ! Le terrain est particulièrement grand et agréable pour se promener, la piscine est top même si un peu froide à cette période, et à 15 nous n'avons utilisé qu'une petite partie de la maison. Je ne sais plus si c'est mentionné, mais le jardin est équipé d'une grande plancha à gaz, ce qui est particulièrement pratique pour nourrir 15 personnes...
---
This was our first ever experience with an Airbnb rental and was a great success! Ines and Bertrand were wonderfully friendly and enthusiastic hosts, talking us through the house, its history, their family etc and answering all our questions about the area and giving great local recommendations. The house itself was a little bit 'faded splendour', but that just added to its charm - it exuded the history of its occupants and the kids loved the way it rambled and creaked. The pool was gorgeous and the location was great being a bit away in the country with large peaceful gardens but still only an hour maximum from all the major Loire chateaux and towns. We were an extended family group of nine and the house easily accommodated us all, and we especially loved gathering around the giant farmhouse kitchen table for breakfasts. We felt completely comfortable treating this like our own home for our stay, and Bertrand was great moving the TV and all the salon furniture around so that we all could watch the EuroCup Final together. This would be great for all sorts of groups of friends or families to stay for a weekend or week - Highly Recommended!
---
Nous avons passé un très bon week end familial chez Inès et Bertrand. Les lieux étaient adaptés à nos retrouvailles à 22, nous avons profité de la très grande piscine - d'ailleurs très agréable - , des terrains de jeu et de l'atmosphère champêtre. Les hôtes sont charmants, nous sommes rentrés contents de notre week-end.
---
Les Longchamps, ma proriété de famille, respire la bonne humeur! elle est idéale pour les groupes d'amis. Ma famille, mes amis, les annimaux s'y plaisent! Et moi aussi bien évidemment. Un lieu qui crée du lien. un bon moyen pour prendre le temps de se retrouver avec ceux que l'on aime et découvrir une très belle région.
语言:
English、Español、Français